As part of SIT's applied learning pedagogy, 160 students from SIT's Sustainable Infrastructure Engineering (SIE) (Land) degree programme have embarked on 30 lean projects with 16 host companies since 2016 to help improve productivity and work processes.
This mutually beneficial endeavor was initiated by SIT faculty, Associate Professor Mustafa Shabbir Kurbanhusen, as part of the 'Lean and Quick Response Repair' module in the SIE (Land) programme.
The first six weeks in the learning journey are focused at equipping students with knowledge on the lean principles and tools to eliminate the '8 wastes' commonly found in any process. This is reinforced through activity-based workshops to apply the lean concepts. The remaining six weeks will see the students working on 'real' industry problems. Companies are engaged as industry hosts to the students to work on lean-based productivity enhancement problem statements. These companies are from various sectors including government agencies, healthcare, transport, engineering, real estate and food manufacturing.
Students have to regularly visit the companies on-site to obtain crucial information for continual improvement opportunities. This is in tandem with weekly consultation with SIT faculty and professional officers to address industry challenges and come up with implementable solutions. Deliverables include a report, poster and presentation to the industry host detailing the 'value stream map' – a visual map showing the current process – as well as the proposed recommendations for follow-up.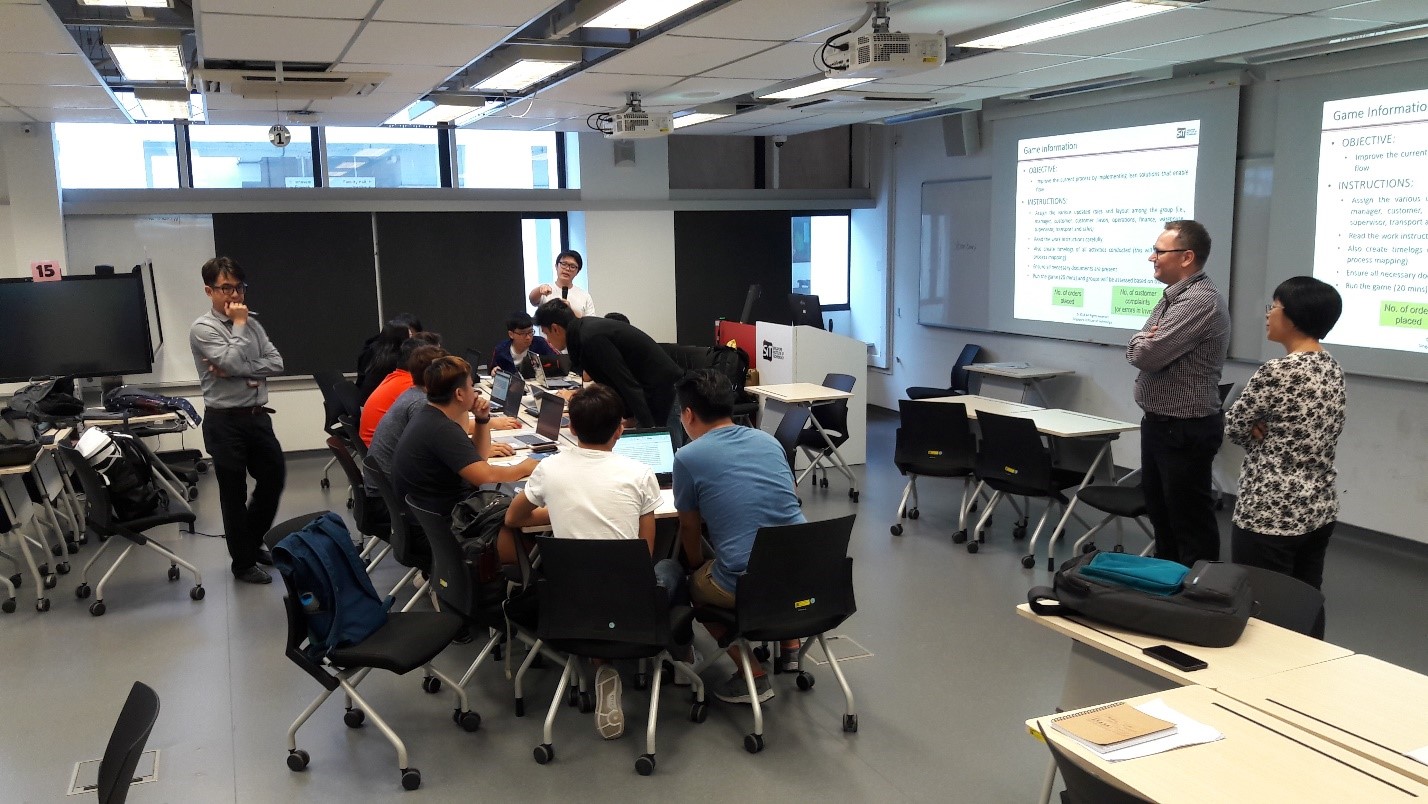 Activity-based workshops to equip students with lean knowledge, coupled with hands-on application.
Improving Processes at Old Age Home
Lee Ah Mooi Old Age Home is one of the pioneer organisations who came on board this initiative. It engaged the help of SIT students to look into improving its processes, including the adult diaper storage and retrieval system, as well as the laundry retrieval, sorting and storage process. The teams from SIT were able to identify the wastes in the processes and recommend feasible solutions, such as implementing gravity flow rack, diaper dispensing bins, and storage boxes with dividers for laundry.
"Throughout the course of the project, we achieved key milestones such as increased efficiency in store and inventory management of essential medical consumables. With the experience gained, we are able to better manage and improve workflows. Furthermore, the sense of satisfaction upon fulfilling the module is tremendous and applicable to future work," shared Veronica Chng, SIE (Land) student.
"We appreciate the help of SIT students in executing these projects, which may be trivial but beneficial for us. The walkthrough of our processes gave us an opportunity to rethink them and the students' inputs have helped us in making some minor changes and streamlining our work too. The changes will ultimately benefit our residents greatly," said Mr Then Kim Yuan from Lee Ah Mooi Old Age Home.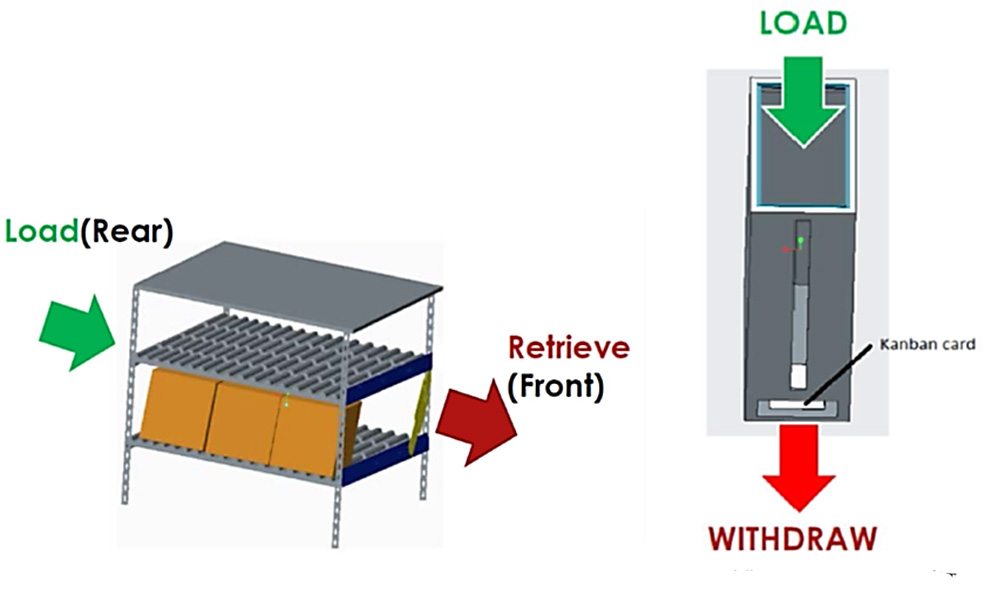 Some recommendations for Lee Ah Mooi Old Age Home included the use of gravity flow rack and diaper dispensing system to improve the work flow.
Enhancing Deployment of Mobile Dental Clinics
Another team of SIT students took on the task to review and streamline the deployment of mobile dental clinics for Unity Denticare. After an extensive analysis of the current work process, the team came up with a standard operating procedure (SOP) document to ensure clients are aware of their respective roles. To ensure a seamless flow of patients, the students also designed banners and signage to encourage walk-ins from the public.
"It is good that the students are encouraged to go to the ground to observe and ask questions. Kudos to the students for being patient and proactive to get to the root of the problem," remarked Mr Jonathan Tan from Unity Denticare.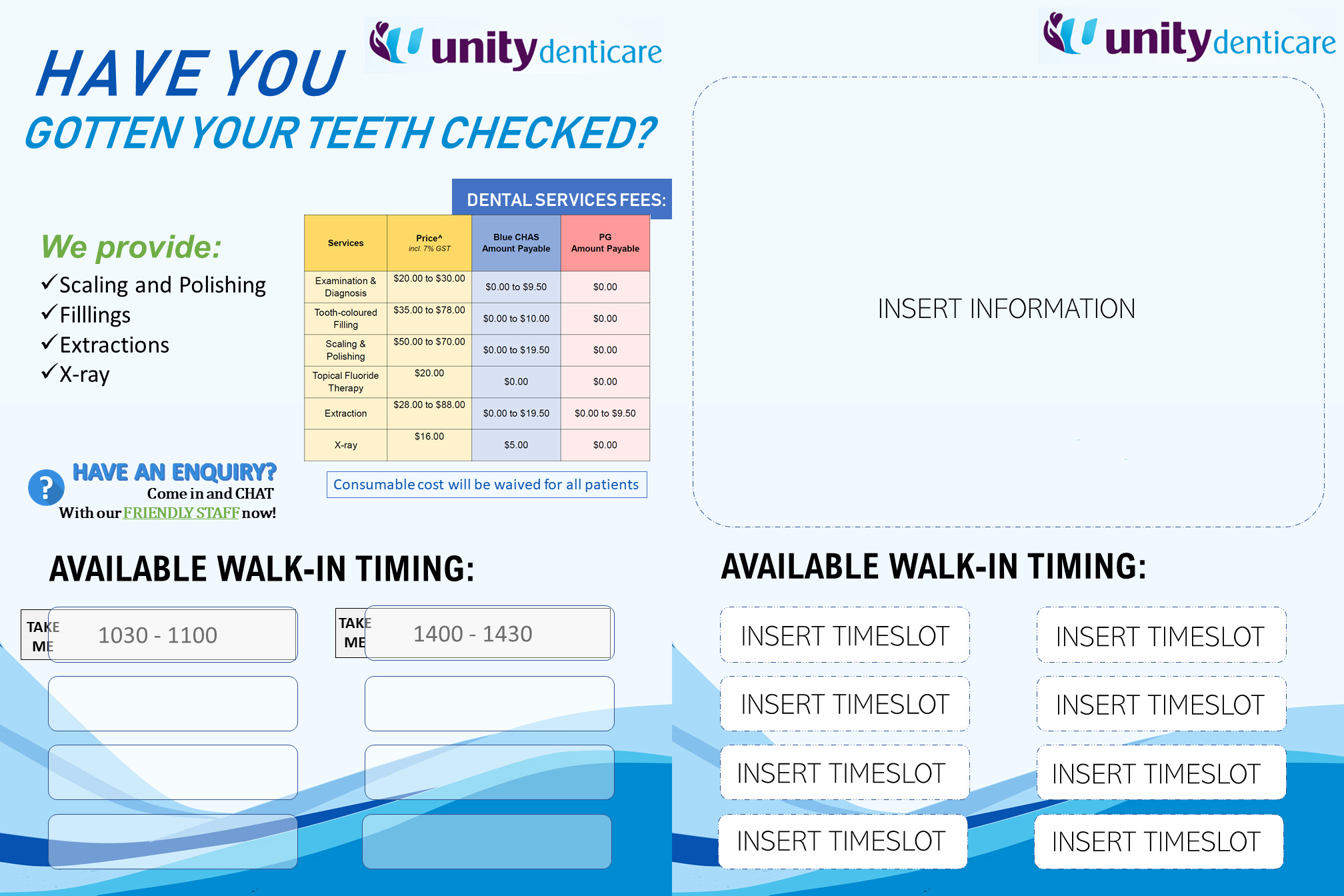 The banner designed by the students to encourage walks-ins from the public.
Improving Customer Engagement
COMAT, a training services centre under ST Electronics, was keen to enhance its customers' experience. The SIT team focused on tackling issues such as long queues during peak period, manual registration process, and difficulties in finding training rooms. The team came up with a detailed wayfinding guide, including visual map, floor and wall markings to direct customers to the correct training location. In addition, the team also designed a self-directory information display for the TV screens, which had received positive feedback from the users.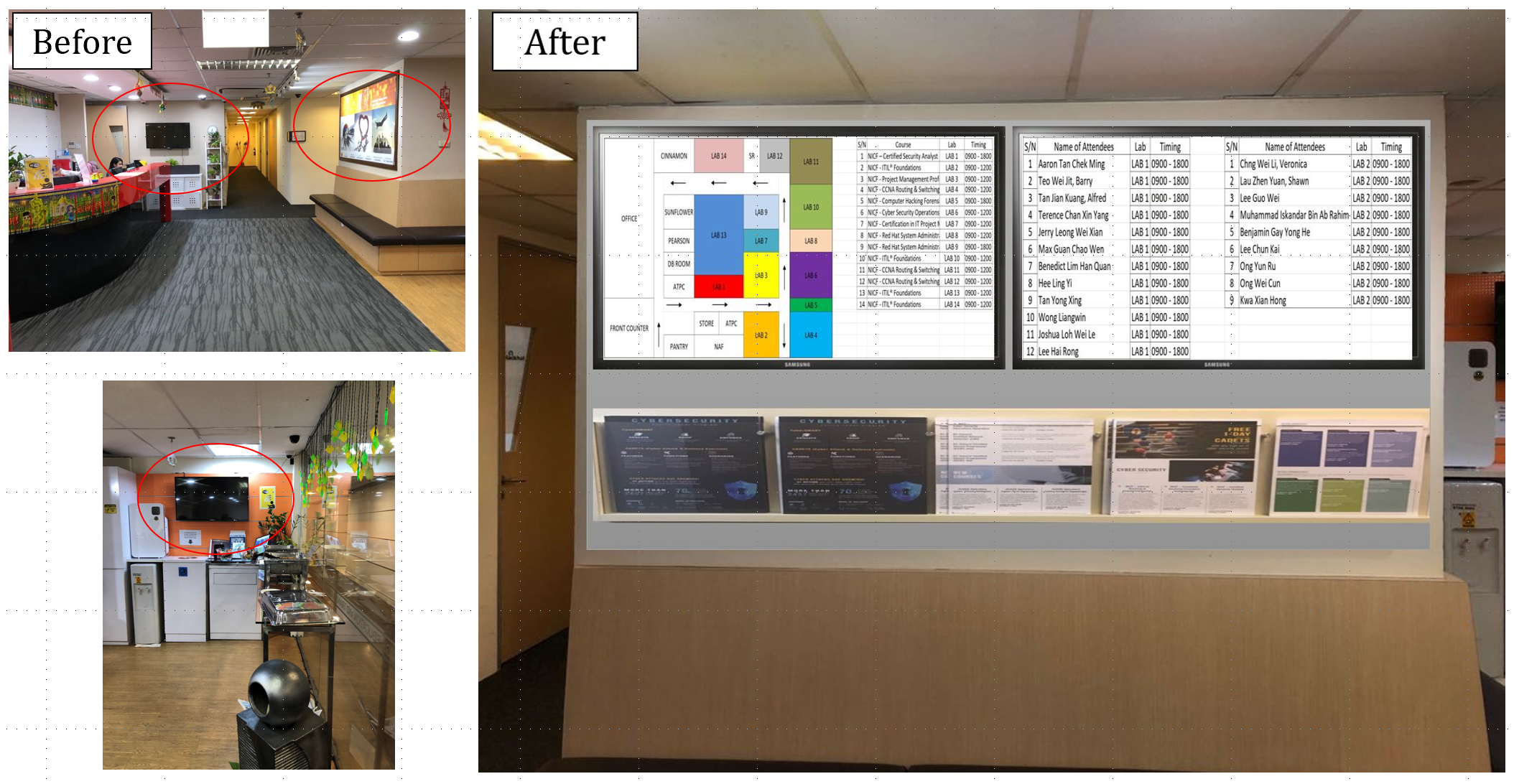 One recommendation from the students was to display clear, colour-coded course information on the TV screens.
"The programme provided us an independent perspective on our current processes. In addition, the students proposed several areas of improvement in which we could look into to improve our customer engagement and experiences," commented Mr Alton Loo from ST Electronics (e-Services).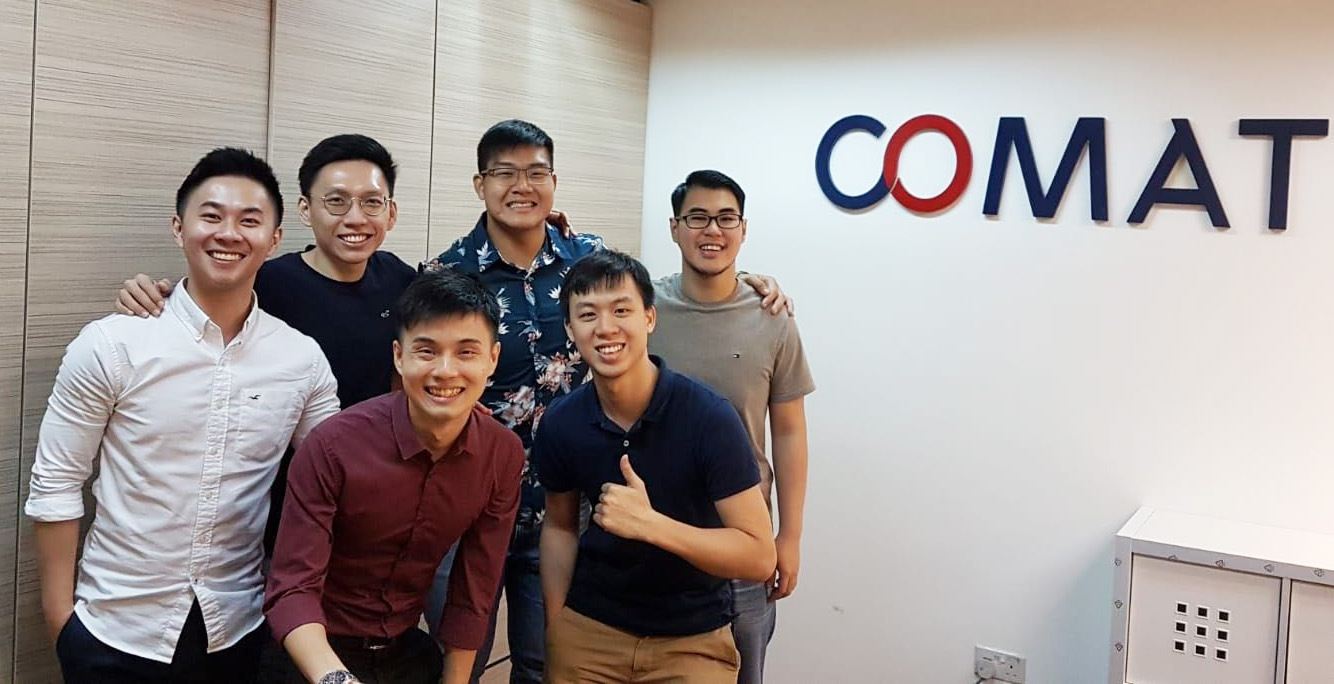 The SIT team with Mr Alton Loo (in red).
For the students, the lean module provides them with industry exposure before they go out for their one-year Integrated Work Study Programme (IWSP). They can then proactively apply the lean knowledge learnt to initiate productivity enhancement projects in their IWSP organisations, reinforcing SIT's mission to produce industry-ready graduates.
Alfred Tan, SIE (Land) student who completed the project with COMAT, remarked, "Through this project opportunity, our team took back many valuable lessons on how lean can be applied to enhance the service standards of a company. For example, the 'Gemba Walk' concept allows us to gain a deeper understanding of the company through interactions with full-time staff."
Another student, Shaun Lau, commented, "Performing Lean for Unity Denticare has allowed me to work closely with the industry to provide more value for my clients, while benefiting the community. Improvements in turnout rates of dental patients and operational procedures are examples of key milestones achieved. This experience has translated to benefit my IWSP organisation – SYSTRA, through enhancement of various processes such as the creation and implementation of a new quality management system and efficient client facing."