COVID-19 may have thrust the world into uncharted waters, causing confusion, worry and stress, but our youth are rising to the challenge to make a difference. SITizens are joining young activists and volunteers across the globe to generate ideas and lend energy and empathy to make a difference in the community.
We look at some of the ground-up initiatives led by our SITizens, who are prime examples of how our youth are taking charge in times of crisis, as well as ownership in shaping their COVID-19 narratives.
ProjectCBK (Circuit Breaker Kooks)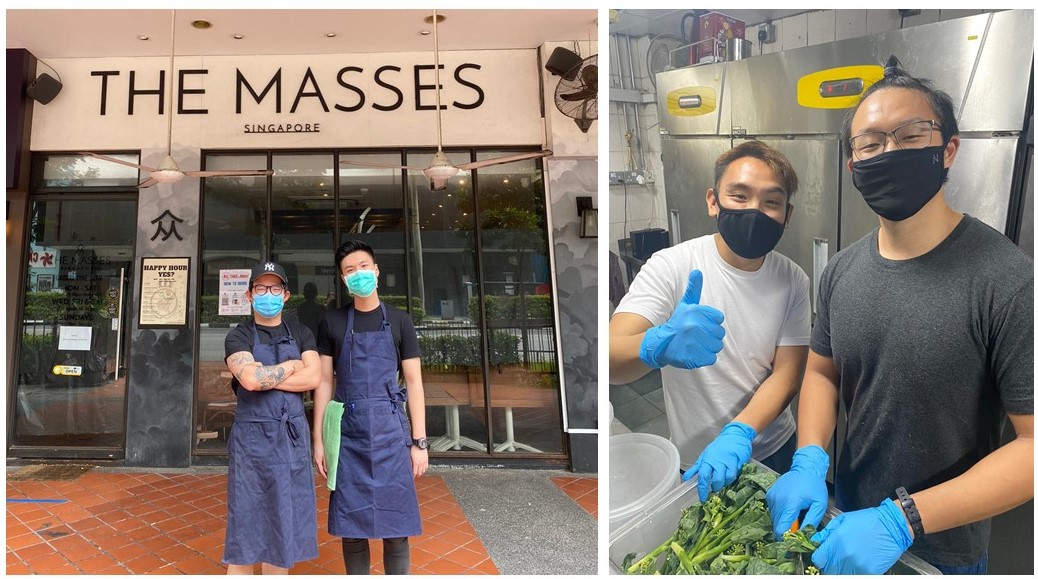 Left pic: Joel (right) with Dylan Ong of The Masses Restaurant. Right pic: Ramsay and Noah, fellow SITizen volunteers from CIA, SG, lending a helping hand.​
Joel Tan, a final-year SITizen from The Culinary Institute of America, Singapore (CIA, SG) Food Business Management (Culinary Arts) programme, had his internship offer under San Francisco's celebrity chef Dominique Crenn retracted due to the pandemic. However, that did not deter him from gaining experience and lending a helping hand.
Joel partnered with Dylan Ong, Chef-Owner, The Masses Restaurant, to launch ProjectCBK – which stands for 'Circuit Breaker Kooks' – a volunteer initiative to provide eateries with much-needed manpower. ProjectCBK currently comprises 24 regular volunteers – 22 of whom are fellow SITizens from CIA, SG – and about 10 ad-hoc helpers.
"As someone involved in the food and beverage industry, I felt useless not being able to do a single thing for the industry I loved being in as well as grew up with. I wanted to help in some ways or another," Joel said.
World Gourmet Summit Honours Healthcare Heroes at Sengkang General Hospital

Students from CIA, SG preparing delectable meals for healthcare workers.
SITizens from CIA, SG also lent their culinary expertise to join 20 other food and beverage establishments in preparing lunch for 1,100 staff at Sengkang General Hospital. The activity was part of World Gourmet Summit's initiative to thank healthcare heroes for their fight against COVID-19.
Year 1 SITizen Carlson Teo shared that it was a great experience being able to contribute to the initiative. "This experience made me realise that chefs can also contribute meaningfully to the community during this pandemic. I am extremely honoured to be able to help out."
Who Needs My Help? – An Interactive Guide to Charities and Organisations

Deanna (top) and Hariz (bottom) with a peek at the guide they designed.
Recognising that there is a selection of avenues available for Singaporeans to help during COVID-19, two SITizens from The Glasgow School of Art (GSofA) Singapore came up with a convenient guide that lists ways for Singaporeans to contribute to those in need. Deanna Montalbo, a Year 4 Interior Design student, and Hariz Azmi, a Year 3 Communications Design student, collated their research for the public's easy reference: http://tiny.cc/wnmhguide
"The COVID-19 situation has taken a toll on everyone. While I was looking up ways to contribute to those in need, I was heartened to see the many channels available. Hariz and I decided to compile them into this handy guide. We hope it'll benefit our fellow Singaporeans and encourage everyone to keep reaching out to those in need, in whatever small ways we can," said Deanna.
SITizens have also been readily coming forward to contribute to the activities organised by SIT, such as the #BYOBclean Hand Sanitiser Distribution and #StayFitAtHome Challenge.
#BYOBclean, a 'Stay Prepared' initiative by Temasek Foundation

Between 23 March and 3 April 2020, 42 SITizens assisted SIT staff in an initiative by Temasek Foundation to distribute free zero-alcohol hand sanitiser to the public. Each student committed to a roster of five-hour shifts at IMM in the initiative.
#StayFitAtHome Challenge

One of many submissions by SIT varsity leaders providing SITizens with exercise tips.
To encourage fellow SITizens to stay healthy during Circuit Breaker, 35 varsity leaders from various sports and programmes contributed to the #StayFitAtHome Challenge in the form of Instagram videos. These videos feature SITizens demonstrating fitness tips – from lunges to push-ups and squats – to encourage their peers to keep fit at home. The videos have since encouraged more than 150 students to join in the challenge in creating their own fitness videos.
Bridging the community from a climate of fear and worry to an environment of positivity and resilience in whatever small ways they can, these young SITizens have certainly paved exemplary paths for others to follow.
Our deepest appreciation to our youth for motivating us with their purposeful initiatives and resourcefulness.
Photo credits: Joel Tan, Deanna Montalbo, CIA,SG, SIT