A solar car cover device concept developed by our Electrical Power Engineering (EPE) undergraduates to enhance power grid reliability got an electrifying start.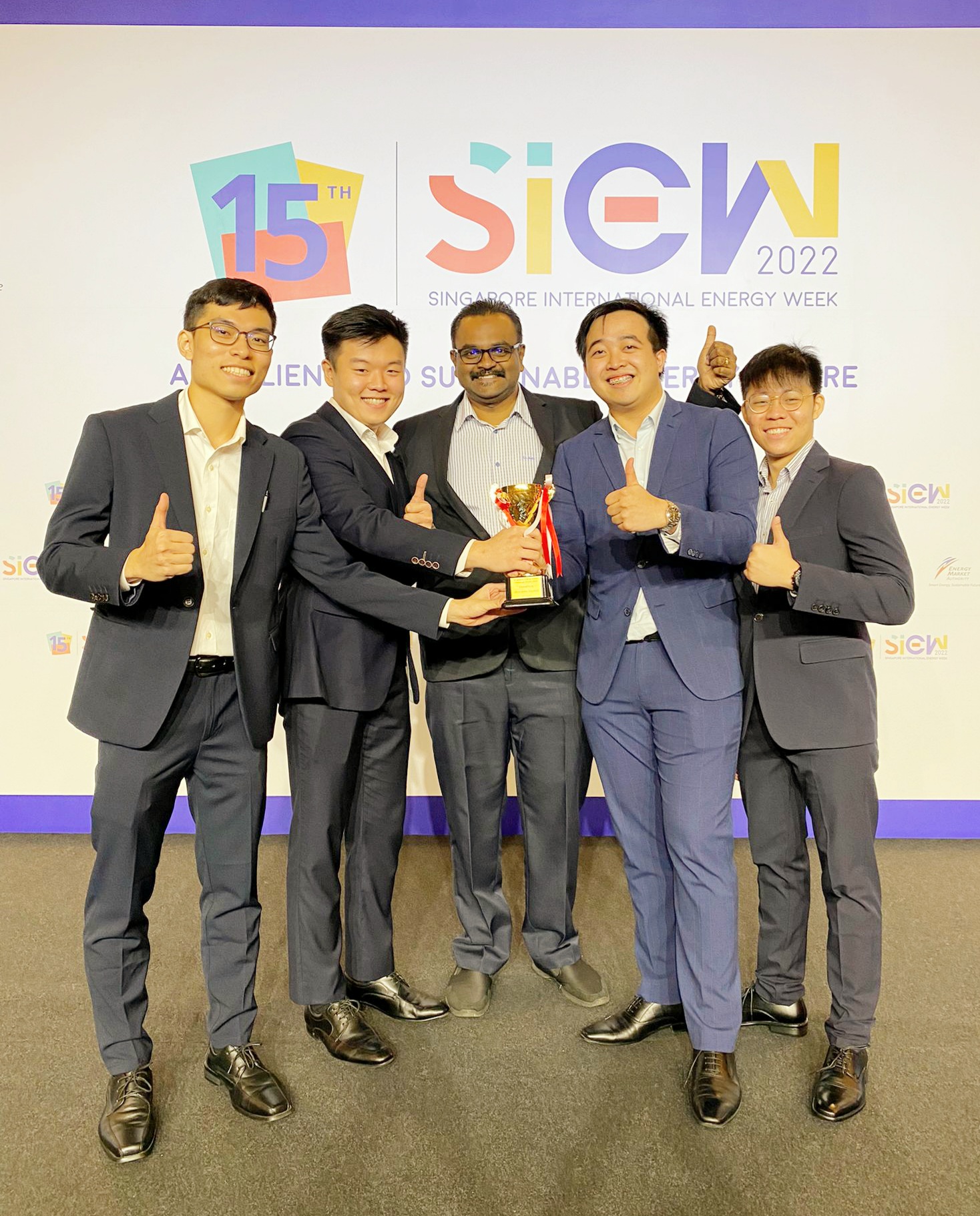 From left to right: Chiam Sheng Jye; Tan Hao Jun Bryan; Asst Prof Sivaneasan Bala Krishnan, Mentor; Tan Kee Yee; Teo Rui Jie Marcus, all from the BEng (Hons) Electrical Power Engineering programme (SIT Photo)
A team of SIT Electrical Power Engineering (EPE) students emerged as Champion in the Institutes of Higher Learning (IHL) category at the Singapore Energy Grand Challenge (SEGC) for Youth this year. Addressing Schneider Electric's problem statement, their concept of a solar car cover device that will be able to maximise the use of clean energy towards electric vehicle (EV) charging, received accolades at the competition that saw 110 student teams from 36 schools vying for top spot.
Winning teams received their awards from Ms Low Yen Ling, Minister of State, Ministry of Culture, Community and Youth & Ministry of Trade and Industry, at the Energy Market Authority (EMA)'s flagship Youth@SIEW event on 28 October 2022.
EMA, the organiser of the competition, partnered with energy companies Keppel Infrastructure, Schneider Electric and Sembcorp Industries, to invite students from local IHLs to come up with sustainable energy solutions to address real-world problems faced by energy companies. Participants had to address company specific problem statements proposed by the respective energy companies.
For Schneider Electric, participants were tasked to provide a solution to its problem statement, which is to reduce carbon emissions and maintain grid reliability with the rise of EVs.
Singapore has seen a surge in the take-up for electric cars, with new registrations from January to May this year already more than double the rate for 2021.[1] With Singapore looking to have all vehicles run on cleaner energy by 2040, and only allowing registrations of electric vehicles from 2030, this momentum is expected to grow as Singapore invests more in charging infrastructure for EVs.
Smart Charging
The SIT team, comprising EPE Year 2 Students Chiam Sheng Jye, 23; Tan Hao Jun Bryan, 23; Tan Kee Yee, 22; Teo Rui Jie Marcus, 24, conceptualised the building of solar cells on car covers to charge EVs, while channelling the excess energy into an Energy Storage System (ESS) to store energy for later use.
The solar car cover device features a car cover installed with thin film solar panels that generate solar energy, as well as to provide shade protection for the car. This cover is connected to an ESS battery and is linked to the grid, thus leveraging on vehicle-to-grid (V2G) technology to balance out energy production and consumption, enabling the battery capacity to be utilised more efficiently.
"As Singapore aims to deploy at least 2 gigawatt-peak of solar energy by 2030, we hope our idea can help to achieve this target in providing clean energy to the country's power consumption," Tan Kee Yee said.
Powering Up with Knowledge
The team were inspired by what they had learned in their course subjects ranging from EV operation and solar photovoltaic energy, to electrical system.
"Attending classes related to our project idea helps to further increase our understanding of how EVs work. One of our classes was Technical Writing, which we applied to help us present our idea in a creative and compelling way," Marcus Teo shared.
"This success shows that our EPE degree programme not only has provided its students with knowledge and skillsets to solve complex engineering problems, but also with the soft skills to think and communicate on their feet," said Professor Tseng King Jet, Programme Leader of the BEng (Hons) EPE programme.
The Road Ahead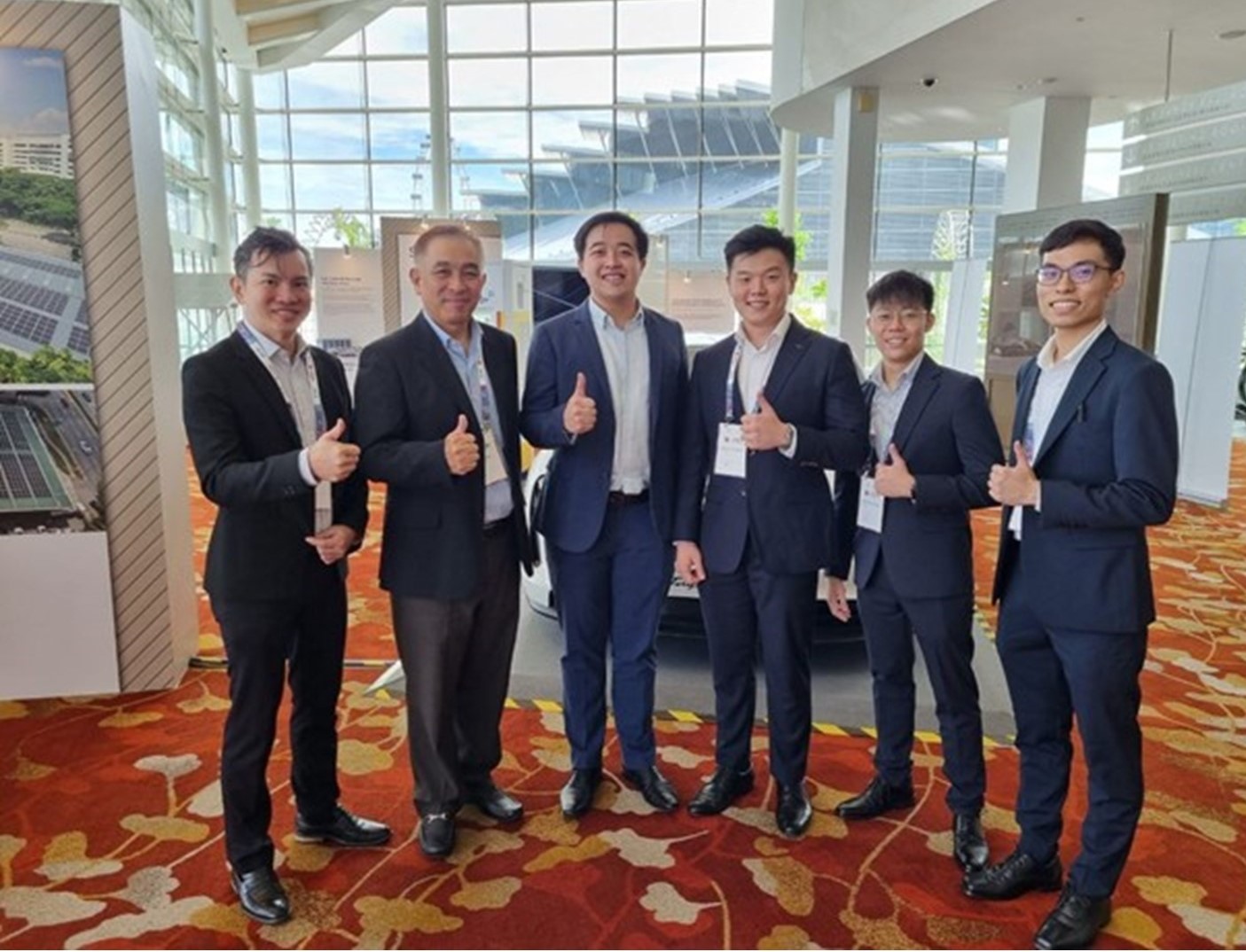 From left to right: Mr Jackson Seng, Vice-President, Schneider Electric; Mr Yoon Kim, Cluster President, Schneider Electric; Kee Yee; Bryan; Marcus; Sheng Jye (Photo: Schneider Electric)
"We hope to continue working on the concept by implementing a prototype from now till our final year project, and also partner companies that are interested in designing solutions to help improve grid reliability," Bryan Tan said.
Finalist teams received direct mentorship with the energy companies, which sharpened their proposals and improved the feasibility of their ideas in Singapore's context. Following the award, EMA will continue to facilitate discussions between students and industry on potential energy solutions to be deployed.
Chiam Sheng Jye said, "The highlight of the competition will be the mentorship we had with Schneider Electric. They taught us to refine our pitch, and we also learned more about V2G. We also got to tour around the company premises and learnt about various interesting engineering prototypes. Separately, teamwork and mutual support are very important to achieve success!"
---
[1] Take-up for electric cars jumps, registrations this year already twice the rate for all of 2021: Iswaran - CNA (channelnewsasia.com)