2021 has been dedicated by the Ministry of Social and Family Development as the Year of Celebrating SG Women. We take a look at two initiatives involving SIT that support women's development.
Focus Group Discussion on Singapore Women's Development
A group of 25 SITizens participated in a focus group discussion in June 2021, on the roles, values and challenges relating to women's development and issues affecting women in Singapore. The discussion is part of the ongoing Review and Conversations on Singapore Women's Development that will culminate in a White Paper, which will be tabled in Parliament.
Students of both genders shared their perspectives and brainstormed suggestions to bring about mindset change about women's roles and promote inclusivity. The discussion centred on three domains: school and work, community, and home. Among the issues raised were how stereotypes of female characteristics and gender roles limit women's participation and progress in the workplace; how differing standards of competency and physical appearance that women and men are upheld to lead to unequal outcomes in society; and how gender roles at home are slowly being eroded. Students' suggestions to overcome these challenges focused on striving for greater work-life balance and providing more support for parents in their caregiving duties.

From left: Focus group organisers Afroze Begum, Year 3 Information and Communications Technology (Information Security) student and SIT Vanguard, and Chloe Han, Year 2 Occupational Therapy student and SITizen Ambassador.
"Having a focus group is significant because it provides a platform for an open discussion on how women are viewed in Singapore and by our generation, in order to resolve possible concerns," said Afroze Begum, a Year 3 Information and Communications Technology (Information Security) student and SIT Vanguard who helped to coordinate and facilitate a group in the discussion. "These conversations are actively directing a mindset shift, so the earlier the better to promote inclusiveness and cohesiveness."
Chloe Han, a Year 2 Occupational Therapy student and SITizen Ambassador, who coordinated and facilitated the discussion, said: "The biggest takeaway for me was how there is more mutual respect between men and women. People are beginning to view each other beyond the assumed gender-based roles, occupations, and physiological factors, and instead recognise each other for their unique skills, abilities, and individual traits that empower them."
The students' perspectives have been consolidated into a report as a joint effort with other universities, and submitted to the Ministry of Education for the White Paper.
Society of Women Engineers (SWE)@SG Launch and SWE Student Chapter in SIT
This year's International Women in Engineering Day was celebrated with the official launch of the Society of Women Engineers (SWE)@SG on 23 June 2021. SWE@SG is a global affiliate of the Society of Women Engineers, the world's largest advocate and catalyst of change for women in engineering and technology. The event was organised in partnership with other SWE professionals and university affiliate partners, such as the Singapore Semiconductor Industry Association, HP Inc., Micron Technology, Xilinx, SIT, Nanyang Technological University, National University of Singapore and Singapore University of Technology and Design.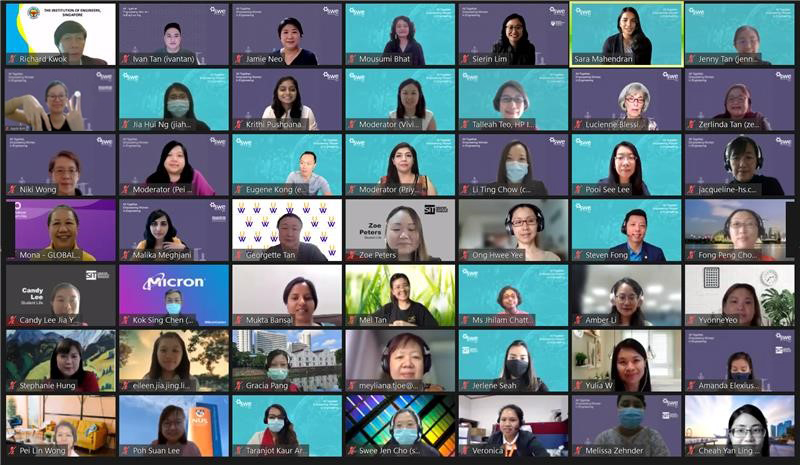 Participants at the official launch of SWE@SG.
During the virtual event attended by 250 participants, speakers from leading engineering and technology companies discussed industry trending topics, policies, and actions to enable parity for female leadership in Science, Technology, Engineering and Mathematics (STEM). Professor Chiew Sing Ping, Cluster Director, Engineering, contributed a short message for the launch video, while Pharmaceutical Engineering graduate Krithi Pushpanathan was one of the panellists in the discussion to 'Propel Women Leadership in Engineering'. One of the points raised at the panel discussion was that while more women have studied engineering in the last 10 years, many did not continue to pursue engineering as a career. This has led to women being under-represented and less likely to reach senior positions in engineering, including in Singapore.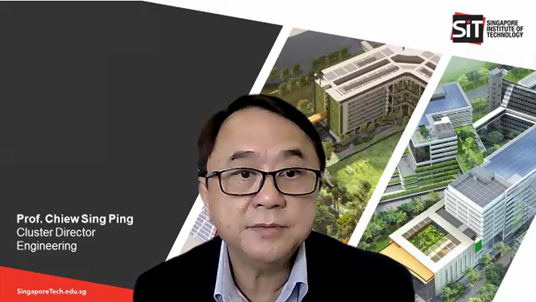 Professor Chiew Sing Ping, Cluster Director, Engineering at the launch of SWE@SG.
Female engineers hope that SWE@SG will help to change this. "SWE@SG aims to empower women to achieve their full potential as engineers and leaders in engineering and technology," said A/Prof Susanna Leong, Assistant Provost (Applied Research), SIT and an SWE@SG committee member. "It provides an open and inclusive platform to allow female engineers to network, promote their development as engineers, support their career aspirations and ultimately build a sustainable workforce in Singapore."
The SWE@SIT Student Chapter, which is supported by faculty and Student Life Division, was launched concurrently and aims to serve as a platform where employers can connect with students who are prospective engineers. A/Prof Cheow Wean Sin, Faculty Advisor to the Student Chapter, hopes to use it to encourage more women to take up engineering. "Research has shown that women want to work in careers that help and work with other people, to positively impact the world," said A/Prof Cheow. "Such aspirations are perfectly aligned with careers as engineers, where females can maximise their collaboration and problem-solving skills to work on innovative solutions or products that can make a difference in society."
For Krithi, finding innovative solutions to real-world problems continues to fuel her passion for engineering. Currently a research engineer at SIT, she will be heading to Imperial College London in October 2021 to pursue a Master's in Epidemiology. "Inspiring and encouraging more women to join the field would normalise the existence of women engineers and over time, will create more inclusive environments in companies," said Krithi.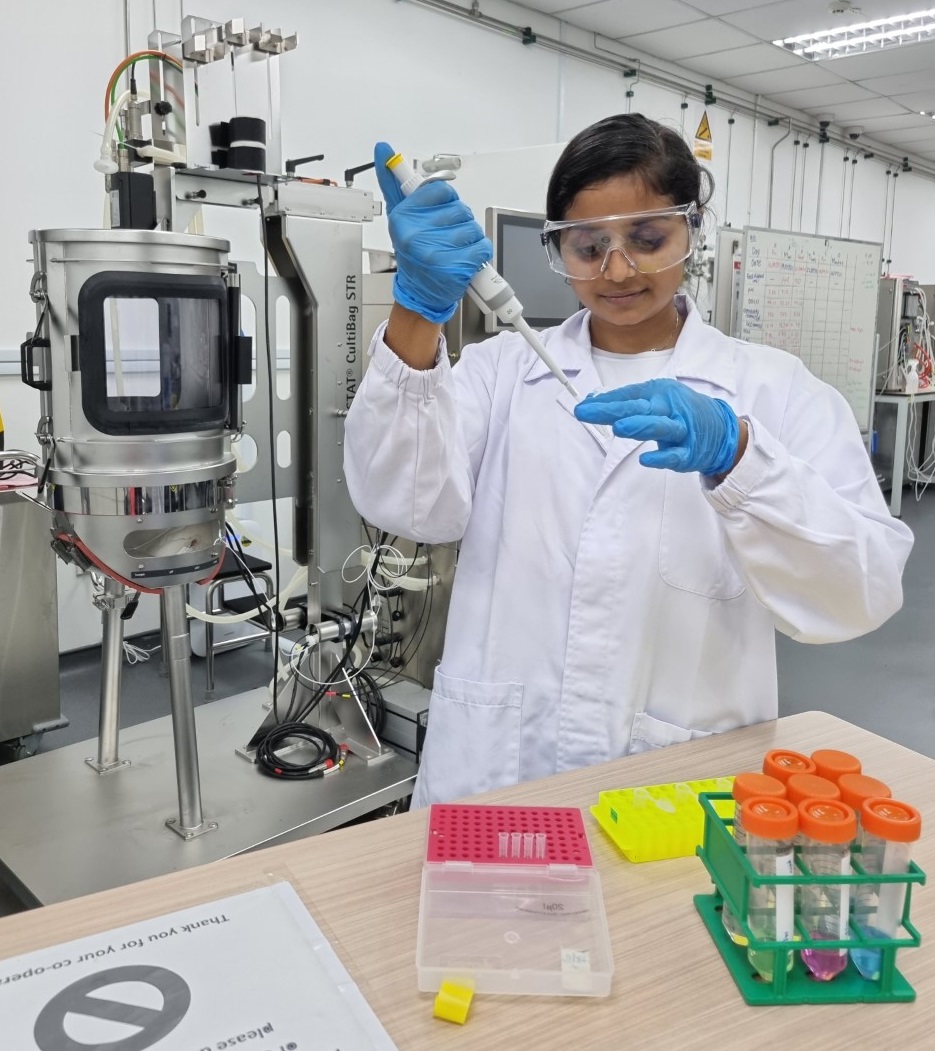 Pharmaceutical Engineering graduate Krithi Pushpanathan.