Armed with a Postgraduate Diploma in Sonography, Florence Tan is ready for advanced clinical practice and leadership. 
Like many working mothers, Florence Tan Gaik Mooi, Principal Radiographer at the Singapore General Hospital, juggles many responsibilities. On top of that, she had to turn down upskilling opportunities previously to take care of her young son, even though she was keen to upskill.  
Then, she found out about the Postgraduate Diploma in Sonography offered by SITLEARN Professional Development (SITLEARN PD) in 2019. 
"SIT's programme is unique in that there is a combination of theoretical learning and practical sessions on-campus. The lecturers are very forthcoming and offer their assistance whenever I encounter difficulties," she said.  
"This was unlike other sonography-related programmes I had come across, which were mainly held online or offered exclusively by overseas universities," added the 37-year-old, who decided to upgrade herself through a sponsorship from her organisation. 
Self-discipline: The Key to Success 
SITLEARN PD offers stackable modular certification courses in Sonography, where healthcare professionals apply scientific learning, specialist knowledge, and advanced practical skills to the clinical applications of ultrasound specialisation. 
Modules can be taken individually, or be stacked towards a Postgraduate Certificate or Diploma in Sonography. Each module can be completed in around 14 weeks.  
Committing to the three-year postgraduate diploma course was not something that Florence took lightly, as she juggled full-time work and parenting duties. While it was challenging, she seized the chance to be a positive role model for her child, who turns nine this year. 
Florence with her husband, Chai Ming You (left) and son, Chai Xing Yu during a recent family vacation. (Photo: Florence Tan)
"I told him, 'Mummy decided to return to studies because I want to learn more to help others.' I wanted to show him that he can achieve his goals if he is prepared to work for it," recalled Florence, who completed eight stackable modules in three years.
Self-discipline and perseverance were what the dynamic radiographer demonstrated. After work, she would head home for dinner and guide her son in his homework. It would be 11pm before she self-studied for two hours every night.
This was on top of attending one to two Zoom lectures per week and the occasional in-person practicals on campus, where students put their clinical skills to practice. Prior to the pandemic, lessons, including a six-day intensive workshop, were held on the SIT campus in Dover.
"It can be very daunting and tiring sometimes, but when you are clear about your goal, it helps to drive you further," reflected Florence.
What also helped her immensely was the blended learning approach (a combination of virtual and physical lessons), which allowed her to progress in a flexible, yet structured way.
"Lecture notes were uploaded in advance into the student learning management system, so we had ample time to go through the study materials before each lesson. Also, the study materials were comprehensive and included the latest clinical practice guidelines," she shared.
 The Return of Continuous Learning
Florence may have sacrificed personal time in favour of hitting the books, but the fulfilment gained in return was priceless., She was among the first batch of Sonography Postgraduate Diploma graduates in November 2022.  
For a start, the rigorous training and assessments — a combination of theory tests, quizzes, evaluations on scanning skill coupled with clinical reasoning, and clinical competency assessments on real patients — increased her confidence and deepened her knowledge of the field.
"Now, my clinical reasoning skills have matured. I can better relate patients' clinical signs and symptoms to the ultrasound findings and explain the pathophysiology of the disease to my junior colleagues," said Florence.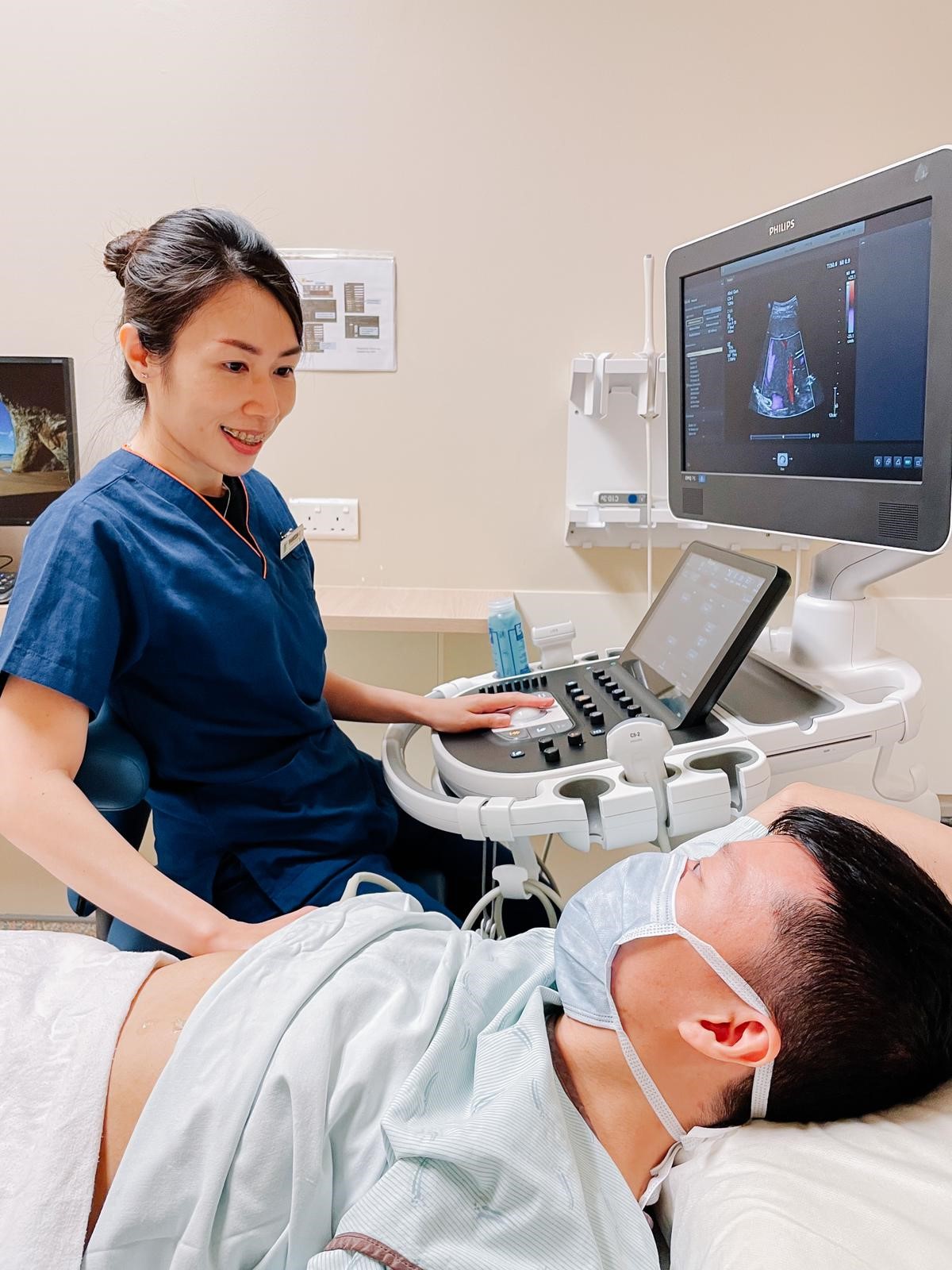 Florence Tan, Principal Radiographer at SGH, has been an ultrasound practitioner for the past 10 years. (Photo: Singapore General Hospital)
Another takeaway from enrolling in the programme was an expanded network of peers in other healthcare fields. Florence's coursemates included general practitioners, clinicians and sonographers from other healthcare institutions.
"We exchanged professional working knowledge during workshops. For instance, course mates from KK Women's and Children's Hospital would share their paediatrics and gynaecology experience. Not only did we support one another throughout the course, but we continue to keep in touch today," she said.
Looking Ahead
Now bitten by the study bug, Florence is setting her sights even further. "I hope to delve into research work, so if a master's programme comes along at SIT, I'd love to sign up," she said.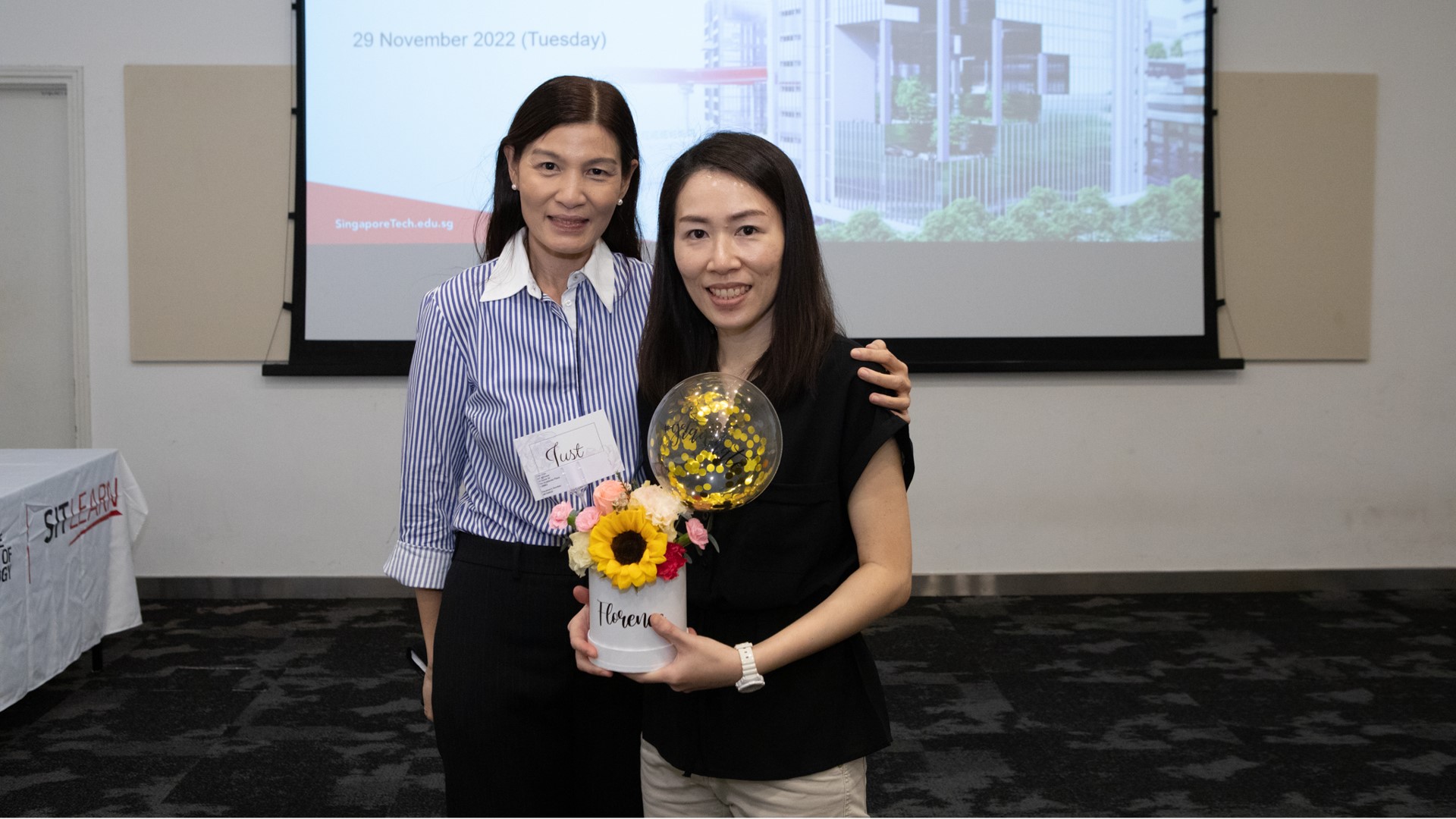 Florence (right) at the postgraduate diploma certificate presentation ceremony held at SIT in November 2022. She credits the commitment of lecturers like Associate Professor Ooi Chin Chin, who provided assistance after lesson hours. (SIT Photo: Benny / Food & Shelter)
For more details about this specialisation, please refer to  Sonography | Singapore Institute of Technology (singaporetech.edu.sg)