SIT and Cheng Yew Heng's partnership started with a simple question: How do we make a successful heritage brand even better? The sugar factory recognises the importance of redesigning processes and is collaborating with SIT to achieve optimisation of its production process.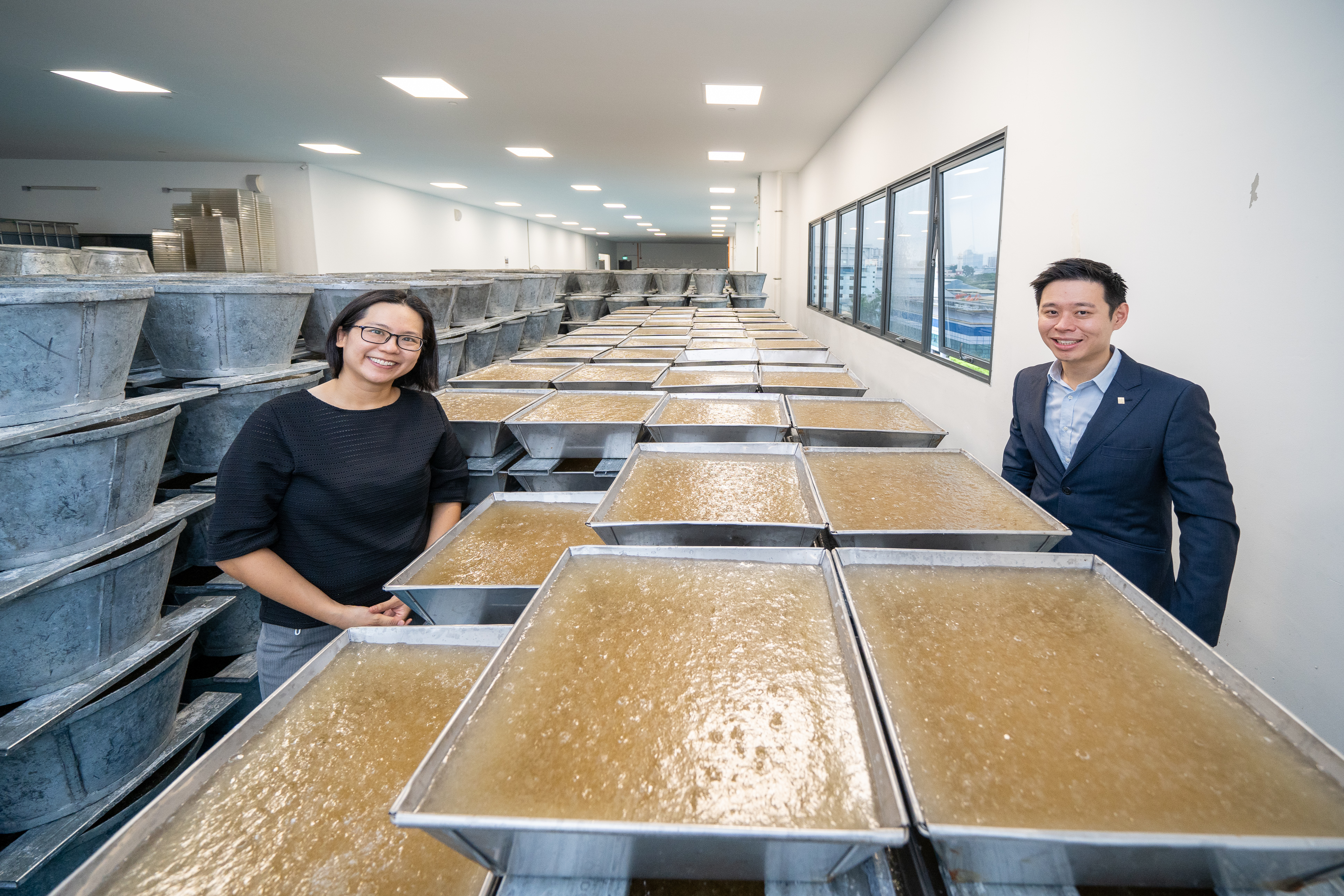 A/Prof Wong Shin Yee (left) and Mr John Cheng collaborated to redesign processes at Cheng Yew Heng to achieve optimisation. (SIT Photo: Keng Photography/Tan Eng Keng)
With a deft flick of his testing stick, the silver-haired Mr Kok Mow Kheong decides that the ratio of cane sugar to water is just right: Perfect viscosity. It is an art form the 'master chef' at Cheng Yew Heng Candy Factory has perfected for the past three decades.
It is but the start of a two-week process to manufacture rock sugar. The solution bubbles in a large vat before it is transferred to a collection tank. As it cools, the liquid sugar is distributed across dozens of cast iron pails, where it is left to crystallise for the next 14 days. When the rock sugar coagulates at the edges of the pails, it is carefully knocked out and broken into smaller pieces, sieved to remove powdery remnants, before being packed.
The process used to involve up to 10 workers, but with semi-automation, it now requires just five. Production is carried out at Cheng Yew Heng's new six-storey premises in Jurong, which also houses an incubator for start-ups – part of the company's drive to go big on food technology and research and development (R&D).
For the owners, the plan for Singapore's oldest sugar factory – at 74 years old – is to keep modernising to stay relevant. Driven by founder and director Mr John Cheng, 39, and his brother Mr Cheng Liang Kheng, 51, the company is making huge strides with help from the third generation of Chengs. The company has a significant presence in the Chinese market, thanks to its range of candy – Jewels Rock Sugar Sticks, a snazzy, multi-flavoured take on a traditional product.
Central to their success is the company's R&D journey, which the Singapore Institute of Technology (SIT) has been deeply involved in.
Recipe for Automation
Even though the rock sugar production process has improved through the years, the younger Mr Cheng's dream is to fully automate the process one day. While he appreciates that sugar-making is an art perfected by the likes of highly-skilled shifus (masters) such as Mr Kok, Mr Cheng is determined to make it a science as well.
For many years, the process has been perfected by the shifus and "everyone just followed the process like clockwork", he shared. However, there was a lack of proper documentation. "I needed to understand the process. Knowledge is power."
In Mr Cheng's case, such an insight would have led to greater automation much earlier on, reducing the need for manpower and improving productivity. But who on these shores would have knowledge about something as niche as rock sugar production? For almost eight years since he joined in 2008, Mr Cheng searched for knowledge partners who could document and define the process – but nothing crystallised.
Finally, in 2015, he met a kindred spirit in Associate Professor Wong Shin Yee from SIT. While her research focus was on lactose crystallisation from whey, there were enough commonalities for her to apply the insights to Cheng Yew Heng's rock sugar production process.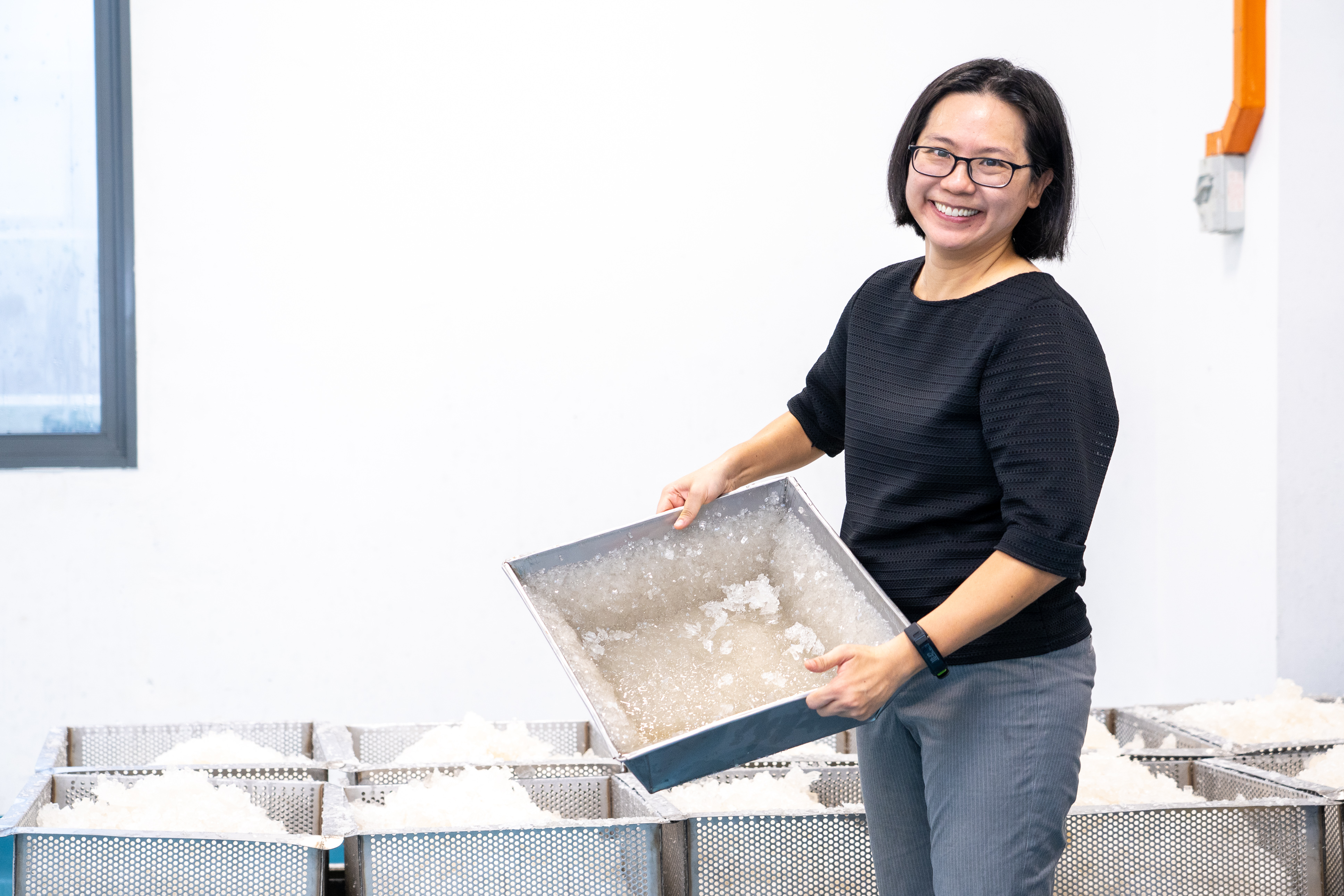 A/Prof Wong proposed replacing the cast iron pails with stainless steel trays to shorten the time period of sugar crystallisation. (SIT Photo: Keng Photography/Tan Eng Keng)
A/Prof Wong was enthused by the prospect of applying her research to industry use. "The company is open and quick to turn to innovation. Proven research ideas can be translated quickly to industry practice. John and innovation manager Michelle Bin are also very open to 'blue sky' ideas."
SIT and Cheng Yew Heng have since embarked on more than 10 projects together since 2016, and A/Prof Wong has helped develop methodologies in the rock sugar production process. For instance, she found that replacing the cast iron pails with stainless steel trays has shortened the crystallisation time period. It also increased the yield by about 10 per cent – a significant percentage for a company that sees trades in the hundreds of tonnes annually.
Rock Solid Partnership
The latest 'blue sky' idea – offered by an SIT student during her Integrated Work Study Programme at the company – was to use ultrasound to optimise sugar stick production. The low-frequency sound wave technology is believed to speed up crystallisation. However, it is an expensive technology and not directly translatable at this point.
Regardless, Mr Cheng is supportive of the idea. After all, the SIT partnership has sparked his imagination. "Previously we didn't even have an R&D team. SIT made us see the value of having one. We only can come so far unless we have partners who open our eyes to new possibilities."
Cheng Yew Heng and SIT are now working on a new project – optimising the crystallisation process of Jewels Rock Sugar Sticks.
A/Prof Wong is grateful for such opportunities. She said: "We welcome more industry partners like Cheng Yew Heng to explore science, technology, and innovation with us. If the collaboration is successful, the research outcome will translate into applicable solutions. That is what applied research at SIT is all about."
She is also relishing the sweet opportunity to do more research. "All scientific advances start with 'What if?' and who knows what we might find if we just keep exploring," she said.
It is perhaps the closest a research enthusiast has come to feeling like a kid in a candy factory.