When SIT launched its Physiotherapy degree programme in 2016, it didn't take long for 35-year-old Alfian bin Redzuan to take the plunge and answer a calling that has been on his mind since his youth.
Alfian bin Redzuan is no stranger to pain and injury. After all, he has been an athlete since his youth — he was on the track and field team in secondary school, and played rugby in his junior college and university days.
Despite recurrent problems with his back, shoulders and knees, Alfian remained unfazed. He even continued keeping active in adulthood with touch rugby — until a car accident forced him to reconsider his involvement in the sport.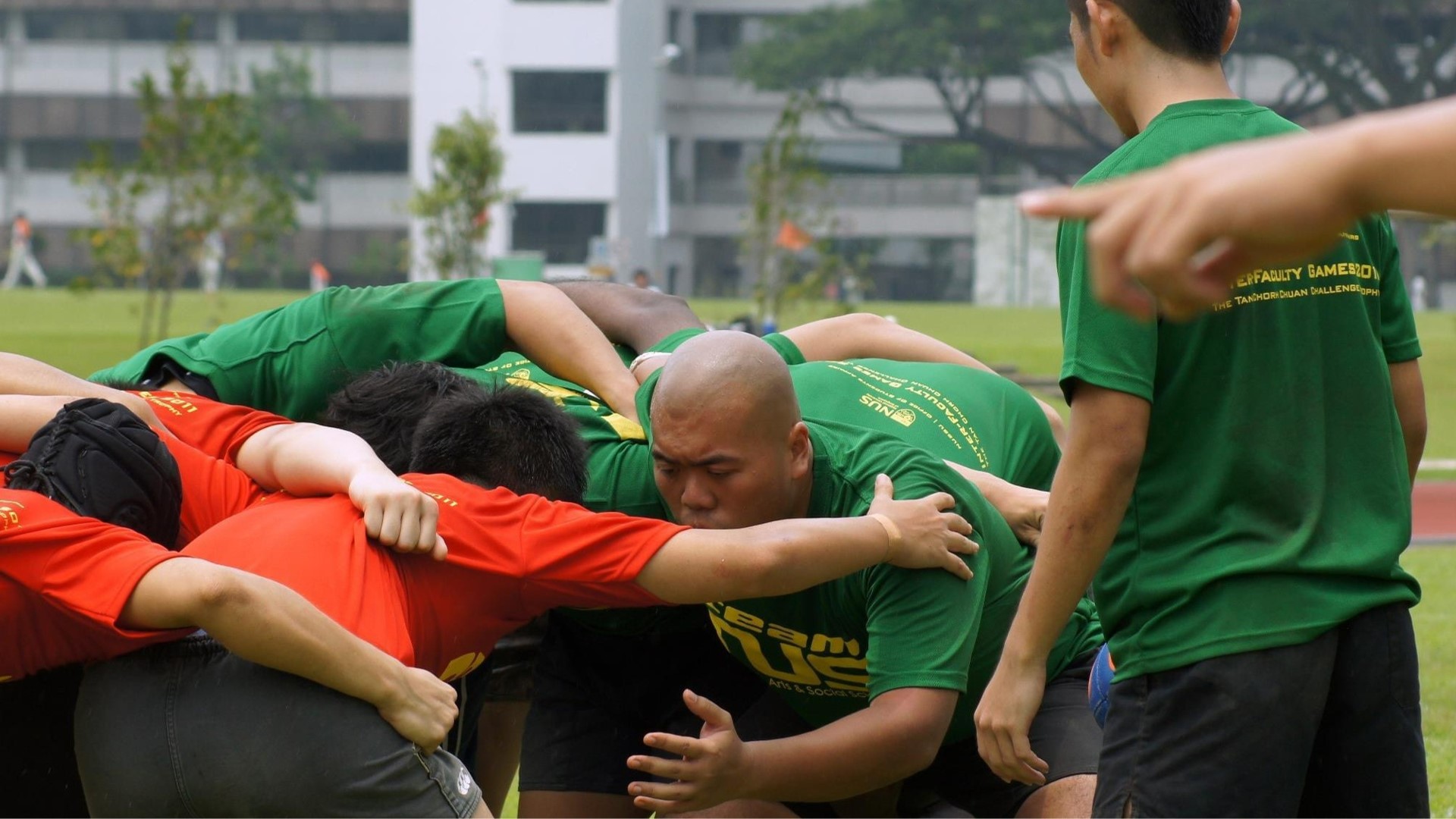 Alfian bin Redzuan (centre) participated in the NUS Inter-Faculty Games in 2011 when he was a Philosophy undergraduate at NUS. (Photo: Max Ming Xuan Lee - Facebook Page)
"The orthopaedic specialist said I needed to stop playing touch rugby or I'd be potentially seeing him for a spinal fusion surgery in future," said Alfian. Spinal fusion is an extensive surgery that improves spinal stability and eliminates pain.
Each time Alfian's body was hurt, physiotherapists were the ones who helped him regain his strength and mobility. He hasn't yet needed to operate on his spine nor stop playing the sport he loves.
Answering the Call
Grateful and inspired by all the physiotherapists who have attended to him over the years, Alfian always bore hope that perhaps one day, he could also be one of them.
However, just about a decade ago, physiotherapy was not offered at any local university as a standalone degree programme. Alfian did a degree in philosophy and chalked up work experience in the public sector and, most recently, SIT's Student Life division.
His career would take a sharp turn. When SIT launched its four-year Physiotherapy degree programme and, in the later years, introduced the Professional Conversion Programme (now known as Career Conversion Programme) for Allied Health Professionals under Workforce Singapore for its Physiotherapy degree programme, it didn't take long for Alfian to decide to switch paths. He enrolled in 2019 and is part of the second cohort of CCP students.
Becoming a Student Again
The rigour of the degree programme was the first thing that struck Alfian, who had to hit the books once again and wrap his head around complex theories about the human body.
"Whatever we see the physiotherapists do out in the field, there is a lot of deep knowledge to inform their clinical recommendations," he said.
He shares a handy hack when he needs an extra boost to better understand his work, "You can go to YouTube for everything these days."  
Self-deprecation aside, Alfian credits the teaching faculty for sharing valuable industry knowledge that preps the cohort for the road ahead. "Most, if not all, of them are practicing physiotherapists and can share anecdotes of patient interactions," he said.
However, the affable Alfian was candid about the challenges of going back to school at his age, "I have a lot of smart classmates. Sometimes you start asking, 'Am I good enough?'"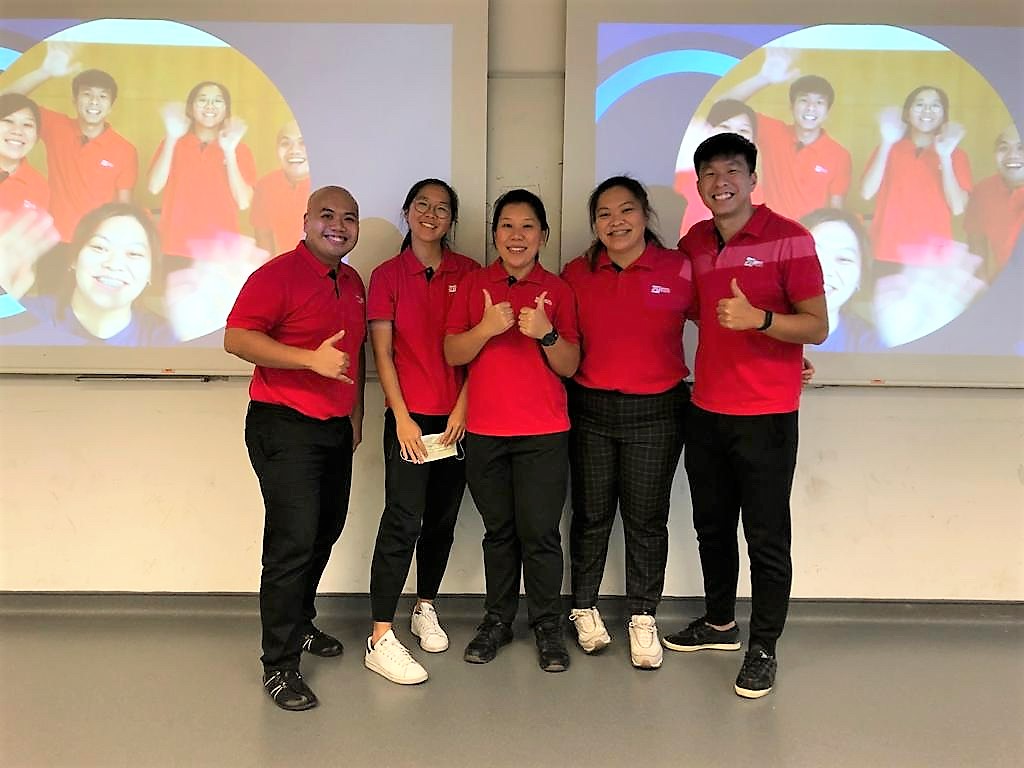 Alfian (1st from left) with his fellow project mates who worked on an exercise video for seniors from the Fei Yue Senior Activity Centre (Teck Whye). (Photo: Alfian bin Redzuan)
Whenever the going gets tough, he leans on his course mates for support. "The camaraderie is great. We are there for each other when the need arises," he said.
While starting out anxious about his academic performance, Alfian has since settled into his own rhythm and assesses his competency in a more grounded way. The university's holistic training calls for more than book smarts. These would-be physiotherapists also need people skills and the ability to problem-solve on the spot, soft skills often gained through work experience.
In addition to written examinations, students are graded on oral reasoning, practicals with standardised patients and five six-week blocks of clinical placements at healthcare institutions.
Every day may feel like a whirlwind, but Alfian finds learning as an adult learner pleasurable and eye-opening. "In the past, I was only exposed to the musculoskeletal aspect of physiotherapy. Now I get to know how the modality can also help cardiopulmonary patients," he said.
Facing Patients in Real Life
No classroom can impart the kind of learning gleaned from a clinical placement, said Alfian, who has gone through two such attachments in different healthcare institutions to date.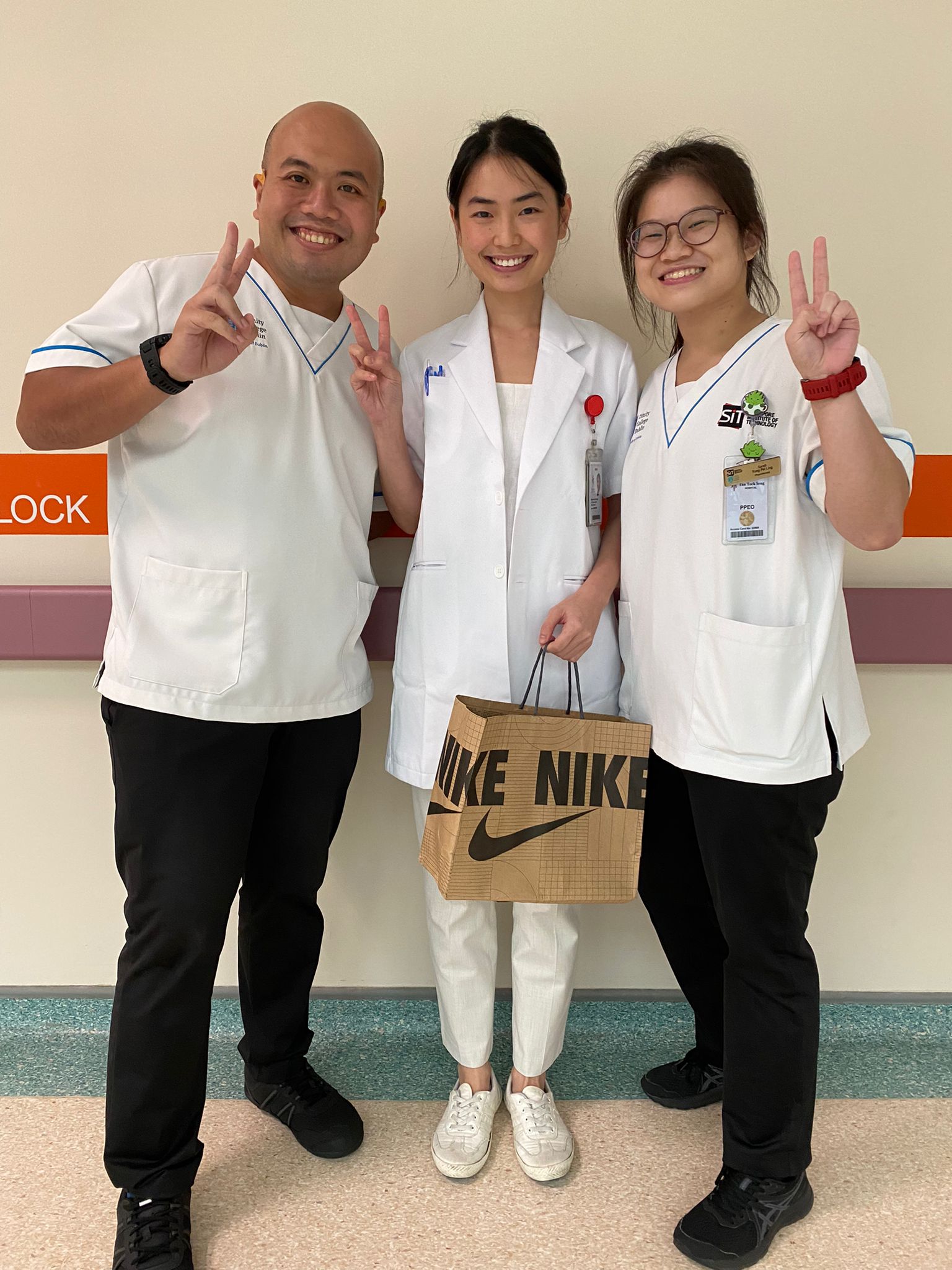 Alfian (left) with his clinical educator and buddy in a recent six-week clinical placement at Tan Tock Seng Hospital. (Photo: Alfian bin Redzuan)
"The key is being adaptable because no two patients are the same," he said.
For instance, a 40-year-old who has suffered a heart attack will need different care from a 75-year-old heart patient with other conditions like failing kidneys and frailty. Also, while some patients are cooperative and mild, others may be more emotional and impatient.
Regardless of the challenge, Alfian remains fueled by his end goal - the ability to positively impact patients, and even his family members, with chronic conditions such as hypertension and diabetes.
"I hope to be in a position to help an individual improve their quality of life - even something as simple as enabling them to go to a nearby coffeeshop - and keep them from having to return to the hospital," said Alfian, who expects to graduate in October 2023 and join Ren Ci Community Hospital as a physiotherapist.
For now though, the humble student concedes he has some way to go - "I'm nowhere near a 'finished product'. Every day is a chance for me to learn from patients about their health and life experiences."