On 2 November 2022, the Singapore Institute of Technology inked seven Memoranda of Understanding with reputable companies to jointly nurture fintech talents. The partnerships aim to strengthen the workforce through several initiatives, including work attachments for Applied Computing (Fintech) undergraduates and workplace learning opportunities.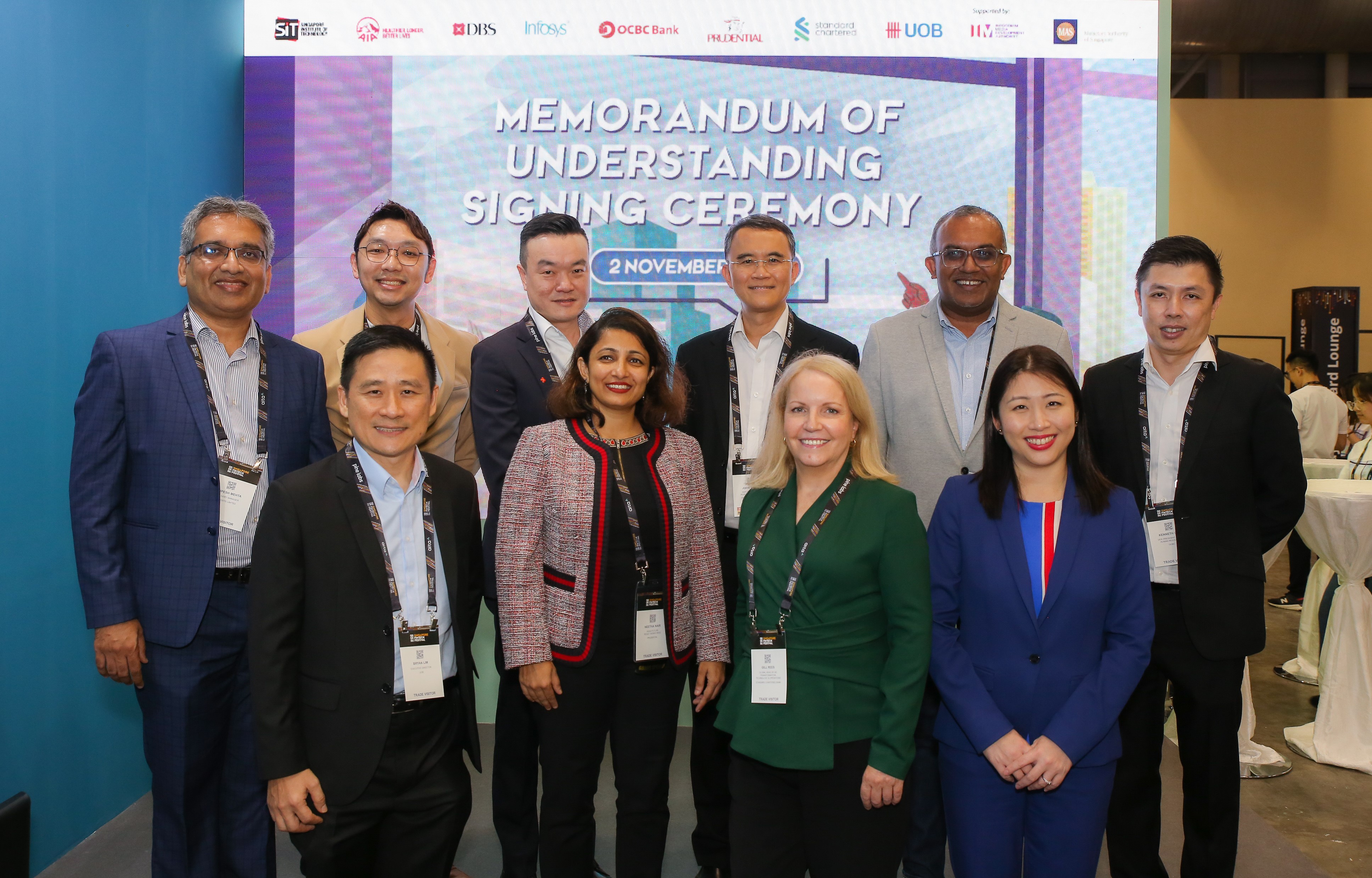 Key representatives at the MOU signing ceremony on 2 November 2022.
Back row, from left: Mr Rupesh Mehta, Delivery Manager, Infosys; Mr Sylvester Lau, Head of Talent Acquisition, AIA Singapore; Mr Eric Ho, Executive Director, Talent Acquisition Group, DBS Bank; Prof John Thong, Deputy President (Academic) & Provost, SIT; Mr Kiren Kumar, Deputy Chief Executive of Development, Infocomm Media Development Authority; Mr Kenneth Gan, Vice President, Group Human Resources, OCBC Bank.
Front row, from left: Mr Bryan Lim, Executive Director, Head of Group Talent and Development, UOB; Ms Neetha Nair, Head of Future-Ready Workforce, Prudential Singapore; Ms Gill Rees, Global Head of HR for Transformation, Technology and Operations, Standard Chartered Bank; Ms Gillian Tan, Assistant Managing Director of the Development and International Group, Monetary Authority of Singapore. (SIT Photo: Keng Photography/Wang Zhixiang)
Following the launch of SIT's new programme, Bachelor of Science with Honours in Applied Computing with a specialisation in Fintech [BSc AC (Fintech)], earlier this year, the university has established partnerships with six financial institutions and an IT service provider on 2 November 2022 at the Singapore Fintech Festival. Seven Memoranda of Understanding (MOU) were inked with AIA Singapore, DBS Bank, Infosys, Oversea-Chinese Banking Corporation (OCBC), Prudential Singapore, Standard Chartered Bank and United Overseas Bank (UOB).
The partnerships signify their support to jointly develop current and future talents through a number of initiatives that cut across both Pre-Employment Training (PET) and Continuing Education and Training (CET).
Deepening Undergraduates' Learning Opportunities
Launched in partnership with the Infocomm Media Development Authority (IMDA) and the Monetary Authority of Singapore (MAS), the three-year BSc AC (Fintech) degree programme trains students in both technical skills and financial domain knowledge to position them for careers in high-growth financial technology areas. As a Work-Study Degree, the programme features an enriching 16-month work attachment over three years under the 'Term-In Term-Out' (TITO) model. Students will alternate between spending one to two trimesters in university and at the workplace.
Through the MOU, SIT and the seven companies will co-develop the degree programme and enable work attachments and learning opportunities through the Integrated Work Study Programme (IWSP) and industrial projects. There will also be various opportunities for SIT students and faculty to participate in Fintech projects, where they will collaborate with industry partners to deliver integrated solutions that address business challenges.
Lifelong Learning through Workplace Learning Opportunities
In addition to enhancing undergraduates' learning, SIT and the companies will augment in-employment learners' upskilling through workplace learning. The entities will explore programmes that include specialised training for professionals to keep up to date with the latest technologies, trends and practices in the financial sector.
The War for Talent – An Insider's Perspective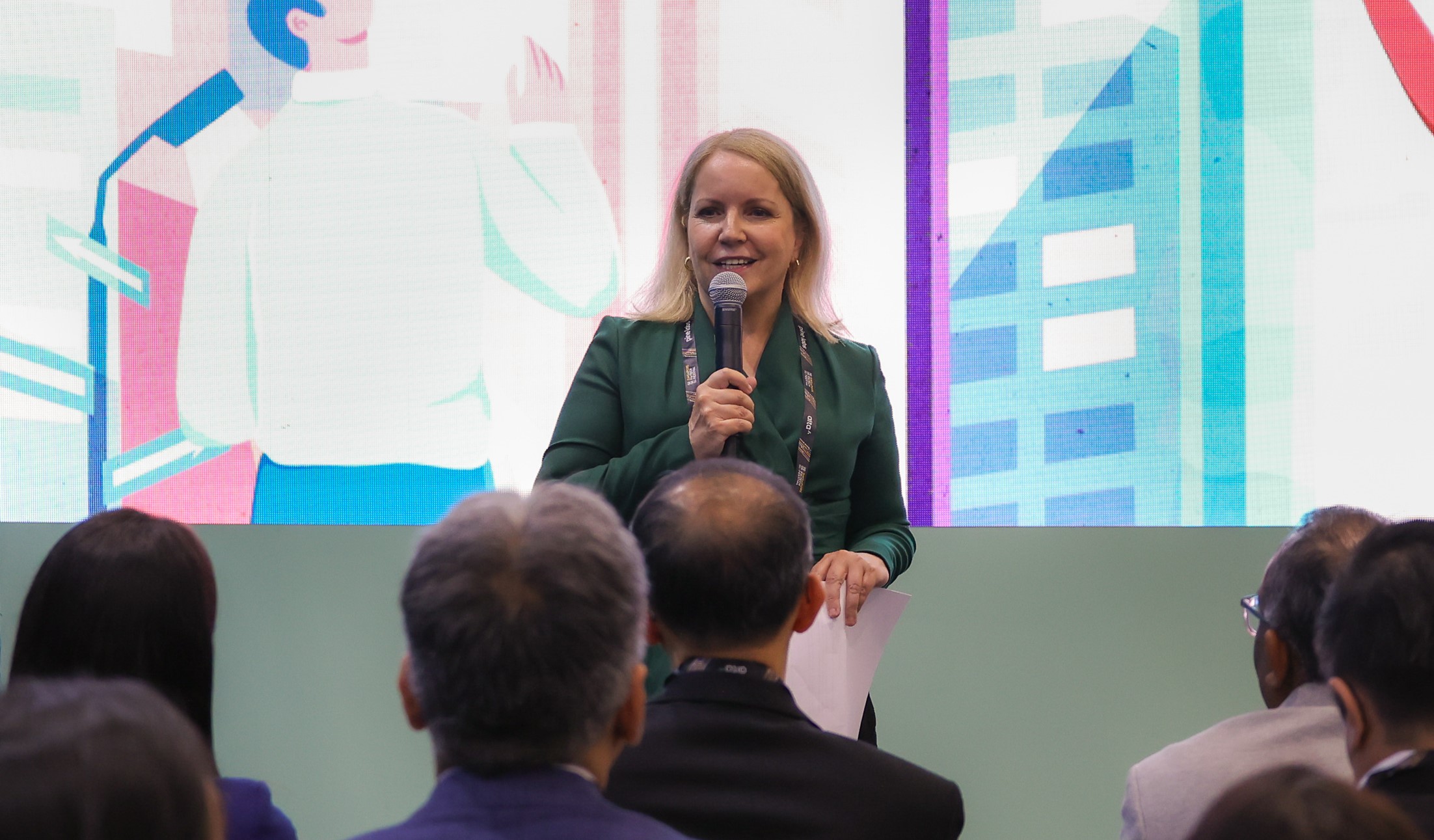 Standard Chartered Bank's Ms Gill Rees stressed the importance of strategic industry-academia collaboration to strengthen the current and future workforce. (SIT Photo: Keng Photography/Wang Zhixiang).
The MOU signing ceremony was followed by an insightful talk on fintech talent acquisition and retention by Ms Gill Rees, Global Head of HR for Transformation, Technology and Operations, Standard Chartered Bank.
As the global fintech industry is expected to grow by around 20% come 2025, the competition for tech talent is fierce, given the high demand and growing skills shortage.
Ms Rees shared that for financial institutions  to continue hiring and retaining top talents, companies need to work together to strengthen Singapore's appeal as a flourishing financial hub. "As we are competing globally for talent, we need to help local and global candidates understand Singapore's thriving career opportunities," she said.
Critical to winning the war for talent is embracing the idea that changes will benefit the industry. This includes recognising that talent movements enable sector growth. "Talents may move from bank to bank, and that helps build their capability and, in turn, make a difference to our businesses. It is very much a win-win," she remarked.
A product of a work-study degree, Ms Rees also shared how an industry-focused education is a crucial enabler for Standard Chartered Bank. "We see skills building as a national imperative that we need to do together," she said. "The MOU with SIT is a critical step towards producing adaptable talents with the learning agility and mindset to lead transformation."
She presented a practical, two-pronged approach to cultivating a local future-ready workforce that is complemented by a pool of diverse global skills:
A workforce plan to strengthen the local talent pipeline – The financial industry needs to constantly work with the education sector to map out roles and skill sets as they evolve and emerge in the workplace.

Leveraging global talents for critical skills that are not yet available in the local arena – For in-demand specialised skills that are yet to exist locally, it is essential to hire global talents that can lead the transformation and transfer the knowledge among local talents.
In conclusion, Ms Rees iterated that the continued partnership with an ecosystem of collaborators – comprising the government, education providers, and fellow financial institutions – to anticipate growth opportunities is vital to the sector's long-term success. With the MOU signing as yet another indication of the government's firm support for fintech, and developing the local tech workforce, Singapore is well-placed for such cross-fertilisation of ideas and collaborations to thrive.  
A recording of the MOU signing ceremony is available here (5hr 12min mark).