95.0% of graduates employed six months after graduation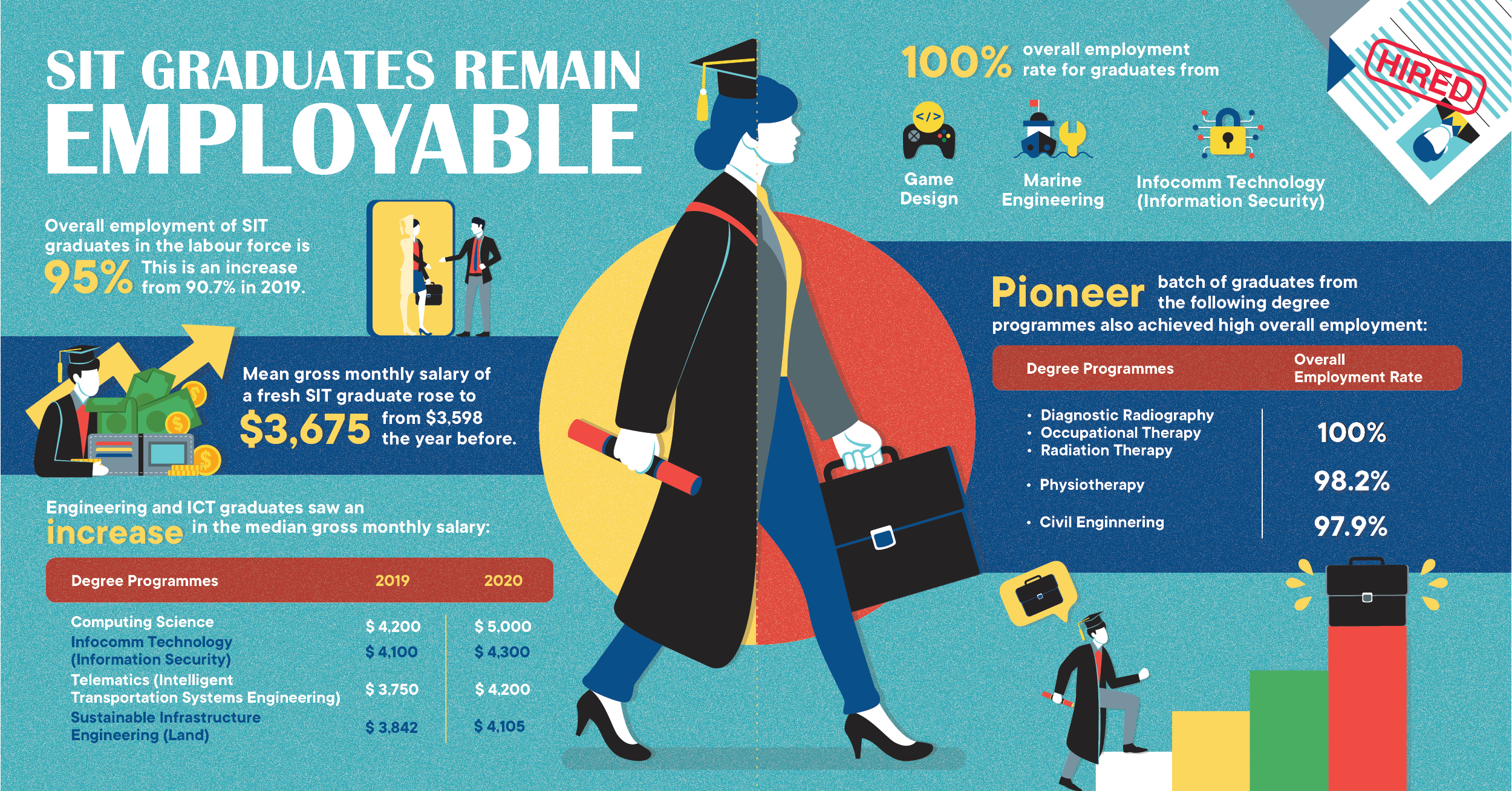 Graduates from the Singapore Institute of Technology (SIT) continue to be in demand, with high overall employment and starting salaries. The 2020 Joint Autonomous University Graduate Employment Survey (JAUGES)1 findings2 revealed that 95.0%3 of SIT graduates in the labour force4 who completed their studies between October 2019 and September 2020 were employed. This is higher than the 90.7% overall employment figure in the previous year.
A total of 1,882 or 86.6% of the university's cohort of 2,172 graduates from SIT and its nine Overseas University (OU) partners across 39 degree programmes participated in SIT's seventh annual GES, which was conducted between 1 March and 14 May 2021.
SIT GES 2020 Results at a Glance
| | | | |
| --- | --- | --- | --- |
|   | 2018 | 2019 | 2020 |
| No. of Graduates | 1,707 | 1,809 | 2,172 |
| No. of Programmes | 33 | 36 | 39 |
| Response Rate | 85.2% | 83.3% | 86.6% |
| Proportion of Graduates in the Labour Force who are Employed | 92.5% | 90.7% | 95.0% |
| Mean Gross Monthly Salary | $3,437 | $3,598 | $3,675 |
| Median Gross Monthly Salary | $3,300 | $3,500 | $3,500 |
SIT saw 100% overall employment across several degree programmes, including Information and Communications Technology (Information Security), Game Design, Marine Engineering, Aerospace Systems, as well as the pioneer batch of graduates from three SIT-conferred degree programmes in allied health – Diagnostic Radiography, Occupational Therapy and Radiation Therapy. The inaugural batch of graduates from the joint SIT-University of Glasgow Civil Engineering programme achieved 97.9% overall employment.
Higher Starting Salaries for Graduates
The mean gross monthly salary5 among fresh graduates employed in full-time permanent employment increased to $3,675 in 2020, compared to $3,598 in 2019. The median gross monthly salary among fresh graduates employed in full-time permanent employment remained the same at $3,500, compared to 2019.
Fresh graduates in the Computing Science programme earned the most among their 2020 graduate peers with a median gross monthly salary of $5,000, compared to $4,200 in 2019. This was followed by Information and Communications Technology (Information Security) graduates, who earned a median salary of $4,300, up from $4,100 the year before. Graduates with comparatively similar salaries were those from the Computer Science in Real-Time Interactive Simulation, Telematics (Intelligent Transportation Systems Engineering), Systems Engineering (ElectroMechanical Systems) and Sustainable Infrastructure Engineering (Land) programmes.
Professor Chua Kee Chaing, SIT President-designate, said, "It is encouraging that SIT graduates remain sought after by the industry and enjoy competitive salaries despite current economic conditions. This is because we nurture our graduates to be work-ready through our focus on applied learning and the signature Integrated Work Study Programme (IWSP). IWSP provides them with real work experience, which is much valued by employers and helps the students to hit the ground running upon graduation."
IWSP Gives SIT Graduates a Head Start in Careers
43.6%6 of employed graduates received job offers from their IWSP companies before graduation. Of these, 22.5%-points accepted the offers.
The IWSP is an integral feature of SIT's degree programmes where students undertake up to 12 months of relevant work during their course of study. It provides students the opportunity to develop important work skills in their chosen field and prepares them for a seamless transition to employment. Since its inception in 2014, the IWSP has expanded to cover 22 SIT and joint degree programmes, with over 1,200 students out in the industry for their work attachments in Academic Year 2020.
Other than the IWSP, SIT supports graduating students through its Centre for Career Readiness, which organises Career Success Workshops, Recruitment Talks, Career Fairs and Career Coaching Sessions. Sharing sessions by alumni and industry partners also help to raise awareness of the current challenges in the workplace, the impact of COVID-19 and the importance of being open-minded in exploring career opportunities in adjacent industries. To support fresh graduates entering the workforce, SIT offers four free Continuing Education and Training (CET) modules to the Class of 2020. Alumni can leverage the $2,000 worth of SITizens Learning Credits to apply for eligible CET courses in SIT. 
On top of providing extensive career guidance and complimentary CET courses, SIT also taps on its network of industry partners to curate suitable traineeship opportunities for graduates, such as the SGUnited Traineeships Programme (SGUT). With a duration of up to a year, these traineeships equip young Singaporeans with valuable industry experience and allow them to gain a firmer foothold in the job market when the economy recovers.
 
--------------
1 The JAUGES is conducted by the six Autonomous Universities (NTU, NUS, SIT, SMU, SUSS and SUTD) every year to survey the employment status of graduates around six months after the completion of their final examinations. Due to their different academic calendars, NUS, NTU, SMU and SUSS conduct their surveys in November each year, while SUTD and SIT conduct their surveys in February and March, respectively.
2 Details on SIT's course-level results are available at https://www.moe.gov.sg/post-secondary/overview/autonomous-universities/sit.
3 This figure includes SIT graduates who were enrolled in the SGUnited Traineeships (SGUT) Programmes.
4 Graduates in the labour force refer to those who are working or not working but actively looking and available for work).
5 Gross monthly salary comprises the basic salary, fixed allowances, over-time pay, commissions and other regular cash payments, before deductions of the employee's CPF contributions and personal income tax. Employer's CPF contributions, bonuses, stock options, other lump sum payments, and payments-in-kind are excluded.
6 Excludes Allied Health graduates who took on Clinical Practice Education
About the Singapore Institute of Technology
The Singapore Institute of Technology (SIT) is Singapore's University of Applied Learning, offering applied degree programmes targeted at growth sectors of the economy. With a mission to nurture and develop individuals who impact society in meaningful ways, SIT aims to be a leader in innovative learning by integrating learning, industry and community.
The University's unique pedagogy integrates work and study by incorporating applied research for students to work on real industry problems and creating solutions that meet industry needs. SIT also advocates the work-learn continuum, which places an emphasis on upskilling and lifelong learning.
For more information, visit www.SingaporeTech.edu.sg.