The new degree specialisation will enable companies to build Industry 4.0 capabilities.
20 January 2022 – The Singapore Institute of Technology (SIT) and Siemens Pte Ltd have signed a Memorandum of Understanding (MOU) to develop a new degree specialisation in the Robotics Systems programme. The degree specialisation will deepen graduates' knowledge and skills in Industry 4.0 technologies for the advanced manufacturing sector, such as robotics and artificial intelligence (AI). Demand for these skill sets is growing, due to the rapid rise in robotics, machine learning and the Internet of Things.
The partnership has been announced at the opening of the third Applied Learning Conference (ALC), held from 20 January to 21 January 2022. Themed 'Embracing Change in an Era of Disruption', the virtual conference explores the role of higher education in connecting graduate competencies to workforce needs and strengthening interdisciplinary learning to cope with future uncertainties. Topics include competency-based education, interdisciplinary learning, applied learning pedagogies, workplace learning, and the lessons and impact of the COVID-19 pandemic on education.
The ALC is organised by SIT as one of its key platforms to discuss and share best practices in academia-industry collaboration in applied learning and talent development. Ms Gan Siow Huang, Minister of State, Ministry of Education, is the Guest-of-Honour in this year's ALC.
New Degree Specialisation to Boost Industry 4.0 Capabilities
The new degree specialisation will equip students with work-relevant skills, such as robotics systems development, systems engineering, AI, and project management. Anchored on the close partnership between SIT and Siemens, students will alternate between spending one to two trimesters in SIT and at the workplace under a 'term-in, term-out' model. While at the workplace, students will acquire work-related skills that augment their classroom learning.
SIT and Siemens will work together to onboard ecosystem partners, as well as co-develop the curriculum, recruitment strategies, and assessment frameworks this year. The new specialisation will commence in Academic Year 2023. It will create a new pathway to allow students to jumpstart their careers while concurrently pursuing a university degree. SIT and Siemens will also jointly explore developing workplace learning initiatives and rapid prototyping projects for like-minded companies in the advanced manufacturing ecosystem.
President of SIT, Professor Chua Kee Chaing, said: "As Singapore's university of applied learning, we place both industry and the individuals at the heart of SIT. We are constantly innovating in the delivery of university education, developing new pathways that blur the boundaries between study and work. We are very happy to be partnering Siemens in the development of this new degree specialisation. With Siemens' expertise in developing advanced engineering technologies and SIT's strengths in applied learning and research, I am confident that the degree specialisation will further enhance the industry relevance of our education and the career-readiness of our graduates."
"Siemens believes that providing innovative and future-oriented education and training opportunities is key to the sustainability of our company. So we proactively address skill and qualification requirements, and work with universities around the world on this topic," said Dr Thai-Lai Pham, President and CEO of Siemens Pte Ltd. "I am pleased to partner with SIT in Singapore to develop a programme based on Germany's successful dual education model. I am confident that this model will help to train relevant talents with both theoretical and practical expertise."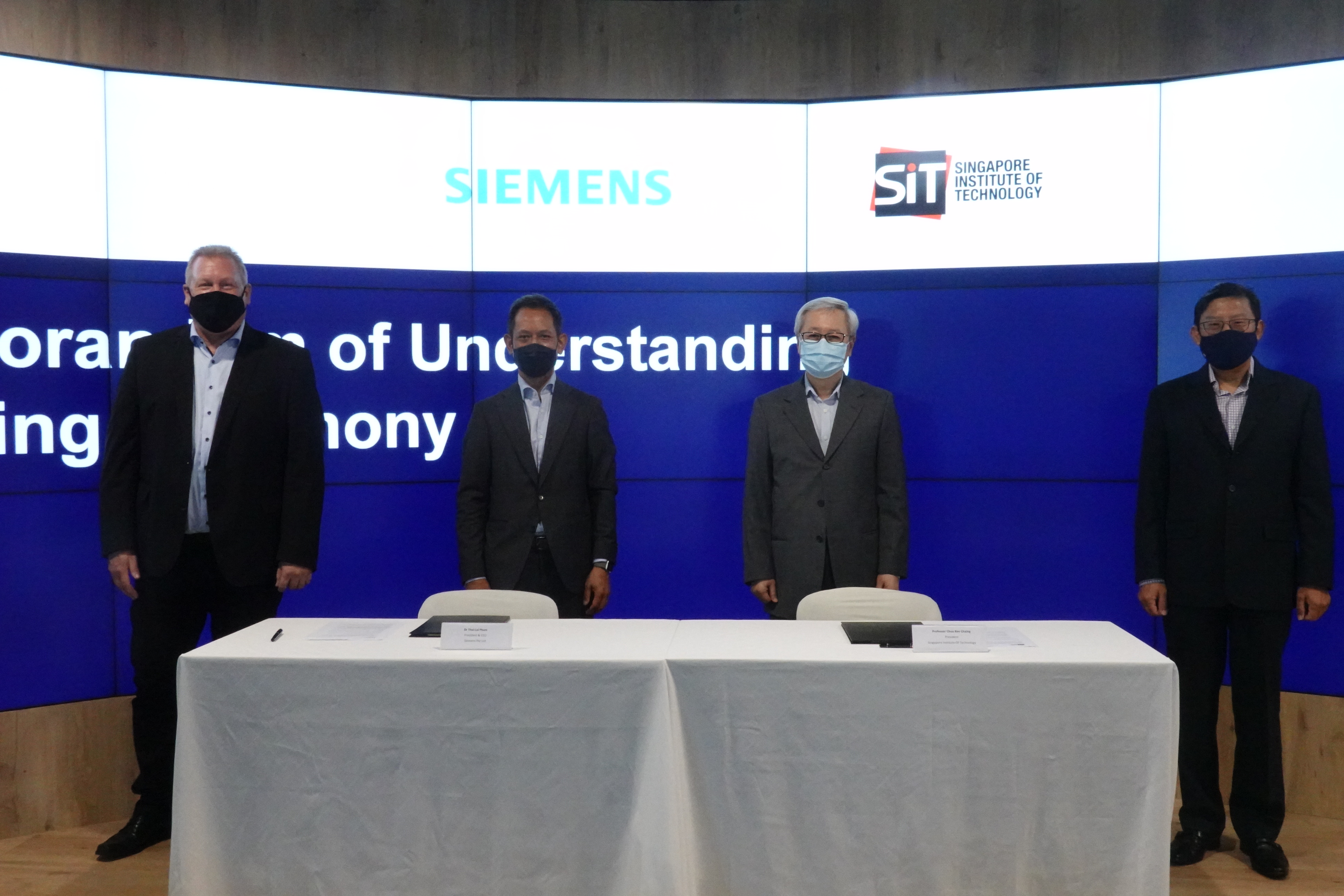 The signing ceremony between SIT and Siemens was attended by key representatives (from left): Mr Sascha Maennl, Senior Director, Factory Automation Sales Asia-Pacific, Siemens; Dr Thai Lai Pham, President & CEO, Siemens Pte Ltd; Prof Chua Kee Chaing, President, SIT; and Mr Bernard Nee, VP (Industry & Community), SIT. 
Embracing Disruption in Education and Workplaces
ALC 2022 covers 20 parallel sessions and will feature talks, presentations, and workshops by local and international speakers from various institutes of higher learning and organisations as well as industry. More than 300 local and overseas delegates, including C-suite business executives, academia, and industry partners, are expected to attend the conference.
Dr Charla Long, President, Competency-Based Education Network (C-BEN), will deliver the first plenary address on 'The Key Tenets of a Quality Competency-Based Education Programme'. The talk will emphasise the hallmark assessment practices found in solid competency-based education offerings.
Other notable speakers include:
·       Professor Sir Chris Husbands, Vice-Chancellor, Sheffield Hallam University, who will share how higher education needs to respond to the demands placed on graduates in a knowledge economy;
·       Mr Neo Kian Hong, Group Chief Executive, SMRT Corporation, who will talk about how workplace learning can be an effective model in training current employees while maintaining high operational performance;
·       Ms Tan Hui Boon, Vice President, Training Academy, SIA Engineering Company Ltd, who will speak on the workforce reskilling and upskilling at SIA which aims to capitalise on the future recovery of the aviation industry; and
·       Professor Stephen Billett, Griffith University, who will elaborate on developing workplace competency through practice-based curriculum and pedagogy.
More information on the ALC 2022 programme, speakers, and synopsis of talks can be found at: https://www.alc.sg/.
About Singapore Institute of Technology
The Singapore Institute of Technology (SIT) is Singapore's first University of Applied Learning, offering industry-relevant degree programmes that prepare its graduates to be work- and future-ready professionals. Its mission is to maximise the potential of its learners and to innovate with industry, through an integrated applied learning and research approach, so as to contribute to the economy and society. 

The University's unique pedagogy integrates work and study, embracing authentic learning in a real-world environment through collaborations with key strategic partners. Its focus on applied research with business impact is aimed at helping industry innovate and grow. Targeted to be ready in 2024, SIT's centralised campus within the larger Punggol Digital District will feature a vibrant learning environment where academia and industry will be tightly integrated with the community.
For more information, visit www.SingaporeTech.edu.sg