Physiotherapy and Engineering teams from SIT studied the effectiveness of running sandals by analysing data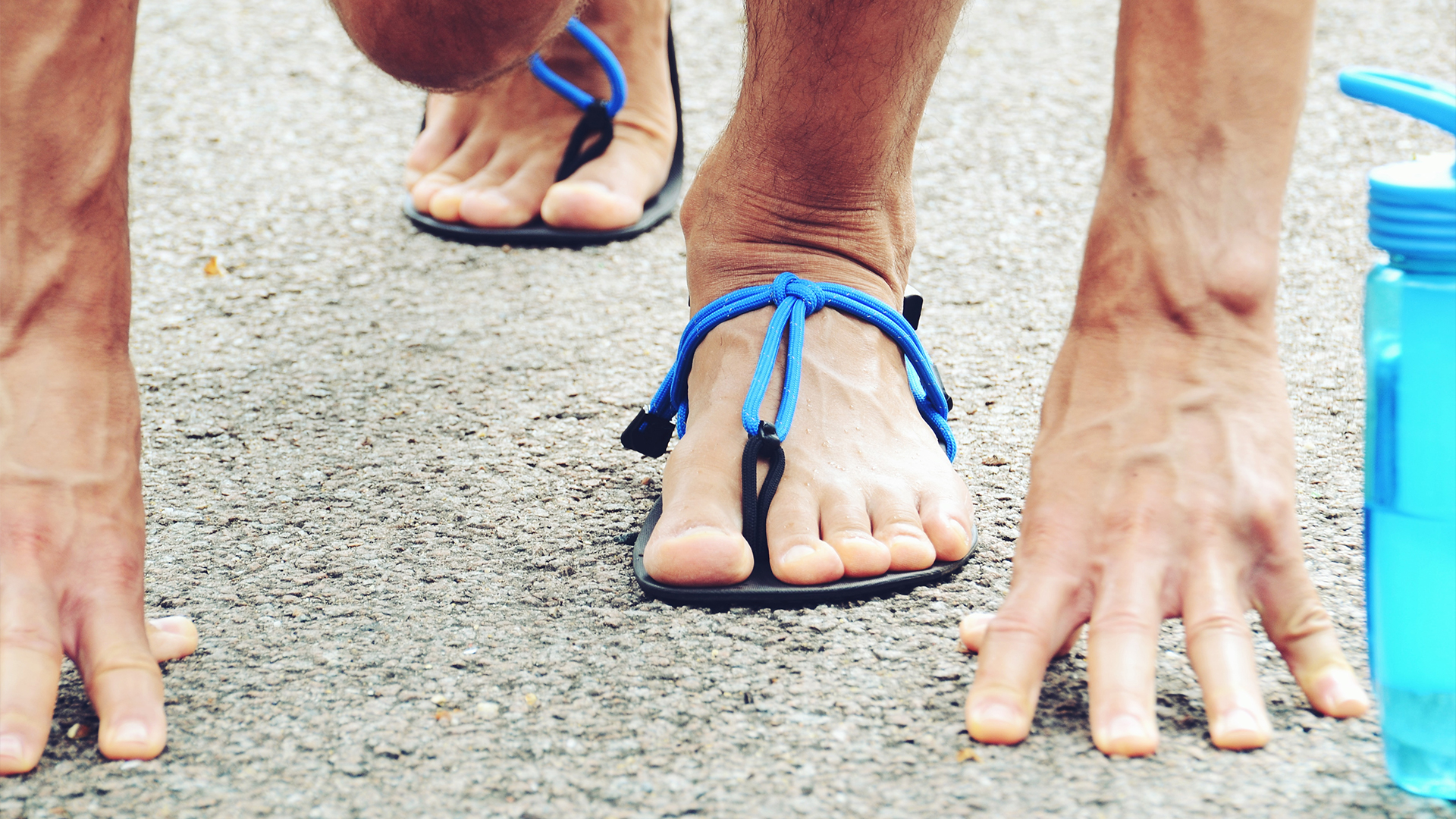 The design of sandals has come a long way since the very first pair emerged in ancient Egypt about 5,000 years ago. These days, the sheer variety of sandals is mind boggling – from flip flops to gladiator sandals and sports sandals, there appears to be a sandal for every purpose. You can now also find 'running sandals' that look basically like flip flops with more straps, catered to a growing number of people who actually go running in these seemingly basic footwear.
The idea of running in sandals does not seem too weird, considering people have been practicing 'barefoot running' for several years. But while there have been many studies on the impact of running 'barefoot' in glove-fitting shoes like Vibram Five Fingers, no research so far has been done to study the impact of running in sandals designed for running. This is what three final-year Physiotherapy students from the Singapore Institute of Technology (SIT) wanted to find out – with a little help from Engineering faculty members.
A new type of running trend
There is generally a high prevalence of musculoskeletal injuries among distance runners even though technology in shoes has advanced. There is a wide array of running shoes available in the market – some have air-filled soles, mesh uppers, and even 'barefoot' soles. Nowadays, there is a new trend in minimalist running that is gaining traction in Singapore: flat-soled running sandals where your feet are exposed to the elements.
Does running in sandals minimise or increase the risk of injury? And how would transitioning from conventional running shoes to running sandals affect runners?
To find out, final-year Physiotherapy students Chuah Xue Shen Christophe Joel, Lim Xin Mei, and Charlene Poh Si Lei utilised the Gait Lab at SIT@Dover to perform assessments specifically to compare running patterns between a regular running shoe and a running sandal.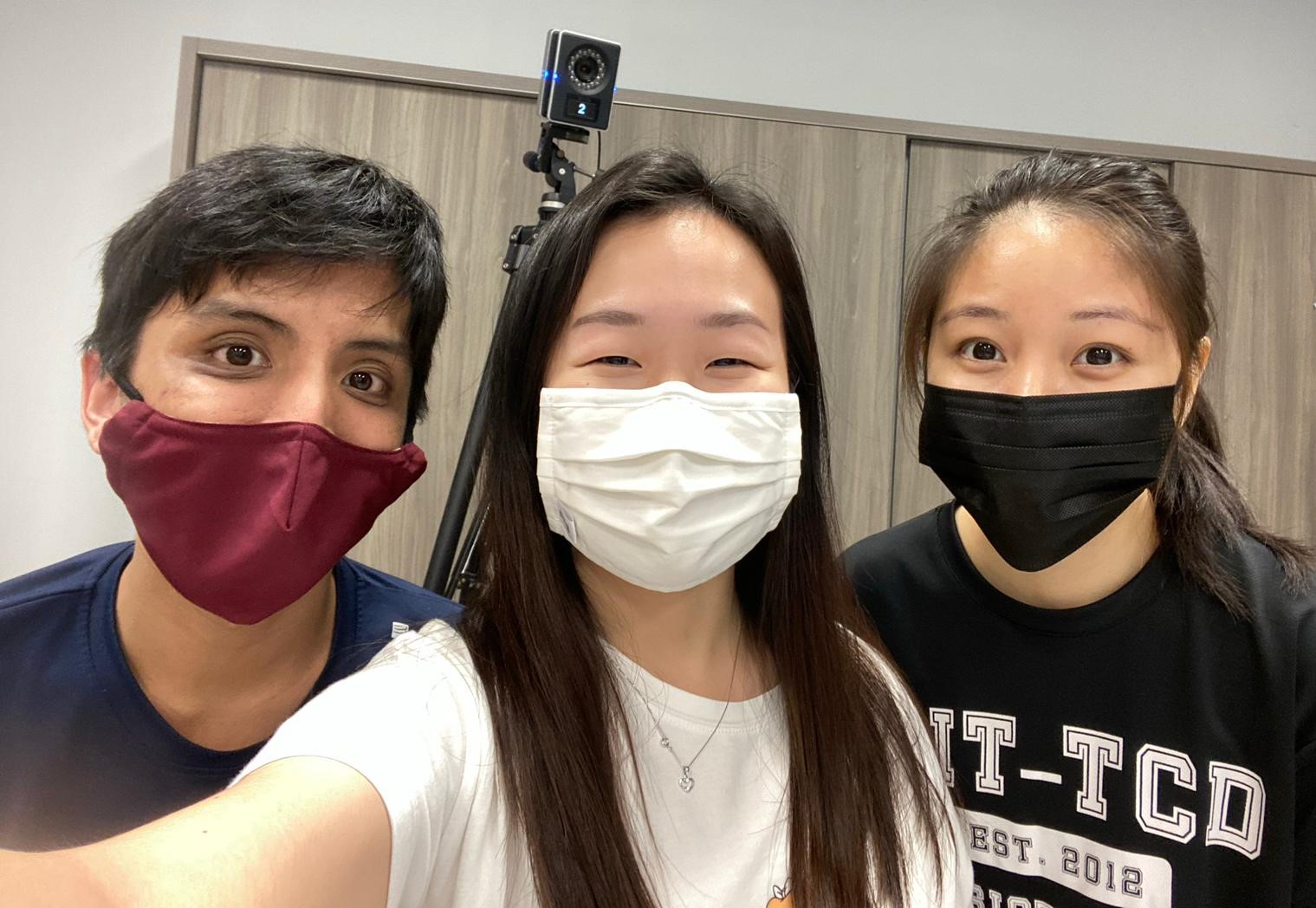 Final-year SIT Physiotherapy students Chuah Xue Shen Christophe Joel, Charlene Poh Si Lei and Lim Xin Mei were part of a multi-disciplinary collaboration with the Engineering team at SIT to study lower limb muscle activities based on data.
Measuring man with machine: Gait Lab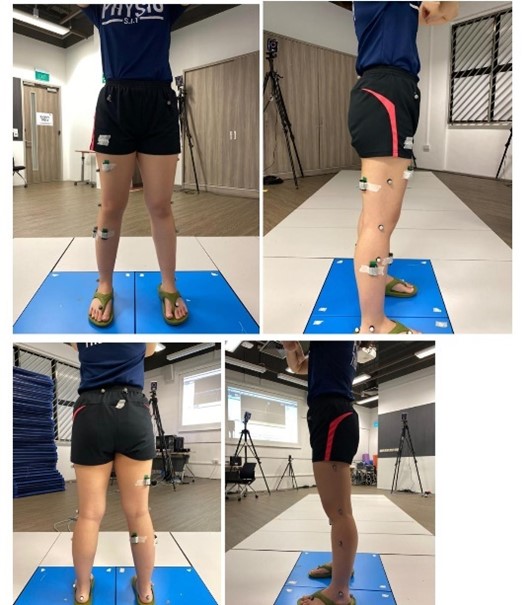 Electromyography (EMG) electrodes and pearl markers were placed on key points of the lower limbs to collect data required for the study (as pictured in left).
To ensure that the data collected was properly mapped into readable patterns, the team collaborated with Engineering faculty members, and learned the technicalities of the various software and hardware used to measure the information.
After spending an intense 1.5 weeks to pick up initial skills from the Engineering faculty staff, Christophe and team then clocked in about 6-7 hours per day to collect, process, and interpret the data collated from 18 volunteer runners.
The data included measurements on the three parameters that are key indicators of injury risk in long distance runners:
Joint kinematics: Examining the motion (i.e. angle) between two consecutive segments in the joints of the ankles, knees, and hips.
Muscle activity levels: Measuring with electromyography (EMG) allows the students to evaluate the health condition of muscles and the nerve cells that control them.
Ground reaction force (GRF): The GRF, exerted by the ground on the body in contact with it, increases when the body is moving due to acceleration forces.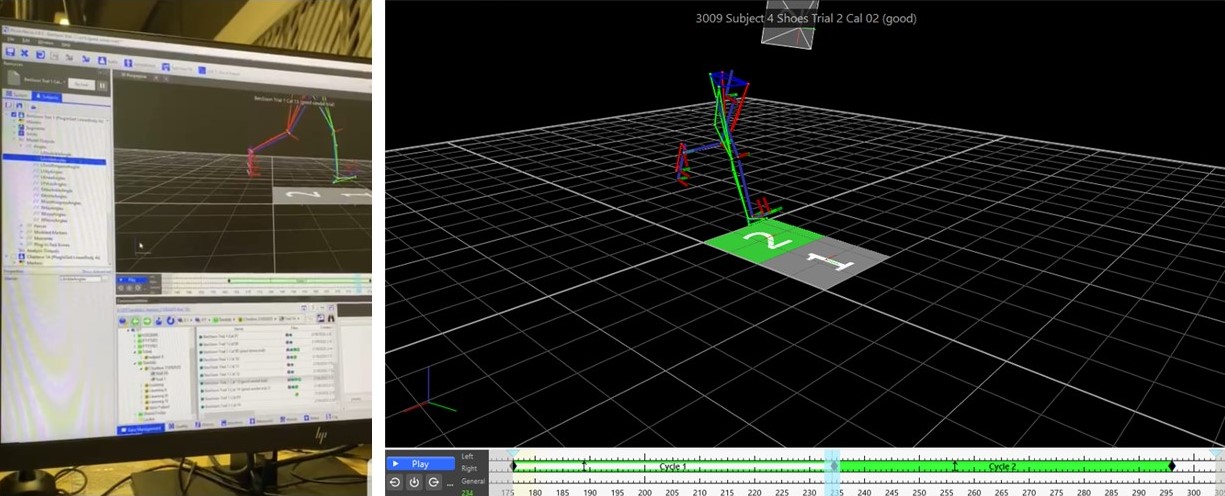 Using Gait Lab to map data into readable patterns.
Should you run in sandals?
The team found that running in sandals can alter the body's biomechanics – running in them increases the degree at which the knee is bent, with the ankle pointing outwards when the foot first comes into contact with the ground.
However, they found no significant changes in the EMG activity across all muscles assessed. In addition to this, running in sandals seems to lower the GRF. This suggests that the impact is distributed less quickly from the ground to the body, possibly lowering the risk of injury.
While this sounds like good news for the minimalist running community, it is important to note that these are preliminary findings. Further studies based on a larger population at different stages of adapting to the sandals, as well as running on different terrains are required. For those who are keen, the team advises a gradual transition to running sandals (i.e. start with short distances first). You need to get used to wearing sandals in order to reduce the risk of injury; the team noted that about half of the subjects were consciously gripping the sandals with their toes while running, even though this is not necessary as the sandals do not slip off during the run.
The data they collected could help Allied Health practitioners, especially physiotherapists, understand the risks and potential muscle strain that runners could face when trying out the sandals.
Of course, the field of physiotherapy is more than just lab work. A highlight of being a physiotherapist is that you can help people understand and guide them in the recovery of their physical injuries. More importantly, physiotherapists help prevent recurrence by educating patients and getting them back onto their feet. As the saying goes, "Doctors save lives, physiotherapists make them worth living."
Why choose Physiotherapy?
The field of physiotherapy is remarkably diverse, and it helps rehabilitate more than just athletes or those who have been injured. People of all ages can suffer from chronic pain, sports injuries, and challenges with mobility. As more people live increasingly sedentary lives, they tend to sit for prolonged periods with bad posture, inviting chronic ailments like backaches. Physiotherapy also helps older adults maintain their health.
From paediatrics to sports injuries, women's health, and geriatrics, the profession has a wide scope that allows you to work with a large segment of the population. You could be helping a stroke survivor learn how to walk again, or working with an elite athlete with a chronic injury to win a game – either way, you have the potential to make a profound difference in their lives, both physically and mentally. What could be more rewarding than that?
Demand for physiotherapy services is increasing these days, leading to very promising job prospects. In Singapore, you can find jobs with private practices, hospitals, sports facilities, military settings, and many more as a Physiotherapist, with a competitive starting salary within the healthcare sector.
Physiotherapy with SIT
The BSc in Physiotherapy programme SIT was developed in close consultation with industry partners to ensure the relevancy of the skill sets and employability of the students upon graduation. The programme aims to produce graduates who are theoretically-grounded and clinically-oriented to practise autonomously in different specialities of physiotherapy. Students are taught by experienced faculty members, guest lecturers from the industry and visiting specialty experts. They have the opportunity to gain relevant clinical experience through more than 1,000 hours of Clinical Practice Education attachments in various major hospitals and healthcare facilities across Singapore. There may also be opportunities for overseas exposure through international placements and the Overseas Exposure Programme.
The BSc in Physiotherapy degree is a four-year direct honours degree programme. Accredited by the Allied Health Professions Council (AHPC), the programme enables you to practise as a professional physiotherapist in Singapore. 
This article first appeared on Campus.