After months of planning by more than 600 student organisers and facilitators, SIT welcomed over 2,600 freshmen to the SIT First Year Experience with a series of physical and virtual activities – SIT Helix, Day Zero, Club Fair and Virtual Platform.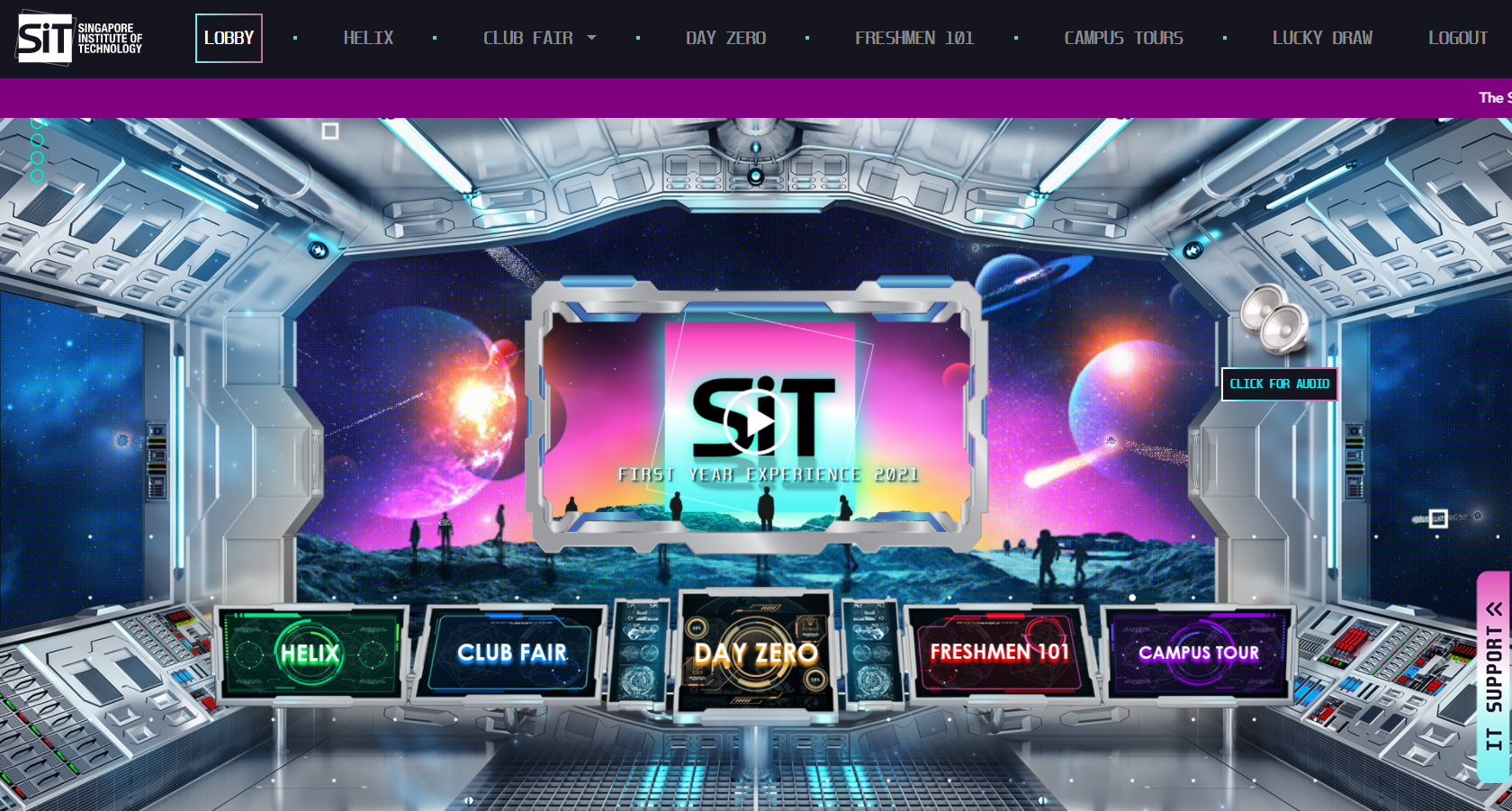 The SIT First Year Experience online interface that allowed freshmen to alternate between various first year experiences was a hit among students.
Although this is the second year that saw a large part of the SIT orientation hosted online, SIT made sure that our freshmen had the full First Year Experience during their orientation.
SIT Helix – Connecting with SIT-DNA and Culture
Helix is an evolution of the conventional orientation camp to an induction programme. It is a platform for freshmen to connect with the SIT community; learn about our DNA and culture; meet fellow freshmen from other degree programmes; and get to know more about the services provided for students, while retaining the fun elements of an orientation camp.
Close to 1,000 freshmen and 73 student organisers and facilitators participated in this two-day virtual event over three sessions. Prof John Thong, Deputy President (Academic) and Provost-designate, gave a warm welcome to the freshmen, while A/Prof Foo Yong Lim, Assistant Provost (Applied Learning), shared about interdisciplinary learning and the university's framework for transferable skills learning.

The freshmen shared what interdisciplinary learning means to them.
Ravichandran Pradeep Kumar, President of the SIT Helix 2021 Exco, said, "It has been an amazing journey and it would not have been possible without the committee members and guidance from Student Life. The biggest challenge we had to face was having to adapt our plans to the pandemic restrictions and building the first ever virtual induction from scratch. However, as a team, we were able to overcome the challenges and create the first virtual Helix successfully."
Day Zero – Interacting with the SIT Community
A traditional element of the SIT orientation, Day Zero is the perfect platform for freshmen to interact with academic staff, seniors, and course mates prior to the start of the programme.
Over five days from 30 August to 3 September 2021 and across six campuses, SIT freshmen took the opportunity to understand the expectations for their degree programmes, and gained useful studying and time management tips from their seniors. Day Zero was attended by 2,667 freshmen, 617 student organisers and facilitators, as well as 156 academic staff.
The highlight of the event was the sharing by industry partners from Keppel Offshore & Marine Ltd, Ministry of Trade and Industry, Sembcorp Marine Ltd, Singapore Society of Radiographers, and the National University of Singapore.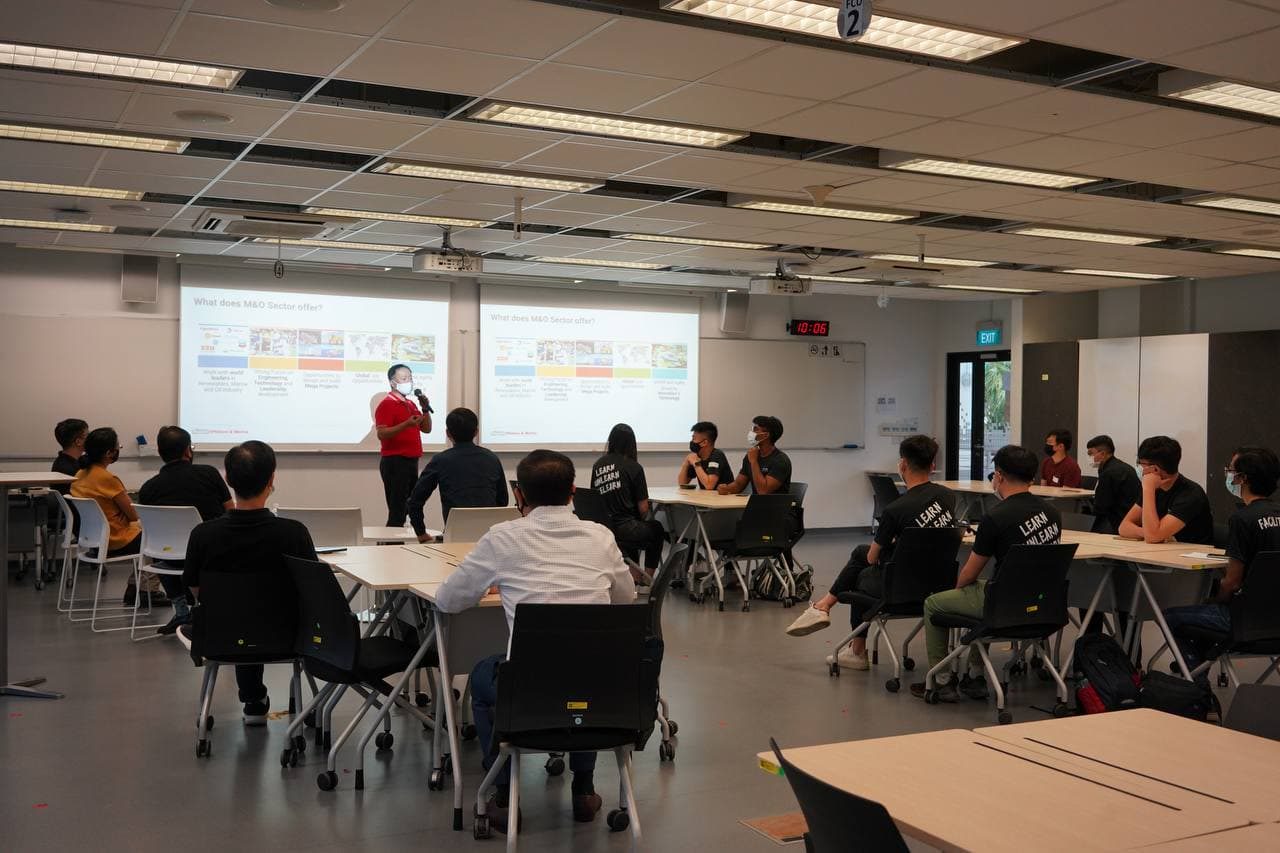 Mr Chris Ong, CEO, Keppel Offshore & Marine Ltd, talked about his experience in the marine industry.
Mr Chris Ong, CEO of Keppel Offshore & Marine Ltd and Vice Chairperson of the Industry Advisory Committee for SIT's marine programmes, shared his insights on the marine industry and its progression towards digitalisation. By illustrating the efforts of Keppel in the areas of decarbonisation and digitalisation, he encouraged our freshmen to enter this exciting industry. He shared that they would have opportunities to gain insights through SIT's partnerships with industry players.
Ms Denise Choong, President, 63rd Executive Council, Singapore Society of Radiographers, receiving a token of appreciation after the event.
Ms Denise Choong, President, 63rd Singapore Society of Radiographers (SSR) Executive Council, also shared about her industry experience. She spoke about how SSR promoted education through continuing professional development to improve the professional practice, as well as the safety and quality of care provided for patients. She encouraged our freshmen to find out more about SSR and to engage with local and international practitioners to build a network and community for learning and support.
Club Fair & Virtual Platform – Promoting an Active University Life
Club Fair 2021 was a virtual event via Zoom to allow freshmen to meet their peers and seniors in an interactive environment. There were also daily livestream sessions on YouTube to give freshmen a glimpse into various student activities and development programmes.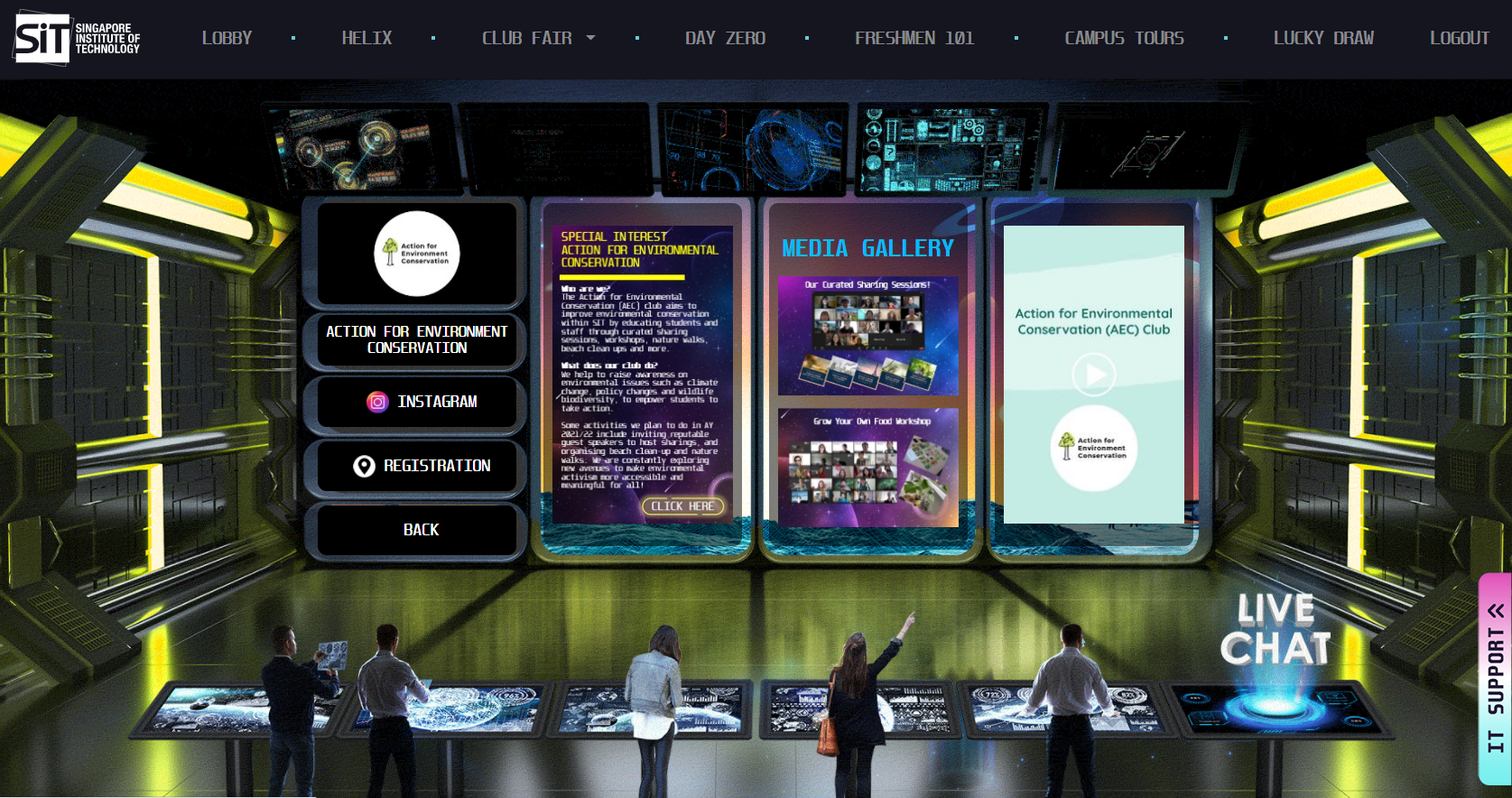 The Virtual Platform with an array of useful resources for freshmen.
Inspired by a motivation to provide freshmen with an "out of the world" experience, the virtual platform undertook an "Adventure into Space and Beyond" theme, featuring useful resources from 20 participating divisions, live chats with 88 clubs, and virtual campus tours featuring all six SIT campuses.
The Club Fair and Virtual Platform garnered 4,000 visits and 53,000 views.
"Club Fair 2021 was my first major event planning experience at SIT," said Ow Shihao, Secretary, Club Fair 2021 EXCO. "I had to step outside my comfort zone, from transporting the whole SIT@Dover campus into the virtual world, to filming the MUNCHTIME@SIT, and creating content for the SIT Campus Activity Vlog. I'm glad to have been given this wonderful opportunity; it was a pleasure working with the team on this event!"
The First Year Experience was well-received by freshmen, who are now well-equipped to embark on their exciting new journey with SIT and fully embrace university life. We wish them all the best.