Tuition fees fully covered for students most in need of support.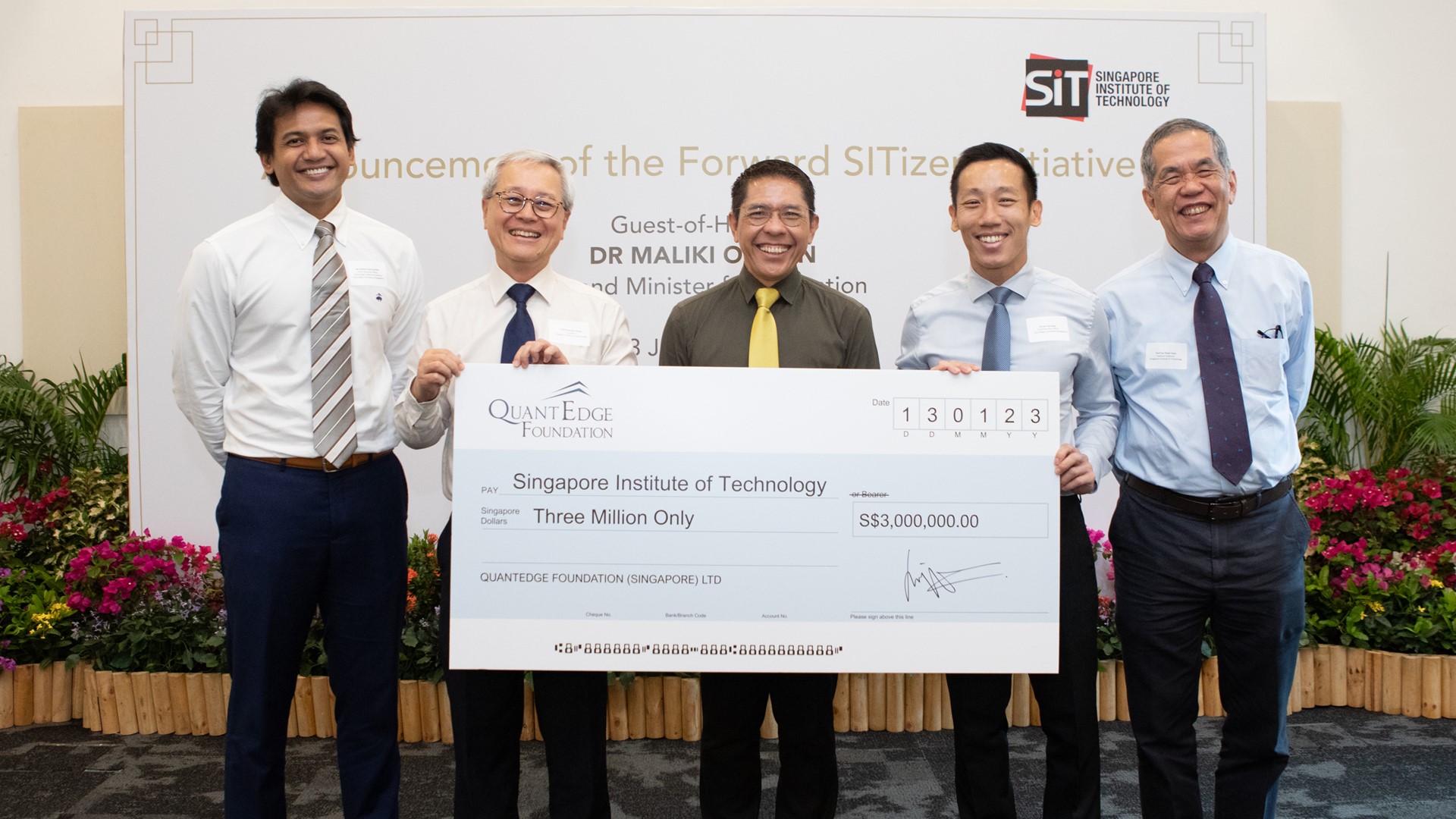 From left to right: Mr Suhaimi Zainul-Abidin, Chief Executive Officer, Quantedge Capital and Director, Quantedge Foundation (Singapore); SIT President Prof Chua Kee Chaing; Dr Mohamad Maliki Osman, Second Minister for Education; Mr Xie Yao Quan, Chief Executive Officer, Quantedge Foundation (Singapore); Prof Tan Thiam Soon, Institute Professor, SIT. (SIT Photo: Benny Loh)
The Singapore Institute of Technology (SIT) launched the 'Forward SITizen' Initiative ahead of SIT Open House 2023. Starting from the new academic year (AY2023) commencing in September 2023, the new Initiative aims to make possible full tuition-fee support for the most financially needy undergraduate students at SIT. The launch was graced by Guest-of-Honour, Dr Mohamad Maliki Osman, Second Minister for Education.
Supported by SIT and its donors, this Initiative will help top up the existing Higher Education Community Bursary to fully fund tuition fees for eligible students. The Initiative is applicable to incoming Singaporean SIT undergraduate students who meet the following criteria:
Enrolled as a full-time undergraduate of SIT as a Year 1 student on or after AY2023, pursuing their first Bachelor's degree;

With a monthly household per capita income not exceeding S$690;

Lives in no larger than a four-room HDB flat; and

Who does not, and whose immediate family members living in the same household do not own any private property in or outside of Singapore.
Nearly half of SIT's students are the first in their families to attend university and many come from low-income households. The philanthropic support from donors through this new Initiative will help ensure that a quality university education is within the reach of SIT students, regardless of their financial circumstances.
The Forward SITizen Initiative was conceived in support of the Forward Singapore exercise, which was launched by Deputy Prime Minister Lawrence Wong in June 2022 to set out a road map that aims to refresh the social compact in Singapore.[1]
An estimated 220 students will be eligible for support annually under the Forward SITizen Initiative. Thus far, six donors have pledged endowed gifts[2] of S$8.7 million to SIT under the Forward SITizen Initiative. The donated amount includes a seed donation of S$3 million made by the Quantedge Foundation, as well as endowed gifts from donors through the Dou Yee Enterprises Bursary, Kewalram Chanrai Group Bursary, KKH Bursary, Kwai Fong & Raymond Goh Study Grant, and Wilmar Bursary.
Quantedge Foundation CEO, Mr Xie Yao Quan said, "We are excited to be partnering with SIT in its mission to guarantee full funding of tuition fees for all Singaporean students with the greatest demonstrated financial need. This brings the Foundation a step closer to ensuring that all deserving Singaporean youths have access to a truly need-blind university education. We hope to encourage talented young students to pursue their dreams and achieve upward social mobility for themselves and their families."
SIT President Professor Chua Kee Chaing said, "Our goal is to work with the Quantedge Foundation and other donors to continue raising funds for the Forward SITizen Initiative. In the meantime, SIT will provide financial assistance and fee support to some of the financially neediest of our eligible students. We are very grateful to our donors for helping us make possible the Forward SITizen Initiative. Their generosity will nurture students who require financial assistance and is crucial to enabling upward social mobility for our students, regardless of their financial circumstances. On behalf of SIT, we express our sincere thanks to our donors. We look forward to seeing more donors come forward to support this Initiative." 
 
---
[1] https://www.straitstimes.com/singapore/lawrence-wong-launches-forward-spore-to-set-out-roadmap-for-a-society-that-benefits-many-not-a-few
[2] Endowed gifts made in support of this initiative in perpetuity will attract the 1.5:1 Enhanced Government Matching Grant, of which 33 per cent will go towards the Forward SITizen Initiative. The remaining 67 per cent of the Enhanced Government Matching will go towards the SIT Endowment, in accordance with the Ministry of Education (MOE) guidelines.
About the Singapore Institute of Technology
The Singapore Institute of Technology (SIT) is Singapore's first University of Applied Learning, offering industry-relevant degree programmes that prepare its graduates to be work- and future-ready professionals. Its mission is to maximise the potential of its learners and to innovate with industry, through an integrated applied learning and research approach, so as to contribute to the economy and society.
The University's unique pedagogy integrates work and study, embracing authentic learning in a real-world environment through collaborations with key strategic partners. Its focus on applied research with business impact is aimed at helping industry innovate and grow. Targeted to be ready in 2024, SIT's centralised campus within the larger Punggol Digital District will feature a vibrant learning environment where academia and industry will be tightly integrated with the community.
For more information, visit www.SingaporeTech.edu.sg.
About the Quantedge Foundation
Quantedge Foundation is a philanthropic foundation that supports a wide range of charitable causes in Singapore, with a strong focus on improving social mobility. Established by the principals of Quantedge Capital, the Foundation is registered as a Charity and has been an Institution of Public Character in Singapore since February 2016.
Quantedge Foundation believes that every youth should have an equal opportunity to succeed. Therefore, our current programmes focus on equalising access to education and other developmental opportunities, and improving social mobility. We work with partner organisations such as SIT to design programmes that alleviate unfavourable starting conditions in life and expand the opportunity set for underprivileged youth, as a pathway to lifting them and their families out of inter-generational poverty.
The Foundation has also supported efforts to promote a more inclusive and caring society, by raising awareness of vulnerable communities in Singapore and seed-funding projects to meet their diverse needs.
For more information, visit: www.quantedge.org.