Each year, SIT and Massey University hold a Food Technology Project Exhibition and Industry Engagement Day to showcase students' creativity in constructing innovative food products. Here are this year's award-winning projects for Best Product, Best Market Potential and Most Innovative Product.
Awarded Best Product: Plant-based Mochi Corndog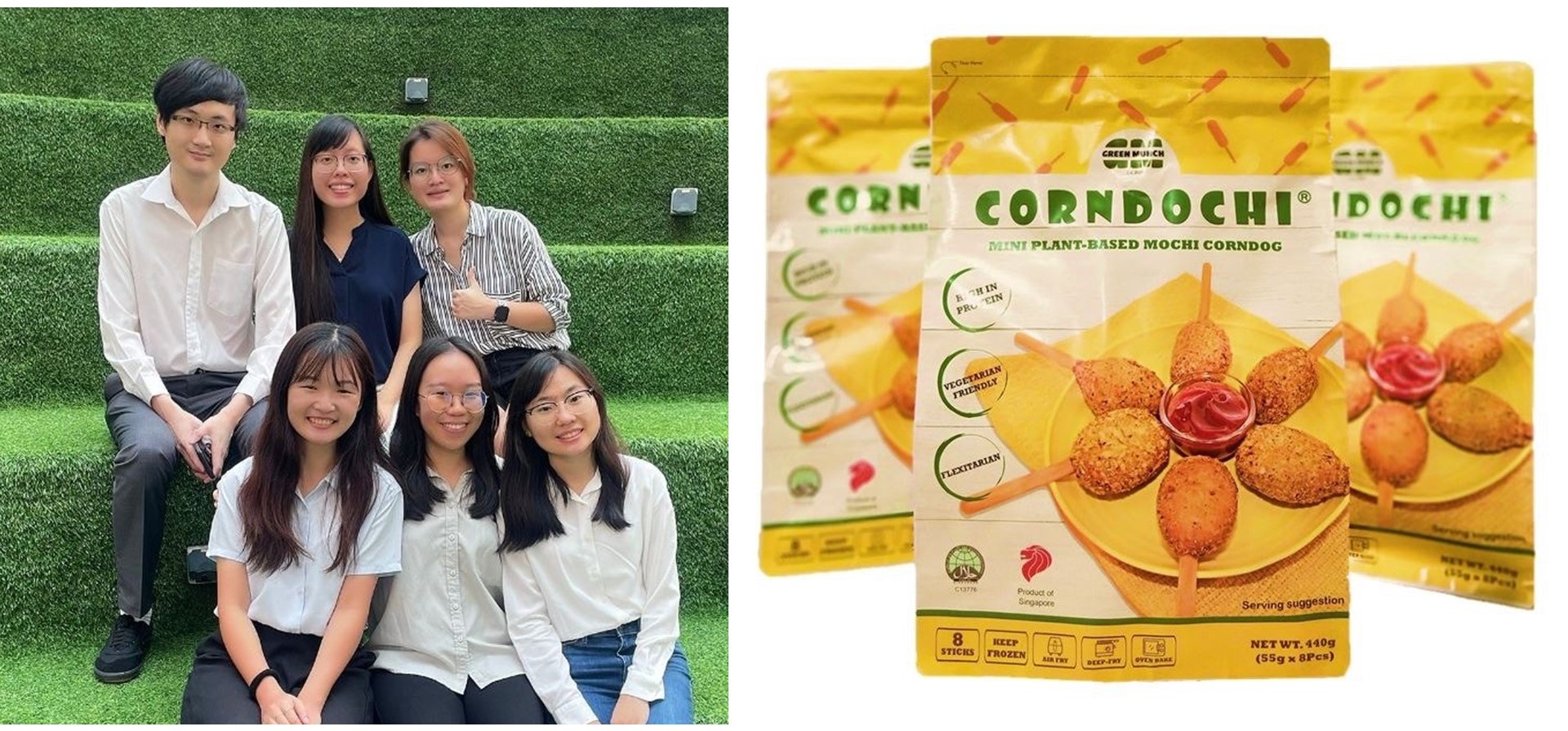 Team Green Munch comprising (back row, from left) Raynard Yang Shihong, Leng Wei Qi, Goh Chooi Teng, (front row, from left) Michelle Tan Mei Lin, Low Xin Yi, Low Li Hui created the ready-to-cook Corndochi for busy young adults. (Photos: Goh Chooi Teng)
With the recent increase in food prices caused by the global supply chain crunch hitting our pockets hard, there is no better time for food from alternative sources to enter the market.
Seizing this opportunity is Green Munch, a start-up team formed by students from the SIT and Massey University joint Food Technology degree programme. Their delectable offering? A plant-based mochi corndog called 'Corndochi', comprising a firm meat-like sausage wrapped in soft and chewy mochi, coated with a crunchy breaded seaweed exterior.
The Corndochi is positioned as a ready-to-cook product that offers a quick and nutritious snack for busy students and working adults. Reasonably priced at $15 for eight sticks, it taps on the growing ready-to-eat market in Singapore. The meat-free product is not only perfect for vegetarian and flexitarian consumers; its planet-friendly credentials also make it a sustainable food solution in a fast-growing global vegan market expected to reach USD22 billion by 2025.
With no other local competitor in the vegan ready-to-cook frozen snack market space, the Green Munch team experimented with various product formulations and conducted focus group food trials before arriving at the final Corndochi product. Social media platforms such as Instagram, Tiktok and Facebook were proposed to reach their target consumers.
The Corndochi won the thumbs-up from the judges for its well-thought-out concept. Associate Professor Jorry Dharmawan from the Food, Chemical and Biotechnology cluster at SIT shared, "From packaging to nutritional and health considerations, the students came up with a nutritious and accessible product for busy city dwellers looking for convenience in food preparation".
Awarded Best Market Potential: Caramelised Oat Cookie Spread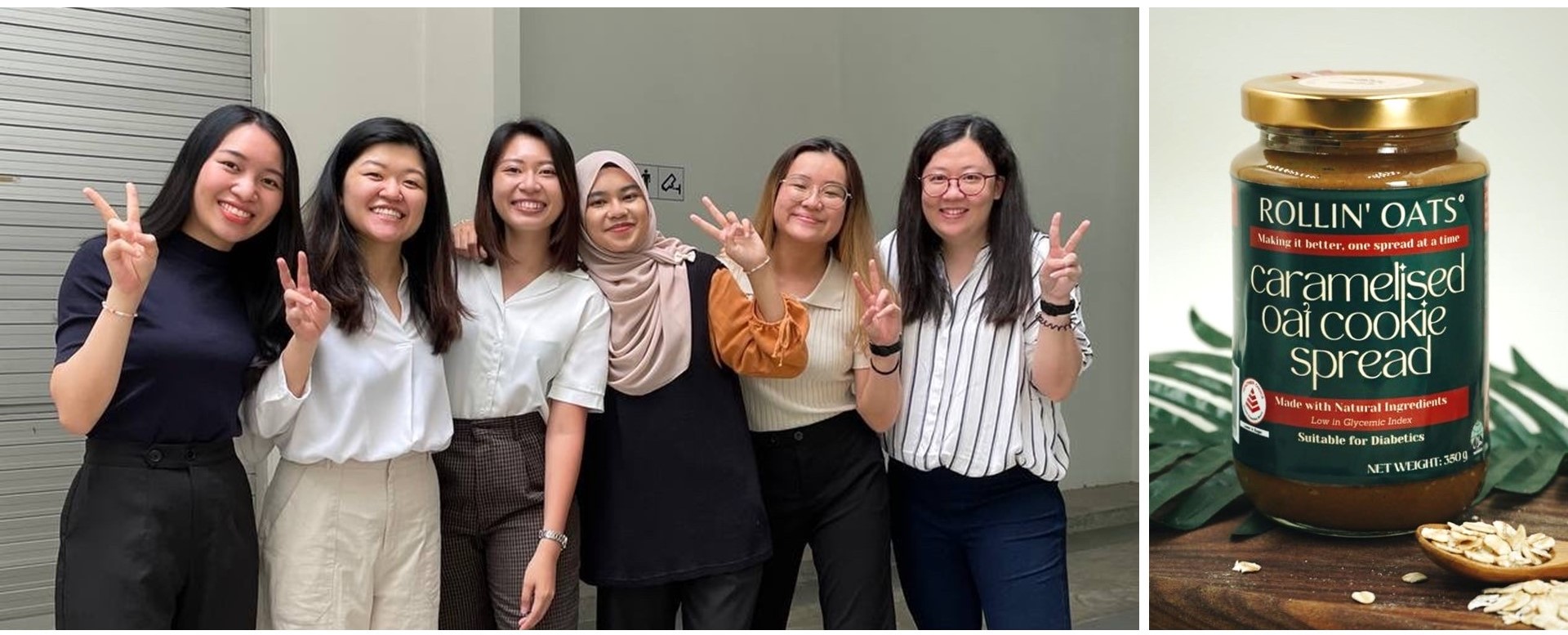 Team BetaForYou, comprising (from left) Chua Kah Yee, Bevlyn Tan Yi Qian, Lim Shanice, Ameerah Bte Asaad, Aw Miao Rui, Yan Li Hui, proposed a diabetic-friendly, low-GI daily spread. (Photos: BetaForYou)
A healthy and nutritious spread that combines the flavours of caramelised cookies, oats and cinnamon may sound like a match made in heaven, but at SIT, student team BetaForYou has made it a reality with their ROLLIN' OATS sweet spread. The product was developed in collaboration with Gloobe Pte Ltd, a Singaporean-Swedish life sciences developer of products and solutions that offer intervention and prevention of metabolic disorders.
Made from natural ingredients friendly to vegans, ROLLIN' OATS is low in glycemic index (GI) and perfect for diabetics. The product is formulated to be low in sugar, dairy-free, cholesterol-free, trans fat-free and a good source of dietary fibre, and proposed to be halal certified to cater to a wider audience.
ROLLIN' OATS is the culmination of the team's research and development into the upcoming social and consumer food trends in Singapore. With 15% of the population here projected to develop diabetes by 2050 and a lack of diabetic friendly, low-GI choices in the current market, there is plenty of room for growth.
With the worldwide trend towards health and wellness, and the rising popularity of oat-based products, the team also chose to target health-conscious Millennials and Gen Z customers. As a consumer demographic collectively, this is a group who lives a fast-paced lifestyle, has high purchasing power, is comfortable shopping online and seeks convenience foods that satiate without being sinful.
Pulling together these threads, the team positioned ROLLIN' OATS as the first diabetic-friendly, low in GI oat-based sweet spread that is suitable for daily consumption. Their market plan received nods from the judges. "Their extensive analysis on the market potential showed that their plan to commercialise the product was very feasible", said Dr Matthew Zhao of Massey University.
Awarded Most Innovative Product: Pasta Chips

Team Wellness+, comprising (from left) Lee Xin Tian, Lee Sher Min, Sharmain Tan Yue Ying, Wang Junru, See Kai Jie and Kimberly Wong Hui Qi, created Spasta Chip 'N' Dip, a healthy savoury snack containing mood-boosting herbs. (Photos: Sharmain Tan Yue Ying)
Food is known to be therapy for the soul. For team Wellness+,  that comfort comes in the form of Spasta Chip 'N' Dip. A reinvention of the traditional pasta, their innovation comprises spinach-infused pasta chips accompanied by herb-flavoured cheese side dip – all packaged in a handy, ready-to-eat cup.
Developed around the themes of mental health and emotional well-being, Spasta Chip 'N' Dip was inspired by consumer habits during the COVID-19 pandemic. The crisis saw consumers gravitating towards comfort foods, where snacking became a form of mood boosting activity. The team identified a market gap for a healthy savoury snack targeted at alleviating pandemic-induced stress and anxiety in consumers aged 18 to 34 years old.
Careful thought was given to the overall eating experience – from achieving the right texture and crunch in the chips to the creamy, flavourful dip enhanced with mood-boosting herbs such as dill and rosemary. Another unique selling point for Spasta Chip 'N' Dip is its interactive snacking experience. Consumers can choose to dip the pasta chip into the sauce or fold over the sauce compartment to drizzle it over the chips.
This attention to the eating experience earned kudos from the judges. As A/Prof Dharmawan noted, "The team presented a product that demonstrates a high degree of innovation to address the issue of healthy yet unappealing snacks. Natural ingredients which aid mental health and support the emotional well-being of consumers were used".
With their respective stand-out qualities, it comes as no surprise that these three projects earned the best-in-class awards for their food innovations.
"Not only did the teams intentionally incorporate sustainable ingredients and healthier options into their products, they made good use of emerging food technology with better processing and manufacturing methodologies. The results were easy-to-prepare products that are accessible to busy consumers", remarked A/Prof Dharmawan.