Bringing rich culture and heritage in our community to life through the first-of-its-kind curated Augmented Reality trail in the Heartland 
Digital Ambassadors and youth volunteers mobilised to assist less digitally-savvy citizens embrace new digital skills through the trail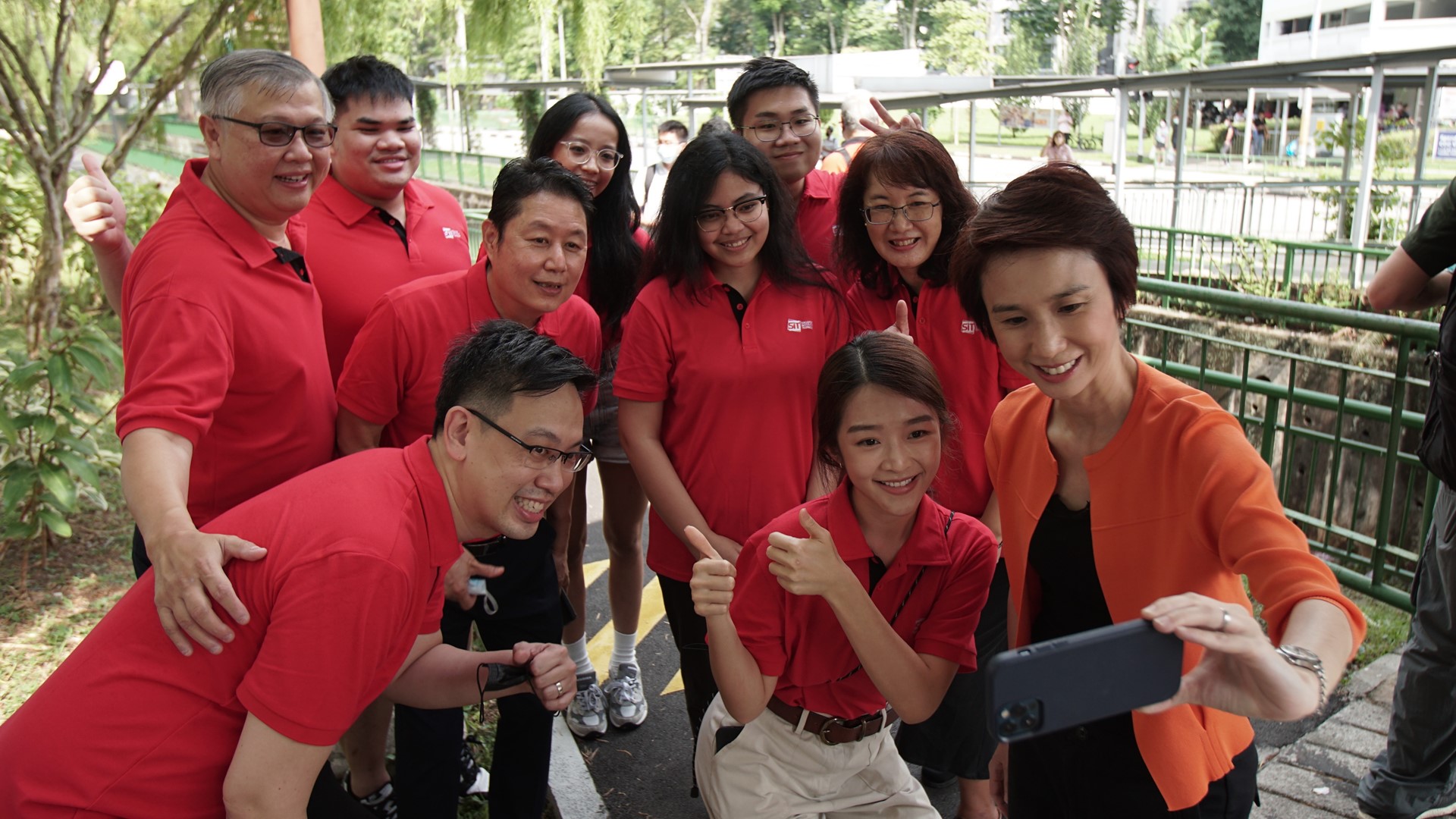 South West District Mayor Low Yen Ling (right), with SIT faculty and students at the launch of the Heartland Gems @ South West Augmented Reality (AR) Trail on 2 July 2022. (Photo: South West Community Development Council)
The South West Community Development Council (CDC), in collaboration with Corporate Alliance for Good Ltd (CAforGood), LDR Technology Pte Ltd, SG Digital Office (SDO), and the Singapore Institute of Technology (SIT), have launched the first of its kind, Heartland Gems @ South West Augmented Reality (AR) Trail on 2 July 2022. This initiative aims to encourage residents to appreciate the rich history, culture and heritage of the heartlands and learn new digital skills in support of the Digital for Life (DfL) movement. 
The inaugural trail at Bukit Gombak comprises 15 interesting scenic spots such as the Little Guilin and local food delicacies at the Neighbourhood Food Centre. Through the use of augmented reality on the Locomole app and QR code placed strategically along the trails, residents can discover interesting facts and history about the places and stories of the hawkers and merchants, enjoy little games at the various spots and take fun photos with 3D AR objects.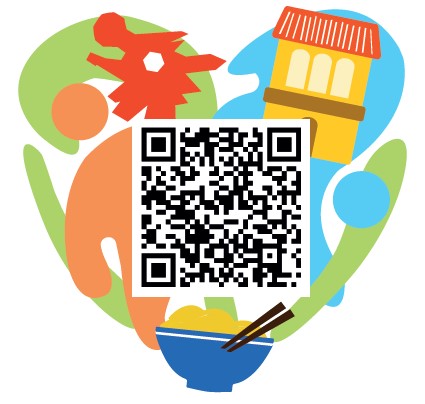 The team behind the design of the heart-shape logo (left) integrating street icons and abstract of the community and embedded with a QR code is a group of students from SIT. These students were also involved in the creation of some content for the AR trails on the Locomole app. In addition, the SDO activated its network of Digital Ambassadors and youth volunteers from ITE College West and Boys' Brigade to assist the less digitally-savvy seniors and citizens on how to use AR and QR code required for the activity. On 2 July, around 25 seniors from social service agencies will be among the first to experience the trail. 
About the unique augmented reality heritage trails created by the collective effort of South West CDC and its partners, Ms Low Yen Ling, Minister of State, Ministry of Culture, Community and Youth and Ministry of Trade and Industry and Mayor of South West District said, "By marrying the old with the new, we have created an engaging and novel way to experience and enjoy local history, culture and heritage through smart technology. Families from the young to the old can have fun together exploring the sights and sounds of our Bukit Gombak gems – turning what used to be familiar before, into interesting discoveries! This is also an opportune platform to introduce technology to the digitally less savvy. As a community, we can create safe and fun spaces for digital learning and promote greater digital inclusion, where everyone can benefit from technology. This way, our communities are drawn closer as we appreciate, participate and co-create the augmented reality heritage trails together." 
Mr Douglas Goh, Director SG Digital Office and DfL Secretariat said, "This collaboration is another testimony of a successful 3Ps (Private, Public and People) in action. We would like to encourage like-minded partners to step forward and Play-a-Part to co-create meaningful initiatives like this to encourage more Singaporeans to embrace digital as a lifelong pursuit, and to enrich their lives through digital technologies. This is part of our on-going efforts to entrench DfL deeper into the community following successful launch of the inaugural DfL Festival in May 2022." 
"SIT is pleased to be part of this initiative to pioneer a Smart Heritage model in Singapore by leveraging augmented and virtual reality to curate and present heritage experiences and historical narratives. By blending digital experiences with physical ones, we hope to bring history embedded in the locality to life," said Associate Professor Susanna Leong, Vice President (Applied Research), SIT.  
Seven students from SIT were involved in the development of the User Experience (UX) concept and digital content for the trail, as well as the design of a heritage logo embedded with a QR code. "We hope that through the logo, the public will be enticed to step into the digital realm of our vibrant and cherished heritage gems found in our midst," said Kua Hui Ming, year one student from SIT's Digital Communications and Integrated Media degree programme.
___
About the South West Community Development Council (CDC) 
The South West Community Development Council (CDC) was formed on 24 November 2001, with the mission to Assist the Needy, Bond the People and Connect the Community.  
Through local help programmes, the South West CDC provides assistance to help the less fortunate in our community. The South West CDC also organises projects and programmes to promote community bonding and social cohesion. The South West CDC adopts the "Many Helping Hands" approach to encourage community ownership among residents, community partners and corporations to realise its vision of "Owning Your Community". 
Ms Low Yen Ling was appointed the Mayor of South West District on 27 May 2014. Ms Low is also the Minister of State, Ministry of Culture, Community and Youth (MCCY) & Ministry of Trade and Industry (MTI) & Adviser to Chua Chu Kang GRC. For more information, please visit: www.cdc.gov.sg/southwest. 
About CAforGood 
Corporate Alliance for Good Ltd (CAforGood) is a non-profit, social enterprise founded on 5th May 2021. Our mission is to empower youths and families in need to meet their socio-emotional and economical challenges through innovation and synergistic people-public-private collaboration. We are also passionate about community integration, cohesion and development to strengthen our shared social fabric. Through an integrated approach, we desire that Singapore residents may share in available opportunities to flourish and realise their potential. For more information, please visit: https://caforgood.org. 
About Digital for Life movement 
The Digital for Life (DfL) national movement, launched by President Halimah Yacob on 8 February 2021, aims to galvanise the community to help Singaporeans embrace digital as a lifelong pursuit, and to enrich their lives through digital. At the same time, President Halimah also launched the flagship DfL Fund to support projects and activities promoting digital inclusion, digital literacy and digital wellness. Learn more about the DfL movement at www.imda.gov.sg/digitalforlife. 
About IMDA 
The Infocomm Media Development Authority (IMDA) leads Singapore's digital transformation with infocomm media. To do this, IMDA will develop a dynamic digital economy and a cohesive digital society, driven by an exceptional infocomm media (ICM) ecosystem – by developing talent, strengthening business capabilities, and enhancing Singapore's ICM infrastructure. IMDA also regulates the telecommunications and media sectors to safeguard consumer interests while fostering a pro-business environment and enhances Singapore's data protection regime through the Personal Data Protection Commission. For more news and information, visit www.imda.gov.sg or follow IMDA on Facebook IMDAsg and Twitter @IMDAsg. 
About LDR Technology 
LDR Tech is an award-winning tech company that specialises in location-based business platforms as well as Augmented and Virtual reality app solutions. LDR Technology as over 12 years of experience creating eLearning, mobile learning, experiential learning solutions in Singapore and abroad. For more information, visit www.ldrtech.sg. 
About the Singapore Institute of Technology
The Singapore Institute of Technology (SIT) is Singapore's first University of Applied Learning, offering specialised degree programmes that prepare its graduates to be work-ready professionals. With a mission to develop individuals and innovate with industry to impact the economy and society in meaningful ways, SIT aims to also be a leader in innovative workplace learning and applied research. 
The University's unique pedagogy integrates work and study, embracing authentic learning in a real-world environment through collaborations with key strategic partners. Its focus on applied research with business impact is aimed at helping industry innovate and grow. The University's centralised campus in Punggol, when ready in 2024, will feature a fit-for-purpose campus within the larger Punggol Digital District, where academia and industry will be tightly integrated with the community. For more information, visit www.SingaporeTech.edu.sg.