SIT is giving students a leg-up into the MedTech industry by equipping them with valuable skills in Biodesign.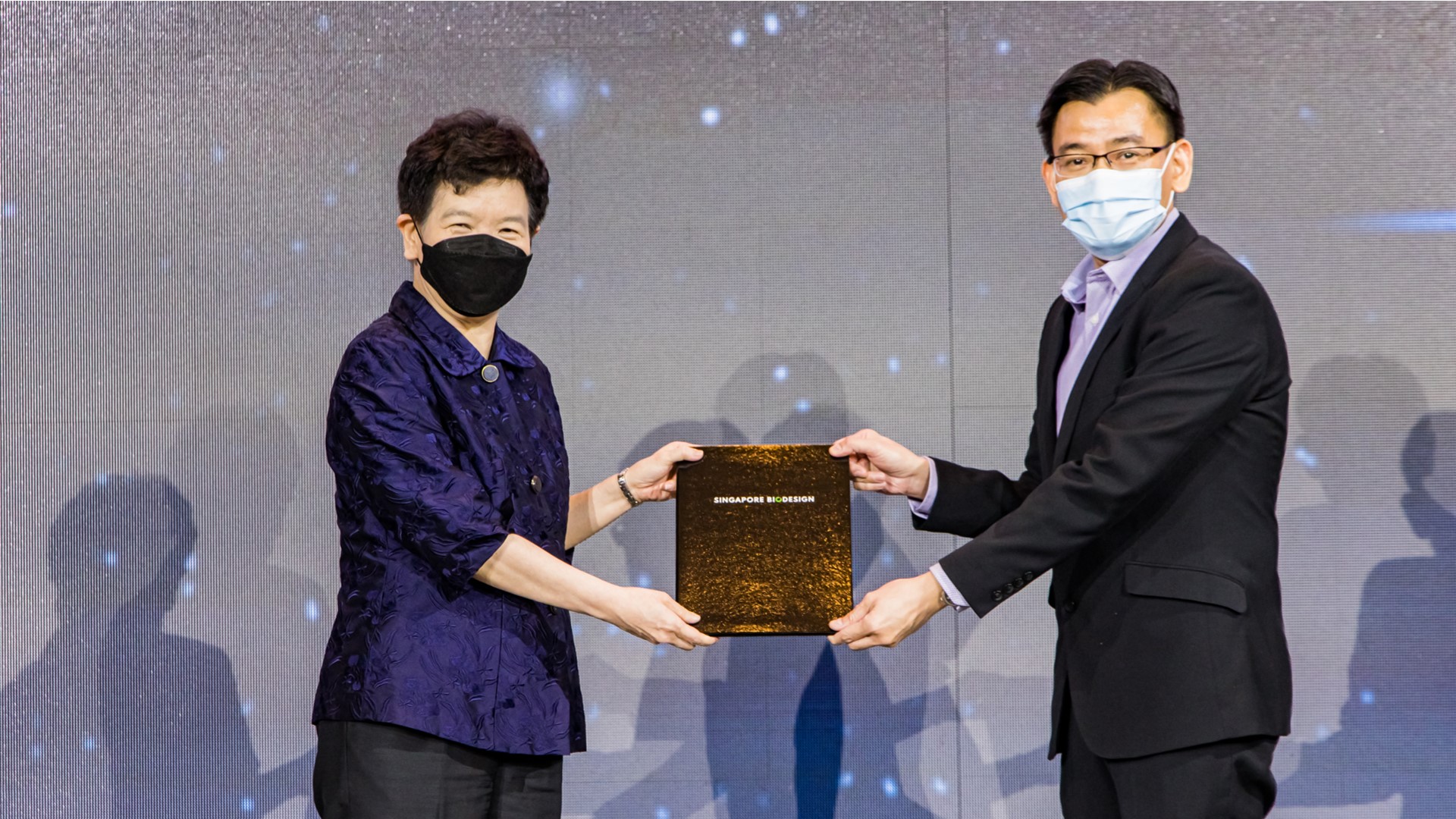 The Singapore Biodesign Faculty Fellowship Programme is a part-time executive programme aimed at providing faculty dedicated mentoring and in-market exposure to health technology innovation. Ms Chan Lai Fung, Chairman of A*STAR presenting the certificate of completion to Desmond Chong, Associate Professor, SIT at the Singapore Biodesign Fellowship Graduation Ceremony held on 9 March 2022.
Desmond Chong, Associate Professor, SIT first started his career as a Mechanical Engineer designing microelectronics packaging. After several years in the workforce, he moved on to a job in the biomedical field, where he discovered how his skills as an engineer could be used towards designing much-needed healthcare solutions such as joint implants and assistive devices.
Since then, it is this interest in applying his skills as an engineer towards solving real-world problems that has become one of his key driving forces, both in the private sector, and now in academia, where he has been in the last 12 years.
Can Creativity be Trained?
In addition to playing a direct and meaningful role in meeting unmet needs, A/Prof Chong shares that he also enjoyed the creative process of identifying what were the most important issues that needed solving, and coming up with viable solutions.
A/Prof Chong shares that as a young engineer, he never really considered himself a creative person. He always thought that if one wanted to be a designer, they had to be innately creative. "It just wasn't something that could be taught," he shares.
By observing his seniors and colleagues around him, he soon discovered that there was more than one way to express his desire to create – and that was through the process of innovation. This belief was further cemented in 2011 when he was introduced to the Singapore-Stanford Biodesign (SSB) initiative, a joint partnership between the Agency for Science, Technology and Research (A*STAR), the Economic Development Board (EDB) and Stanford University. He subsequently visited the Stanford Byers Center for Biodesign in the United States. It was through these experiences that A/Prof Chong got to know more about the Stanford Biodesign Process, which breaks up the entire innovation process from identifying needs, all the way to inventing and commercialisation.
"I found that this was a very good and structured methodology for my students to learn. The pedagogy behind it, with reference to Stanford University academics, is that innovation could be learned, practiced and perfected," says A/Prof Chong.
Getting Formally Trained
After being introduced to the Stanford Biodesign Process, A/Prof Chong began to incorporate aspects of this methodology, together with his experience in engineering design and past interactions with medical and allied healthcare professionals, into his teaching curriculum.
He shared that up until 2017, the SSB initiative was only available to full-time fellows and post-graduate students. To expand its reach and create a common language to be used in the health technology space, SSB, which has since been renamed to Singapore Biodesign (SB) and transitioned into a national platform for talent development, began opening up its doors to a limited number of undergraduates from SIT.
In 2021, this initiative was further extended to faculty members of institutes of higher learning, clinician-innovators and senior scientists seeking to incorporate the Biodesign methodology into their teaching programmes.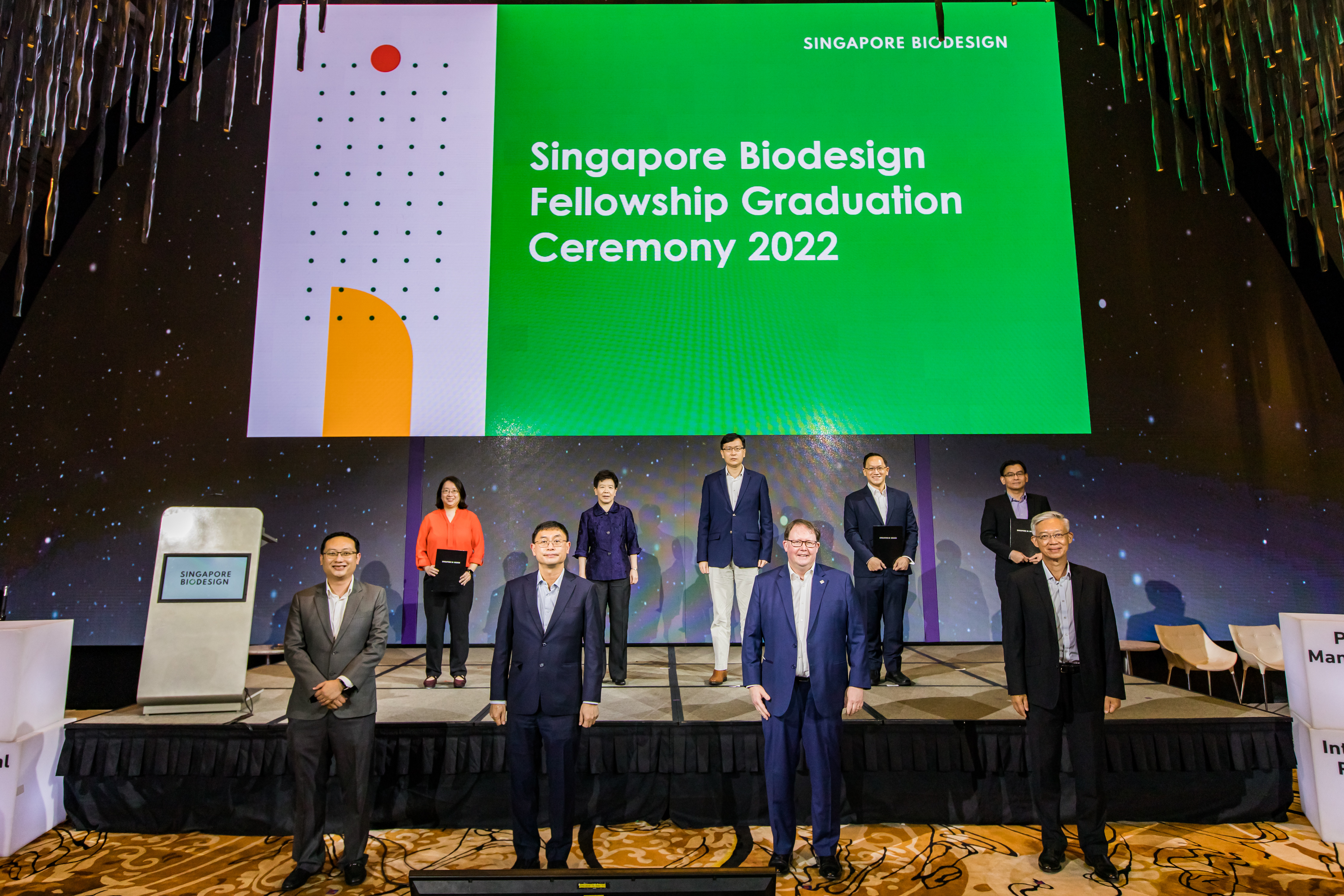 Under the Singapore Biodesign Faculty Fellowship Programme, participants will be coached through a project using the Biodesign methodology to identify unmet clinical needs, invent practical solutions, and prepare to implement those inventions in real-world settings.
This was great news for A/Prof Chong, who finally had a chance to be more deeply immersed in the programme on a formal basis. Through an intensive six-month Biodesign Faculty Fellowship programme, he learnt about the three key phases of Biodesign (Identify, Invent and Implement) through hands-on and project-based activities. Together with four other faculty fellows, they also had the chance to present their projects to SB faculty and past fellows, as well as industry and clinical experts. This provided them with critical feedback to sharpen their skills and knowledge in the Biodesign process.
"Personally, I benefitted from learning more about regulatory pathways, reimbursement and business models, which belong to the third part – Implement. This is something that engineers are not as exposed to.
On a separate note, by being a 'student' again after so many years, I can now better empathise with my students as well," he quips.
Bringing it Back to SIT
Back in SIT, A/Prof Chong believes that knowledge of the multidisciplinary-based Stanford Biodesign Process will give a leg-up to students interested in joining the MedTech industry after graduation.
He says that students will now get a better understanding of the specific needs and approaches in developing medical devices, including patent applications, regulatory pathways and coming up with viable business plans.
"More importantly, Mechanical Engineering students will also realise that the design and development of healthcare solutions relies on a multidisciplinary team and requires an interdisciplinary skill set. Being equipped with the knowledge of Biodesign, they are better able to assimilate into the MedTech industries with more confidence."
Today, SIT's Mechanical Engineering students who specialise in Healthcare Engineering benefit not only from A/Prof Chong's knowledge and expertise in Biodesign, but also that of two other SB-alumnus faculty members. Together with Associate Professor Agnes Xue who specialises in industrial design, and Dr Irwan Moideen, an industry professional from the MedTech space, the team co-supervises students on their learning journeys, as well as mentors them on their final-year projects to develop innovations that meet pressing real-world needs.
Already, promising projects have sprouted, including the design of an automated device to measure the range of ankle movement in patients with ankle spasticity, and the design and development of a more comfortable and hygienic ankle brace for foot injuries.
Says A/Prof Chong, "By enhancing their engineering knowledge with Biodesign, they will hopefully be able to take these medical innovations all the way to market. The fact that A/Prof Xue, Dr Moideen and I hail from different specialisations is a further testament to students that the development of MedTech is very much a multidisciplinary team effort. And, it's not just us who are involved. We even have our colleagues from the Health Sciences programmes serving as clinical advisors!"