Lectures can be long, boring and ineffective for the millennial student. This is why educators at the Singapore Institute of Technology (SIT) are inspiring new ways of learning in class.
"It is increasingly challenging to adapt to the new learning styles of our students," says Assistant Professor George Liu Zhaoping, Design and Specialised Businesses Cluster at SIT. "Imagine row after row of students scribbling notes as a lecturer drones on -- that simply does not work for today's students anymore."
To pique his students' interest, Asst Prof Liu has dabbled in different methods such as screening videos, and distributing cruise line brochures for in-class activities. "While these ideas worked well in the initial few weeks, they lose the initial novelty effect, and student engagement tends to also diminish."
Learning by Teaching
Undeterred by the setback, Asst Prof Liu came up with a few new ideas to deliver course content in a more engaging way. He tasked students in one of SIT's Hospitality Business modules on Cruise Management to take charge of the course delivery. Students are broken into groups and empowered to help one another learn through peer teaching. Working as a team, students would design teaching plans and initiate in-class activities centred on an assigned theme.
Ang Zhong Jun, 25, recalls how his group prepared a two-and-a-half-hour lesson on the topic of 'Who Cruises and Why'. The class was divided into groups for various activities, with an opportunity to earn points by spinning a wheel. The losing group would have to perform a dance for the class. "Honestly, I was not expecting such a huge reaction from the class after mentioning the forfeit," Zhong Jun grins. "Most of them looked like they did not plan on losing after that, and it made me happy knowing that we managed to get the class involved."
To reinforce the content, Zhong Jun acted out a skit in class, which left a deep impression on the topic of 'Typology of Cruise Passengers'. "I dressed as different cruise passengers – as a 'relaxer' and 'explorer'," he shares. The relaxer was made out to be enjoying his time sun-bathing on the deck in shorts, a T-shirt and sunglasses, while the explorer was dressed in thick clothing for the Arctic. "I acted like I was preparing to depart on a small boat for an expedition."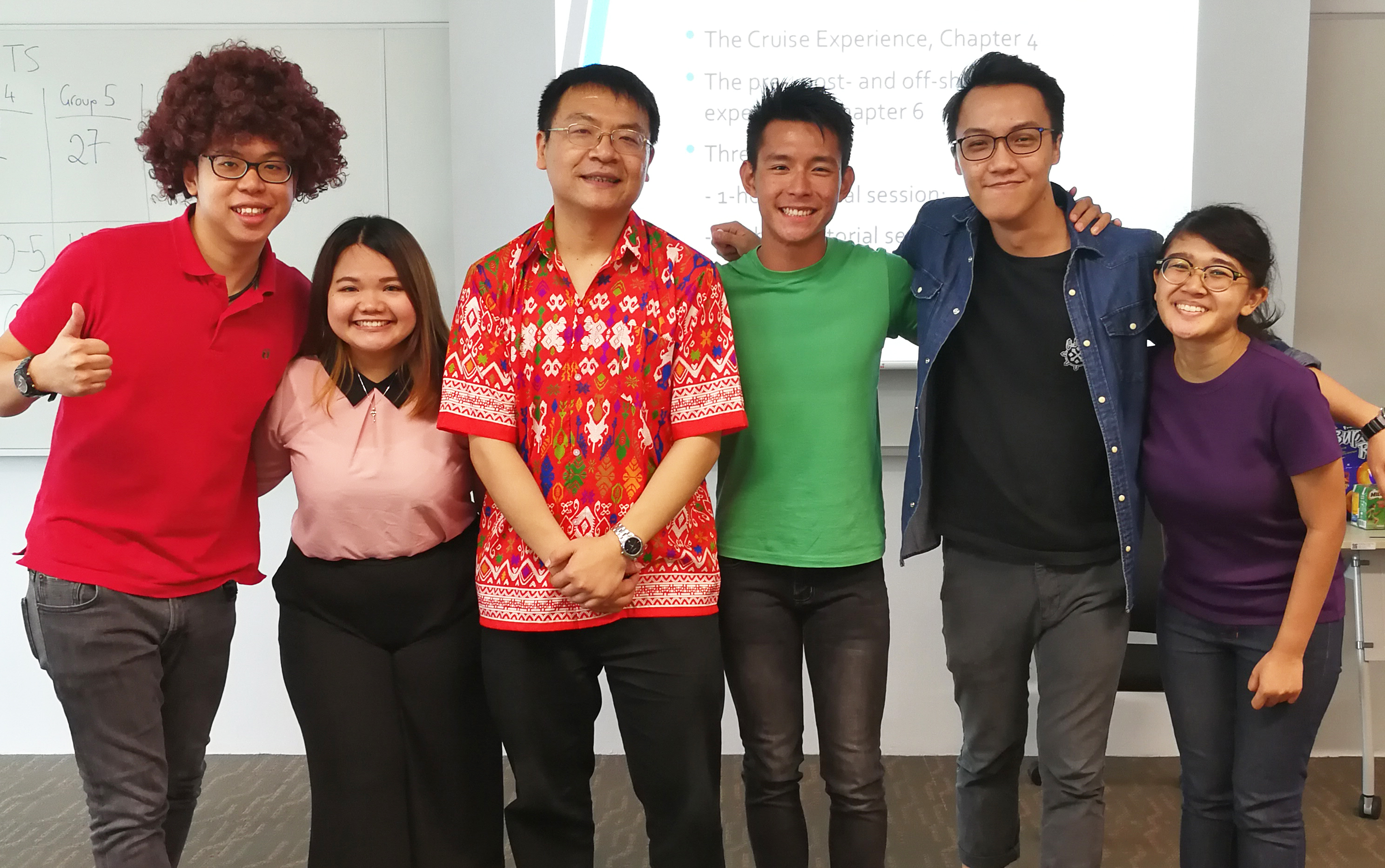 Zhong Jun (second from right) and his group acted out a skit on the topic of 'Typology of Cruise Passengers'.
Zhong Jun, who graduated with a Hospitality Business degree in 2019, concurs that the experience has helped his class learn better. "We had tons of fun thinking of how to make our 'lesson' educational and entertaining," he smiles. "Sometimes, seeing something unfold before your eyes helps you absorb the situation better, rather than reading plain texts from a book."
Learning through Games
Hospitality Business graduate Ellis Hoe, 24, recalls the initial uncertainties in taking on the challenge of the assignment as the pioneer batch. "My group came to an agreement that we learnt best when we are interested in the lesson. Smaller groups would also help stimulate discussions more effectively."
Ellis relates how her group adapted the popular board game Monopoly and renamed it Zhaopoly. In Zhaopoly, the names of cities were changed to reflect popular cruise destinations such as Miami and Singapore, which brought the topic of 'Global Cruise Regions' to life. To earn money to buy the 'ports', students had to accumulate their wealth by participating in questions and activities.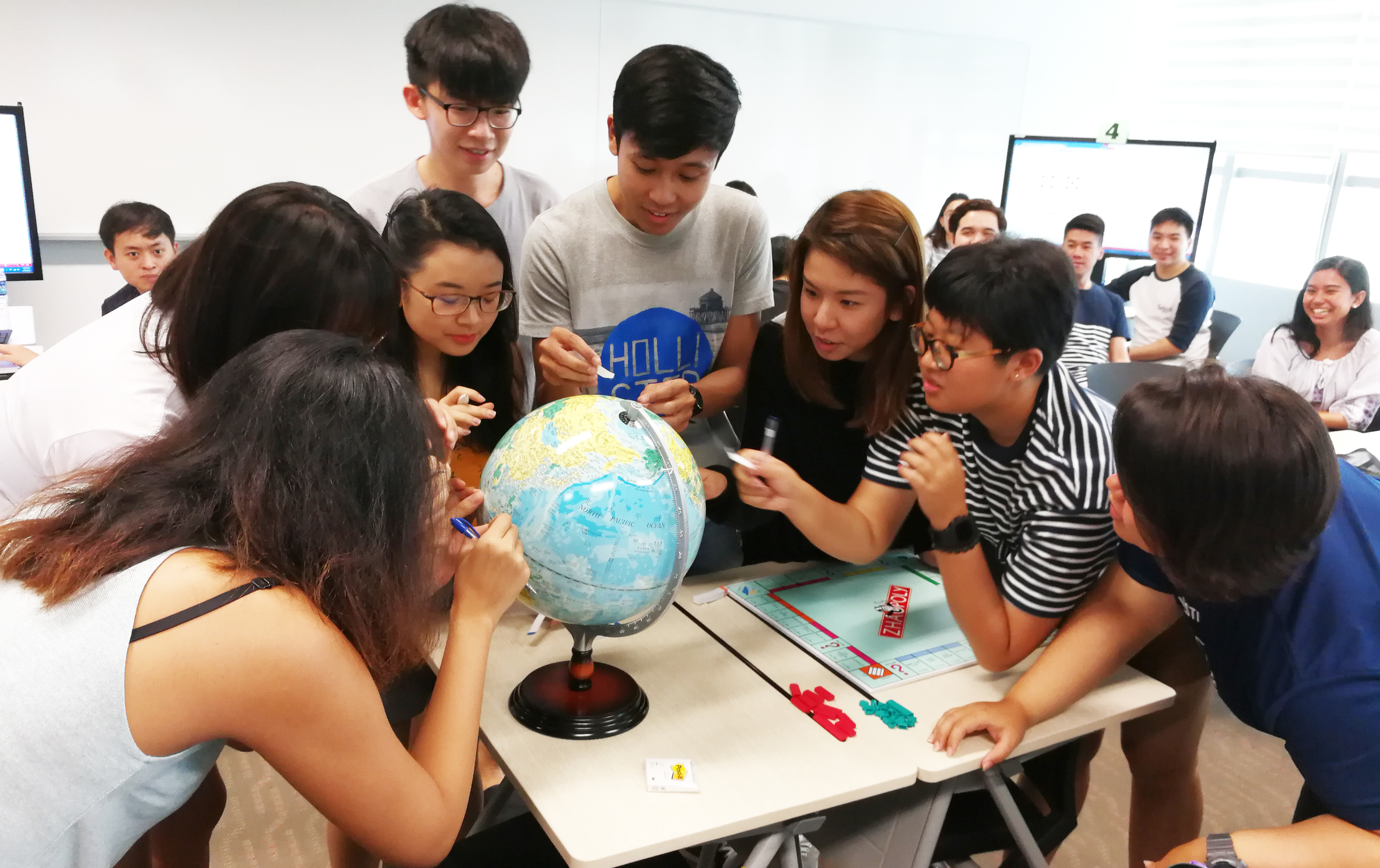 Participants get to try out Zhaopoly, which reflected popular cruise destinations such as Miami and Singapore.
Sarah Koh, 24, one of the participants of Zhaopoly, remarks how well-prepared Ellis and her team were. "The team had designed Zhaopoly from scratch and even had it professionally printed. They also printed the various denominations of money and wild cards. I was able to actively engage in class discussions and activities because their innovative method of Zhaopoly allowed every group to participate during the tutorial."
Sarah recalls how the game had ignited the competitive spirit among students, which has spurred her to do more research on her own. "For example, there was a question on the most popular ports in the Western Mediterranean. As I did my research, I became more aware of the various countries and ports, and it became much easier for me to remember cities such as Rome, Nice and Barcelona. The team has definitely stimulated my interest in the topic."
"I realised that a great deal of background research has to be done prior to each tutorial session," Ellis reflects. "I felt the heavy responsibility of conducting a class but, through the experience, I also better understood my own learning gaps."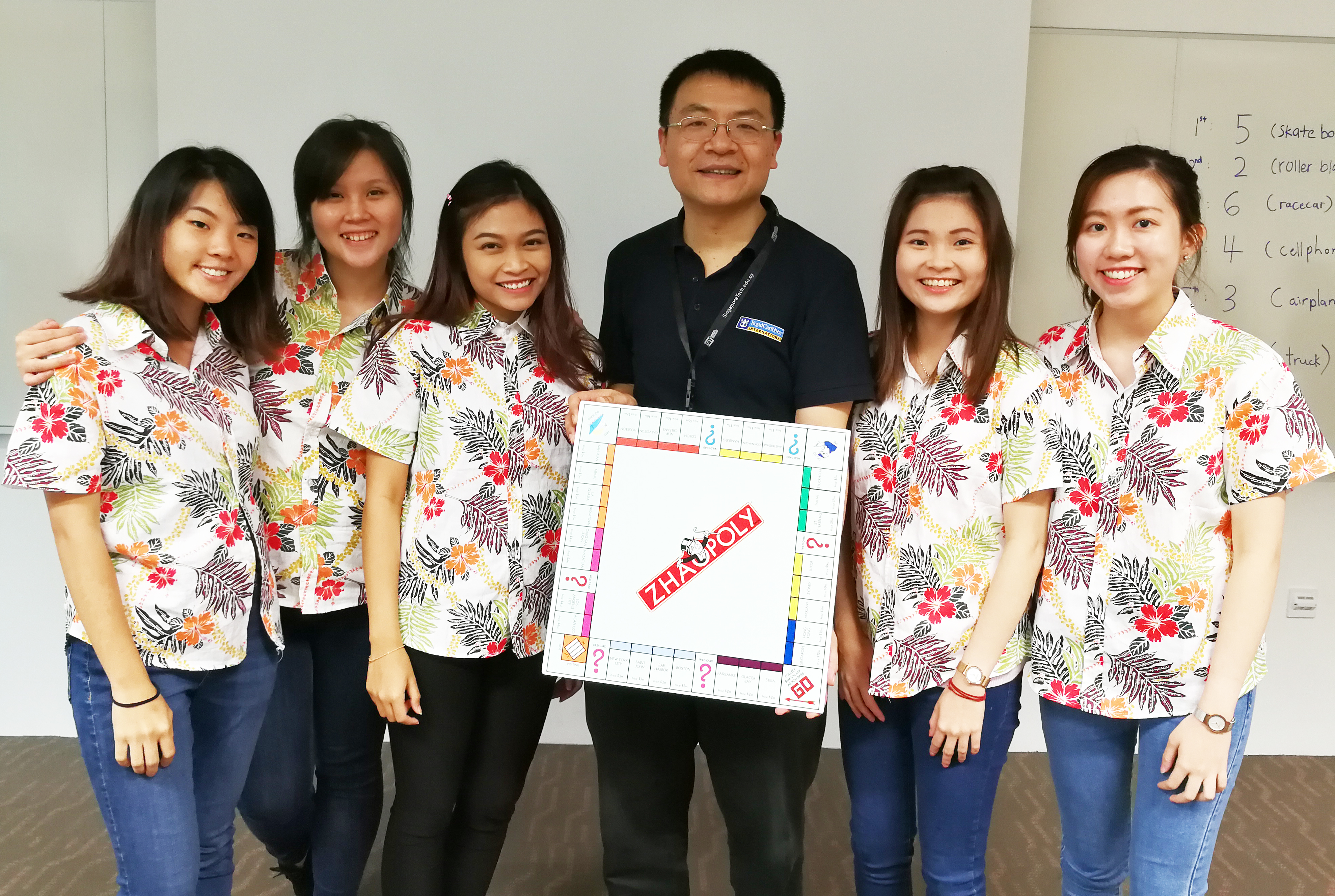 Ellis (first from right) and her teammates developed a board game called Zhaopoly and used it to co-teach Cruise Geography with Asst Prof George Liu.
Developing Active Learners
Most students are used to being passive receivers of knowledge, Asst Prof Liu acknowledges, and he is proud of how receptive SIT students have been to the programme.
"The transition to an instructor's mindset is very difficult," he notes, "but we are proud that our cruise management students have stepped up to the challenge. Students have demonstrated a stronger sense of ownership and forged new friendships throughout the semester."
"Most importantly, when students do a good job, they stimulate one another's interest in the topic. We are glad to be able to transform the conventional classroom with an exciting, conducive learning experience that helps students acquire knowledge more effectively."
The case study on 'Use of Peer Teaching to Engage Millennial Students: The Case of a Hospitality Business Module at SIT' was featured in the book 'Applied Learning in Higher Education: Perspectives, Pedagogy, and Practice'. The book is available for purchase online from Informing Science Press, Amazon, and Google Play.