More than 9 in 10 graduates were employed within six months of graduation
86.0% were employed in full-time permanent jobs, surpassing pre-pandemic levels, with improvements seen across sectors
Class of 2021 earned competitive salaries, with a mean gross monthly salary of $3,755 and a median gross monthly salary of $3,550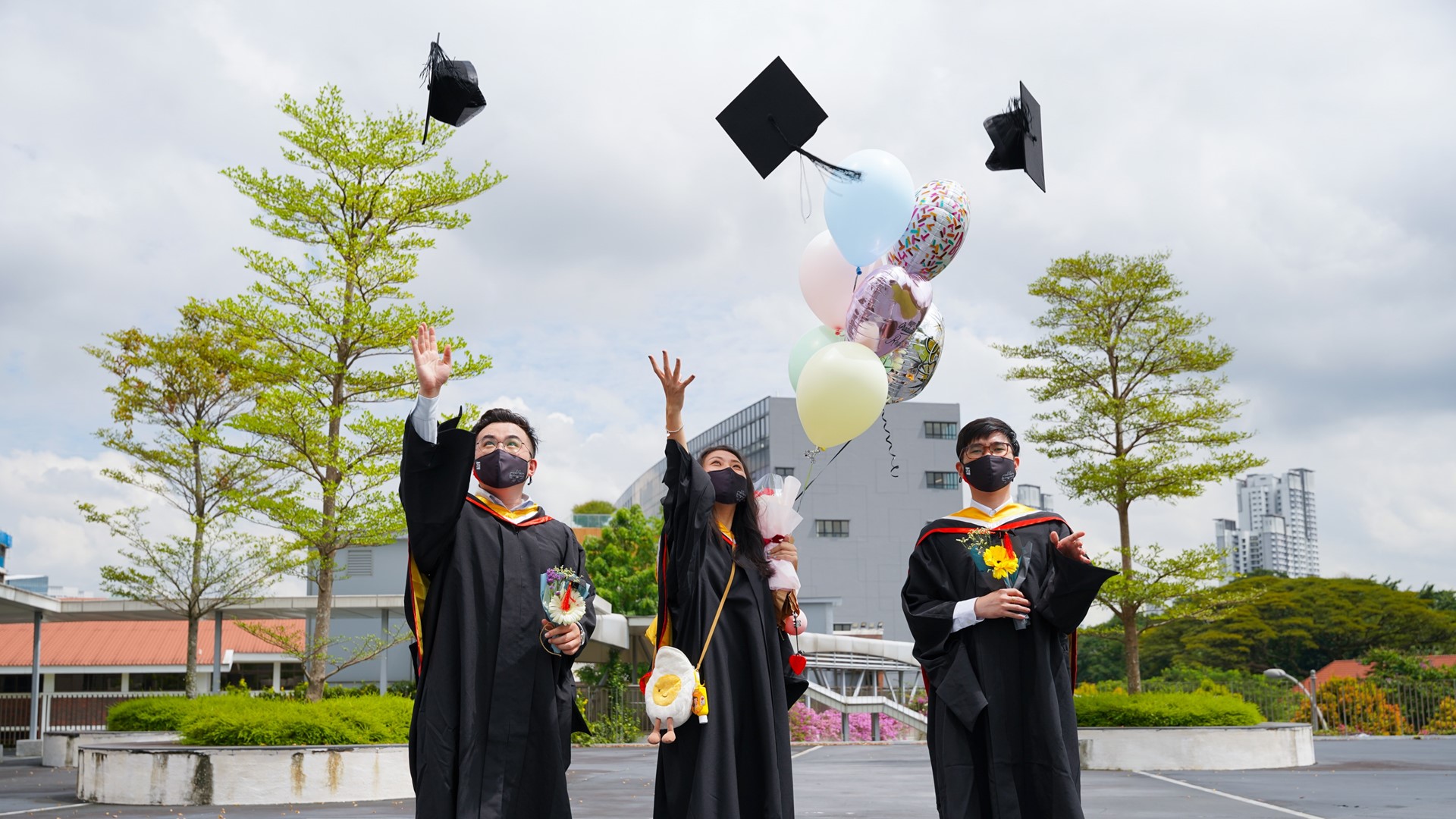 (SIT Photo: Keng Photography/Tan Eng Keng)
Class of 2021 graduates from the Singapore Institute of Technology (SIT) continue to be well-received by the industry. These results were unveiled in the annual Joint Autonomous Universities Graduate Employment Survey (JAUGES)[1], conducted by SIT between 1 March and 14 May 2022. Of the 2,006 graduates across 33 degree programmes from SIT and its 10 Overseas University (OU) partners, 84.5%, or 1,695 graduates, took part in the survey[2].
Significant Employment Improvements for Graduates in COVID-19-hit Sectors
The survey showed that more than 9 in 10, or 95.6% of SIT fresh graduates in the labour force[3] gained employment within six months of graduation. 86.0% secured full-time permanent (FTP) jobs, a 16.2% increase as compared to the previous cohort.
Significant recovery was observed for graduates in the tourism and built environment sectors which were heavily impacted by COVID-19. Hospitality Business, Civil Engineering and Sustainable Infrastructure Engineering (Building Services) graduates achieved FTP employment ranging from 80.3% to 96.1%, an improvement of between 11.5 to 32.4% from the previous cohort.
SIT graduates have remained highly sought after by industries with strong demand for skilled talent. The pioneer cohort of the Aircraft Systems Engineering programme, as well as graduates of the Information and Communications Technology (Information Security), Information and Communications Technology (Software Engineering), Marine Engineering, Naval Architecture and Systems Engineering (ElectroMechanical Systems)[4] programmes have achieved 100% employment. Graduates of the three SIT-conferred Allied Health programmes in Diagnostic Radiography, Occupational Therapy, and Radiation Therapy also achieved 100% employment, while those from the SIT-Trinity College Dublin Physiotherapy programme achieved 97.9% overall employment. ​​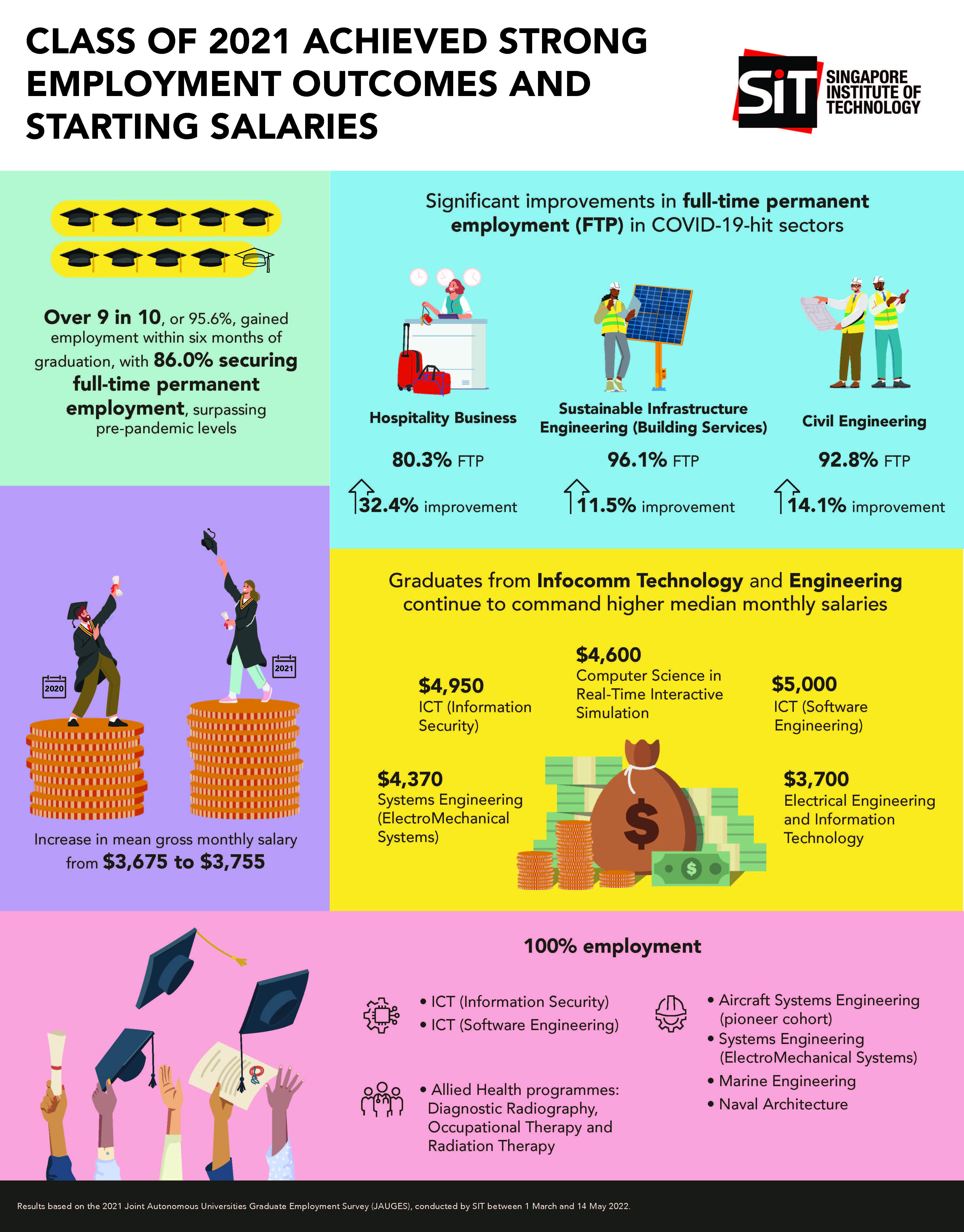 GES results of SIT's 2021 graduates at a glance. (click on the infographic to download)
Healthy Starting Salaries, Surpassing Pre-Pandemic Levels
The survey also revealed that the starting salaries of SIT graduates exceeded pre-pandemic levels, with both mean and median gross monthly salaries at an all-time high.
The mean gross monthly salary[5] of SIT graduates in FTP employment was $3,755, an increase over the previous year's salary of $3,675. The median gross monthly salary of graduates in FTP employment was $3,550, up from $3,500 in 2020.
Graduates from the Information and Communications Technology (ICT) programmes continue to command higher wages. Fresh graduates in the ICT (Software Engineering) programme earned the most among their peers with a median monthly salary of $5,000. This was followed by ICT (Information Security) graduates who earned a median monthly salary of $4,950, and Computer Science in Real-Time Interactive Simulation graduates at $4,600.
Graduates from Engineering programmes with ICT components also saw an increase in gross median monthly salaries. Systems Engineering (ElectroMechanical Systems) graduates earned a median monthly salary of $4,370, up from $4,185 in 2020. Graduates from the Electrical Engineering and Information Technology programme commanded a median monthly salary of $3,700, up from $3,600 in 2020.
SIT President Professor Chua Kee Chaing said, "We are heartened that the employment outcomes have rebounded and even exceeded pre-COVID levels. Employers continue to express confidence in our students through advance job offers, even before they graduate – a strong testament to our applied learning pedagogy and programmes."
IWSP Remains Salient in Giving Graduates a Head Start to Careers
One in two SIT graduates received job offers from their Integrated Work Study Programme (IWSP) companies before graduation, and of these, more than half accepted the offer. Built upon a solid foundation of industry collaborations, SIT's curriculum is designed to enhance students' industry readiness. Its signature IWSP exemplifies the best of university-industry collaboration, where students are immersed in the real working world for up to 12 months, allowing them to gain practical job skills and be workforce-ready. Since its inception in 2014, the IWSP has expanded to cover all SIT and joint degree programmes, with over 1,400 students out in the industry for their work attachments in 2021.
This year's survey includes the inaugural batch of students from the Aircraft Systems Engineering (ASE) programme. Comprising an interdisciplinary curriculum developed in collaboration with SIA Engineering Company Limited (SIAEC) and with a focus on grooming talent for the aerospace and aircraft Maintenance, Repair and Overhaul (MRO) industries, the ASE programme features an eight-month IWSP at SIAEC for students to gain first-hand industry experience in aircraft maintenance. In addition to the SIT-conferred degree upon completion of their studies, ASE graduates can also qualify for a Certificate of Recognition (CoR) by SIAEC, which certifies the successful completion of a SAR-147 Approved Basic Course, one of the key pre-requisites for the award of an Aircraft Maintenance License.
Apart from the IWSP, SIT supports graduating students through its Centre for Career Readiness, which organises career success workshops, recruitment talks, career fairs and career coaching sessions. 
 
---
[1] The JAUGES is conducted by the six Autonomous Universities (NTU, NUS, SIT, SMU, SUSS and SUTD) every year to survey the employment status of graduates around six months after the completion of their final examinations. Due to their different academic calendars, NUS, NTU, SMU and SUSS conduct their surveys in November each year, while SUTD and SIT conduct their surveys in February and March, respectively.
[2] Details on SIT's course-level results are available at https://www.moe.gov.sg/post-secondary/overview/autonomous-universities/sit.
[3] Graduates in the labour force refer to those who are working and those who are not working but actively looking and available for work.
[4] The Systems Engineering (ElectroMechanical Systems) programme has been renamed to Mechatronics Engineering from Academic Year 2021 onwards.
[5] Gross monthly salary comprises the basic salary, fixed allowances, over-time pay, commissions and other regular cash payments, before deductions of the employee's CPF contributions and personal income tax. Employer's CPF contributions, bonuses, stock options, other lump sum payments, and payments-in-kind are excluded.
The Singapore Institute of Technology (SIT) is Singapore's first University of Applied Learning, offering industry-relevant degree programmes that prepare its graduates to be work- and future-ready professionals. Its mission is to maximise the potential of its learners and to innovate with industry, through an integrated applied learning and research approach, so as to contribute to the economy and society. 

The University's unique pedagogy integrates work and study, embracing authentic learning in a real-world environment through collaborations with key strategic partners. Its focus on applied research with business impact is aimed at helping industry innovate and grow. Targeted to be ready in 2024, SIT's centralised campus within the larger Punggol Digital District will feature a vibrant learning environment where academia and industry will be tightly integrated with the community.
For more information, visit www.SingaporeTech.edu.sg.