Four teams unlock innovative solutions in space with 3D printing technologies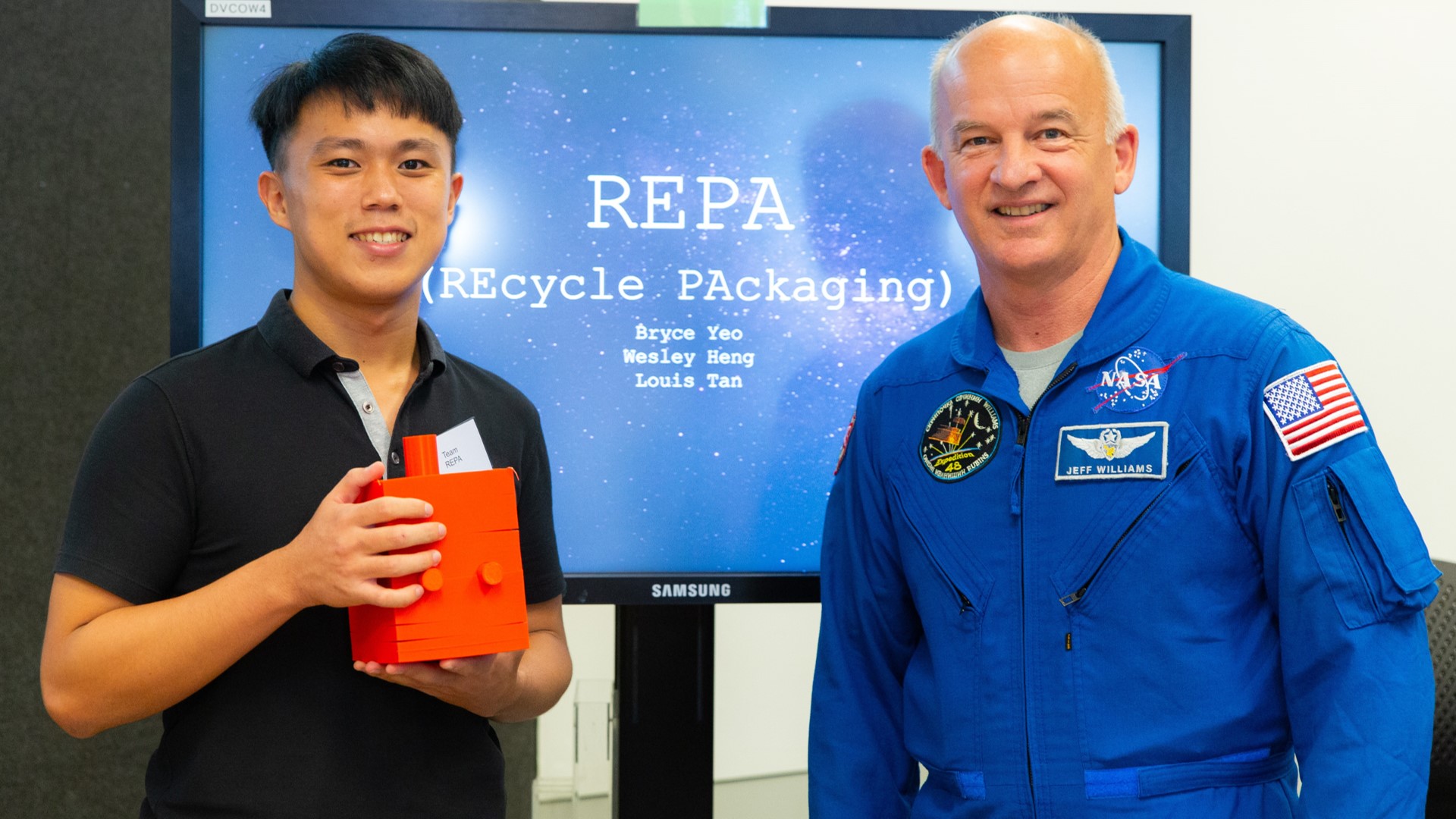 The winning team's (Team REPA) representative Louis Tan with NASA Astronaut Jeffrey N. Williams. (SIT Photo: Keng Photography/Wang Zhixiang)   

8 June 2022 – The Singapore Institute of Technology (SIT), Science Centre Singapore and NEO Aeronautics Pte Ltd successfully concluded the inaugural edition of 'The SIT Hackathon 2022: Sustainability in Space'.  

Themed 'How to Live in Space for 365 Days', the Hackathon saw participating students from SIT proposing innovative solutions related to 3D printing technologies that can be used in space. From January 2022 to June 2022, six teams submitted their product proposals and were given a budget of $500 to produce their prototype. Four teams progressed to the Grand Final, held at SIT@Dover on 8 June. 
  
Team REPA impressed the judges with their sustainable innovation proposal and clinched the top prize of $500 cash. The winning team, comprising three Year 3 Mechanical and Aerospace Engineering students from SIT-University of Glasgow joint degree programmes, proposed using recyclable plastic material for 3D-printed repair parts in the International Space Station. 
  
The event was graced by Guest-of-Honour – NASA Astronaut, Jeffrey N. Williams, who holds the record for the longest time spent in space by an American Male Astronaut. At the Hackathon, he also shared insights on his space missions in a talk on "What It Takes To Be An Astronaut?" 
  
Professor Ng Siu Choon, Associate Provost (Students & Faculty Development), SIT said, "We are delighted to organise this SIT Hackathon. It encourages SIT undergraduates to think of creative ideas on sustainable living in space using additive manufacturing (AM) technology. By affording a platform for them to present their innovative proposals, we hope to spark an interest among SITizens in technology, as well as Singapore's budding space scene. The strong nexus of applied learning to research encourages our students to go beyond their curriculum and to think out of the box for solutions that can solve real world problems."  
  
Associate Professor Lim Tit Ming, Chief Executive, Science Centre Singapore said, "Hackathons are a great way to strengthen connections, facilitate fruitful exchanges and stimulate creativity. It's always inspiring to see the younger generation come together to co-create ideas. In this sense, we see hackathons not just as opportunities to generate solutions but to accelerate innovation. That sense of curiosity, enthusiasm and passion among the teams is what we aim to foster. The hackathon also demonstrates the importance of bringing like-minded partners together to create nurturing spaces. All these small steps can lead to giant leaps in overcoming the complex challenges before us." 
  
Dr Neo Kok Beng, Founder of NEO Aeronautics said, "I would like to encourage students to apply their scientific knowledge and imagination to explore opportunities in the space industry." 
  
Some of the ideas presented by the other teams include using material found on the lunar surface to produce building foundations, development of an Advanced Manufacturing and Innovation Capsule that eliminates the need for a space station and a Space Construction Vehicle that recycles space waste into reusable materials. 
  
More information about The SIT Hackathon 2022 is detailed in Annex 1 and the full list of winners is in Annex 2 below.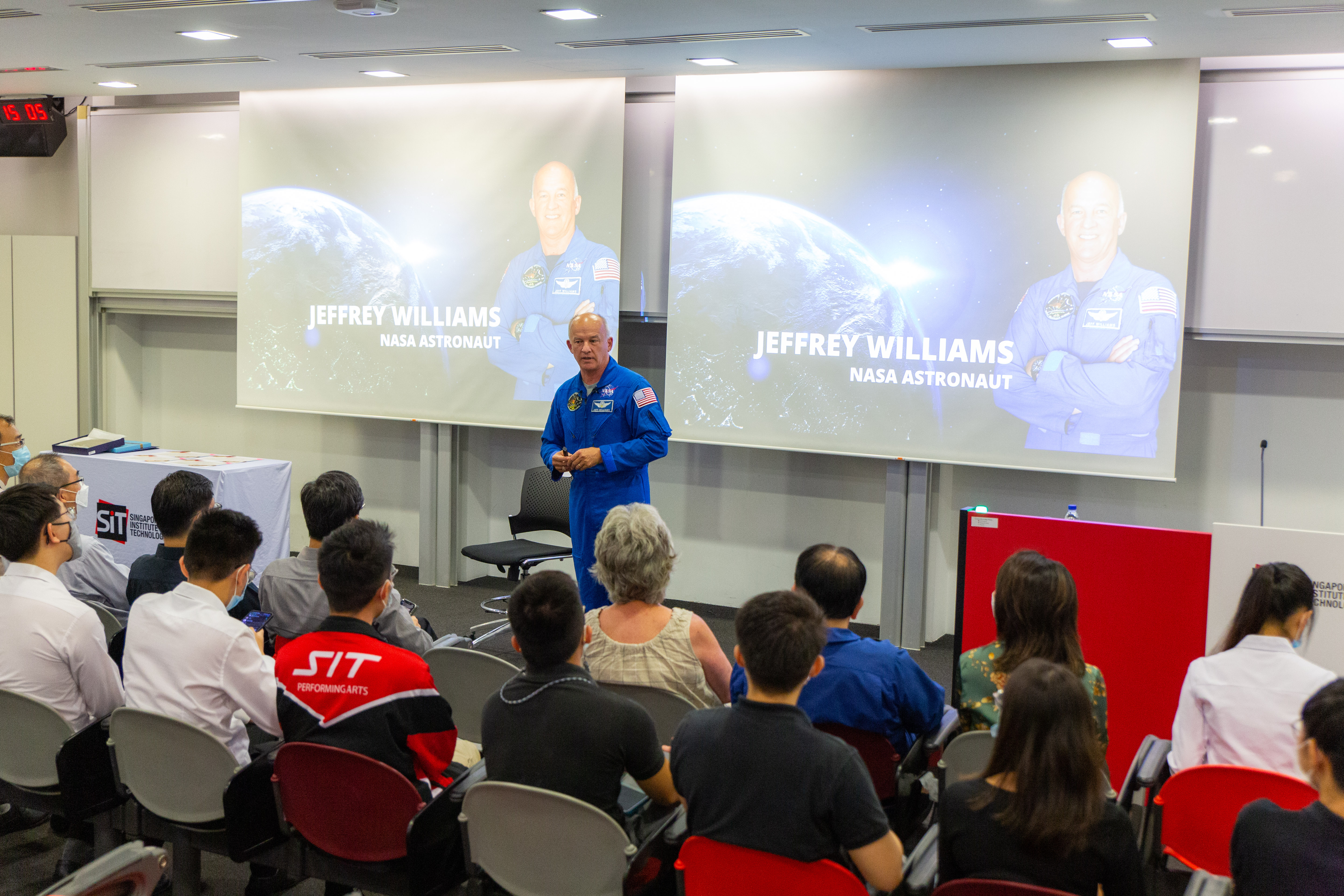 NASA Astronaut Jeffrey N. Williams sharing with the audience at the seminar. (SIT Photo: Keng Photography/Wang Zhixiang)
About Singapore Institute of Technology
The Singapore Institute of Technology (SIT) is Singapore's first University of Applied Learning, offering specialised degree programmes that prepare its graduates to be work-ready professionals. With a mission to develop individuals and innovate with industry to impact the economy and society in meaningful ways, SIT aims to also be a leader in innovative workplace learning and applied research.
The University's unique pedagogy integrates work and study, embracing authentic learning in a real-world environment through collaborations with key strategic partners. Its focus on applied research with business impact is aimed at helping industry innovate and grow. The University's centralised campus in Punggol, when ready in 2024, will feature a fit-for-purpose campus within the larger Punggol Digital District, where academia and industry will be tightly integrated with the community.
For more information, visit www.SingaporeTech.edu.sg
About NEO Aeronautics
NEO Aeronautics is incorporated in 2018 with the focus to design and produce manned personal aerial vehicle (PAV) that is safe, reliable, and affordable; and to build Urban Aerial Mobility (UAM) communities globally.
Since the company's inception, we have developed two prototypes, Crimson S8, of the PAV as proof of concept. Covid-19 has slowed down our product development. With the opening of the economy, we are ready to build flight trial and certification version.
Currently, the regulations in Singapore does not allow for personal aerial vehicles to be operated in the open, thus we plan to test and certify the vehicle in the United States. The unmanned version will be tested in Singapore. As the PAV is developed as an "ultralight vehicle" under the US Federal Aviation Administration (FAA) Part 103 rules, anyone would be able to use it. Under US law, operators of ultralight vehicles do not need a pilot license.
Apart from using it as a personal mode of transport from point to point, we are also plan to roll out the PAVs for the tourism market. We plan to have the vehicle built and tested locally in an unmanned mode in October 2022.  Thereafter, we will test and certify the vehicle in manned mode in United States in early 2023. Our goal is to have 1,000 of our PAVs in 25 cities making 50 million trips yearly.
For more information, please visit https://www.neo-aeronautics.com/
About Singapore Centre Singapore
Science Centre Singapore, a non-formal educational institution, and leading regional Science Centre, along with its group of attractions, brings out the wonders of science, technology, engineering, and mathematics through its unique blend of exhibitions, educational programmes and events. A custodian of creativity and innovation, Science Centre Singapore has captured the evolution of scientific developments for more than four decades. The Centre and its partners have played a pivotal role in transforming the way students and the public interact with and learn about science, technology, engineering, and mathematics.
Since 1977, the Centre has welcomed over 30 million visitors and inspired them with more than 1,000 exhibits spread across 14 exhibition galleries and outdoor exhibition spaces. The Centre's group of attractions include Omni-Theatre, Snow City and KidsSTOP™. The Omni-Theatre is an immersive dual-technology edutainment destination fitted with Southeast Asia's largest seamless dome screen and featuring the latest and brightest 8k digital full dome system in the world. Snow City is Singapore's only permanent indoor snow centre offering an Arctic inspired experience at Singapore's first ice gallery and snow chamber. KidsSTOP™ - Where every child gets to Imagine, Experience, Discover and Dream - is Singapore's first children's science centre offering an enriching experience through purposeful play for children aged 18 months to 8 years old.
For more information, please visit www.science.edu.sg.
Annex 1
'The SIT Hackathon 2022: Sustainability in Space' in its entirety comprises the following components:
Theme: How To Live In Space For 365 Days?
Sustainability in Space: Currently, space missions require excess equipment to be prepared for unforeseen circumstances.  When necessary, rockets are launched to transport equipment where requirements are deemed mission critical.  Sometime this leads to waste and inefficiency.  Technology such as 3D printing or smart indoor farming can allow equipment, resources or even food to be produced as needed.  This will help to reduce excess equipment to be transported and reduce the need for additional rocket launches.  Hence, making space activities more sustainable.
Mission Statement: Research and innovate solutions related to 3D printing technologies that can be used in space to achieve sustainable living.
Entry Stage (19 Jan 2022): Teams of 3-5 students per group to submit a 2-page proposal & 5 minutes video to address Mission Statement.  Six teams submitted the initial proposal by the deadline, addressing the mission statement and progressed to the next stage.
Idea Conceptualisation Stage (19 Mar 2022): Idea conceptualisation where students work with their respective assigned mentors to produce their prototype.  A budget of $500 was provided to the students to work on their prototypes.  All teams will also have access to RaPiD and Food Technology laboratory for support.
The Grand Final (8 June 2022): Four finalists will present their solution to the mission statement to a panel of judges in a 10 to 15-minute live presentation.
Cash prizes for Grand Final participants:
o Top 3 Awards: $500
o 4th Award: $250
o Consolation Prizes: Certificate of Participation
The judges for the Grand Final are:
Jeffrey N. Williams, NASA Astronaut
Prof Ng Siu Choon, Associate Provost (Students & Faculty Development), Singapore Institute of Technology
Associate Prof Lim Tit Meng, Chief Executive, Science Centre Singapore
Dr Neo Kok Beng, Founder, NEO Aeronautics
Annex 2: List of Winners
Prize

Winning Team & Members

Winner

($500 cash)

REPA

Cooked food is sent up to the International Space Station (ISS) via a spacecraft every 90 days.  This is because cooked food does not have a long shelf life. Along with food, the spacecraft might carry additional items required for logistics or repair work. These items being sent to the ISS require proper packaging to ensure that they are kept safe during the journey. However, should an emergency happen in the ISS where repair parts are needed before the next scheduled spacecraft flight, one will have to be launched immediately. REPA is proposing to 3D print repair parts/components in the ISS, where the filament needed for printing is made from the plastic packaging used to store the items brought from earth. The objective is to reduce the number of spacecraft trips to the ISS or allow spacecraft with smaller payload to be sent instead of the larger one, hence trimming the operational cost. This idea would require two machines to be sent into the ISS, one to shred the plastic packaging and one to produce the components/parts.

Team members:

Tan Lek An Louis, Mechanical Engineering, Year 3

Yeo Jen Yong Bryce, Mechanical Engineering, Year 3

Heng Hoong Yeow Wesley, Aerospace Engineering, Year 3

2nd place

($500 cash)

AMICA

With the decommissioning of the ISS approaching, there is a need to re-establish a space station in outer space. However, building another space station through conventional means is costly and risky.

Team AMICA proposes the development of an Advanced Manufacturing and Innovation Capsule (AMICA). AMICA will be equipped with 3D printing technology, consisting of an in-built, dual bed 3D printer system with three axes of maneuverability, a multi-nozzle print head capable of printing objects in various materials, a segregated control room for monitoring and controlling purposes, an attached furnace for metal post-processing work and lastly, remotely controlled robotic arms situated outside the capsule.

AMICA will be able to expand the space station by printing modular sections of the outer frame internally and assembling them through internally controlled robotic arms, paving the way for the modular expansion of the space station. Spare parts and tools can be printed on-demand, saving costs and precious cargo space during resupply missions.

In the future, a space debris recovery capsule can be attached to promote self-sufficiency. This allows for the capturing of space debris to be broken down and recycled to produce powder bases or filaments to print other 3D objects, saving costs and space in resupplying missions. Moreover, this would also address the growing concern of orbital debris, tapping into tons of valuable resources that would otherwise be disintegrated or lost.

Team members:

Fermi Toh Zheng Jie

Lim Puay Keat

Lee Xiang Wei

Axal Ang Yong Sheng

Gan Li Cin

All the above are Year 2 students from the Sustainable Infrastructure Engineering (Land) Degree Programme.

3rd place

($500 cash)

Legstronk

A rocket launch and its colossal payload currently emit tonnes of harmful gases into the atmosphere. In addition, astronomical costs are associated with each launch, making sustainable living in space difficult. To that end, Team Legstronk proposes the reduction of payload by using material found on the lunar surface to produce building foundations by adopting the 3D printing layering concept.

This is opposed to carrying large masses of man-made material on-board the rocket for foundation production. In this way, the weight of payloads entering space and hence, the volume of emissions will be reduced. The proposed idea aims to allow sustainable living within space, educate the public on existing building technology, and support future space ventures.

Team members:

Sim Xuan Le

Darryl Chan Jun Hao

Goh Kuok How

All the above are Year 3 students from the Aircraft Systems Engineering Degree Programme.

Consolation Prize

($250 cash)

Space Construction Vehicle (SCV)

To enable astronauts to survive in space for more than 365 days without resupplies, one approach is to convert space waste into new usable 3D-printed structures that can be connected to a space station. If space stations can fully utilise 3D technology, crucial needs and equipment can be efficiently produced. Ideally, the earth control centre can design the 3D model file of the required equipment or materials and upload them to the space station to allow astronauts to print out the objects when required. This project proposes a Space Construction Vehicle (SCV) that would recycle space waste into reusable materials and perform construction of infrastructure in the space using 3D printing technology.

Team members:

Du Yufei

Muhammad Nur Aslam Bin Sanosi

Clarence Hoon Tien Yu

Phatchararuangkij Natsinee

Lucas Lim Yong Keat

All the above are Year 2 students from the Mechatronics Systems Degree Programme.