Scoring a meagre 141 for his Primary School Leaving Examination (PSLE), Lai Ping Wu, 29, often had to face the echoes of "You are going to end up at an Institute of Technical Education (ITE), and that will be the end of the road for you."  Streamed into the Normal (Technical) cohort in Geylang Methodist Secondary in 2000, he remembered how he was looked down upon by his peers, and those close to him.
While most would take it lying down, it only ignited a fire in Ping Wu. "I became very determined to work hard and to prove the people around me wrong." His hard work bore fruit, when he topped his cohort for the English Language subject for his 'N-Level' examinations. That gave him the freedom to apply to any course of his choice in ITE.
"I was fascinated with medicine and the human anatomy, so I took up Nursing in ITE College East." He then went on to obtain his Higher Nitec in Sports Management (also at ITE College East), before moving on to pursue a Diploma in Sport & Wellness Management.
It was his six months spent in Hannam University, South Korea, on an overseas exchange programme whilst in polytechnic, that sparked his passion in the social sciences. It was his essay in a Sociology module that helped pave his future pathway. "I wrote about the issues with the Singapore's education system of meritocracy, where I felt it could be improved." The essay narrated how difficult it was for students like himself, coming from an ITE background, to endure the trials and stigma that came with it. "The professor thought that my essay was excellent, and urged me to pursue social sciences if I were to further my studies in a university."
Thereafter, he felt a calling to apply for the University of Liverpool's (UoL) Bachelor in Criminology & Security with Honours programme, offered through SIT. "For me, the programme stood out as I felt it offered more than just 'social sciences'. I like to keep up with current national and world affairs. The programme's core modules cover relevant topics today such as 'Radicalism and Terrorism in Southeast Asia' and 'The Risk Society: Crime, Security and Public Policy'. These core modules strongly relate to my interest and passion."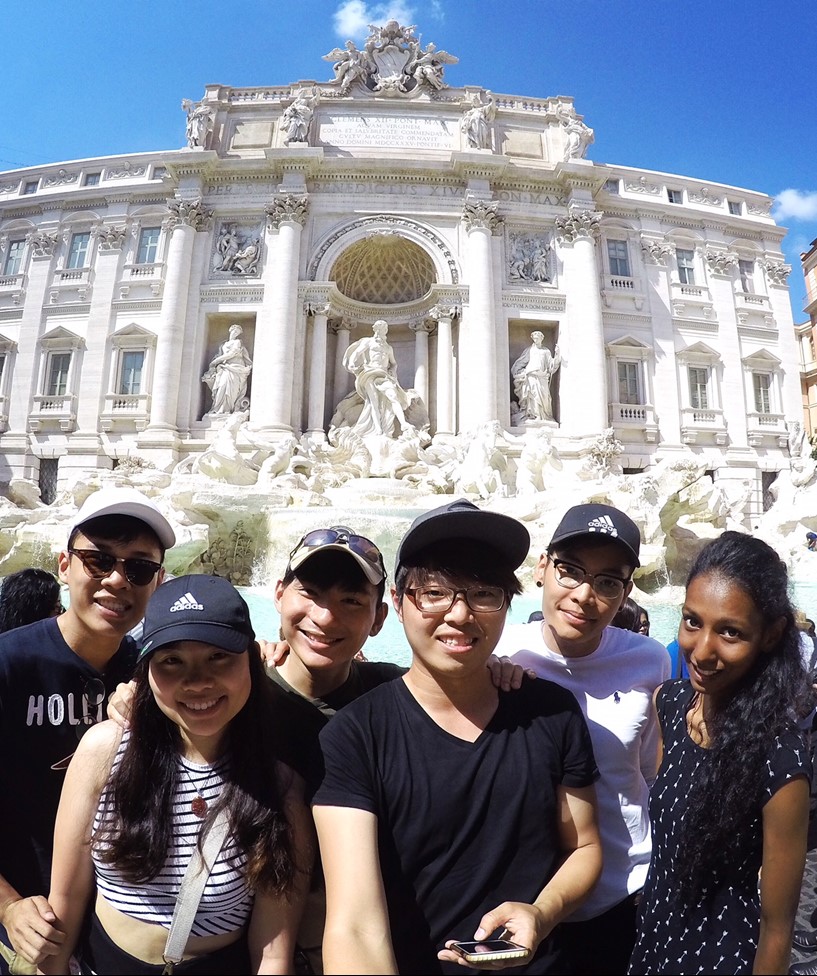 Ping Wu and his peers at the Trevi Fountain in Rome. They used the opportunity to take in the sights Europe has to offer after completing their Overseas Immersion Programme (OIP), where they spent four weeks at the home campus of University of Liverpool (UOL).
On 1 October 2017, Ping Wu graduated with honours, proving to his peers that there is a pathway for ITE students to further their studies all the way to a degree.
"Throughout the pursuit of my studies, I have learnt to embrace setbacks. Setbacks force me to take stock of myself and, through the process, I learn more than when success comes easily. These experiences have moulded me to become who I am today – determined, passionate, and loyal."
Ping Wu is currently applying for a lecturing position in ITE, as he wants to give back to the community who made him what he is today. "I want to inspire students to see that ITE is not the end of the road and use myself as a living example to show how they can move on to get a degree."
The knowledge gained through UoL has given Ping Wu a better insight on how to assist youth from troubled backgrounds. "Thanks to my studies on Youth Crime, Youth Justice and Social Control at UoL, I can identify these individuals and better understand them through their behaviour and provide appropriate guidance to encourage them to pursue their dreams."
SIT congratulates Ping Wu, and wishes him the very best in his future endeavours!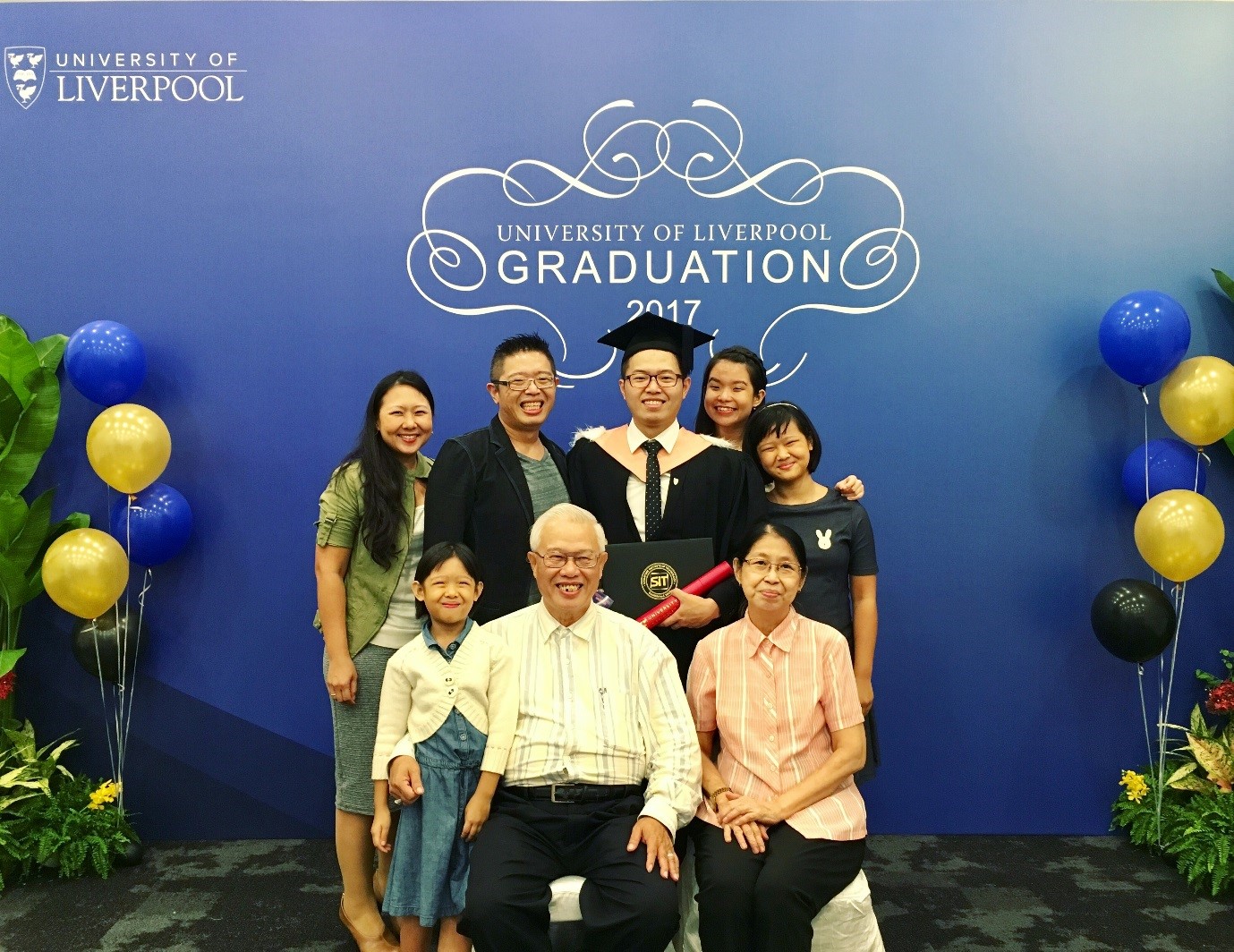 Ping Wu sharing this special moment with his proud family members, at the University of Liverpool (UoL) graduation ceremony on Oct 1 at SIT@Dover.