On 22 August 2019, SIT signed a collaboration agreement with the Singapore Accountancy Commission (SAC) to establish the Accounting Technology and Innovation (AccTech) Centre at the SAC's launch of the Accountancy Industry Digital Plan.
Spearheaded by Design and Specialised Businesses Cluster, supported by Applied Research, Innovation & Enterprise (ARIE) and helmed by Associate Professor Lim Chu Yeong, the AccTech Centre has started operations from 1 September 2019 at SIT@Dover.
"The role of accounting professionals has evolved, and with the advent of disruptive technologies, accounting entities need to innovate more than ever in order to stay competitive. As Singapore's University of Applied Learning, SIT aims to fill this gap by collaborating with SAC. We will work with accounting firms on specific innovation projects, as well as offer training in areas such as artificial intelligence, data analytics and design thinking," said Associate Professor Ivan Lee, Vice President (Industry & Community).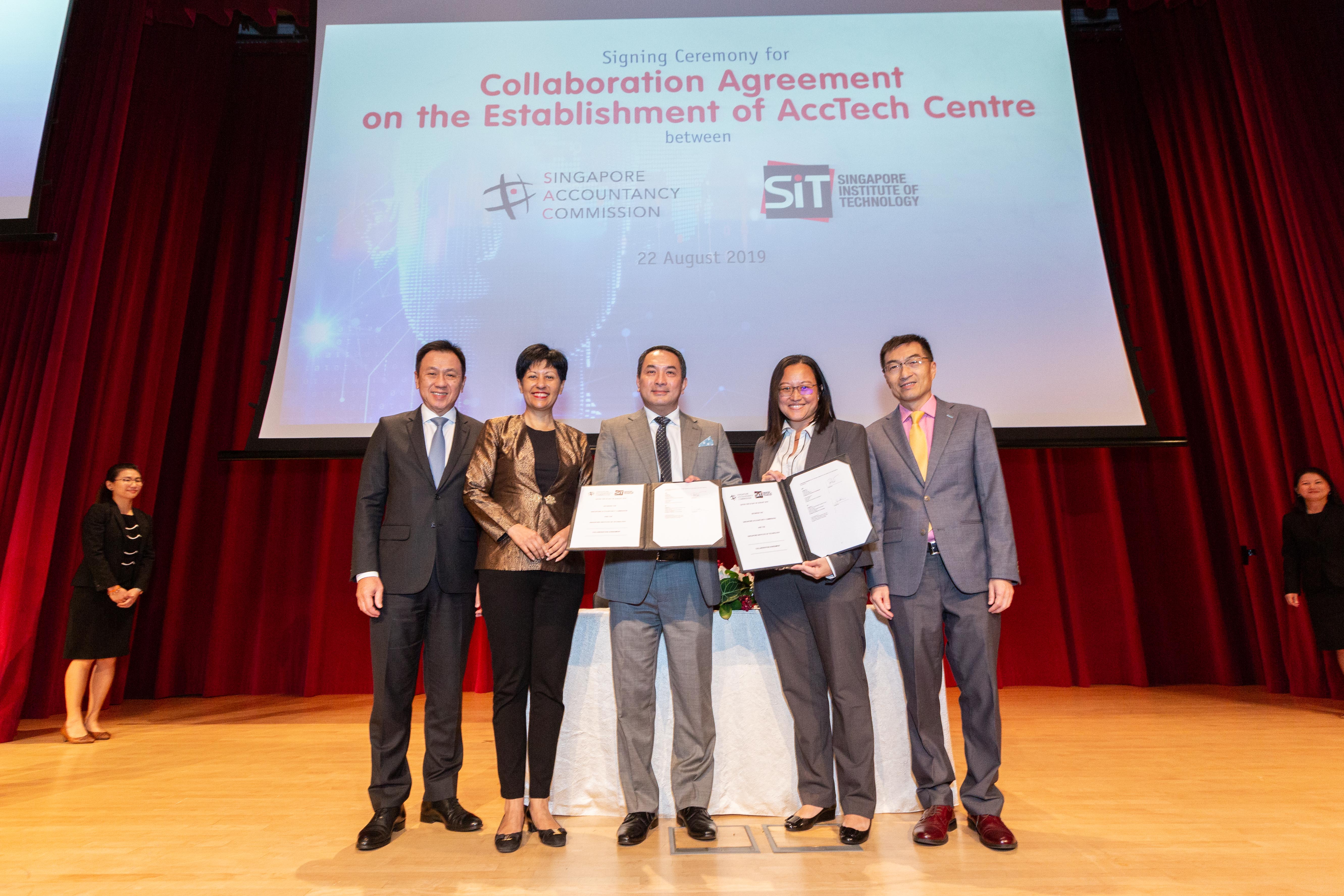 (From left to right): Mr Chaly Mah Chairman, Singapore Accountancy Commission; Ms Indranee Rajah, Minister in the Prime Minister's Office and Second Minister for Finance and Education; Mr Evan Law, Chief Executive, Singapore Accountancy Commission; Associate Professor Jeanette Ng, Cluster Director, Design and Specialised Businesses and Associate Professor Ivan Lee, Vice President (Industry & Community), SIT.
Through the Centre, Small and Medium-sized Practices (SMPs) that make up 98% of the accountancy industry, will have the opportunity to work with SIT faculty, industry technology partners and government agencies to experiment and prototype innovative ideas to fulfil the following objectives:
(i) Promote technology innovation, business innovation and collaboration between accounting firms and relevant technology vendors;
(ii) Develop new innovative technologies and business models;
(iii) Increase adoption of advanced accounting technology amongst accounting firms and
(iv) Upskill accounting professionals in advanced accounting technology.
They will also be able to tap on SIT's database of SIT Accountancy students' innovation projects to spark new ideas and collaborate with SIT to develop them.
Focus group sessions will be conducted to deepen the understanding of the SMPs' needs in areas involving advanced technology such as Data Analytics and Artificial Intelligence. Additionally, workshops and symposia will be conducted to discover current trends in areas of advanced accounting technology, and accounting performance management systems.
Through AccTech Centre, SIT will offer training and certifications to upskill accounting professionals, especially in areas that include Design Thinking and Data Analytics.
Sharing of AccTech Centre by Associate Professor Lim Chu Yeong, Lecturer, Design and Specialised Businesses Cluster.