SIT celebrated Nurses' Day 2017 on 4 August by recognising the hard work and contributions of nurses with renewed dedication and high career aspirations. Guest-of-Honour, Ms Tan Soh Chin, Chief Nursing Officer, Ministry of Health, expressed confidence in SIT's nursing degree programme to enable Diploma-prepared Registered Nurses to pursue career advancements in three career tracks: education, clinical practice and management.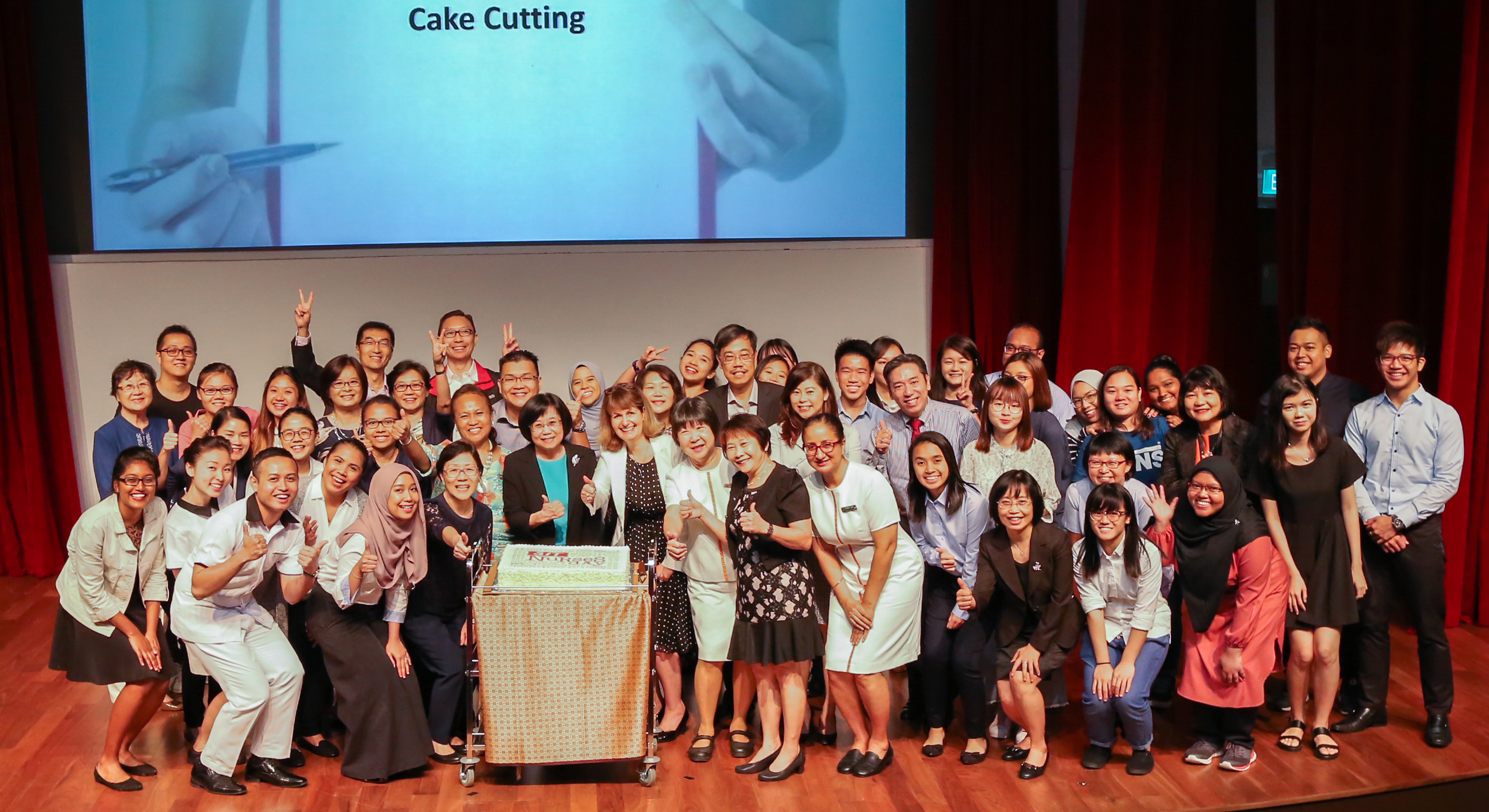 "The nursing profession is not just a job; it is centred around a strong foundation of professional knowledge and skills, and built upon the qualities of compassion, commitment and trust. Nurses offer more than just a medical role, as patients tend to lean on them with concerns, anxieties, and even look upon them for advice and encouragement," said Associate Professor Ivan Lee, Vice President (Industry & Community), SIT, at the Nurses' Day Celebrations 2017, on 4 August at SIT@Dover.
Indeed, nursing has come a long way in establishing itself as a highly regarded profession in Singapore. Aligned to the nation's call to meet the increasingly demanding needs of an ageing population, SIT introduced the Bachelor of Science with Honours in Nursing Practice in 2011, offered through the University of Manchester (UoM). In 2016, SIT partnered with University of Glasgow (UofG) to offer a joint degree in Bachelor of Science with Honours in Nursing. To date, more than 250 nurses have graduated and moved on to pursue or resume their work in hospitals and intermediate and long-term care (ILTC) centres.
The curriculum for SIT's Nursing programme is designed in close consultation with the Ministry of Health (MOH) and practice-partners in the industry, which include restructured hospitals and ILTC facilities for the programme to remain industry-relevant. The strategy also ensures that nurses are competent and responsive to Singapore's healthcare needs.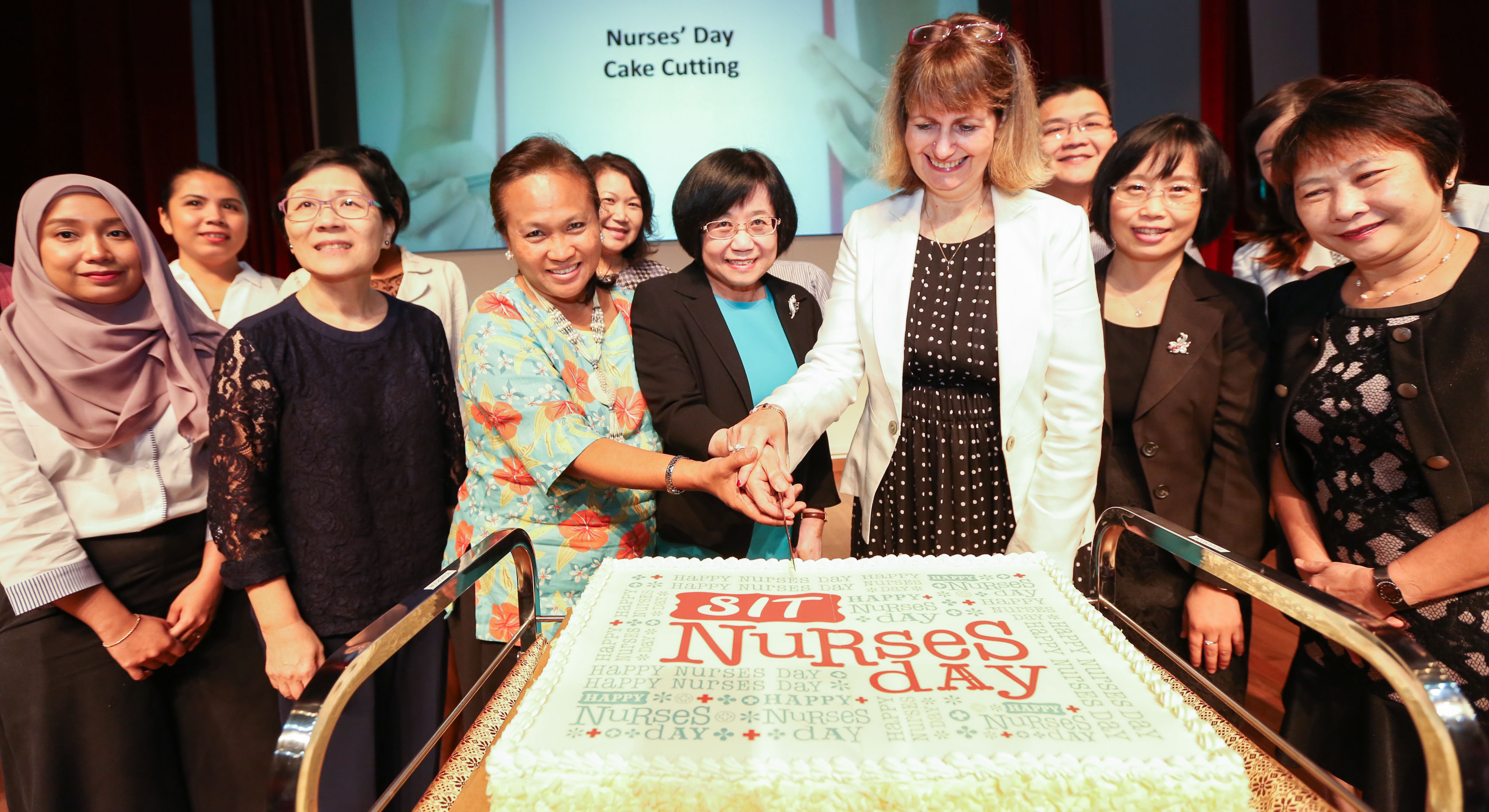 Ms Tan Soh Chin (centre, in black jacket), Chief Nursing Officer, Ministry of Health, leading the cake-cutting ceremony, with Associate Professor Genedine Lim, Programme Director, Health and Social Sciences, SIT (on her right) and Associate Professor Dora Howes, Programme Director, UofG (in white jacket).
In her address, Guest-of-Honour, Ms Tan Soh Chin, was heartened and encouraged that "more are choosing nursing as a career", as reflected in SIT's increased intake from 55 to 64 students for its SIT-UofG Nursing programme in AY2017 – on the back of a 27% increase in applicants.
"This is indeed an exciting time for the nursing profession. As we build deeper skills and open up community nursing as an added pathway, nurses can look forward to a more diverse and exciting career across care settings," said Ms Tan.
In her message to thank her fellow nurses for the hard work, dedication and contributions to patient care and nursing, Ms Tan reiterated the evolving journey of nurses amid a landscape of an increasing ageing population.
In light of future challenges, Ms Tan added, "To develop a desired future-ready nursing workforce beyond 2020, three strategic areas of focus – Care, Community and Competency – have been identified to drive care transformation."
To this end, Ms Tan is confident that "the SIT-UofG Nursing programme will continue to attract very good candidates" and also acknowledged that "it is well designed to help Registered Nurses develop the competencies to lead effectively in the future and contribute positively in meeting Singapore healthcare needs."
Providing an international perspective, Associate Professor Dora Howes, Programme Director, Bachelor of Science (Hons) Nursing, UofG said the programme exposed students to a different view of how care was delivered within another country during their Overseas Immersion Programme (OIP) in Glasgow. She hoped students would take away the skill to identify overseas' practices that would be translatable to the Singapore's context.
"Students should also realise that this could make long-term big impact and a great difference to improving the lives of Singapore citizens," said A/Prof Dora Howes.
Innovation in Nursing
To develop a desired future-ready nursing workforce, innovation has always been an important enabler to help push ahead with job and process redesign, as well as automation and technology adoption.
In conjunction with Nurses' Day Celebrations 2017, the second-year project of SIT-UofG student Ms Weerasooriya Maneesha Madavi was showcased.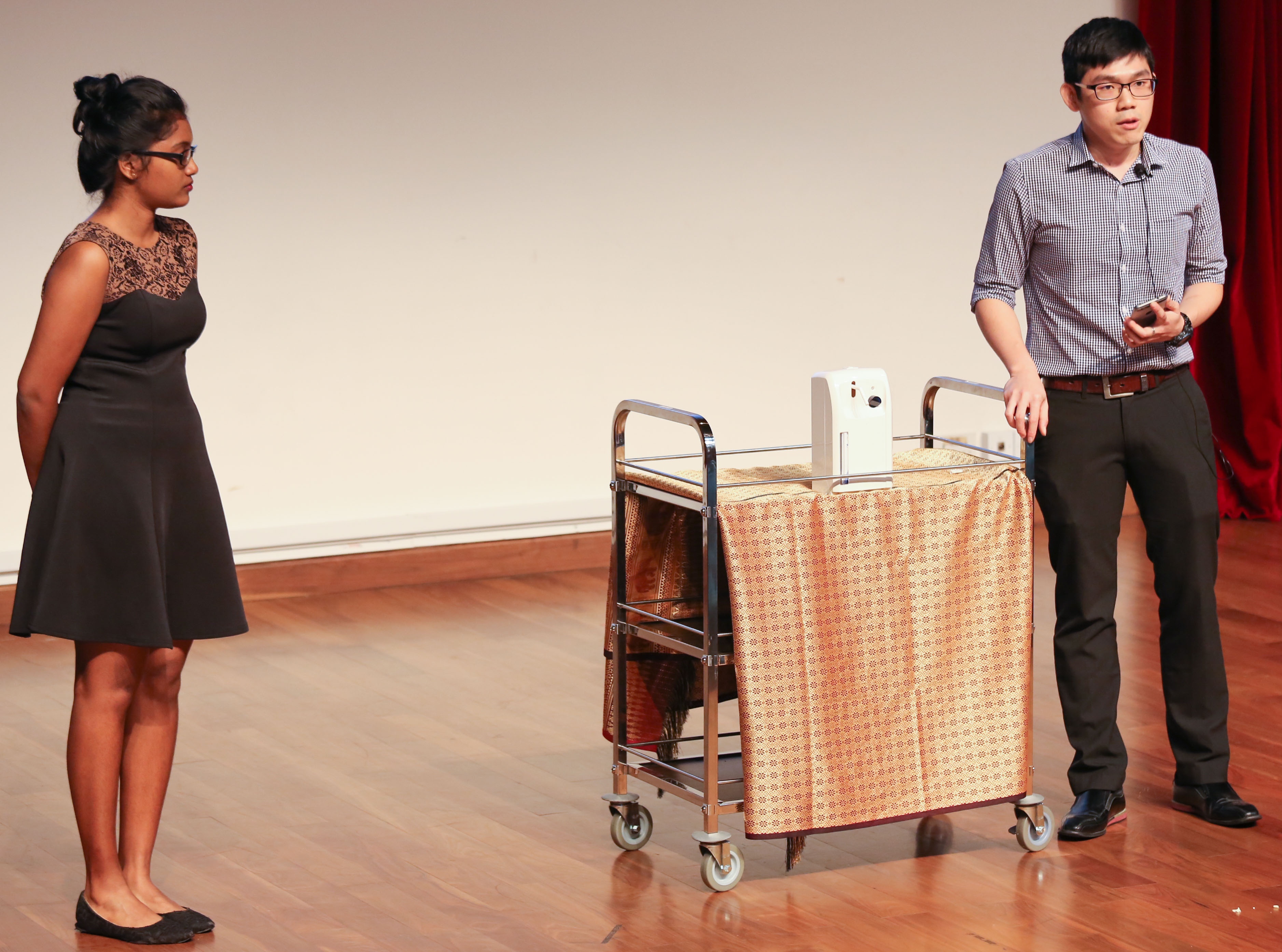 Year 2 student Ms Weerasooriya Maneesha Madavi, BSc (Hons) Nursing, SIT-UofG, with Professional Officer, Mr Chan Chee Leong demonstrating how the 'Automated Sensor Hand Sanitiser' works.
As part of her 'Health Innovations and Informatics' module project, Maneesha together with her teammates worked closely with industry partner Saint Andrew's Nursing home to identify a problem area which the home needed to resolve.
After numerous roundsof consultations, observations and data collection, the team decided to design an 'Automated Sensor Hand Sanitiser'. The objective was to prevent psychiatric patients from intoxicating themselves with sanitising liquid contained within manual hand sanitisers. An automated hand sanitiser would only dispense sanitising liquid to authorised personnel who can be identified by sensors that operate on a 'near-field communication' principle.
"The project gave me first-hand awareness of the business aspect of nursing, apart from clinical skills, which will help me in the management aspects of nursing. From an empirical perspective, I now very much appreciate the effort, time and labour that go into nursing processes," said Maneesha.
The prototype of the sanitiser is now being improved to be tested in Saint Andrew's Nursing Home for eventual productisation and commercialisation, if the test results are favourable.
"We chose to highlight this project because it went through the complete cycle – from ideation to prototyping. It is not easy for an idea to come this far and this project is one of the few that actually solves a real problem with a product that yields faster, cheaper and better outcomes," said Associate Professor Genedine Lim, Programme Director, Health and Social Sciences, SIT.