A team from SIT became the first and only university students to take home medals from the WorldSkills Singapore (WSS) 2018 competition.
Lewis Tan and Toh Shu Han, both 23, and first-year students in Sustainable Infrastructure Engineering, won Bronze in the Rapid Transit Systems category, over an intensive three-day competition held from 5 to 7 July.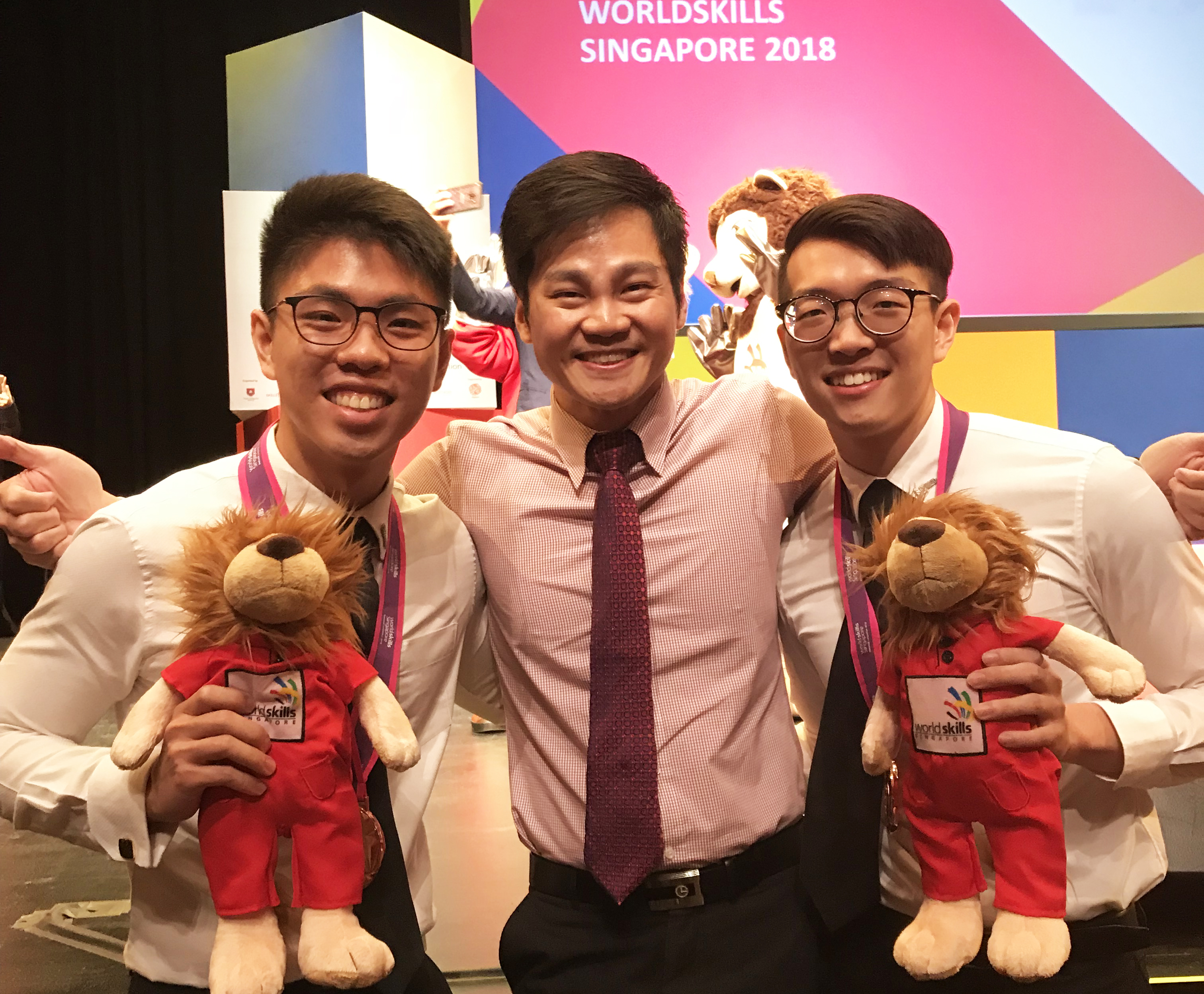 Lewis Tan (left) and Toh Shu Han (right) with their team coach A/Prof Andrew Ng, Engineering, SIT at the award presentation ceremony.
With the theme "Our Skills, Our Future", WSS 2018 recognises the diversity of talents that young Singaporeans possess, and highlights how we can secure a better future for ourselves through skills mastery and lifelong learning.
This year's event was the biggest ever, with close to 250 participants from ITE, polytechnics and autonomous universities competing in 26 skill areas, with nine being new ones. Some of these new skill areas, such as Cyber Security, Water Technology and Rapid Transit Systems, have been identified as emerging and in-demand skills that are key to Singapore's future economy. This is also the first time that students from autonomous universities are part of the competition.
In the Rapid Transit Systems category, the contestants had to complete six tasks in three domain areas of maintenance works carried out by rapid transit technicians and engineers, namely Rolling Stock, Traction Power Supply and Signalling.
For Lewis and Shu Han, the most challenging task was the Rolling Stock – Pantograph system, where they had to perform preventive and corrective maintenance on pantograph. These include disassembling of parts for inspection, cleaning and replacement of due parts and assembling it back, carrying out functional tests, identifying faulty components and carrying out the necessary replacement.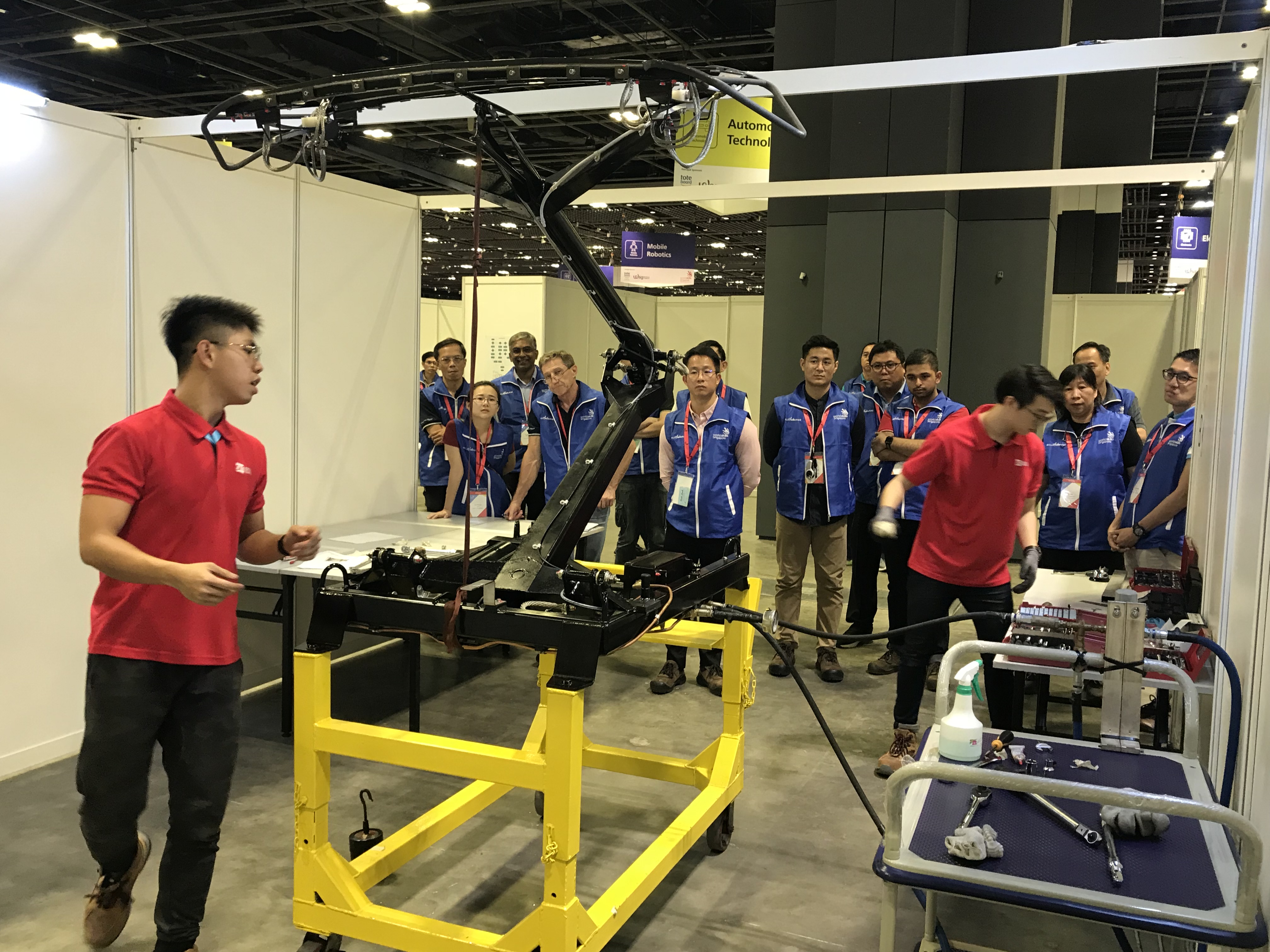 The SIT team (in red) working on the pantograph, an apparatus mounted on the roof of an electric train to collect power through contact with an overhead line. This was one of the six tasks they had to perform over the three-day competition.
Commented Shu Han, "The competition has allowed us to appreciate the reality of railway engineering. It was an enriching experience as we have gained much exposure and technical knowledge in trouble-shooting, preventive and corrective maintenance of trains and parts. It is important for students like us to learn and gain experience from the industry experts, so that we are more prepared for the industry that we choose to embark on. I would like to thank the instructors from SIT, LTA, SBS Transit and SMRT for coaching us over the past four months."
"The WSS experience has given me a better understanding of how railway engineering works, and fuelled my interest to join this sector. It was also an excellent networking opportunity to get to know the people in this industry," added Lewis.
Indeed, in this highly dynamic and competitive era, it is important to have both a solid, theoretical foundation and sound practical ability. Well done, Team SIT and we look forward to cultivating more skills masters amongst our SITizens!