SIT undergraduates snag Merit Award despite strong international competition at the Engineering Innovation Challenge 2021.
To commemorate National Engineers Day 2021, the Institute of Engineers of Singapore invited undergraduate students from local and overseas universities to take part in the Engineering Innovation Challenge (EIC) Competition. This exciting international competition enables the next generation of young engineers to showcase their latent talents.
This year, competitors had to use their skills and imaginations to create a prototype that demonstrated innovative applications of ionizing radiation in industry, sustainability, healthcare, food and agriculture, or transportation.
The competition period lasted from 13 July 2021 to 20 November 2021, after which teams had to present a prototype to a panel of judges through a Zoom interview.
A Gruelling Challenge
First, teams submitted a proposal and a problem statement in order to be shortlisted for an assessment interview. The interview then determined whether a team was allowed to move on to the next stage of creating the winning prototype. 
Our intrepid team of SIT undergraduates from the pioneer batch of Electronics and Data (EDE) engineering course made it to the finals, where they had to 'face-off' with 16 other teams.
"During the development phase, we engaged makerspace to build the prototype. We also submitted a detailed report, a video of our prototype, and presentation slides," said James Lim, the software developer in the team.
A Fun and Meaningful Project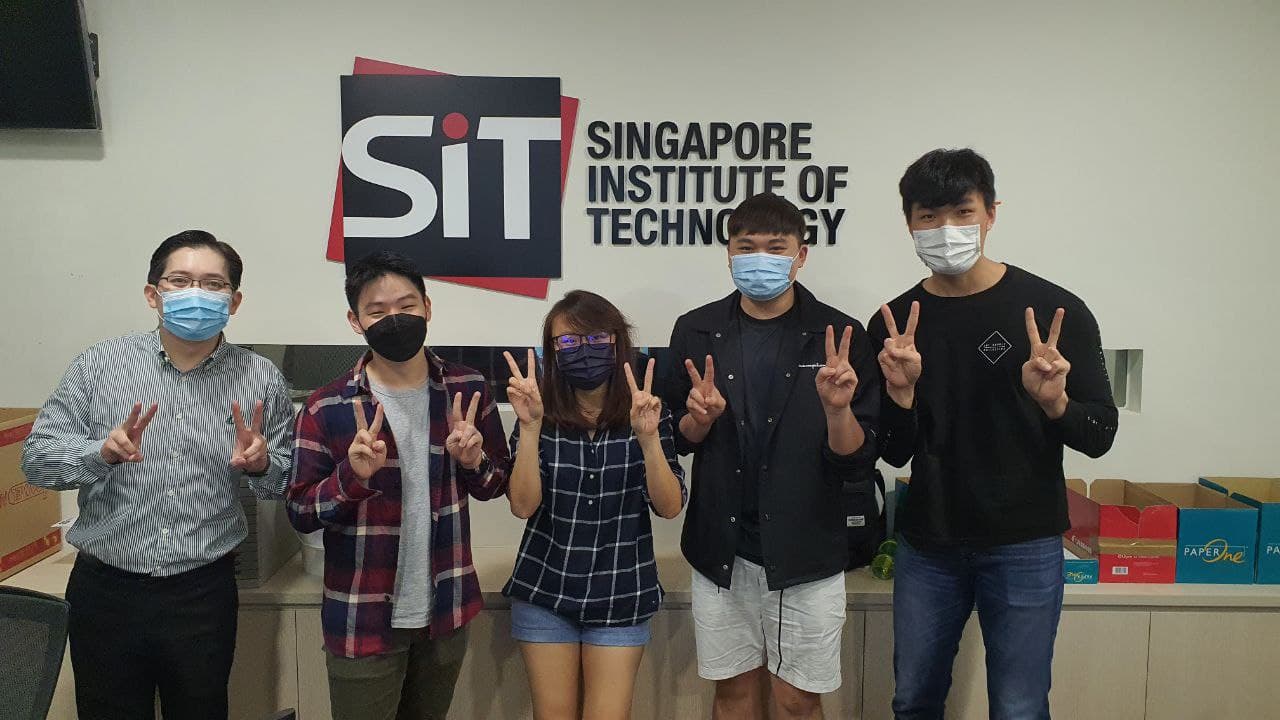 From left Professor Justin Pang Chee Khiang, Mr Lim Zhuo Rong James, Ms Tan Su Wei Suzy, Mr Lau Jia Wei, Mr Goh Yi Li. Photo credit: Suzy Tan
When the students got together to form a team to represent SIT, it started out as a fun project. As they were part of the pioneer batch of EDE students, they were hoping to achieve something, even if they didn't win a prize.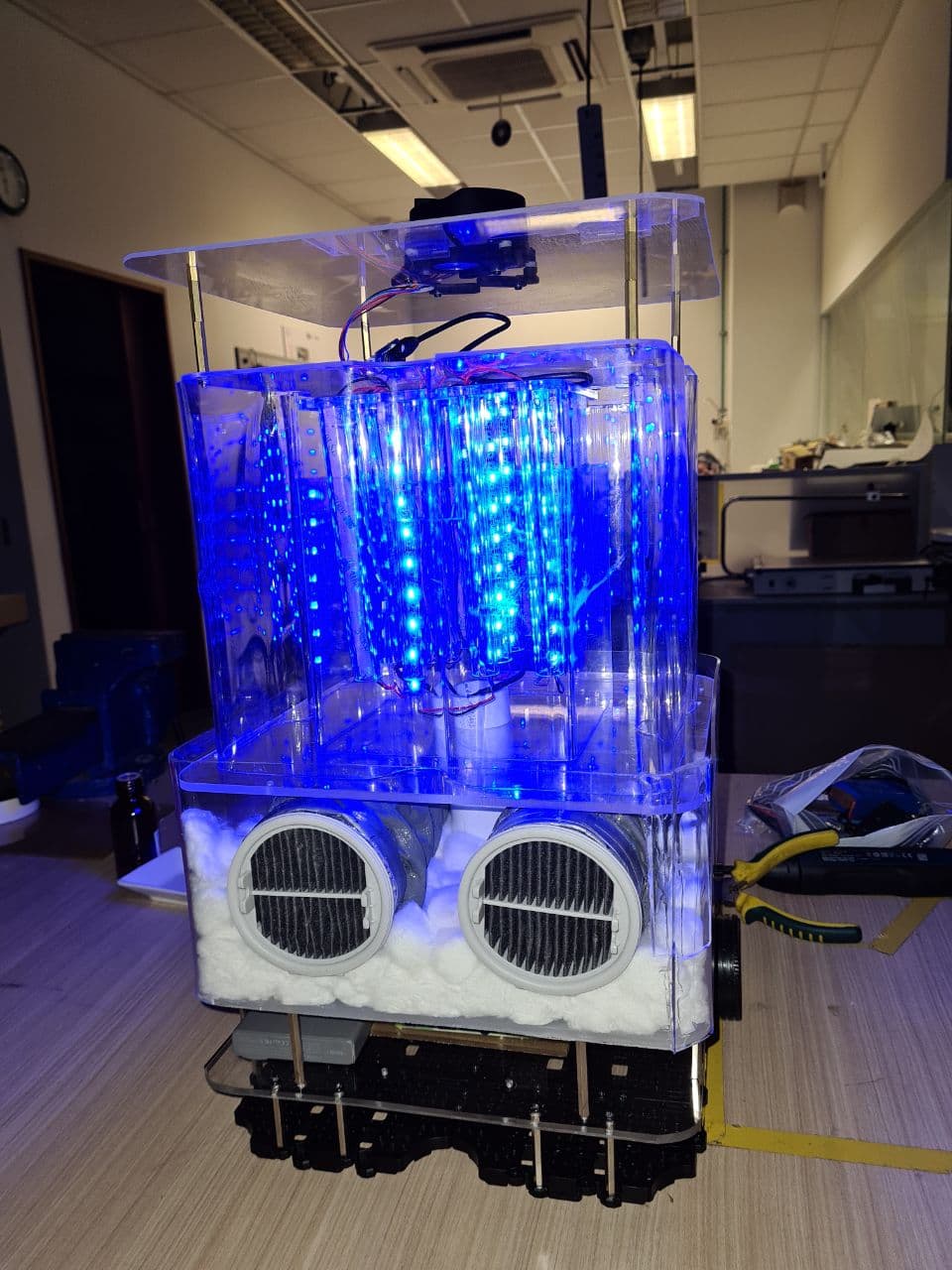 The team's little R2D2 robot. Photo credit: Suzy Tan
After months of planning and building the prototype, the team made a breakthrough, right in the midst of other school commitments for module projects as well as numerous exams.
The team's architect, Lau Jia Wei said, "It was a surprise when we made it to the shortlist. We had wondered if we stood a chance against more established universities such as NUS and NTU, which has a long history of winning the competition."
"Due to unpredictable social distancing measures, it was challenging for us to work around everyone's busy schedule and to book facilities. We also experienced delays when we were building the prototype. Most of us were quite new to the process, so we went through a series of trial and error. But in the end, the process made us more resilient!" Goh Yi Li, the team's architect added.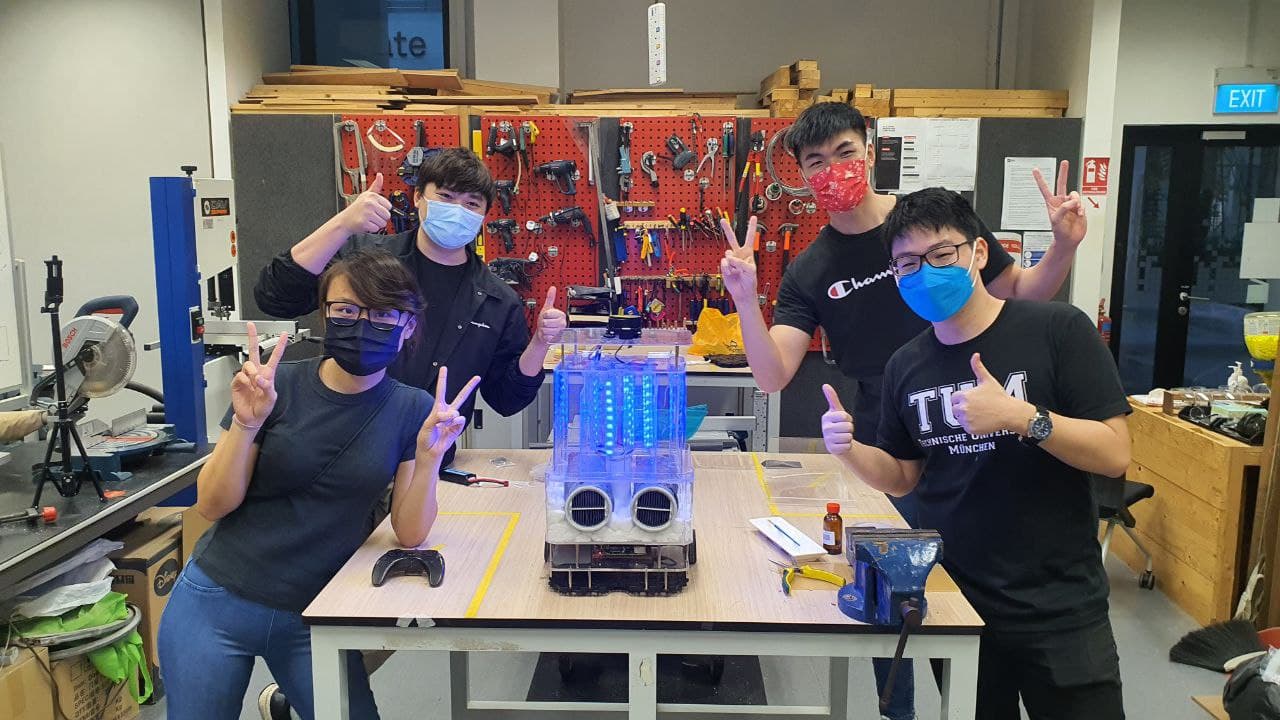 The team found a way to work together despite conflicting schedules and Covid-19 restrictions.
The team wanted to address the challenges that the pandemic created. At the time, there were no robust measures implemented in the transport industry. Hence, the team members decided to develop a robot utilising ultraviolet-C (UV-C) radiation to clean the surfaces in public transport, namely buses and MRTs.
Not About Awards and Recognition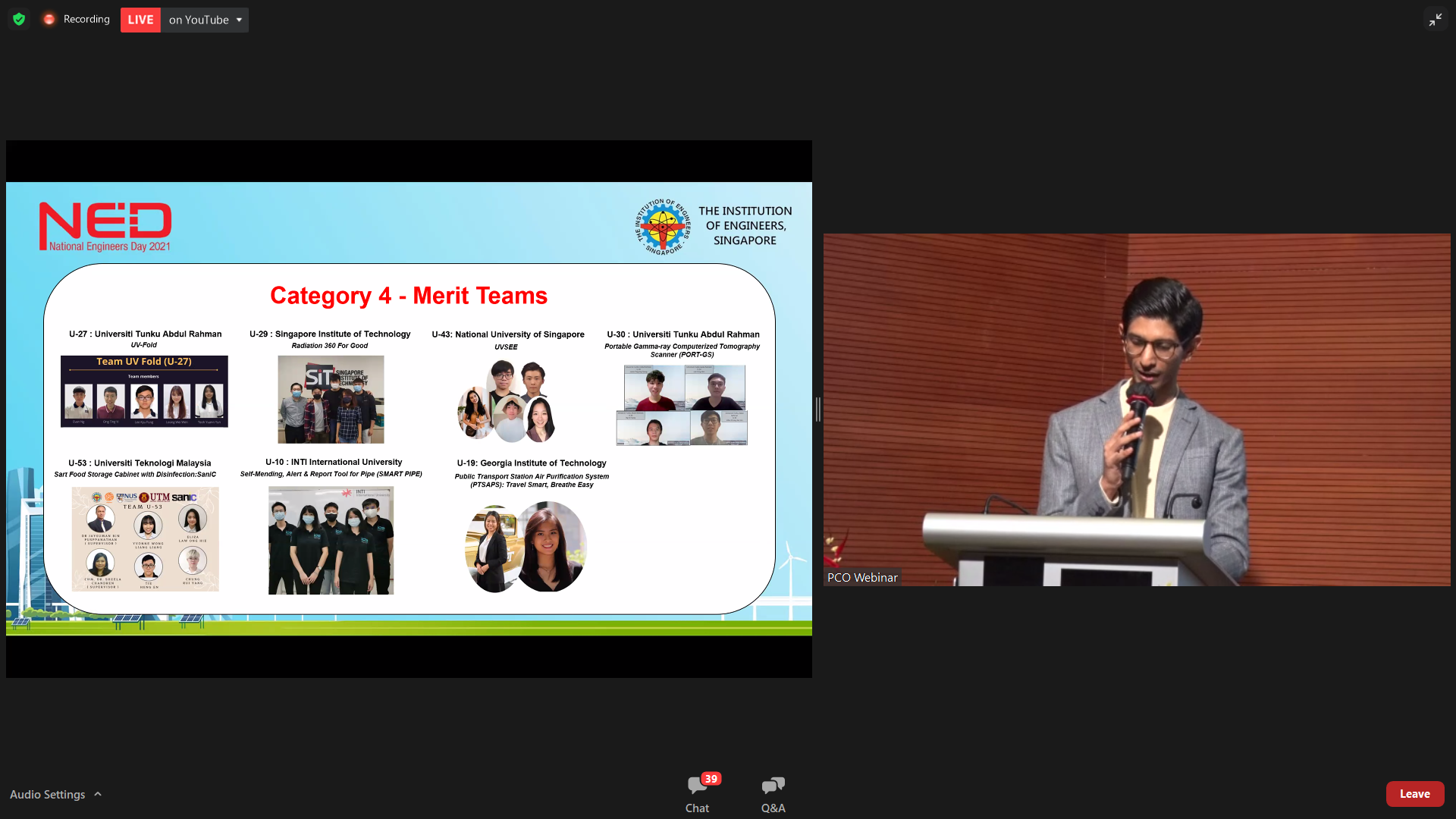 Although they did not set out to win an award, our SITizens worked hard because they wanted to achieve something through this competition. They felt that they were representing their academic cluster and SIT for the first time, so they had expectations that they wanted to meet. This is also the first competition for a team of students from the EDE programme.
Lead engineer, Suzy Tan said, "As the pioneer batch of EDE students, we wanted to be good representatives of EDE and SIT. Our course director, Prof Justin Pang mentored us throughout the competition and gave us such valuable guidance. We were happy we could make him proud by bringing home the Merit award."
Prof Pang said, "When I mentored them, I tried to inspire them to 'level up' when they were thinking of possibilities and ideas. I wanted them to focus on real learning and experience. I took them through the life cycle of product development from conceptualisation to proof-of-concept via building of prototype. They also learnt to carry out research about technical novelty with a thorough review of the literature on existing products and engineering solutions. I challenged them to brainstorm and come up with crazy ideas and think out of the box. What was previously impossible can be made possible through innovation!"
Future Generation of Entrepreneurs
Prof Pang saw how the team was guided by the SIT-DNA, the applied learning pedagogy through SIT-Industry nexus that provides SIT students with an authentic learning environment. He said,
 "I see a real possibility that their project could be picked up for further development, considering the impact of the ongoing pandemic. The prototype they developed is of higher Technological Readiness Level (TRL) and can be adopted by local SMES quickly. I have urged the team to consider being entrepreneurs with their design."
Yi Li said, "We set personal goals for ourselves and winning the Merit award gave each team member a sense of confidence and achievement. I hope that our win also goes some way to encourage and inspire our juniors to take part in the future competitions or challenges. We would be proud if they were to exceed our achievements and make SIT proud!"
No matching results. Would you like to refine your search term?