SINGAPORE, 20 July 2023 – The Singapore Institute of Technology (SIT) today launched the SIT Teaching and Learning Academy (STLA) at the opening of the University's fourth edition of the Applied Learning Conference (ALC). The event was graced by Minister for Education, Mr Chan Chun Sing.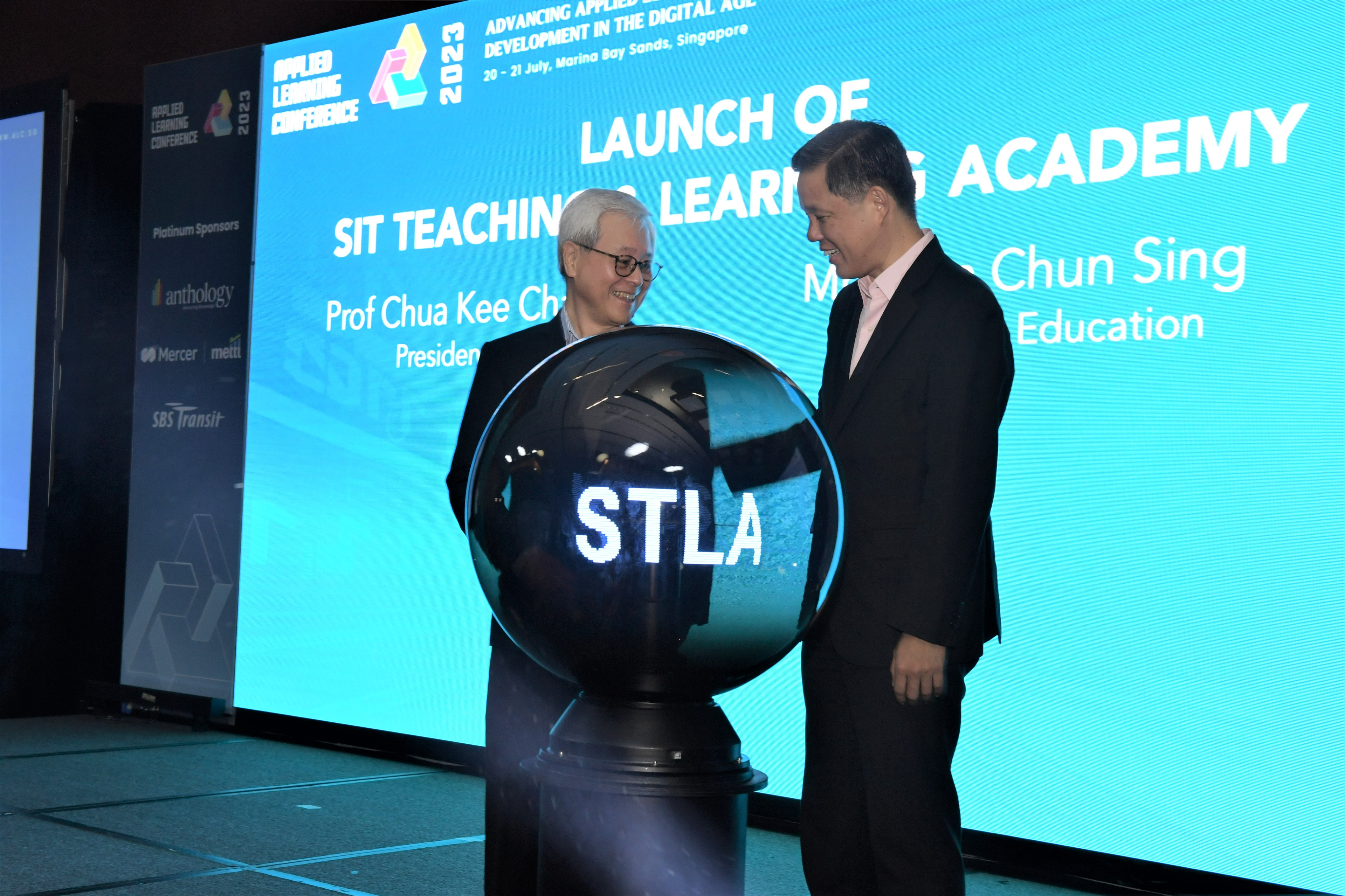 SIT launched the SIT Teaching and Learning Academy (STLA) at the opening of the fourth edition of the Applied Learning Conference (ALC). (SIT Photo) 
STLA (pronounced as 'stellar') will champion the University's endeavours in Competency-Based Education (CBE) that aim to boost the education progress for in-employment learners1 looking to up/reskill themselves. A major initiative that the Academy will drive is the introduction of an innovative Recognition of Prior Learning (RPL) framework for greater efficiency in attaining new competencies and qualifications.

Shaping Learners through the New Academy

More learners can now enrol into SIT's degree programmes under the Competency-based Stackable Micro-credentials (CSM)2 pathway with their relevant work experiences and attain their degrees quicker by being credited for their knowledge and skills. The holistic RPL framework, a notable milestone in the higher education landscape in Singapore, will allow SIT to objectively evaluate and certify a learner's skills and qualifications attained previously, either formally or informally, for this purpose.

RPL will be implemented for the first intake of CSM learners commencing their studies in September 2023. The first batch of close to 50 learners reading two micro-credentials – 'Digital Logic and Computing Foundations' and 'Computer Networking and Network Security' – will have a chance to have their prior learning, such as those gained from their diploma studies, industry certifications or work experience, recognised.

In the future, the development of capabilities to provide unbiased and professional evaluations and certifications of competencies by SIT will also boost employers' confidence in assessing a potential employee's suitability for a role. By recognising prior learning gained through experience, employers will be able to reduce their reliance on formal qualifications and open the door to a more diverse pool of skilled candidates.

SIT President, Professor Chua Kee Chaing, said, "We are confident that STLA will better support in-employment learners in their aspiration to upskill or reskill themselves in their respective fields of discipline. The recognition of prior learning paves the way for easier access to formal education, especially for those with extensive work experience and competencies gained from training and certifications. Through this new Academy, we hope to bring SIT's thought leadership and expertise in applied learning and competency-based education to the next level and encourage lifelong learning."

Minister Chan Chun Sing said, "The introduction of STLA is a significant step towards building new capabilities in our adult learning and education landscape. SIT's pioneering initiative to recognise learners' prior learning, including the knowledge and skills they gained at work, sends an important signal to employers and workers. It allows us to move beyond a degree-centric assessment model and helps learners embark on more meaningful career pathways that are intertwined with learning."

STLA will also support learners who have to balance their job, family and studies by employing success coaches who will offer personalised guidance and support to improve the former's learning experience. In addition, it will embark on a comprehensive study to measure and track the impact of CBE on in-employment learners aimed at providing insights to continually improve the programme's offerings. More information on STLA is appended in Annex A.

Upskilling Workforce through Industry Partnerships

Underscoring its commitment to strengthening its offerings for adult learners, SIT signed two Memoranda of Understanding (MOU) with PSA International (PSA) and Siemens Mobility (SMO) at the ALC.

● SIT and PSA Partnership:
  ○ The MOU will see further collaborations between SIT and PSA to co-create upskilling programmes for PSA employees in various areas such as cybersecurity.
  ○ The collaboration will also open doors for innovation projects and research collaborations between the two parties.

● SIT and SMO Partnership:
     ○ The MOU will see SIT and SMO co-develop railway engineering modules for the local rail transport ecosystem as well as exchange of technical expertise through staff industrial attachments and teaching appointments.
     ○ In addition, SIT and SMO plan to set up a joint Integrated Railway Training and Research Facility at SIT's upcoming Punggol Campus to complement the training of the rail transport workforce and SIT students who will make up the talent pool of tomorrow. The proposed facility will contribute to training the rail transport workforce to carry out localised maintenance, repair and overhaul of rail transport systems to meet unique local needs and requirements.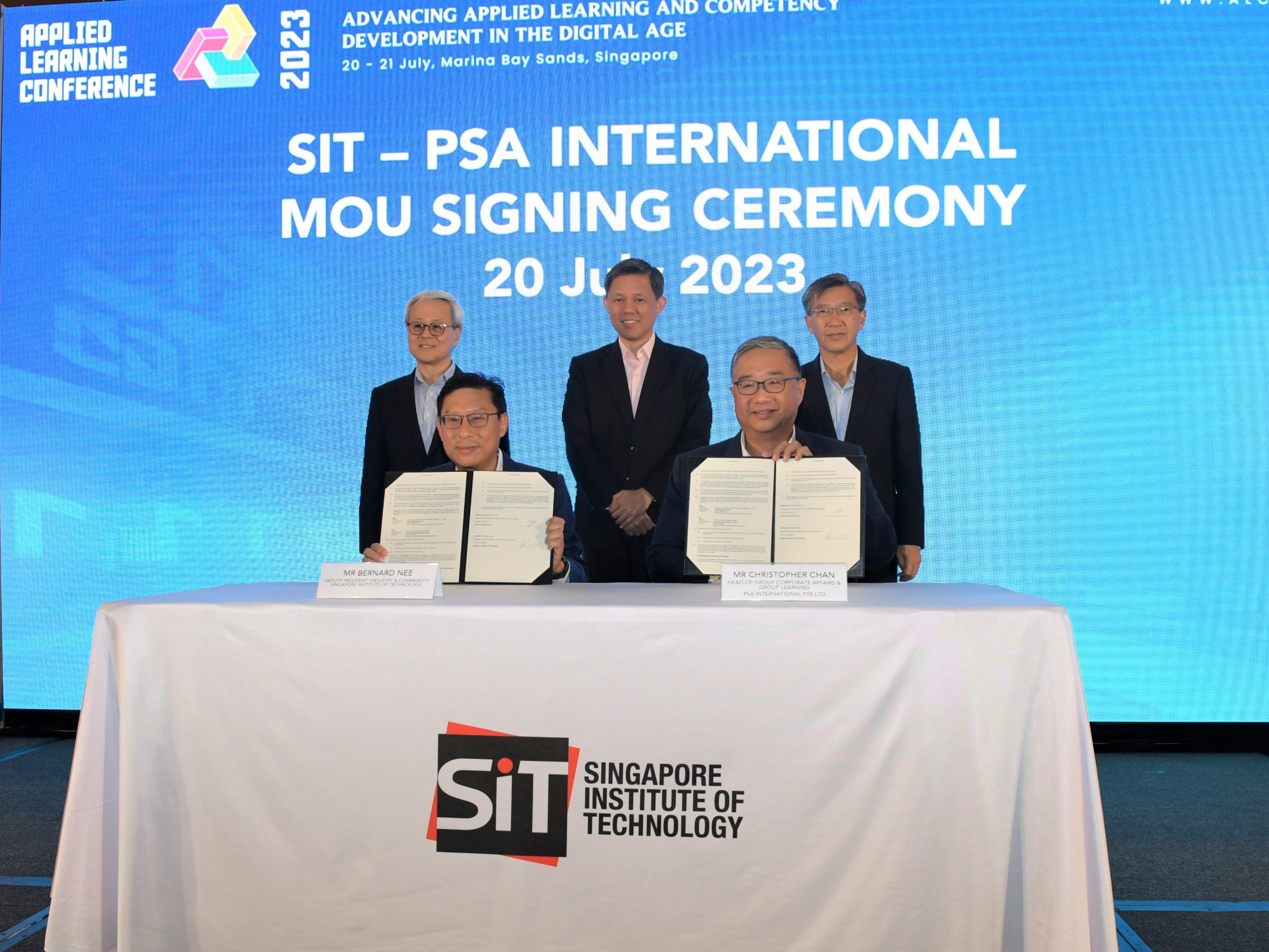 Key representatives at the MOU signing ceremony between SIT and PSA International:
(Front row from left): Bernard Nee, Deputy President (Industry & Community), SIT and Christopher Chan, Head of Group Corporate Affairs & Group Learning, PSA International; 
(Back row from left): Prof Chua Kee Chaing, President, SIT; Chan Chun Sing, Minister for Education; and Tan Chong Meng, Group Chief Executive Officer, PSA International Pte Ltd. (SIT Photo)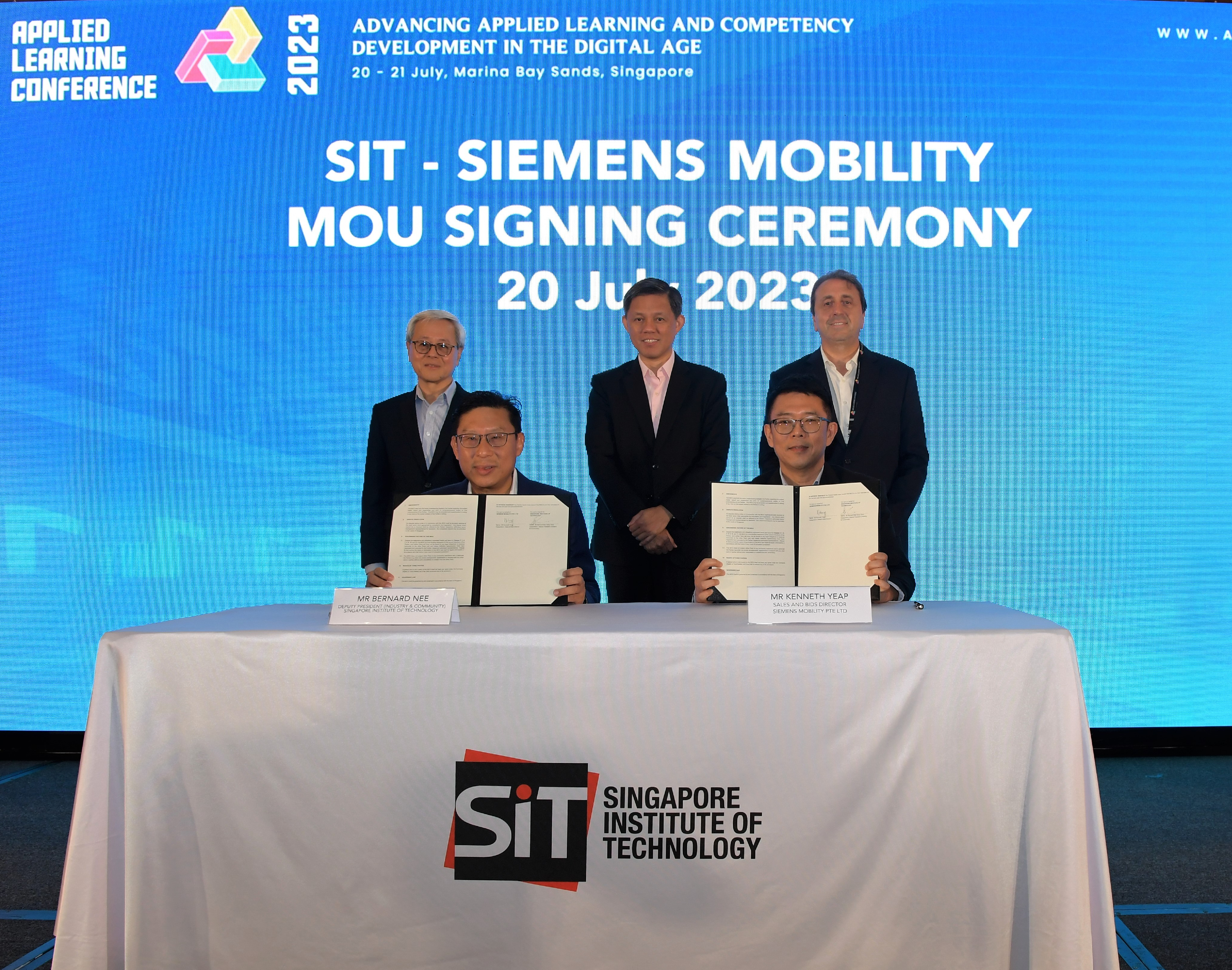 Key representatives at the MOU signing ceremony between SIT and Siemens Mobility:
(Front row from left): Bernard Nee, Deputy President (Industry & Community), SIT and Kenneth Yeap, Sales and Bids Director, Siemens Mobility;
(Back row from left): Prof Chua Kee Chaing, President, SIT; Chan Chun Sing, Minister for Education; and Michel Obadia, Chief Executive Officer, Siemens Mobility Asia Pacific & Singapore, Siemens Mobility Pte Ltd. (SIT Photo)
The ALC, held on 20 and 21 July 2023 at the Marina Bay Sands, took a deep dive into CBE and the key skills and competencies needed in the constantly evolving workforce, in line with its theme, 'Advancing Applied Learning and Competency Development in the Digital Age'.

This year's conference comprised eight parallel sessions with workshops and presentations by speakers from various institutes of higher learning (IHLs), agencies and the industry. More than 300 local and overseas delegates, including C-suite business executives, academics and industry partners attended the conference.

Notable speakers included:
● Dr Charla Long, President, Competency-Based Education Network (C-BEN), who delivered a keynote address on new modes of learning and how digital transformation has prompted a re-evaluation of pedagogical methods to equip learners;
● Professor Barbara Bichelmeyer, Provost & Executive Vice-Chancellor and Chief Learning Officer of the University of Kansas, who shared how CBE could transform higher education and address workforce needs;
● Dr Jeremy Fox, CEO, Asia-Pacific & Board Chairman, Generation: You Employed, Inc, who shared how an organisation's approach to employment success could bridge the employment gap;
● Professor Richard Mitchell, Co-Head of Programmes at Capable NZ, Otago Polytechnic, who shared the key learnings from the assessment of prior learning of experienced practitioners in several fields; and
● Mr Tan Peng Kuan, President, Engineering and Group Chief Data & Digital Transformation Officer, SMRT Corporation Ltd, who spoke on the 'Kaizen' work culture adopted in SMRT and the organisation's data and digital initiatives.

More information on the ALC, speakers, and synopsis of talks can be found here: https://www.alc.sg/.
---
1 In-employment learners refer to professionals who are currently on the job in various fields of discipline.
2 In Nov 2022, SIT announced the pioneering of the Competency-based Stackable Micro-credentials (CSM) pathway, which employs a flexible, industry-recognised and stackable approach to help in-employment learners stay relevant and adaptable in a rapidly evolving environment.
 
---
About the Singapore Institute of Technology

The Singapore Institute of Technology (SIT) is Singapore's first University of Applied Learning, offering industry-relevant degree programmes that prepare its graduates to be work- and future-ready professionals. Its mission is to maximise the potential of its learners and to innovate with industry, through an integrated applied learning and research approach, so as to contribute to the economy and society.
The University's unique pedagogy integrates work and study, embracing authentic learning in a real-world environment through collaborations with key strategic partners. Its focus on applied research with business impact is aimed at helping industry innovate and grow. Targeted to be ready in 2024, SIT's centralised campus within the larger Punggol Digital District will feature a vibrant learning environment where academia and industry will be tightly integrated with the community.
---
Annex A -- About SIT Teaching & Learning Academy (STLA) (pronounced as 'stellar')
The new SIT Teaching and Learning Academy (STLA) aims to build capabilities to support in-employment learners through the following four pillars: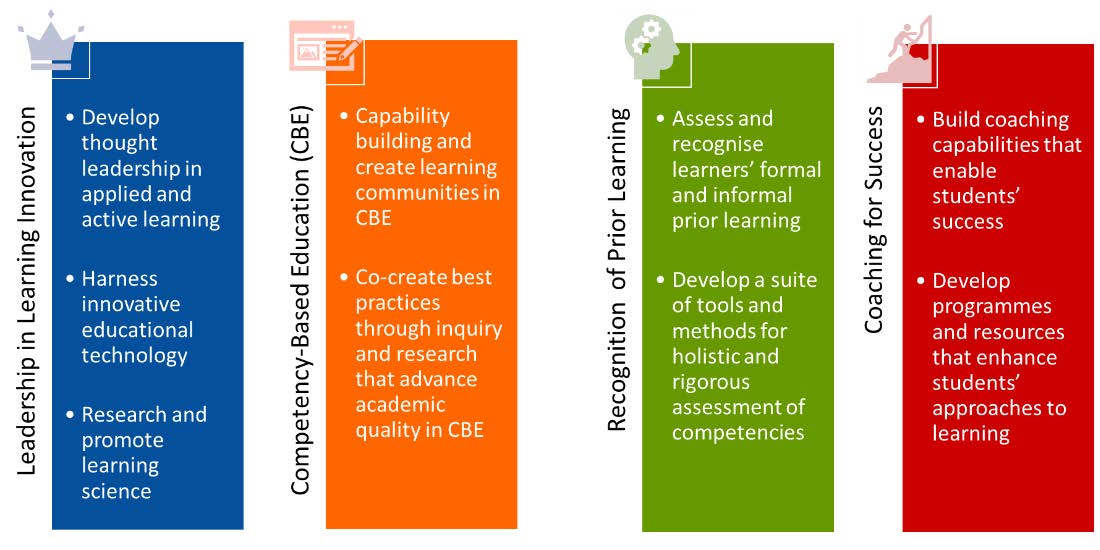 1. Leadership in Learning Innovation
STLA serves to develop thought leadership and expertise in applied learning through capability building and promotion of best practices and contextualised, data-driven insights.
STLA will initiate educational research studies that enable SIT to discover new insights and best practices towards CBE. For example, a comprehensive study will be conducted to measure and track the impact of CBE on in-employment learners. It will investigate key factors that contribute to the effectiveness and efficiency of learning for in-employment learners, providing insights for continually improving SIT's programme offerings.

2. Competency-Based Education (CBE)
Through Competency-Based Education, STLA aims to provide a personalised learner's academic experience by offering a flexible, self-paced approach to learning. We believe that learning is best measured by demonstrating competency, rather than the number of hours spent in a classroom. In other words, the learning is fixed while the time taken to master learning can vary. CBE programmes are built with the foundational structure of sound, relevant and rigorous assessments. While learning is self-paced, learners are not left on their own to learn; they are guided throughout their learning journey to the desired level of competency mastery. Such support is made possible with dedicated instructors, success coaches and the use of learning analytics.

3. Recognition of Prior Learning
The Recognition of Prior Learning (RPL) is a process in which a learner's previously acquired skills and knowledge (gained from past training, certifications or work experience) is assessed and evaluated for the granting of credits towards further education at SIT. SIT will implement a framework to holistically recognise adult learners' formal and informal prior learning.

The key benefits of RPL include:
Improved access to education: RPL allows learners to apply for and gain access to degree programmes using their relevant work experience and informal learning.
Reduced time and cost: Learners can use their existing knowledge and skills to earn credit for courses or programmes, which in turn reduces the amount of time and money invested in formal education.
Improved self-efficacy and motivation: RPL is a great motivator both in getting the learner into the programme as well as helping them accelerate completion.
Improve job prospects: RPL supports learners in articulating their tacit knowledge and skills, allowing them to be recognised for their competencies and enabling skills-based hiring and advancement.
 
4. Coaching for Success
Success coaches closely support in-employment learners along their CBE pathway. Success coaches work closely with each learner in developing a goal-setting plan towards their academic aspirations. They would provide resources, referrals for support and have regular coaching conversations that help learners reflect and discover ways to successfully navigate their academic journey. In addition, success coaches partner with instructors in monitoring and pacing learners, encouraging and celebrating with learners as they journey through successful milestones.