Through leading recreational engagements, SITintegrates is striving to help migrant workers in Singapore feel a greater sense of belonging. The student-led initiative has collaborated with different partners to create avenues for migrant workers to smoothen their integration into the community.
It made for a curious sight. 10 SIT students and 18 migrant workers at the ASPRI-Westlite Papan dormitory stood huddled in teams. Each group, diverse in age, race and background, was having a fervent and sweaty discussion on – one would never guess in a thousand years – dodgeball strategies.
This creative sports engagement that was held in March this year was just one of several events that SITintegrates – a student-led group focusing on community integration – has organised for migrant workers in Singapore since 2021. The aim: to integrate these workers into the community by creating a sense of belonging.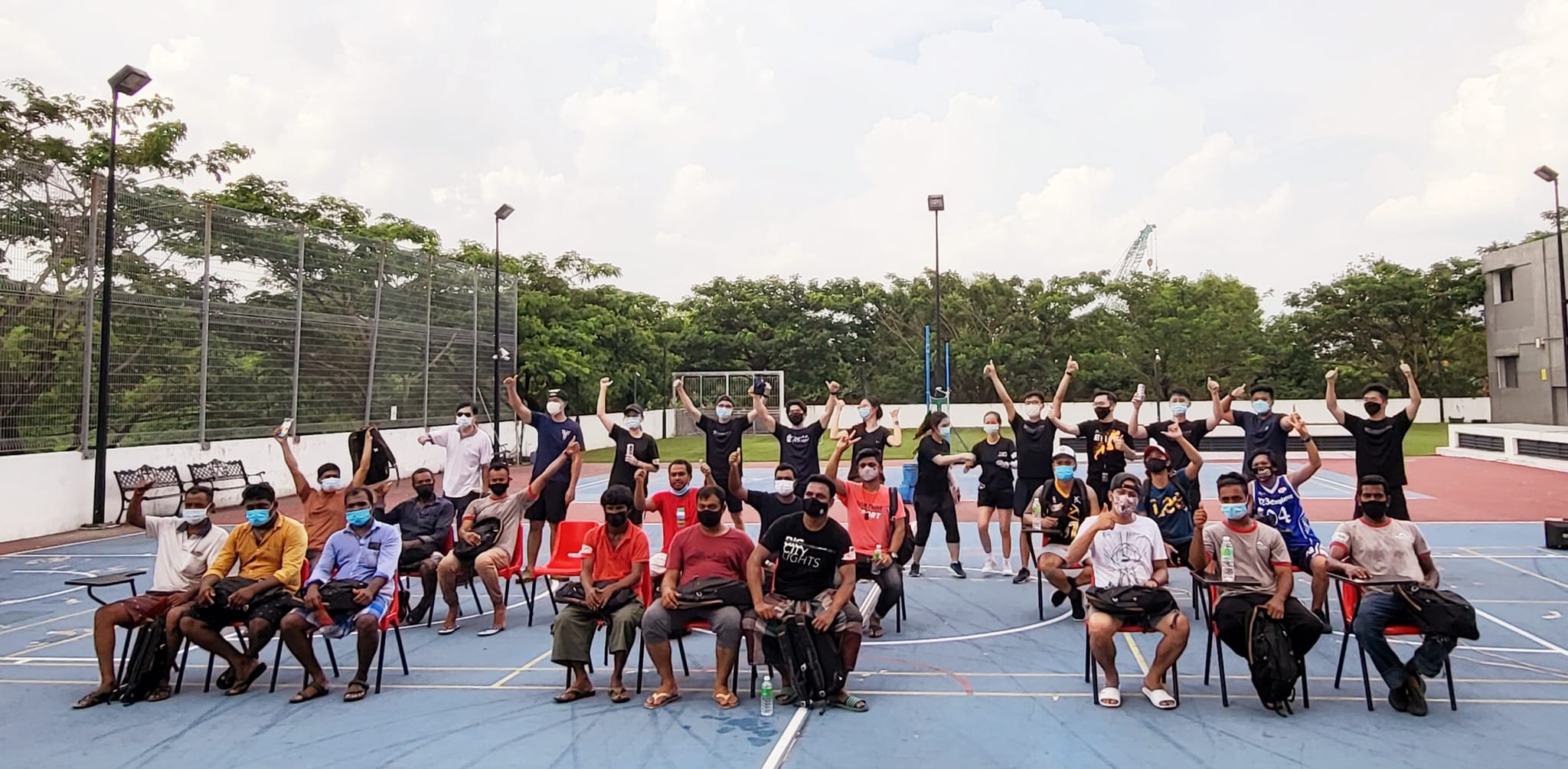 Playing dodgeball for the first time and lovin' it. (Photo: Phoon Teng Teng)
"Involving ourselves in the game, and not merely just organising it for the migrant brothers, brought everyone closer and invoked sportsmanship. Before the event, the migrant brothers were unsure of the game as they had not played it before, but they really enjoyed themselves," said Phoon Teng Teng, a Year 2 Accountancy student who leads the 11-member SITintegrates.
The Motivation for Connection
The group has been intentional about addressing migrant workers as 'brothers' or 'friends'. "As university students, a small step we can make is to call them and see them as brothers to make their day," Teng Teng explained.
Members themselves have also felt a greater sense of kinship towards their beneficiaries along the way. "There's this awareness that's grown in all of us," Teng Teng professed, "We're now more considerate to all migrant brothers when we see them. We would smile more and genuinely want to know how they're doing."
Pandemic Made for Greater Purpose
This sentiment was especially evident during COVID-19. As the pandemic brought to the fore challenges experienced by migrant workers, Teng Teng and her team felt the urgency of their work; but things weren't always smooth-sailing.
The SITintegrates team behind the dodgeball event. (Photo: Phoon Teng Teng)
For instance, whenever they had plans to do an event, safe management measures were tightened due to rising cases. Finding a suitable partner to work with also proved tougher than imagined.
Their efforts paid off in July 2021 when SITintegrates collaborated with Youth Corps Singapore and the Ministry of Manpower to facilitate virtual conversations between over 100 youths and migrant workers.
As facilitators, members of SITintegrates sat in on virtual meetings and helped simplify questions for migrants who were not proficient in English. Conversation topics ran the gamut from how the workers were feeling during the pandemic and their schedules to their hobbies and preferred foods.
"Even though we were [just] facilitators, it was an eye-opening experience," said Teng Teng, who picked up useful knowledge for SITintegrates. For instance, weekends are precious and the workers prefer to sleep in. "With this awareness, we now know to schedule events in the afternoon so they can rest in the morning," she said.
Over the course of last year, SITintegrates also organised an art jamming session and prepared over 480 care packs for migrant workers who are building the SIT Punggol Campus.
In the Pipeline
Fuelled by the successes of these early engagements, members of SITintegrates are pushing for more. The team are planning engagement workshops for a wider audience with the aim of equipping them with useful skills that will be helpful in their daily lives or at work – this time for over 30 migrants – which would require them to recruit student volunteers from SIT. Plans are also afoot to mark International Migrants Day in December.
"It's the first time we're using volunteers. We're excited to try it. It's a good opportunity to spread awareness about migrant brothers to non-members," she said.
If there's one thing Teng Teng wishes everyone would do, it would be to take a moment to say 'hello' or thank you to the migrant workers they encounter. She added, "Migrant brothers are genuine, appreciative people. If anyone is willing to ask anything about them and wants to listen, they are very willing to share."