Fuelled by the desire to support allied health professionals, Associate Professor Karina Dancza from the Health and Social Sciences Cluster drew on her experience as an occupational therapist to author the book: 'Supervision for Occupational Therapy: Practical Guidance for Supervisors and Supervisees'.
Imagine being a new supervisor and having to manage a team that has a well-established work process. How can a young leader convince the team that he or she can lead effectively? There are also times when one needs to supervise a worker who is already an expert in his or her field. What can supervisors do to contribute when the subject is beyond their expertise?
The above examples are real work situations encountered by supervisors in the healthcare industry. A/Prof Danzca, who has over 20 years of work experience as an occupational therapist, understands the importance of being a good supervisor and what it takes to be an effective mentor and coach.
"Occupational therapists play a vital role in healthcare, working with individuals who are unable to participate in daily activities due to illness, disability, or ageing. As occupational therapists, we work alongside patients to identify important activities, formulate ways to carry them out, and at times, help patients discover new meaningful everyday activities," she shared.
A/Prof Danzca knows the different areas of work experienced by occupational therapists and the pressures they face. "Having effective supervisors is important as they have helped me alleviate my work stress by providing invaluable advice and direction," said A/Prof Dancza. "Other than discussing casework, effective supervisors are concerned about our career development and overall well-being. However, being an effective leader is challenging as this takes time, guidance and experience."  
A Book was Born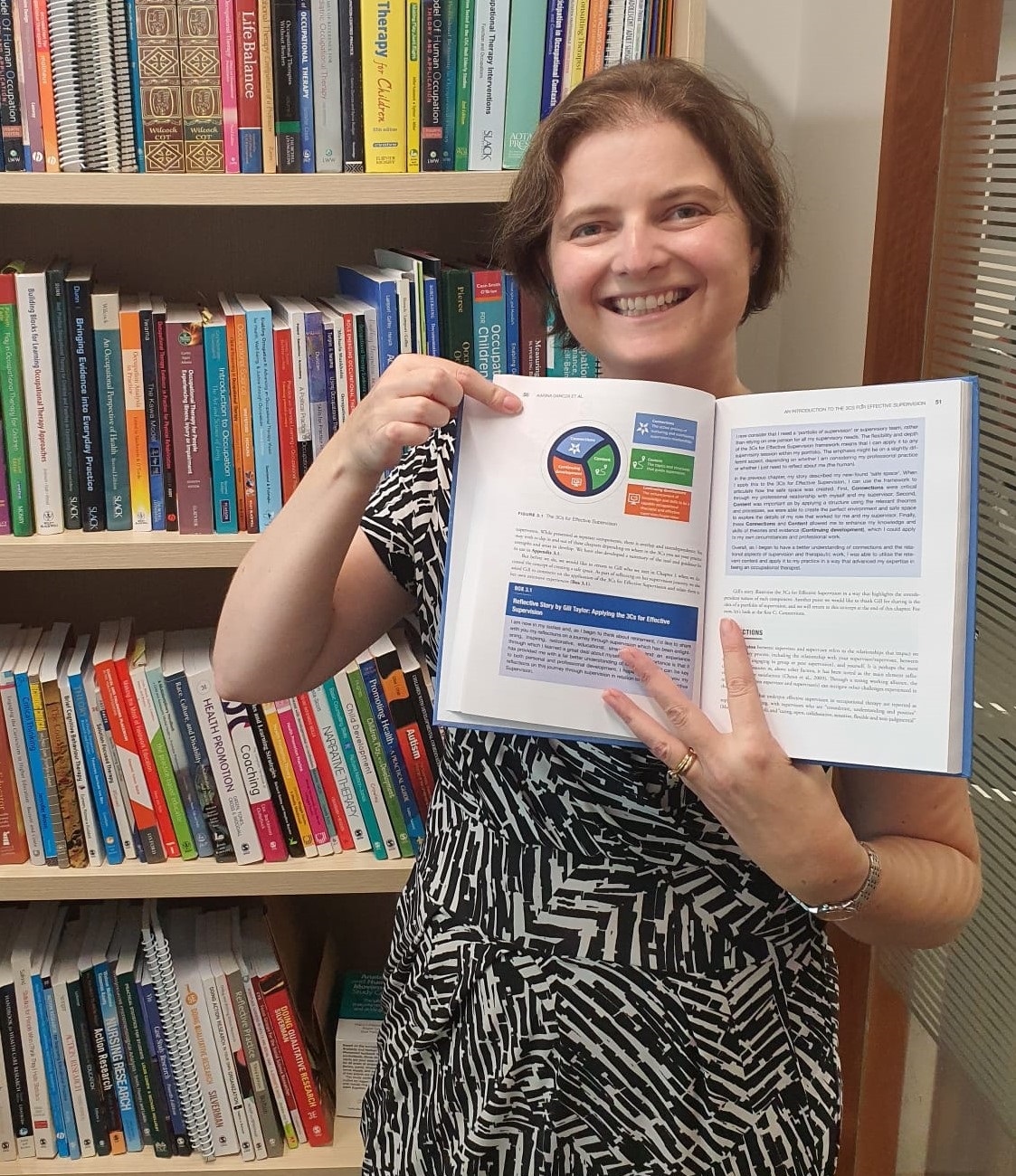 Determined to help both healthcare workers and their supervisors achieve a positive outcome at work, A/Prof Dancza (left) and her co-editors Anita Volkert and Stephanie Tempest, along with 30 contributors from Australia, Chile, Ireland, Pakistan, Singapore, United Kingdom and USA, pooled their expertise to come up with a practical guide. 
The step-by-step guide explains 'the 3Cs for Effective Supervision' (connections, content, and continuing development), and how supervisors can frame their supervision practices. The book covers concepts regarding supervision, tips on improving conversations with supervisees, preparing and developing as a supervisor, and tackling common supervisory challenges in a healthcare setting.
Supervision for Occupational Therapy is a practical text that guides both supervisors and supervisees to make the most out of supervision opportunities. 
The book's chapters also include personal anecdotes from the author and contributors, illustrative examples, reflective questions and evaluation tools – which make the content relevant and easy to follow. In addition, the book examines topics such as workforce issues, diverse populations, cultural differences, and how these factors can impact supervision, which are relevant to occupational therapists and other allied health professionals.
On 7 February 2023, A/Prof Danza launched the 'Supervision for Occupational Therapy: Practical Guidance for Supervisors and Supervisees' guide at SIT. The book launch was attended by SIT senior management, faculty, students, and alumni, as well as clinical educators from acute and community health services.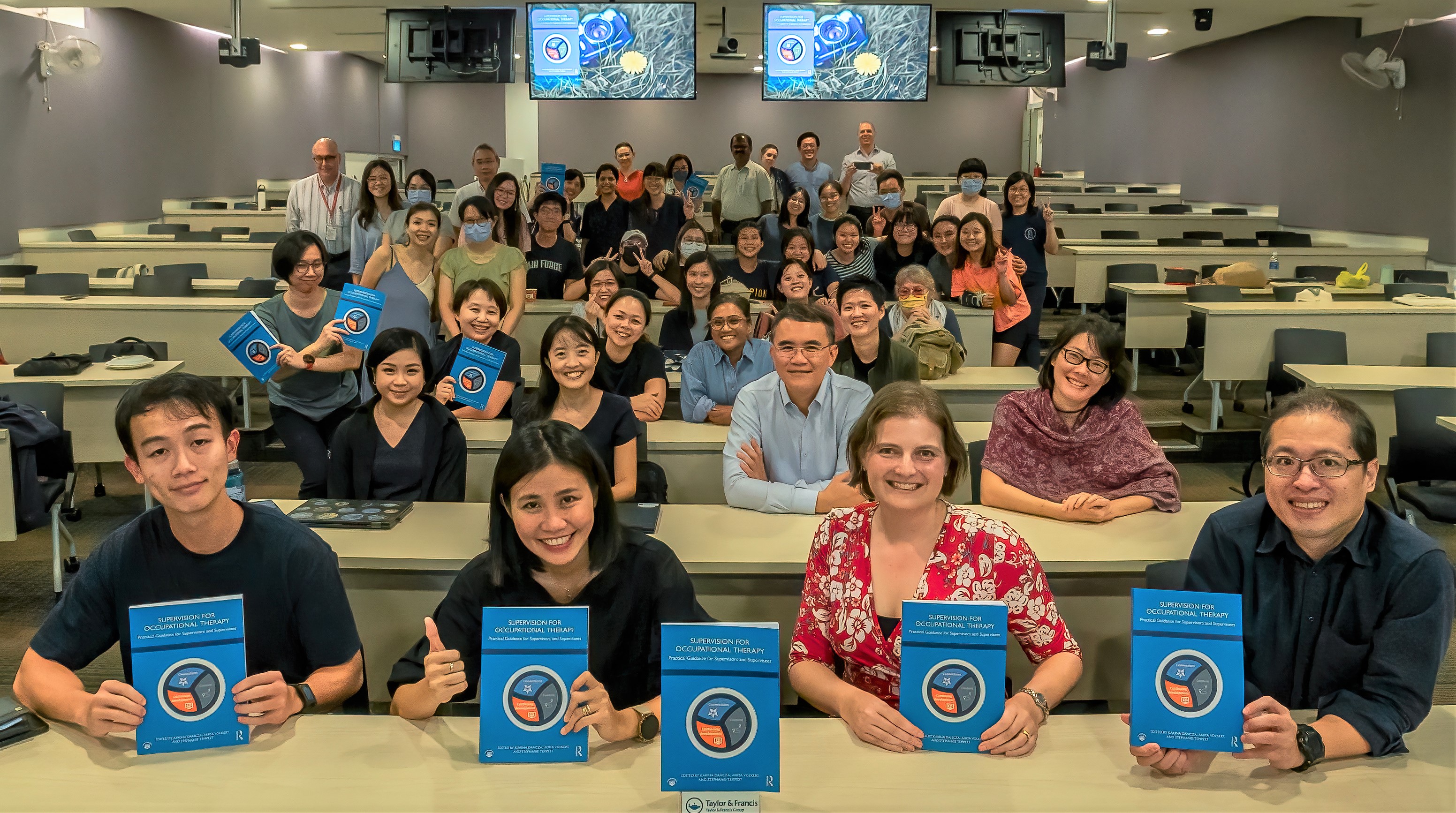 Congratulations to A/Prof Karina Dancza (front row in red) on the launch of her book! (Photo: Karina Dancza)
A Resource Not to be Missed!  
For SIT staff and students who are interested to check out the book, it is available at the SIT Library as a hard copy or e-book. The book will be made available in our National Libraries in the coming months, and is on sale at major bookstores.