Programme Overview
Qualification
Bachelor of Fine Arts
Provider
DigiPen Institute of Technology Singapore
Duration
3 years, 8 months
Application period
10 January to 19 March 2022
The Bachelor of Fine Arts in Digital Art and Animation programme offers comprehensive education in the technique, processes, and tools that professional artists use to create art assets for games, animated films, and other digital media.
Rather than simply teaching students how to use current software, this programme focuses on developing foundational skills that remain valuable and useful regardless of the technology or medium. Graduates of this programme have the ability to produce powerful affecting imagery in a professional studio environment.
Curriculum
Students who successfully complete the BFA in Digital Art and Animation programme possess the following:
Extensive production experience, in both 2D and 3D animation, as well as an area of greater focus that enables students to target a specific sector of the industry according to their interests and abilities.
Excellent drawing skills, including a mastery of perspective, shading, drawing from observation, figure drawing, value, colour and composition.
Strong storytelling abilities, including visual storytelling, literary traditions, story through dialogue, story through acting and cinematic conventions.
Familiarity with modern studio processes, including the ability to use current tools and software, as well as the ability to learn new software while maintaining a strict production schedule.
Professional work habits, including an understanding of how to maintain and continually enhance their craft throughout their career, as well as the ability to utilize and integrate professional criticism into their work.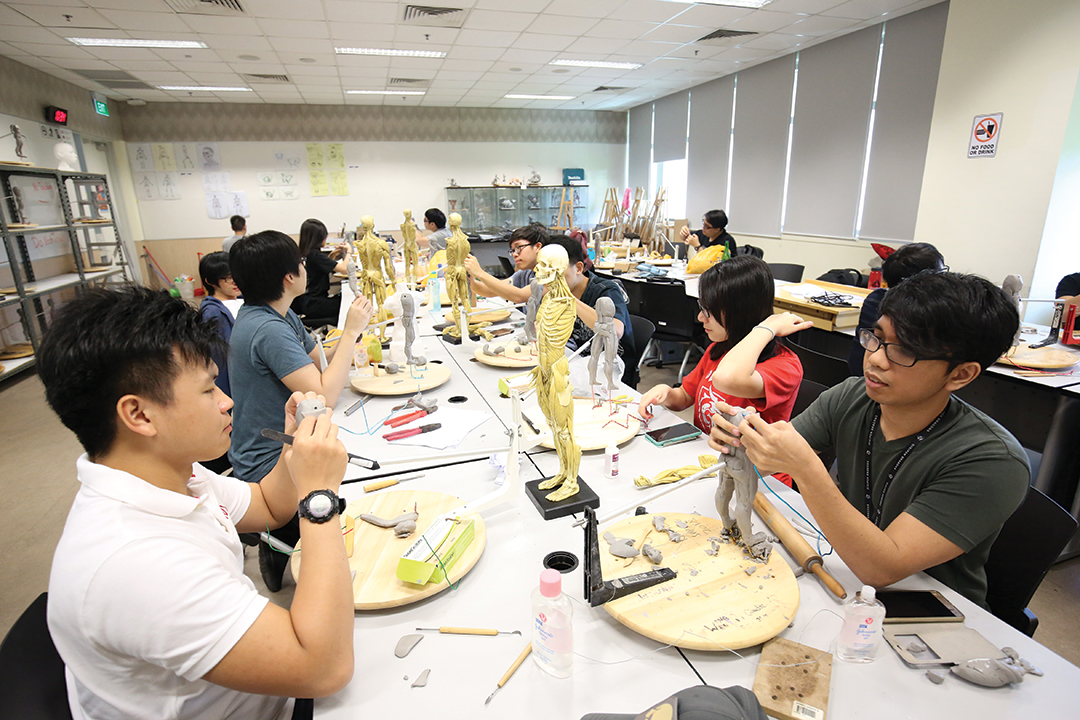 Integrated Work Study Programme
Students can choose to opt for an Internship (DAA4950 and DAA4990) in their 7th and 8th trimesters. An internship is any carefully monitored work or service experience in which an individual has intentional learning goals and reflects actively on what she or he is learning throughout the experience. It is usually a professional activity under general supervision of an experienced professional and in a job situation, which places a high degree of responsibility on the student.
Career Options
Character Animator
Concept Artist
Illustrator
Storyboard Artist
 
Eligibility and Exemption
All full-time diplomas awarded by the five local polytechnics
* Diplomas awarded by Nanyang Academy of Fine Arts (NAFA) and LASALLE College of the Arts will be considered on a case-by-case basis for the BFA in Digital Art and Animation programme.
Applicants who are not graduates from a Polytechnic in Singapore, but have completed a formal 12th year education equivalent to A-Levels, are eligible to apply for the following degree programme:
| | | |
| --- | --- | --- |
| Overseas University Partner | Degree Programmes | Subject Requirement(s) |
| DigiPen Institute of Technology Singapore | Bachelor of Fine Arts in Digital Art & Animation | Programme-specific requirements for all SIT-DigiPen (Singapore) joint degree programmes. |
Note
Credit transfers and duration of studies will be reviewed on a case-by-case basis. 
Students who have relevant post-secondary qualifications may complete SIT-DigiPen (Singapore) joint degree programmes within seven semesters. To be eligible for the abridged programme, students must successfully satisfy the following criteria:
The course(s) being evaluated must be taken at a bona fide, legitimate institution recognised and approved by a regulatory authority that oversees the educational system in the country where the institution is. These courses must appear on official transcripts from the institution. The final decision regarding the transfer credits remains at the discretion of DigiPen (Singapore).

The course(s) must be comparable in academic quality to DigiPen (Singapore) courses including the number of credits or contact hours. Application will be denied for courses not meeting this standard.

Transfer credit will be considered for courses in which the grade of "B -" or better is recorded. "Credit" or "Pass" grades will not be accepted for transfer credit.

Course(s) transferred to a student's major may also require a validation examination in order to be accepted.
Actual number of credits may vary from one student to another depending on the individual course work completed. Any course(s) not transferred must be completed within the duration of the programme.
Fees and Finances
Singapore Citizen

Subsidised fees per credit

$179.50

Tuition fees: $43,080.00 for SG Citizens / $158,189.00 Non-subsidised fees.
Permanent Resident

Subsidised fees per credit

$350.00

Tuition fees: $84,000.00 for Permanent Resident / $158,189.00 Non-subsidised fees.
International Student

Subsidised fees per credit

$471.87

Tuition fees: $113,248.80 for International Student / $158,189.00 Non-subsidised fees.
Tuition fees shown are the total cost for completion of studies, based on the minimum credits required to graduate.
Singapore Citizens and Permanent Residents fees are exclusive of GST and subsidised by the Ministry of Education.
International Students and Non-Subsidised fees are inclusive of 7% GST.
Related Degree Programmes