Students and staff from SIT were among the first donors at the new Bloodbank@One Punggol, which is located close to the university's upcoming Punggol Campus.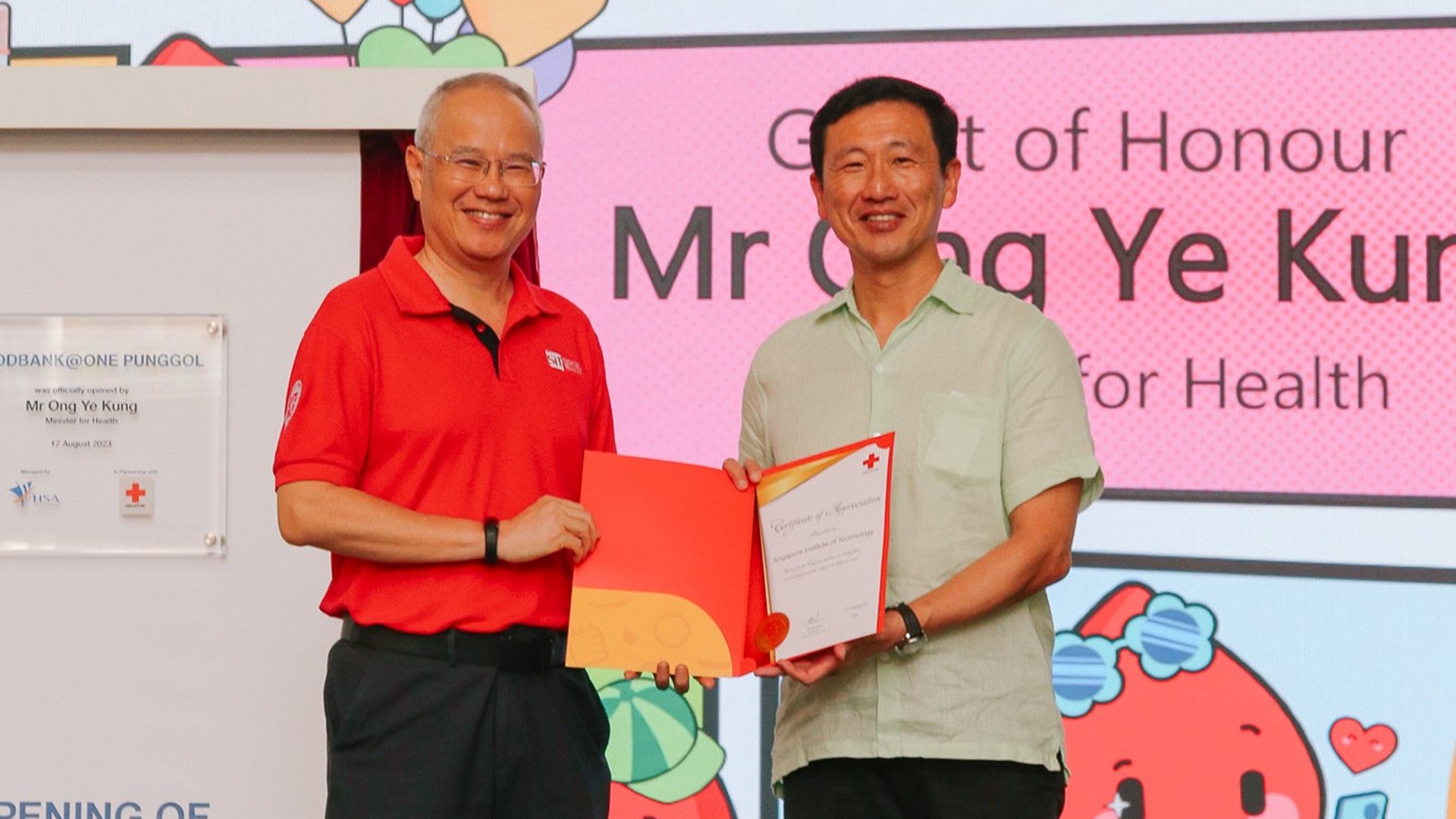 Mr Tsoi Mun Heng, Vice President (Planning), SIT, receiving a certificate from Mr Ong Ye Kung, Minister for Health, on 17 August 2023. (Photo: Singapore Red Cross' volunteer photographer, Mr Wong Leong Jeam).
As part of SIT's ongoing community engagement efforts, students and staff from the Singapore Institute of Technology (SIT) stepped forward to be the first donors at the recently inaugurated Bloodbank@One Punggol. Singapore's fifth blood bank is situated close to SIT's upcoming Punggol Campus, setting the stage for a fruitful partnership between the university and the Singapore Red Cross.
This heartwarming collaboration marks a milestone in fostering a culture of active participation and altruism within the SIT community. As one of the pioneering adopters of Bloodbank@One Punggol, SIT is committed to playing a pivotal role in maintaining an adequate and resilient blood supply for the nation. The university will employ a three-pronged approach emphasising education, donation, and recognition as the pillars upon which SIT intends to build a sustainable blood donation initiative.
Education: Bridging the Knowledge Gap
SIT will collaborate closely with Bloodbank@One Punggol to roll out comprehensive outreach campaigns to educate the SIT community on the significance of blood donation and its benefits for donors and recipients. The initiative also aims to dispel any concerns or misconceptions individuals may have about blood donation.
Donation: A Lifesaving Commitment
SIT's dedication to the cause will manifest through blood donation drives, scheduled at least three times a year, coinciding with each academic trimester. Additionally, the university stands ready to rally its community for urgent donations during critical periods when blood stocks dwindle.
Recognition: Celebrating Everyday Heroes
Beyond the immediate act of blood donation, SIT recognises the importance of sustaining a culture of giving. The university plans to implement a recognition system that appreciates and celebrates the individuals who selflessly donate blood. This initiative also serves as an inspiration for continued and regular donations, and an encouragement for more volunteers to step forward.
Fostering a Culture of Compassion
SIT's dedication to the cause of blood donation aligns seamlessly with its SITizen-DNA of being Grounded in the Community. Donating blood resonates with SIT's commitment to nurturing well-rounded individuals who extend their goodwill to society, embodying the essence of a responsible global citizen.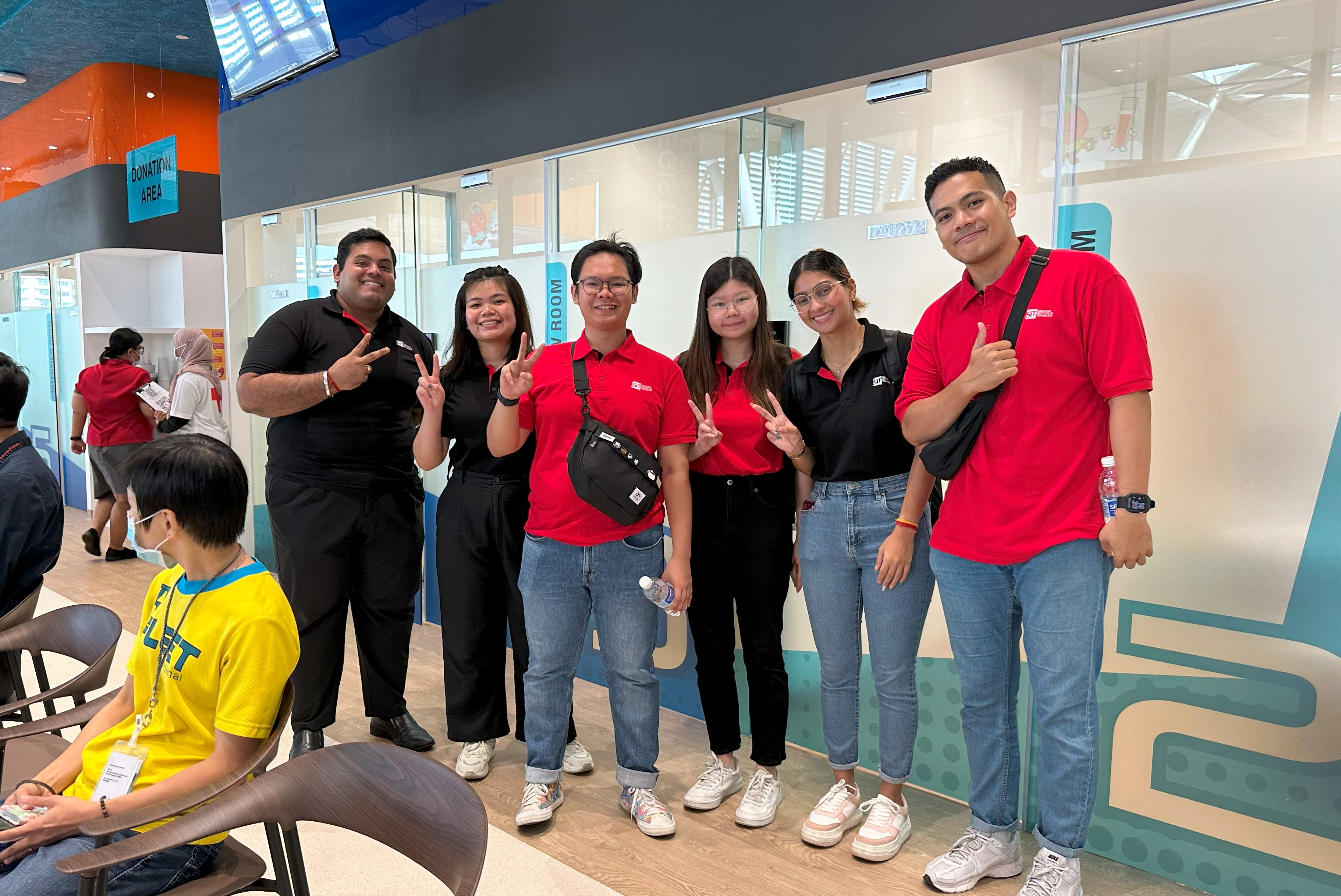 Six SITizens were amongst the first donors at the new blood bank at One Punggol. From left: Nirmal Kishore Janakiraman, Crystal Woo Hong Jin, Khairul Nizam Bin Abdul Rashid, Quek Li Ting, Santhny d/o Ramani, and Muhammad Akmal Bin Muhammad. (SIT Photo)
In the past, blood donation drives were often initiated by the student community, with an encouraging turnout comprising both SITizens and staff. This new partnership with Bloodbank@One Punggol will strengthen SIT's involvement as it intensifies its support for this crucial need to shore up the nation's blood supply.
By championing this vital cause, SIT looks forward to enriching the lives of individuals within its community and demonstrating the university's unwavering commitment to the nation's well-being.
What SITizens Say
"I have been donating blood every three months since I turned 18. We can all do our part to help someone in need. Donating blood is crucial in saving lives and helping heal medical conditions. I am reminded of this saying that while the colour of our skin may differ, we all bleed the same red. We all have unique narratives, but when it comes to blood donation, we can all help."Khairul Nizam Bin Abdul Rashid, Year 2 SITizen from the Information and Communications Technology (Information Security) degree programme
"I'm truly excited about visiting the new Bloodbank@One Punggol with my friends. It's not just about donating blood; it's a chance for us to come together, make a meaningful impact, and strengthen our bonds while contributing to a cause of immense importance for our community."Santhny d/o Ramani, Year 3 SITizen from the Accountancy degree programme.
"As a first-time donor, I'm pleased to know that my contribution can potentially save lives. This gives me a sense of purpose, and I'm proud to take this step towards making a difference in someone else's life."
Crystal Woo Hong Jin, Year 3 SITizen from the Air Transport Management degree programme.