The Singapore Institute of Technology (SIT) received a $180,000 donation at the Emerald Ball, a black-tie event that took place on 12 November 2022 at The St. Regis Singapore. Gracing the occasion were SIT's senior management, faculty members and corporate staff. 
The Emerald Ball is a fundraising dinner with live auctions hosted annually by The Ireland Funds Singapore. As an Institution of Public Character, The Ireland Funds Singapore is a beneficiary that helps to fund projects that will further develop and deepen the Singapore-Ireland relationship and deliver long-term benefits to the people of Singapore. With an interest in arts, culture, community relations, education and sports, The Ireland Funds has close relations with Singapore since the 1800s and has supported over 1,300 charitable causes worldwide.
A Continuous Partnership
As Executive Chairman for Region Development Pte Ltd (SG), Dr Stanley Quek is a highly respected real estate developer who operates mainly in the UK, Singapore and Australia. At the Emerald Ball this year, he gifted $100,000 to the Tan Mui Eng Bursary through The Ireland Funds Singapore and facilitated another $80,000 to establish The Ireland Funds (Singapore) Applied Research Grant at SIT. Accepting the cheques on behalf of SIT was Prof Tan Thiam Soon, Institute Professor.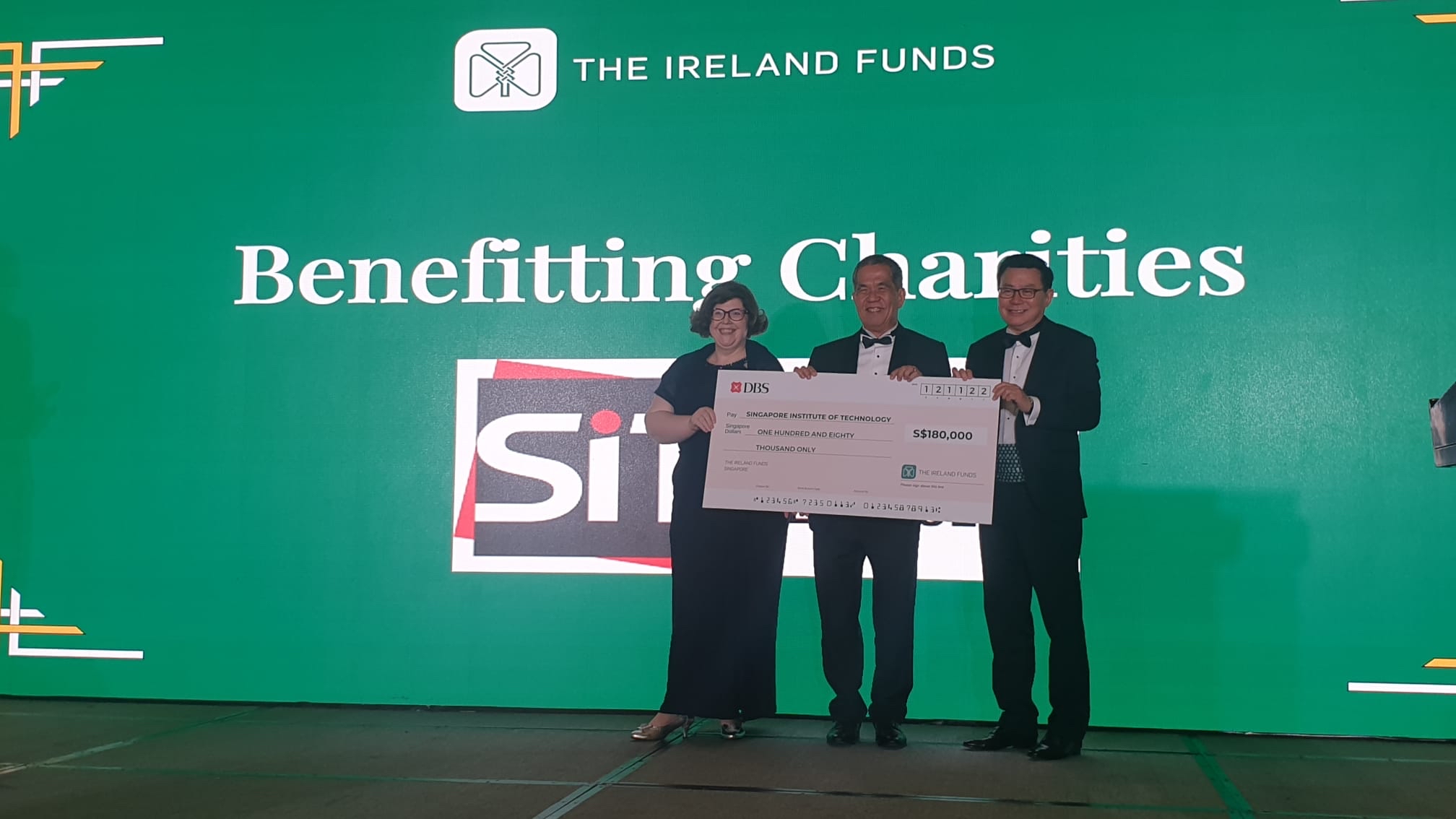 Prof Tan (middle) accepted the cheque on behalf of SIT, presented by the Ambassador of Ireland to Singapore Sarah McGrath (left) and Dr Stanley Quek (right).
SIT partners with The Ireland Funds Singapore and Dr Stanley Quek to support the Tan Mui Eng Bursary, established in 2020. The bursary supports financially disadvantaged Singapore students in full-time Nursing or Allied Health undergraduate degree programmes. SIT students who qualify for the bursary can use it for their tuition fees, course materials, expenses for study trips and other educational activities organised by the university. 
The Ireland Funds (Singapore) Applied Research Grant will be used to encourage applied research between SIT and educational institutions in Ireland. 
Dr Quek's journey in promoting medical education, particularly in Ireland, is highly lauded. He has assisted the Irish Universities and Medical Schools Consortium in selecting and interviewing students from Singapore for medical studies in Trinity College Dublin, University College Dublin, University of Galway and University College Cork. For over 30 years, he persuaded more than 200 talented Singaporean students to enter Irish medical schools, screening students and shortlisting them for presentation to the school deans. Dr Quek believes that shared education is an effective tool for building trust and confidence between countries.
No matching results. Would you like to refine your search term?