A giant amongst men – SIT holds memorial service for Singapore's founding father, Mr Lee Kuan Yew
Singapore Institute of Technology (SIT) held a memorial service at SIT@Dover on 24 March in honour of the late Mr Lee Kuan Yew, Singapore's founding father.
There was a minute of silence observed at the memorial service, which was live-streamed to students at various SIT buildings islandwide. The memorial service also included a video tribute to celebrate the life of Mr Lee.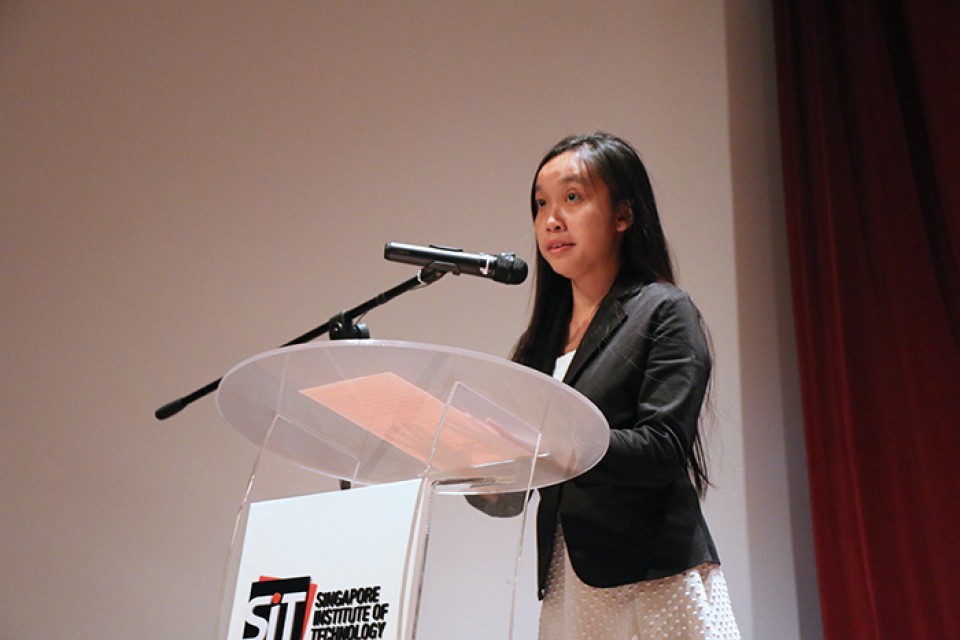 Professor Tan Thiam Soon, President, SIT, said in his opening address: "Mr Lee led a heroic life. His legacy reverberates through the life of every Singaporean, and the differences he made are felt deeply in the far regions of the world. Apart from his family and friends, his greatest love was indubitably Singapore; a nation that he grew, nurtured and pruned to what it is today. His life was the stuff of legends and his work as Singapore's founding father will never be extinguished from memory."
Ng Yat Chung, Chairman, Board of Trustees, SIT, who also took to the rostrum to deliver a remembrance speech, recalled his interactions with Mr Lee. He said: "When you interact with him, you receive an education."
Chan Wing Leong, Deputy President (Administration) & Chief Financial Officer, SIT, likened Mr Lee to the "greatest Singaporean who's ever lived". Adding that Mr Lee would be greatly missed, Chan said: "Everything that you like about Singapore, everything that inspires you here; Mr Lee had had a hand in it."
For Ong Wen Hui, an undergraduate reading a Bachelor of Science with Honours in Food & Human Nutrition at Newcastle University (NU), Mr Lee has truly left behind an enormous legacy for the younger generation. She said: "He had done a great job in implementing compulsory bilingualism in Singapore which has allowed us to make our mark internationally."
Indeed, Mr Lee's pivotal role in transforming Singapore into a global city will be remembered for posterity.
Up till 28 March, SIT staff and students are welcome to write their messages of condolences and remembrances at the Tribute Room, which is located next to Auditorium, SIT@Dover.
Meanwhile, Mr Lee's body will lie in state at Parliament House from 25 to 28 March, for the public to pay their respects. Those who wish to pay their last respects at Parliament House can do so from 10am to 8pm daily from Wednesday to Saturday.
A State Funeral Service will be held at 2 pm on 29 March at the University Cultural Centre, National University of Singapore.