Programme Overview
Provider
Singapore Institute of Technology
Application period
10 January to 19 March 2023
Students admitted to the Radiation Therapy programme may be required to have secured a sponsorship from their employer at the point of enrolment.
The Bachelor of Science with Honours in Radiation Therapy degree is a four-year direct honours degree programme that prepares graduates for the role of a professional radiation therapist. It is the only radiation therapy programme offered by an autonomous university in Singapore.
Radiation therapy is a valued profession in many countries, including Singapore. It involves the use of sophisticated equipment and techniques to deliver radiation precisely and accurately to patients, mainly for the treatment of cancer. Radiation therapists are important members of radiation oncology teams. They apply their professional education to deliver a sensitive and patient-centred service.
Radiation therapists work within the oncology team to customise individual treatment plans for patients and endeavour to deliver the best therapeutic result with minimum side-effects to patients. Radiation therapists also play a key role in helping patients manage side-effects and provide emotional comfort during treatment. Besides caring for patients, radiation therapists are also actively involved in other areas of healthcare such as research, education and administration.
Do note that the healthcare staff guidelines and requirements that apply to healthcare institutions also apply to Health Sciences students. Non-compliance with these guidelines may affect your ability in meeting course requirements, graduating, obtaining registration or employment, and fulfilling bond obligations. It is crucial to adhere to these guidelines to ensure successful completion of your studies and future professional opportunities in the healthcare field.
Curriculum
The curriculum is developed in close consultation with the radiation therapy industry to ensure relevance and graduates' employability. The programme will be seeking accreditation by the Allied Health Professions Council (AHPC), thus enabling graduates to practise as a professional radiation therapist in Singapore. The SIT Radiation Therapy programme focuses on applied learning and provides high-quality, practice-oriented education in the following areas:
Health and behavioural sciences. Broad-based knowledge in health and behavioural sciences, including anatomy, physiology, patient care and safety, psychology, health systems, professionalism, interprofessional education, and change management.

Oncological and radiological science and technology. Professional knowledge in the science and technology associated with cancer treatment, including cancer biology, radiation oncology, radiation physics, radiobiology, radiation protection, radiological anatomy, dosimetry, medical imaging technology and radiation therapy technology.

Radiation therapy practice. Professional knowledge in different areas of radiation therapy practice, including radiation therapy treatment planning, simulation, delivery and post-treatment care for various body regions and systems. This component also includes an honours thesis that emphasises scientific enquiry and evidence-informed radiation therapy practice.
Career Opportunities
Suitably qualified radiation therapists are in high demand in Singapore. Besides working in major cancer centres in the public healthcare sector, radiation therapists also work in the private sector.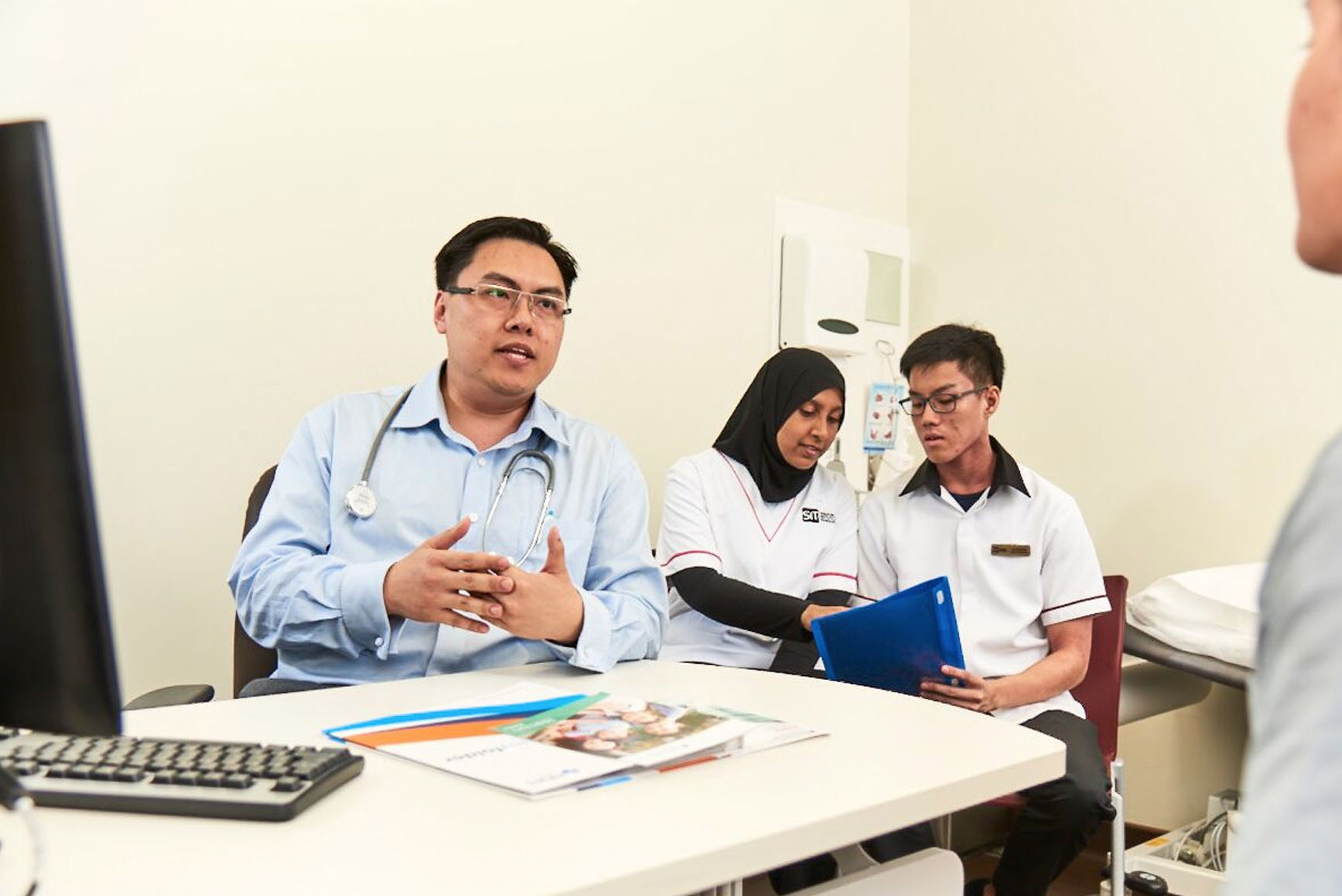 Clinical Practice Education
All Radiation Therapy students need to undergo around 1200 hours of clinical practice education (CPE) across various clinical settings. Such clinical placements prepare students for the real-world clinical practice. Therefore, students get to apply theoretical and clinical knowledge and build up their confidence in clinical skills. Students need to pass all clinical placements to graduate from the programme and to be registered under the Allied Health Professions Council (AHPC).
Fees and Finances
Singapore Citizen

Subsidised fees per credit

$155.00

Tuition fees: $37,200.00 for SG Citizens / $147,874.00 Non-subsidised fees.
Permanent Resident

Subsidised fees per credit

$295.00

Tuition fees: $70,800.00 for Permanent Resident / $147,874.00 Non-subsidised fees.
International Student

Subsidised fees per credit

$405.00

Tuition fees: $97,200.00 for International Student / $147,874.00 Non-subsidised fees.
Industry Advisory Committee
The members of the Industry Advisory Committee for this programme are:
Chairman
Ms Susan Niam
Chief Allied Health Officer, Office of the Director of Medical Services, Ministry of Health
Member
Dr Effie Chew
Senior Consultant, Division of Neurology, National University Health System
Member
Mr Anjan Kumar Ghosh
Director, Sector Manpower - Strategy & Leadership, National Council of Social Service
Member
Ms Paulin Koh
Chief Nursing Officer, Office of the Director of Medical Services, Ministry of Health
Member
Ms Melissa Chua
Head & Senior Principal Speech Therapist, Sengkang General Hospital
Member
Mr Michael Ong
Group Director, Allied Health, National University Health System
Member
Ms Frances Hew Wee Kee
Deputy Director, Head, Clinical Support
Member
Dr Lim Yen Peng
Head and Senior Principal Dietitian, Nutrition and Dietetics Department Tan Tock Seng Hospital
Member
Assoc Prof Yong Keng Kwang
Group Chief Nurse, National Healthcare Group
Member
Assoc Prof Lita Chew Sui Tjien
Group Director, Group Allied Health, SingHealth
Member
Assoc Prof Ng Yee Sien
Senior Consultant, SingHealth
Member
Mr Eric Ho Chun Keong
Director (Acting), Allied Health. Deputy Director, Regional Health Office, Woodlands Health
Member
Ms Jessica Hooi
Vice Principal, St. Andrew's Autism School
Member
Mr Abhimanyau Pal
Chief Executive Officer, SPD
Ex-Officio
Assoc Prof Tan Bhing Leet
Director of Programmes, Health and Social Sciences, Singapore Institute of Technology