Programme Overview
Provider
Singapore Institute of Technology
Duration
3 years, 8 months
Application period
Closed for 2021. Application opens in Jan to Mar 2022.
The Bachelor of Science with Honours in Diagnostic Radiography is a three-year-eight-month, direct honours programme that prepares graduates for the role of a professional radiographer. It is the only diagnostic radiography programme among autonomous universities in Singapore.
The curriculum is developed in close consultation with the radiography industry to ensure relevance and graduates' employability. The programme will be seeking accreditation by the Allied Health Professions Council, thus enabling graduates to practise as professional radiographers in Singapore.
Diagnostic radiography involves the use of sophisticated equipment and techniques to produce medical images of the human body. These images are typically used to diagnose or treat illness or injury. Diagnostic radiographers are integral to healthcare teams. They use their professional training to deliver a sensitive and patient-centred healthcare service. The equipment that radiographers use includes X-ray, ultrasound, computed tomography (CT) and magnetic resonance imaging (MRI). Other more specialised settings in which radiographers may work in include fluoroscopy, mammography, nuclear medicine, and interventional radiology. Besides caring for patients, radiographers are also actively involved in other areas of healthcare such as research, education and administration.
Curriculum
The SIT Diagnostic Radiography program focuses on applied learning and provides high-quality, practice-oriented education in the following areas:
Health and behavioural sciences. Broad-based knowledge in health and behavioural sciences, including anatomy, physiology, patient care and safety, psychology, health systems, professionalism, interprofessional education, and change management.

Radiological science and technology. Professional knowledge in radiological science and technology, including radiation physics, radiobiology, radiation protection, radiological anatomy, radiological informatics, medical imaging technology and processing.

Radiography practice. Professional knowledge in different areas of radiography practice, including general radiography, fluoroscopy, angiography, CT, MRI, ultrasound, breast imaging, nuclear and hybrid imaging. This component also includes an undergraduate honours thesis that emphasises scientific enquiry and evidence-informed radiography practice.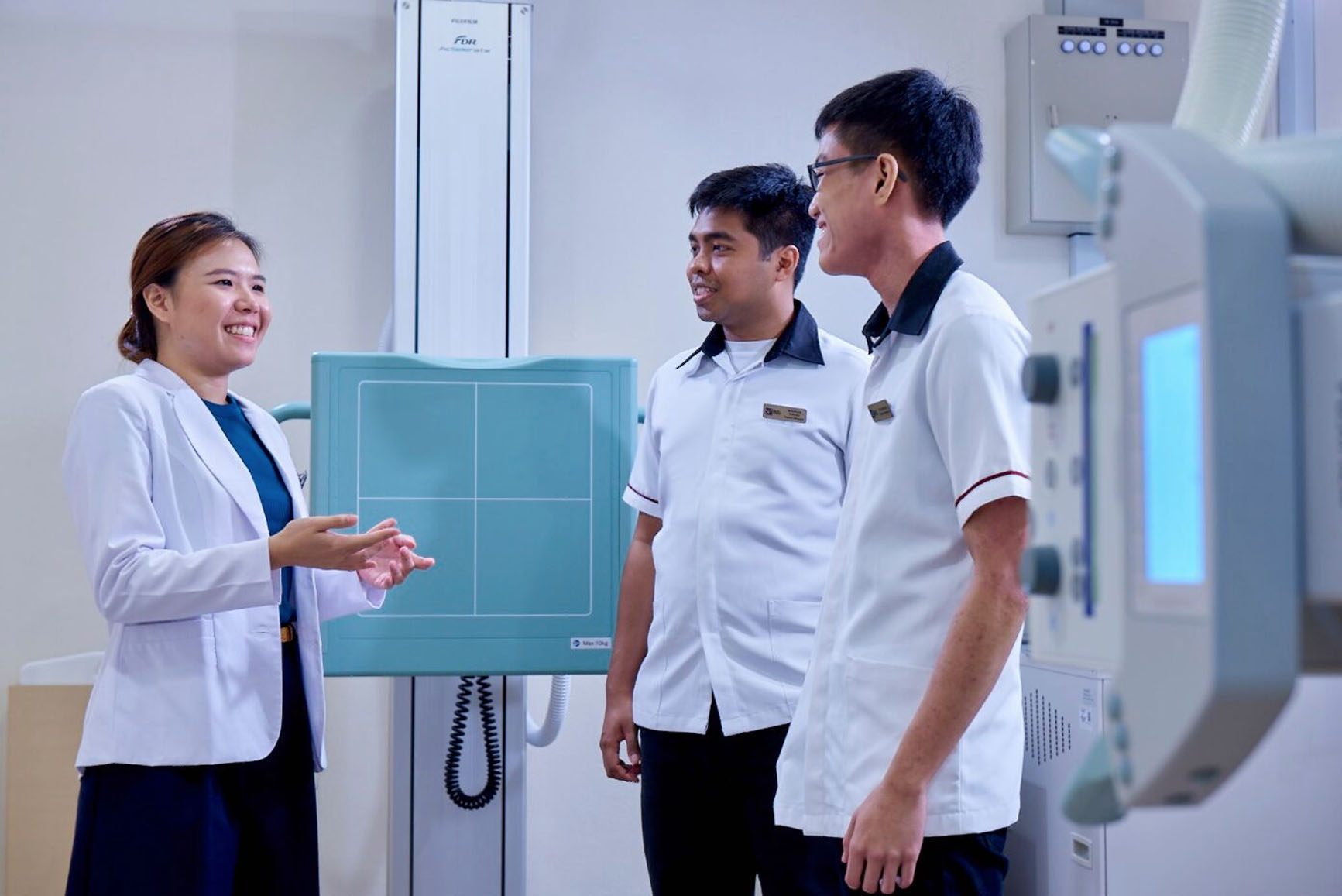 Integrated Work Study Programme
Integrated Work Study Programme (IWSP) provides students with the opportunity to undertake real work. Held over the span of eight to 12 months, it is designed to be more in-depth than a traditional internship. You will gain real work experience and apply the theories you learn in class with actual practice.
Career Conversion Programme
(formerly known as Professional Conversion Programme)
The Career Conversion Programme (CCP) helps and supports mid-career Singaporeans in acquiring relevant training to be Diagnostic Radiographers. CCP applicants must apply to both SIT as well as WSG during the application period in order to be considered.
| CCP | Degree Programme | CANDIDATURE | Tuition Fees |
| --- | --- | --- | --- |
| Diagnostic Radiographers | BSc Diagnostic Radiography | Full Time – 3 years, 8 months | Subsidised fees for Singapore Citizens, Permanent Residents and International Students are located in Tuition Fees.  |
For more information on CCP eligibility, process and funding, please visit WSG CCP for Allied Health Professionals.
Career Options
Suitably qualified radiographers are in high demand in Singapore. Graduates can be employed as diagnostic radiographers in a variety of settings, such as:
Public and Private Hospitals
Private Clinics
Medical Centres
Fees and Finances
Singapore Citizen

Subsidised fees per credit

$154.00

Tuition fees: $36,960.00 for SG Citizens / $145,606.00 Non-subsidised fees.
Permanent Resident

Subsidised fees per credit

$295.00

Tuition fees: $70,800.00 for Permanent Resident / $145,606.00 Non-subsidised fees.
International Student

Subsidised fees per credit

$401.25

Tuition fees: $96,300.00 for International Student / $145,606.00 Non-subsidised fees.
Tuition fees shown are the total cost for completion of studies, based on the minimum credits required to graduate.
Singapore Citizens and Permanent Residents fees are exclusive of GST and subsidised by the Ministry of Education.
International Students and Non-Subsidised fees are inclusive of 7% GST.
Industry Advisory Committee
The members of the Industry Advisory Committee for this programme are:
Ms Susan Niam (Chairperson)
Chief Allied Health Officer
Ministry of Health
Dr Tyrone Goh
Senior Director 
National Healthcare Group Diagnostics
Ms Chee Thong Gan
Senior Director
Allied Health, Clinical Operations and Community Operations
JurongHealth Campus
Ms Paulin Koh
Chief Nursing Officer
Ministry of Health
Mrs Magdalin Cheong
Head and Deputy Director
Dietetic and Food Services
Changi General Hospital 
Asso Prof Lim Swee Hia
Senior Director
Alice Lee Institute of Advanced Nursing
SingHealth
Dr Effie Chew
Senior Consultant
Rehabilitation Medicine
National University Health Systems 
Mr Abhimanyau Pal
Executive Director
SPD
Ms Melissa Chua
Head and Senior Principal Speech Therapist 
Sengkang General Hospital 
Prof Celia Tan
Group Director
Allied Health 
SingHealth
Mr Anjan Kumar Ghosh
Director
Sector Manpower and Organisation Development 
Dr Sherry Young
Senior Consultant 
Department of Rehabilitation Medicine
Changi General Hospital 
Related Degree Programmes