Programme Overview
Qualification
Bachelor of Science
Provider
Singapore Institute of Technology
Duration
3 years, 8 months
The Bachelor of Science in Radiation Therapy is currently under review and will not be accepting applicants in Academic Year 2021.

SIT will temporarily suspend the BSc Radiation Therapy offered by the university for Academic Year 2021. With the assistance of our industry partners and MOH, we are reviewing the format of the Radiation Therapy programme for subsequent intakes, to ensure that it is aligned with the needs and demands of Singapore's healthcare system. SIT will assist incoming students and provide them with alternative options, as well as the necessary support.
The Bachelor of Science in Radiation Therapy degree is a four-year direct honours degree programme that prepares graduates for the role of a professional radiation therapist. It is the only radiation therapy programme offered by an autonomous university in Singapore.
Radiation therapy is a valued profession in many countries, including Singapore. It involves the use of sophisticated equipment and techniques to deliver radiation precisely and accurately to patients, mainly for the treatment of cancer. Radiation therapists are important members of radiation oncology teams. They apply their professional education to deliver a sensitive and patient-centred service.
Radiation therapists work within the oncology team to customise individual treatment plans for patients and endeavour to deliver the best therapeutic result with minimum side-effects to patients. Radiation therapists also play a key role in helping patients manage side-effects and provide emotional comfort during treatment. Besides caring for patients, radiation therapists are also actively involved in other areas of healthcare such as research, education and administration.
Curriculum
The curriculum is developed in close consultation with the radiation therapy industry to ensure relevance and graduates' employability. The programme will be seeking accreditation by the Allied Health Professions Council (AHPC), thus enabling graduates to practise as a professional radiation therapist in Singapore. The SIT Radiation Therapy programme focuses on applied learning and provides high-quality, practice-oriented education in the following areas:
Health and behavioural sciences. Broad-based knowledge in health and behavioural sciences, including anatomy, physiology, patient care and safety, psychology, health systems, professionalism, interprofessional education, and change management.

Oncological and radiological science and technology. Professional knowledge in the science and technology associated with cancer treatment, including cancer biology, radiation oncology, radiation physics, radiobiology, radiation protection, radiological anatomy, dosimetry, medical imaging technology and radiation therapy technology.

Radiation therapy practice. Professional knowledge in different areas of radiation therapy practice, including radiation therapy treatment planning, simulation, delivery and post-treatment care for various body regions and systems. This component also includes an honours thesis that emphasises scientific enquiry and evidence-informed radiation therapy practice.
Career Opportunities
Suitably qualified radiation therapists are in high demand in Singapore. Besides working in major cancer centres in the public healthcare sector, radiation therapists also work in the private sector.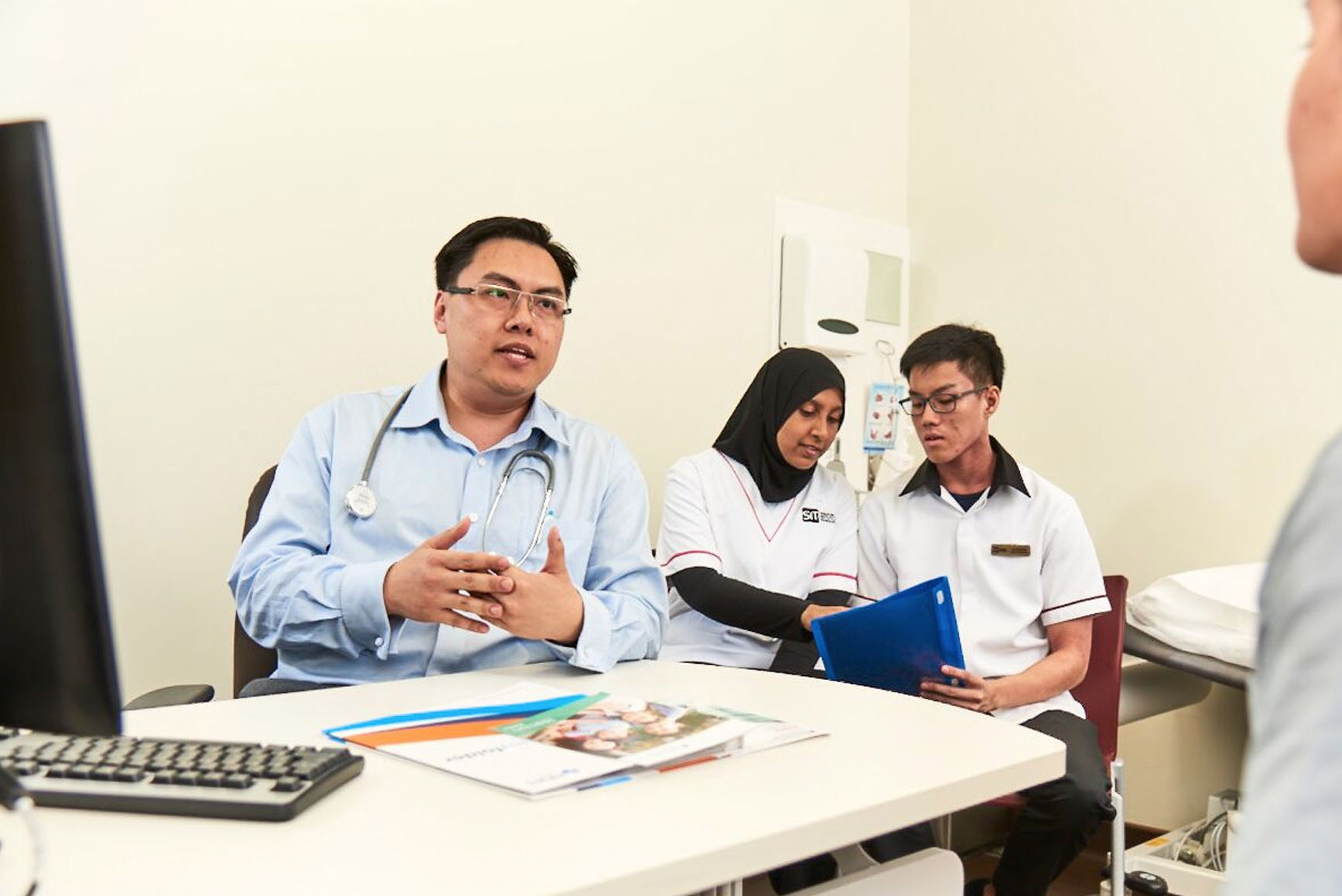 Integrated Work Study Programme
Integrated Work Study Programme provides students with the opportunity to undertake real work. Held over the span of eight to 12 months, it is designed to be more in-depth than a traditional internship. You will gain real work experience and apply the theories you learn in class with actual practice.
Eligibility and Exemption
SIT selects candidates for this programme using an aptitude-based approach that considers passion and suitability for the profession, academic achievement and co-curricular involvement. Short-listed candidates will be invited for Multiple-Mini Interviews, consisting of different stations which assess different important attributes such as communication skills.
Listed below are the relevant admission criteria:
 
A Levels

Obtained a good pass in two of the following H2 subjects: Biology, Chemistry, Physics and Mathematics, and also offered General Paper or Knowledge & Inquiry in the same sitting while satisfying Mother Tongue requirements.
Polytechnic Diplomas

Completed a relevant full-time local Polytechnic diploma. For the detailed list, please refer to Relevant List of Diplomas.
Module exemptions will be considered on a case-by-case basis.
Diplomas that are not listed may be considered on a case-by-case basis. Applicants will be assessed for admissions based on a holistic approach if they meet the following criteria:

Obtained a Science/Engineering/IT-related full-time local Polytechnic diploma and/or
Has acquired relevant full-time work experience of 1-2 years.
International Baccalaureate

Obtained a good pass in two of the following HL subjects: Biology, Chemistry, Physics and Mathematics; while satisfying Mother Tongue requirements.
Other Local Diplomas

NUS High School Diploma Prerequisites
Obtained a good pass in two of the following subjects: Biology, Chemistry, Physics and Mathematics.
Mandatory English Requirement
Applicants to the five Allied Health Programmes are required to fulfil ONE of the following English requirements by application closing:
Qualification

English Subject

Minimum Grade Required

GCE O Level

English as First Language

C6

International English Language Testing System (IELTS - Academic Module)

International English Language Testing System (IELTS)

6.0 for all components (Listening, Reading, Writing AND Speaking)

TOEFL
TOEFL
At least 60 marks for internet-based test
OET
OET
Grade B and above

Polytechnic Foundation Programme (PFP)

English Modules

C+

GCE A Level

General Paper/Knowledge & Inquiry

D

International Baccalaureate (IB)

SL 'English A: Language & Literature' OR

SL 'Literature & Performance'

4

NUS High School Diploma

EL4101 or higher (EL5101, 6103) modules

C+
Applicants who hold a first degree from Singapore, Australia, Canada (except Quebec), New Zealand, Republic of Ireland, South Africa, United Kingdom, and the United States of America will be deemed to have fulfilled the stipulated English Language requirement for the programme.
Please refer to the Mandatory Medical Clearance for additional requirements.
Fees and Finances
Singapore Citizen

Tuition fees: $36,960.00 for SG Citizens / $145,606.00 Non-subsidised fees.
Permanent Resident

Tuition fees: $70,800.00 for Permanent Resident / $145,606.00 Non-subsidised fees.
International Student

Tuition fees: $96,300.00 for International Student / $145,606.00 Non-subsidised fees.
Tuition fees shown is the total cost based on the completion of the study.
Singapore Citizens and Permanent Residents fees are exclusive of GST and subsidised by the Ministry of Education.
International Students and Non-Subsidised fees are inclusive of 7% GST.
Related Degree Programmes