Mapletree Challenge 2023: Charging Their Way To Success
The Mapletree Challenge seeks to groom the next generation of sustainability stewards and budding entrepreneurs by nurturing entrepreneurship, problem-solving, and presentation skills among SITizens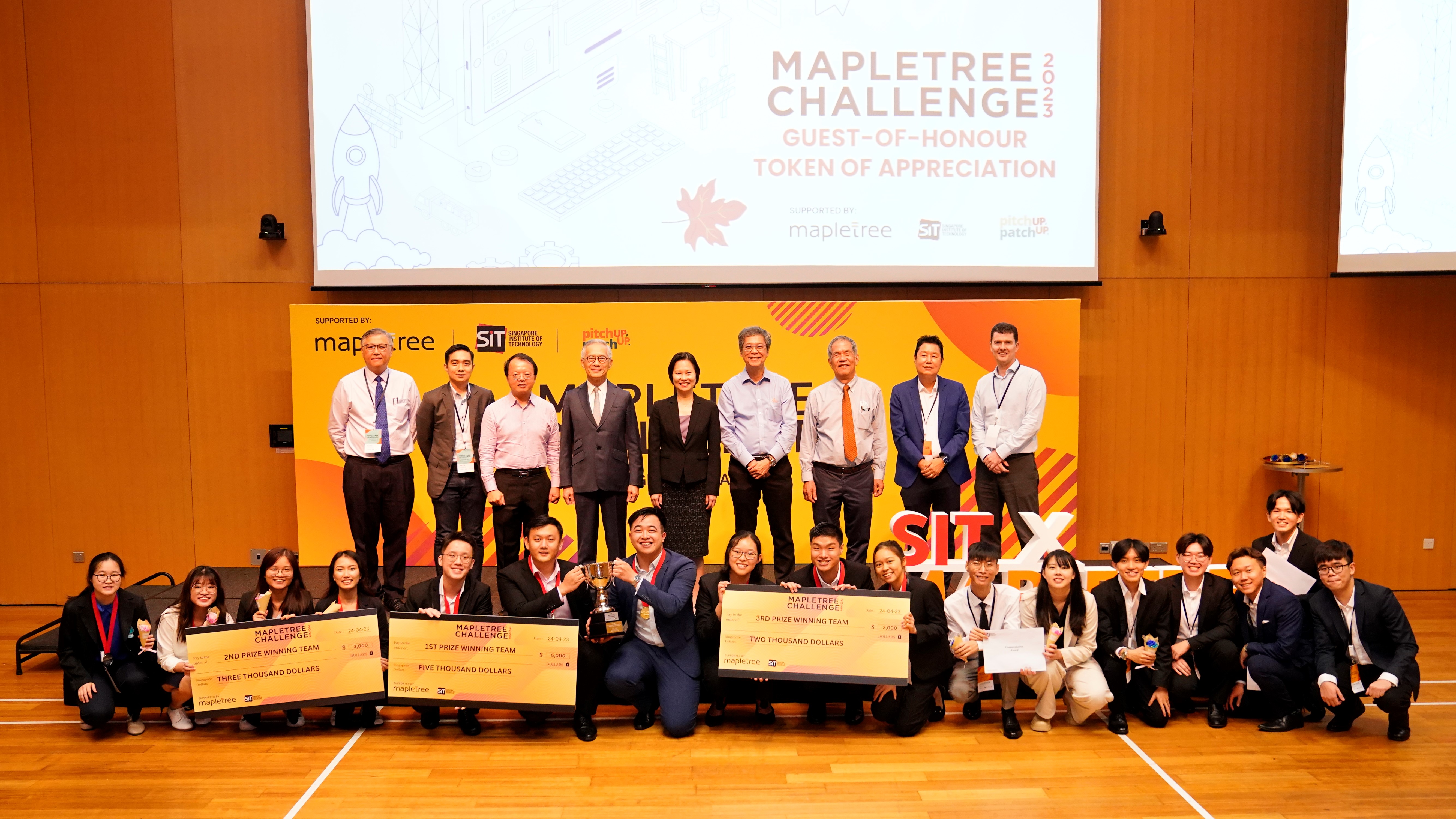 Team PowerPod, a group of four Year 2 SIT engineering students, was crowned champion of The Mapletree Challenge Grand Final 2023 on 24 April 2023. The team's innovative idea of a centralised battery charging system that harnesses solar energy to efficiently charge electric vehicles with the help of robotics as an alternative to charging at fixed points, impressed the judges and walked away with the Gold Prize which included a trophy and cash prize of $5,000.
The Mapletree Challenge Grand Final 2023 was held at Mapletree Business City on 24 April 2023. Guest-of-Honour Ms Gan Siow Huang, Minister of State, Ministry of Education & Ministry of Manpower graced the event and presented the awards to the top three winners.
Supported by Mapletree Investments (Mapletree), the Mapletree Challenge has been encouraging entrepreneurship innovation, problem-solving and presentation finesse among SIT students since its inception in 2018. This year's competition, which focused on "Sustainability and Innovation" for challenges that arise from climate change, gave participants the opportunity to dive into sustainability issues and come up with business plans to tackle such challenges under the guidance of knowledgeable mentors.
Mr Li Haowei, Year 2 Computer Engineering student and leader of team PowerPod said the team had gained a lot of insight from the masterclasses and entrepreneurship forum discussions with the mentors and industry leaders through the Mapletree Challenge. Their winning approach was not to invent completely new systems but to integrate existing innovations instead to reduce waste and make something work better.
Ms Nur Iffaf Ismail, Final Year Food Technology student and leader of team Sea-No-Meat said, "As food technology specialists, we work mainly in the labs and are well-versed on the R&D and production side of things. Our journey through the Mapletree Challenge has given us a better understanding and appreciation of business development and marketing. For instance, we'd learnt things like budgeting and working out the finances, what types of products are sellable and how to market a product, amongst other things."
Team Sea-No-Meat, which consisted of six Food Technology students, was conferred the Silver Prize with their plant-based snack that has the texture of squid. It is also a healthier substitute for conserving the ocean habitat and reducing the possibility of consuming microplastic pollutants that are increasingly prevalent in seafood. The Bronze Prize went to team The Beans, comprising four Food Technology students, for their idea of repurposing spent coffee ground to produce coffee nibs, a nutritious food additive.
Professor Tan Thiam Soon, Institute Professor, SIT, hopes that SITizens will use their knowledge and skills to create value through innovation and make meaningful contributions to society. "As a university that imbues sustainability in our operations, education and research endeavours, our close collaboration with Mapletree has been meaningful in nurturing the next generation of change-makers and building a collective of young entrepreneurs year on year," he said.
Mr Edmund Cheng, Chairman of Mapletree said, "We are heartened to see that the Mapletree Challenge has continued to inspire and enable SIT undergraduates to develop entrepreneurial ideas. We hope that participants will continue pursuing solutions for a sustainable future and bring their innovations to fruition."