The Ngee Ann Kongsi Formalises Intention to Donate S$25m in Support of Library and Emergence Fund at SIT
The donation – the biggest that SIT has received to-date – has made possible The Ngee Ann Kongsi Library and The Ngee Ann Kongsi Emergence Fund at SIT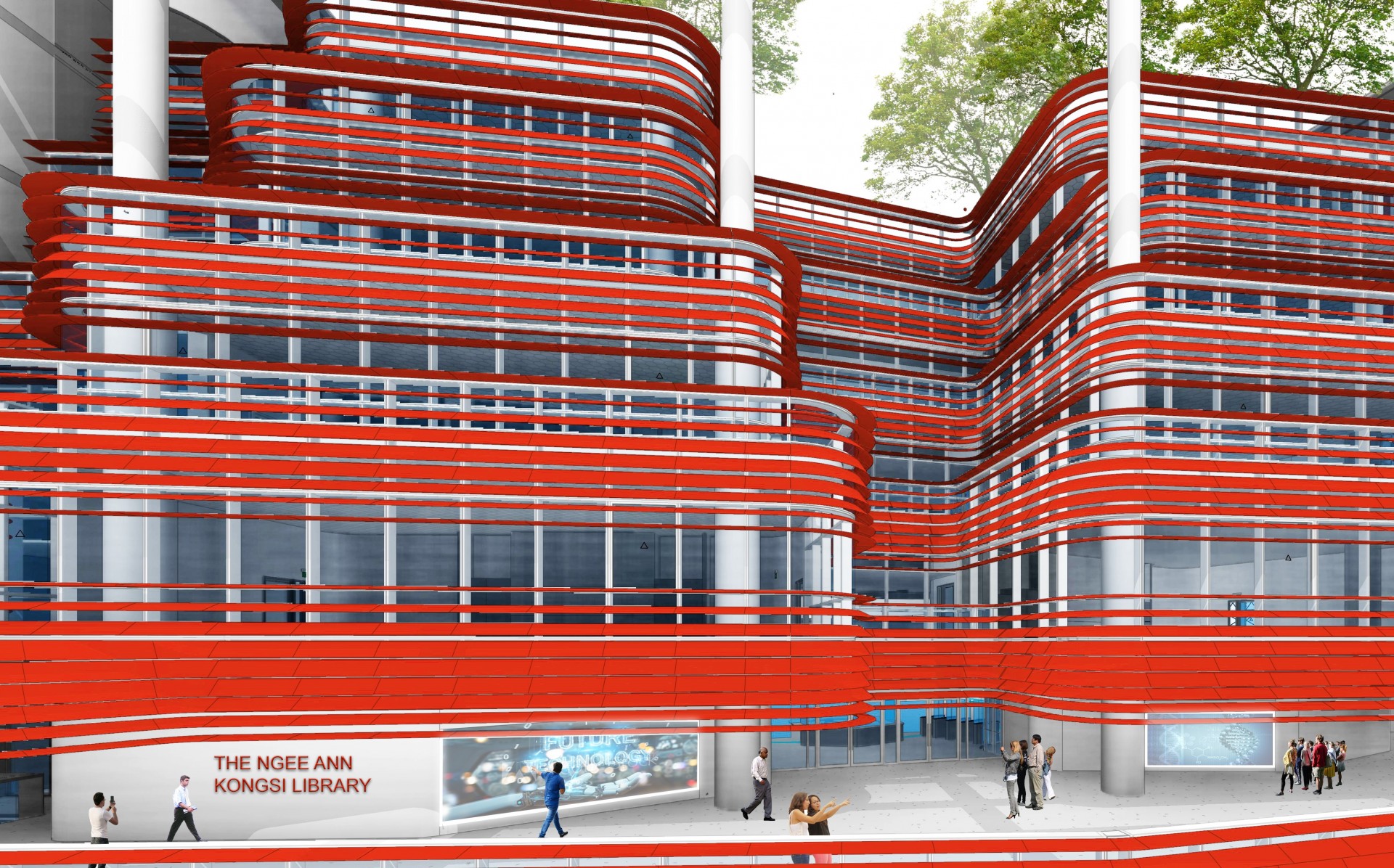 The Ngee Ann Kongsi has formalised its intention to make a generous endowed gift of S$25 million to the Singapore Institute of Technology (SIT) – S$2.5 million will be disbursed annually over a duration of 10 consecutive years – in support of the development of its library, as well as the establishment of The Ngee Ann Kongsi Emergence Fund to nurture students through a range of learning opportunities.
In recognition of this generous gift –  the biggest donation that SIT has received thus far – the university has named the library at its future campus in Punggol, as well as the library at its interim campus at SIT@Dover The Ngee Ann Kongsi Library.
The naming ceremony for The Ngee Ann Kongsi Library took place on 4 February 2022 at SIT@Dover, Mr Chan Chun Sing, Minister for Education, was the Guest of Honour at the event. Also attending were Mr James Teo Wee Wee, President of The Ngee Ann Kongsi, Mr Jamie Teo, Vice-President and Chairman of the Donation & Charity Sub-Committee of The Ngee Ann Kongsi, as well as Members of The Ngee Ann Kongsi's Committee of Management.
This leadership gift will support The Ngee Ann Kongsi Library in scaling up its efforts to build SIT students' capabilities in Information, Digital & Media Literacy which is most important in the information, data and technology world today. At SIT's future Punggol campus, the Library is designed to facilitate the interaction of people and ideas and meet students' diverse learning needs. 
It will have technology-enabled collaborative learning spaces where students can get hands-on exposure to state-of-the-art digital equipment and technologies, and learn collaboratively to enhance their learning outside of class time. For example, the Library will house discussion pods for group consultations, rooms to rehearse and record presentations, digital hives equipped with higher-end computers with specialised software, as well as an immersive media studio. 
It will also be a testbed to support projects that students can work on as part of their practical learning. The Ngee Ann Kongsi Library will continue to create purposeful programmes and projects to bring together students, faculty, industry partners and community members from all disciplines to learn together. It will develop larger scale programmes to enhance student competencies, such as a distinguished speaker series featuring industry practitioners and community leaders. Its location in Punggol will allow it to play a role in the building of strong communities, by enabling service learning for SIT students through their engagement with the Punggol community.
The Ngee Ann Kongsi Emergence Fund will support a variety of learning projects such as coaching for students to learn about leadership or other soft skills such as confidence, emotional intelligence, and public speaking. It will enable financially challenged students to access experiential learning opportunities, such as overseas exchange and internship programmes, and provide support for applied research projects with student participation.
Professor Chua Kee Chaing, President, SIT, said, "On behalf of SIT, I would like to express our heartfelt appreciation to The Ngee Ann Kongsi for its generous and wide-ranging support of SIT students through the years. Since 2017, the Kongsi has been supporting a scholarship, a gold medal, and an emergency relief fund for our students. Now, with this transformative gift, it will offer our students access to more exciting learning opportunities – through an emergence fund and a library for the future – to help them hone their capabilities for the knowledge economy. One of SIT's cherished aspirations is to nurture graduates who are passionate about serving the community, and we are very grateful for this gift."
Said Mr Jamie Teo, Vice-President and Chairman of the Donation & Charity Sub-Committee, The Ngee Ann Kongsi, "We are very honoured by the naming of The Ngee Ann Kongsi Library at SIT. The Ngee Ann Kongsi firmly believes in empowerment through education. We hope this gift will help widen the access to a range of learning opportunities for SIT students."