New "Forward SITizen Initiative" to Support SIT Undergraduates
Tuition fees will be fully covered for students most in need of support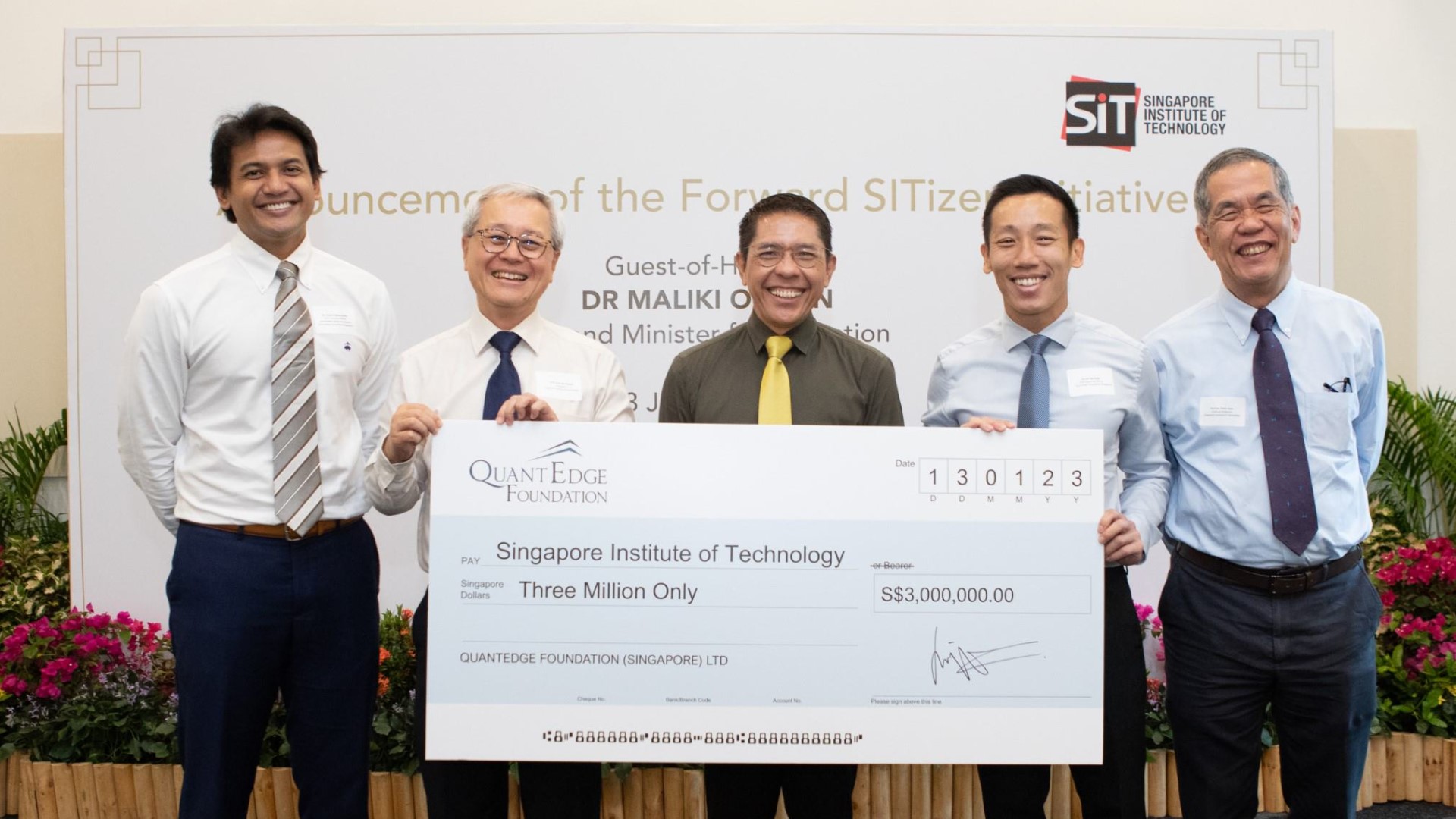 On 13 January 2023, the Singapore Institute of Technology (SIT) announced the Forward SITizen Initiative (FSI), which aims to make possible full tuition fee support for its most financially needy undergraduate students from Academic Year (AY) 2023/24 onwards. Supported by SIT and its donors, FSI will help top up Government-funded public bursaries for eligible incoming first-year students.  An estimated 220 eligible students will be supported by FSI annually.
At the launch, donors had pledged a total of $8.7 million in endowed gifts. The sum included a seed donation of $3 million from the Quantedge Foundation, as well as other endowed gifts made through the Dou Yee Enterprises Bursary, Kewalram Chanrai Group Bursary, KKH Bursary, Kwai Fong & Raymond Goh Study Grant, and Wilmar Bursary. Since the launch, the FSI has counted the support of a seventh bursary – the ELK-Forward SITizen Bursary.
The FSI was conceived in support of the Forward Singapore exercise, which was launched by Deputy Prime Minister Lawrence Wong in June 2022 to set out a road map that aims to refresh the social compact in Singapore.
Second Minister for Education Dr Mohamad Maliki Osman, who was the Guest-of-Honour at the launch, said, "As we launch Forward SITizen today, I hope that other foundations and businesses will likewise step forward to offer support to SIT and other educational institutions, to uplift students from vulnerable backgrounds."
Speaking at the launch, Mr Xie Yao Quan, Quantedge Foundation CEO, said, "We are excited to be partnering with SIT in its mission to guarantee full funding of tuition fees for all Singaporean students with the greatest demonstrated financial need. This brings the Foundation a step closer to ensuring that all deserving Singaporean youths have access to a truly need-blind university education. We hope to encourage talented young students to pursue their dreams and achieve upward social mobility for themselves and their families."
Said SIT President Professor Chua Kee Chaing, "Our goal is to work with the Quantedge Foundation and other donors to continue raising funds for the Forward SITizen Initiative. In the meantime, SIT will provide financial assistance and fee support to some of the financially neediest of our eligible students. We are very grateful to our donors for helping us make possible the Forward SITizen Initiative. Their generosity will nurture students who require financial assistance and is crucial to enabling upward social mobility for our students, regardless of their financial circumstances. On behalf of SIT, we express our sincere thanks to our donors. We look forward to seeing more donors come forward to support this Initiative."