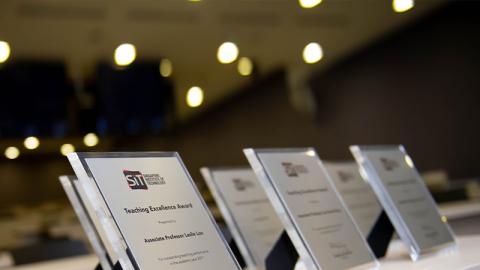 Important Dates
September to October: Call for nominations
November: Eligible nominees receive invitation to submit their dossier
January to February: Award list announcement
The award is open to all SIT teaching staff who are teaching in:
a SIT degree programme, or
a joint degree programme, or
an overseas university programme
The nominee must have a minimum teaching load of three modules in the qualifying academic year. He/She should also exemplify the following qualities:
Excellence in teaching and learning
Strong commitment to students and student development
Innovation in teaching and learning, and in assessment
Nominees who have won two or more awards in the last three consecutive academic years will be excluded from nominations in the current year.
TEA recipients will receive a cash award of $1,000, a teaching grant of $5,000 and a plaque.
The teaching grant may be used to fund teaching-related activities, such as teaching and learning conferences, courses on higher education, and new pedagogical innovations, or for undertaking projects to improve teaching effectiveness.