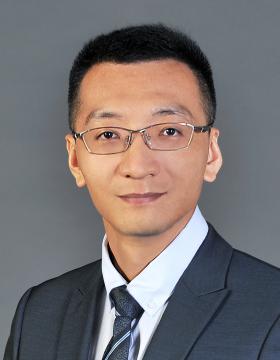 Assistant Professor
Wei
ZHANG
Doctor of Philosophy (Computer Science), Nanyang Technological University, Singapore
Profile

Biography

(Please refer to my research website for the latest information.)

([Hiring 🔥] Our group values research quality and impact. We welcome and support researchers and students aiming to establish strong track records in applied research and top-tier publications. Interested? Email us!)

Dr. Wei ZHANG is currently an Assistant Professor with the Information and Communications Technology Cluster, Singapore Institute of Technology (SIT). Before joining SIT, he was a Scientist at the Agency for Science, Technology, and Research (A*STAR), Singapore. From 2015 to 2017, he was a Research Fellow at NTU, Singapore. Dr. Zhang received the B.Sc. degree in electronic information science and technology from the School of Science, Xidian University, Xi'an, China, in 2008, the M.Eng. degree in circuits and system from the School of Electronic Engineering, Xidian University in 2011, and the Ph.D. degree in computer science from the School of Computer Science and Engineering, Nanyang Technological University (NTU), Singapore, in 2015. Dr. Zhang serves as the Programme Leader of  the Bachelor of Science with Honours in Computing Science programme. He also serves as an Associate Editor for the IEEE Internet of Things Journal (IoT-J) as well as the Area Chair, Track Chair, Review Committee Member, and TPC members of the top conferences such as IJCAI, GLOBECOM, and ICME. His research interests lie in utilizing artificial intelligence (AI) for smart cities, especially smart grid and smart buildings, towards improved user experience and enhanced sustainability.

Education

Doctor of Philosophy (Computer Science)

Nanyang Technological University

,

Singapore

Master of Engineering (Circuits and System)

Xidian University

,

China

Bachelor of Science (Electronic Information Science and Technology)

Xidian University

,

China

Professional Memberships

Association for Computing Machinery (ACM)

IEEE Computer Society (CS)

IEEE Signal Processing Society (SPS)

IEEE Communication Society (ComSoc)

Institute of Electrical and Electronic Engineering (IEEE)

Corporate Experience

Programme Leader: Bachelor of Science with Honours in Computing Science

Associate Editor: IEEE Internet of Things Journal (IoT-J). (IF: 10.238)

Track Chair / Area Chair / Review Committee Member: IEEE ICME 2021, IEEE ISCAS 2021, IEEE ISC2 2020, etc.

Journal Reviewer: ACM TOMM, IEEE Access, IEEE ComMag, IEEE COMST, IEEE IoT-J, IEEE JSAC, IEEE MultiMedia, IEEE Network, IEEE TCAS-I, IEEE TCAS-II, IEEE TCOM, IEEE TCSS, IEEE TII, IEEE TMM, IEEE TNSM, IEEE TPDS, IEEE TSMCA, IEEE TSUSC, IEEE WCM, etc.

TPC Member: IEEE IJCAI 2021, IEEE IJCAI-PRICAI 2020, IEEE GLOBECOM 2018, IEEE ICME 2017 Workshops, IEEE IWCMC 2020, etc.
Research

Research Interests
Publication

Journal Papers

Summary: We have published 13 journal papers, 25 conference papers, and 2 newsletter articles. (Updated in 2021.  Full list available in Google Scholar.)

[TON] Pan Lai, Rui Fan, Xiao Zhang, Wei Zhang et al. "Utility Optimal Thread Assignment and Resource Allocation in Multi-Server Systems." IEEE/ACM Transactions on Networking (TON). In Press. 2021.

[IOT-J] Jie Li, Wei Zhang (Corresponding Author), Guanyu Gao et al. "Towards Intelligent Multi-Zone Thermal Control with Multi-Agent Deep Reinforcement Learning." IEEE Internet of Things Journal (IoT-J), vol. 8, no. 14, pp. 11150-11162. July 15, 2021. 

[IOT-J] Wei Zhang, Yonggang Wen, King Jet Tseng et al. "Demystifying Thermal Comfort in Smart Buildings: An Interpretable Machine Learning Approach." IEEE Internet of Things Journal (IoT-J), vol. 8, no. 10, pp. 8021-8031. May 15, 2021.

[NET-M] Wei Zhang, Jie Li, Yonggang Wen et al. "Towards A Wearable Crowdsource System to Monitor Respiratory Symptoms for Pandemic Early Warning." IEEE Network, vol. 35, no. 3, pp. 56-63. May/June, 2021.

[TCC] ​​​​​​​Wei Zhang, Yonggang Wen, Loi Lei Lai et al. "Cost Optimal Data Center Servers: A Voltage Scaling Approach." IEEE Transactions on Cloud Computing (TCC), vol. 9, no. 1, pp. 118-130. IEEE. January-March 2021.

[TSC] Wei Zhang, Yonggang Wen, Loi Lei Lai et al. "Electricity Cost Minimization for Interruptible Workload in Data Centers." IEEE Transactions on Services Computing (TSC), vol. 13, no. 6, pp. 1059-1071. IEEE. December 2020.

[IOT-J] Wei Zhang, Weizheng Hu and Yonggang Wen. "Thermal Comfort Modeling for Smart Buildings: A Fine-Grained Deep Learning Approach." IEEE Internet of Things Journal (IoT-J), vol. 6, no. 2, pp. 2540-2549. IEEE. April 2019. (Citations: 50+)

[TVT] Wei Zhang, Rui Fan, Yonggang Wen et al. "Energy Optimal Wireless Data Transmission for Wearable Devices: A Compression Approach." IEEE Transactions on Vehicular Technology (TVT), vol. 67, no. 10, pp. 9605-9618. IEEE. October 2018.

[TIST] Wei Zhang, Rui Fan, Yonggang Wen et al. "Energy Efficient Mobile Video Streaming: A Location-aware Approach." ACM Transactions on Intelligent Systems and Technology (TIST), vol. 9, issue 1, article 6. ACM. August 2017.

[IOT-J] Weizheng Hu, Wei Zhang, Han Hu et al. "Towards Joint Compression-Transmission Optimization for Green Wearable Devices: An Energy-Delay Tradeoff." IEEE Internet of Things Journal (IoT-J), vol. 4, no. 4, pp. 1006-18. IEEE. August 2017.

Conferences

[ICC '22] Fang Liu, Teck Wei Low, Wei Zhang (Corresponding Author) et al. "TransLine: Transfer Learning for Accurate Power Line Anomaly Detection with Insufficient Data." IEEE International Conference on Communications (ICC). In Press. IEEE. Seoul, South Korea. May 16–20, 2022.

[GLOBECOM '21] Wei Zhang, Yonggang Wen, and Fang Liu. "Towards Cost-Optimal Energy Procurement for Cooling as a Service: A Data-Driven Approach." IEEE Global Communications Conference (GLOBECOM). IEEE. Madrid, Spain. December 7 - 11, 2021.

[ICME '19] Fang Liu, Wei Zhang, Yonggang Wen. "QoE-Driven Mobile Streaming: A Location-aware Approach." IEEE International Conference on Multimedia & Expo (ICME), pp. 1708-1713. IEEE. Shanghai, China. July 8 - 12, 2019.

[SPAWC '17] Wei Zhang, Yonggang Wen, Ying Jun (Angela) Zhang, et al. "Mobile Cloud Computing with Voltage Scaling and Data Compression." IEEE International Workshop on Signal Processing Advances in Wireless Communications (SPAWC). IEEE. Hokkaido, Japan. July 3 - 6, 2017. (Invited Paper)

[IPDPS '16] Pan Lai, Rui Fan, Wei Zhang et al. "Utility Maximizing Thread Assignment and Resource Allocation." IEEE International Parallel and Distributed Processing Symposium (IPDPS), pp. 433-42. IEEE. Orlando, Florida USA. May 29 - June 2, 2016. (Acceptance rate: 23%)

[CLOUD '15] Fang Liu, Wee Keong Ng and Wei Zhang. "Encrypted SVM for Outsourced Data Mining." IEEE International Conference on Cloud Computing (CLOUD), pp. 1085-92. IEEE. New York, USA. June 27 - July 2, 2015. (Acceptance rate: 15%)

[ICAPS '15] Wei Zhang, Rui Fan, Fang Liu et al. "Energy Aware Caching." IEEE International Conference on Parallel and Distributed Systems (ICPADS), pp. 473-80. IEEE. Melbourne, Australia. December 14-17, 2015. (Student Travel Award)

[IC2E '14] Fang Liu, Wee Keong Ng, Wei Zhang et al. "Encrypted Set Intersection Protocol for Outsourced Datasets." IEEE International Conference on Cloud Engineering (IC2E), pp. 135-40. IEEE. Boston, Massachusetts, USA. March 10-14, 2014. (Acceptance rate: 20%)

[CLOUD '14] Fang Liu, Wee Keong Ng and Wei Zhang. "Encrypted Scalar Product Protocol for Outsourced Data Mining." IEEE International Conference on Cloud Computing (CLOUD), pp. 336-43. IEEE. Alaska, USA. June 27 - July 2, 2014. (Acceptance rate: 19%)

[GECCO '11] Maoguo Gong, Fang Liu, Wei Zhang et al. "Interactive MOEA/D for Multi-objective Decision Making." Annual Conference on Genetic and Evolutionary Computation Conference (GECCO), pp. 721-8. ACM. Dublin, Ireland. July 12-16, 2011. (Citations: 50+)
Teaching

Teaching Modules

Computer Science in Real-Time Interactive Simulation, BS

CS330

-

Algorithm Analysis

Information and Communications Technology (Information Security), BEng (Hons)

ICT1009

-

Object-Oriented Programming

Information and Communications Technology (Software Engineering), BEng (Hons)

ICT1009

-

Object-Oriented Programming

ICT2103

-

Information Management

Telematics (Intelligent Transportation Systems Engineering), MEngTech and BEng (Hons)

TLM2004

-

Database and Information System

Computing Science, BSc (Hons)

CSC2008

-

Database Systems