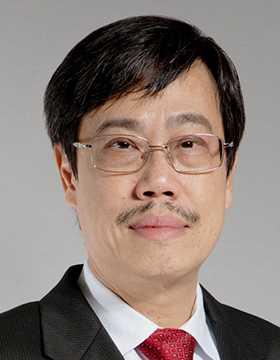 Siu Choon
NG
Associate Provost (Students & Faculty Development)
D.Phil (Organic Chemistry), Oxford University, United Kingdom
Profile

SIT Appointments

Associate Provost (Students & Faculty Development)

Associate Provost (Students)

Education

D.Phil (Organic Chemistry)

Oxford University

,

United Kingdom

BA (First Class Honours) in Chemistry

Oxford University

,

United Kingdom

Achievements

Sir Alan Sewell Visiting Fellowship, Australia

CASE Scholarship at Dyson Perrin Laboratory, Oxford

Turbett Prize, Oxford (Organic Chemistry)

Oxford University Open Scholar

Singapore Government Overseas Merit Scholar, Teaching

Professional Memberships

H2 Chemistry Syllabus Development Committee - MOE

Chairman of Accreditation Committee, School of Chemical & Biomedical Engineering, NTU

National Research Foundation Singapore, Member of the Expert Panels

Advisory Committee Ngee Ann Polytechnic, School of Life Sciences & Chemical Technology

Member of the Expert Panels for Research Funding Agencies, MOE Tier 2
Research

Current Projects

Organic functional materials for electronic devices

Chiral Enabling Technologies: Chiral separation & purifications of racemic drugs, flavours/fragrance & fine chemicals

Past Projects

A*STAR SERC Grant No: 102 170 0135

Synthesis, modelling and structural correlation of enabling printed electronics materials; Principal Investigator (PI): $1,124,364

Apr 2011 - Sep 2014

A*STAR SERC Grant No: 092 101 0056

Development of novel solid supports and their applications in enantiopurity analyses using ultraperformance liquid chromatography, PI: $959,628

Sep 2009 - Feb 2013

Principal Investigator, Co-Principal Investigator or Collaborator in more than 20 research projects awarded by government agencies, industry or university totalling more than S$13M in grants
Publication

Journal Papers

Wang Y, X. Xin, Y. Lu, T. Xiao, X. Xu, N. Zhao, X. Hu, B. S. Ong, S. C. Ng, Substituent Effects on Physical and Photovoltaic Properties of 5,6-Difluorobenzo[c][1,2,5]thiadiazole-Based D−A Polymers:Toward a Donor Design for High Performance Polymer Solar Cells, Macromolecules (2013), 9587- 9592.

Wang Y, Chen H, Xiao Y, Ng CH, Oh TS,, Tan TTY, Ng SC, Preparation of cyclodextrin chiral stationary phases by organic soluble catalytic "click" chemistry, Nature Protocols, 6 (2011): 935-942.

Tang WH and Ng SC, Facile synthesis of mono-6-amino-6-deoxy-alpha-, beta-, gamma-cyclodextrin hydrochlorides for molecular recognition, chiral separation and drug delivery, Nature Protocols, 3 (2008): 691-697.

Tang WH and Ng SC, Synthesis of cationic single-isomer cyclodextrins for the chiral separation of amino acids and anionic pharmaceuticals, Nature Protocols, 2 (2007): 3195-3200.

Ng SC, HF Lu, HSO Chan, A Fujii and K Yoshino, Blue electroluminesscence from a novel donor/acceptor polymer structure. Advanced Materials, 12 (2000): 1122.

Ng SC and P Miao, Electrochemical synthesis and characterization studies of poly[3,3'- dialkylsulfanyl-2,2'-bithiophene films. Macromolecules, 32 (1999): 5313-5320.

Chan, HSO and SC Ng, Some recent development in the synthesis, characterization and applications of thiophene based functional polymers. Progress in Polymer Science, 23 (1998):1167-1231.

Ng, SC and LG Xu, Poly[4-(2-heteroacryl)benzenamines] : Novel electrically conducting alternating block copolymers of aniline and chalcophenes. Advanced Materials, 10 (1998): 1525-1530. (Germany).

Ng, SC, P Miao and HSO Chan, Electrochemical syntheses and doping properties of poly[3,3'-dialkylsulphanyl-2,2'-bithiophene]S: Novel materials which exhibit facile N- and P-dopability. Chemical Communications, 153 (1998).

Ng, SC, P Miao and HSO Chan, A facile electrochemical grafing of poly(3,3'-dioctyl-2,2'- bithiophene) on gold surface modified with a chemisorbed monolayer of 3-mercapto-2,2'- bithiophenes. Advanced Materials, 10 (1998): 782-786.

Ng, SC, WL Yu and ACH Huan, Facile approach to a chemisorbed thin film of functionalized polythiophene on a glass surface. Advanced Materials, 9 (1997): 887.

Chan, HSO, PKH Ho, SC Ng, BTG Tan and KL Tan, A new water-soluble self-doping conducting polyaniline from poly(o-aminobenzylphosphoric acid) and its sodium salts: synthesis and characterisation. Journal of the American Chemical Society, 117 (1995): 8517-8523.

Ng, SC, HSO Chan, HH Huang and PKH Ho, Poly(o-aminobenzylphosphonic acid): A novel water soluble self-doped functionalised polyaniline. Chemical Communications (1995): 1327-1328.

Books

[Book Chapter] Y Wang and SC Ng, Invited book chapter "A Novel Synthesis of Cyclodextrin Chiral Stationary Phases for Chiral LC" in Chiral Separation (2nd Edition), Springer-Verlag, Heidelberg, Germany, 2013, p69-80.

[Book] Modified Cyclodextrins for Chiral Separation, Springer-Verlag, Heidelberg, Germany, 2013. [Book Chapter] Dai, Y, WH Tang, Y Wang and SC Ng, Invited book chapter "Chromatographic Separations and Analysis: New Stationary Phases" in Comprehensive Chirality, Vol 8; Elsevier: Oxford, 2012, pg 286–310.