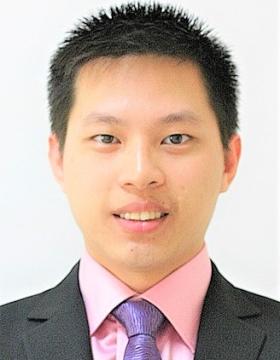 Adjunct Assistant Professor
Boon Chong
Kwok
Master of Rehabilitation Science, The University of Melbourne, Australia
Cluster:
Health and Social Sciences
Profile

Biography

Hi, I am a physiotherapist with 15 years of clinical experience. Currently I am pursuing my PhD studies (part-time) on DMA Clinical Pilates for chronic low back pain. I co-run a private practice, Clinical Pilates Family Physiotherapy with my disciple (Mr Justin Lim). I have also reprised my role of head of physiotherapy in my part-time work with THK Moral Charities. 

Education

Master of Rehabilitation Science

The University of Melbourne

,

Australia

Bachelor of Health Science (Physiotherapy)

The University of Sydney

,

Australia

Diploma in Physiotherapy

Nanyang Polytechnic

,

Singapore

Professional Certification

Project Management Professional

Project Management Institute

DMA Clinical Pilates Certification

DMA Clinical Pilates

ACSM Clinical Exercise Physiologist

American College of Sports Medicine

Professional Memberships

Singapore Physiotherapy Association
Publication

Journal Papers

Kwok, B. C., Lim, J. X. L., & Kong, P. W. (2021). The Theoretical Framework of the Clinical Pilates Exercise Method in Managing Non-Specific Chronic Low Back Pain: A Narrative Review. Biology, 10(11), 1096.

Kwok, B. C., Wong, W. P., & Remedios, L. (2021). Improving centre-based group exercise participation of older adults using the behaviour change wheel. BMJ Open Quality, 10(1), e001078.

Kwok, B. C., & Pua, Y. H. (2016). Effects of WiiActive exercises on fear of falling and functional outcomes in community-dwelling older adults: a randomised control trial. Age and ageing, 45(5), 621-627.

Kwok, B. C., Clark, R. A., & Pua, Y. H. (2015). Novel use of the Wii Balance Board to prospectively predict falls in community-dwelling older adults. Clinical biomechanics, 30(5), 481-484.

Kwok, B. C., Pua, Y. H., Mamun, K., & Wong, W. P. (2013). The minimal clinically important difference of six-minute walk in Asian older adults. BMC geriatrics, 13(1), 1-5.

Kwok, B. C., Mamun, K., Chandran, M., & Wong, C. H. (2011). Evaluation of the Frails' Fall Efficacy by Comparing Treatments (EFFECT) on reducing fall and fear of fall in moderately frail older adults: study protocol for a randomised control trial. Trials, 12(1), 1-7.
Teaching

Teaching Modules

Physiotherapy, BSc (Hons)

PTY1012

-

Foundation of Physiotherapy 2: Kinesiology

HSC2007

-

Health Promotion and Population Health

PTY3801

-

Honours Thesis Proposal

PTY3901

-

Clinical Practice Education Year 3

PTY4901

-

Clinical Practice Education Year 4

Dietetics and Nutrition, BSc (Hons)

HSC2007

-

Health Promotion and Population Health

Past

PTY1003 - Kinesiology and Functional Anatomy (Upper Quadrant) (4381)
PTY1004 - Musculoskeletal Physiotherapy (Upper Quadrant) (4386)
PTY1005 - Kinesiology and Functional Anatomy (Lower Quadrant) (4391)
PTY1006 - Musculoskeletal Physiotherapy (Lower Quadrant) (4396)