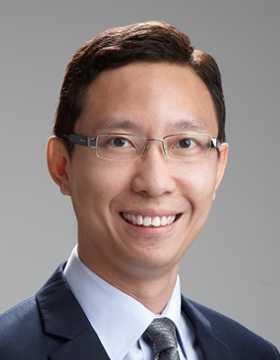 Professor
Alan
WONG
PhD, University of Queensland, Australia
Cluster:
Health and Social Sciences
Profile

SIT Appointments

Cluster Director, Health and Social Sciences

Programme Director, TCD BSc Radiation Therapy

Programme Director, SIT-TCD BSc Diagnostic Radiography

Cluster Coordinator, Health Sciences

Programme Director, UoM BSc (Hons) Nursing Practice

Programme Director, TCD BSc Physiotherapy

Programme Director, WLC BSc Early Childhood Education

Programme Director, TCD BSc Occupational Therapy

Education

PhD

University of Queensland

,

Australia

MPH Clinical Epidemiology Specialisation

National University of Singapore

,

Singapore

BPhty (Hons)

University of Queensland

,

Australia
Research

Research Interests

Health professions education

Healthcare professionalism and ethics
Publication

Journal Papers

Kwok, B.C., Wong, W.P., & Remedios, L. Improving centre-based group exercise participation of older adults using the behaviour change wheel. BMJ Open Quality, 2021, 10:e001078. doi: 10.1136/bmjoq-2020-001078

Soh JGS, Wong WP, Mukhopadhyay A, Quek SC, & Tai BC. Predictors of 30-day unplanned hospital readmission among adult patients with diabetes mellitus: a systematic review with meta-analysis. BMJ Open Diabetes Research and Care, 2020; 8(1), e001227.

Yong, L, Reddy PU, Tan J, Avers D, Ong PH, Wong WP. Do Physical Function In Nursing Home Residents Change During Their Stay? Journal of Nursing Home Research, 2020; 6: 6-13. 

Dean E, Skinner M, Myezwa H, Mkumbuzi V, Mostert K, Parra DC, ... & Wong WP. Health competency standards in physical therapist practice. Physical Therapy, 2019; 99(9): 1242-1254.

Ong PH, Tai BC, Wong WP, Wee LE, Chen C, Cheong A, Fong NP, Chan KM, Tan BY, Menon E, Lee KK. Caregivers: Do They Make a Difference to Patient Recovery in Subacute Stroke?. Archives of Physical Medicine and Rehabilitation. 2017 Oct 1;98(10):2009-20.

Hussey J, Wong WP, Connell A. Physiotherapy education in Singapore: a new degree programme through collaboration between Trinity College Dublin and Singapore Institute of Technology. Physical Therapy Reviews 2013; 18(6): 458-462

Ng LWC, Ng DP, Wong WP. Is supervised exercise training safe in patients with anorexia nervosa? A meta-analysis. Physiotherapy 2013; 99(1):1-11.

Dean E, Dornelas de Andrade A, O'Donoghue G, Skinner M, Umereh G, Beenen P, ..., Wong WP. The Second Physical Therapy Summit on Global Health: developing an action plan to promote health in daily practice and reduce the burden of non-communicable diseases. Physiotherapy Theory and Practice 2013; 30:261-275

Wong WP, Yeung M, Loh S, Lee M, Ghazali F, Chan CJ, Feng S, Liew YV, Seah PF, Wee J, Wang J, Huang X, Dean E. Stroke-related Knowledge, Lifestyle Behaviors and Health Beliefs in Singaporean Chinese: Implications for Health Education. Health Education Journal 2013; 72(4):386-397. doi:10.1177/0017896912446554

Kwok BC, Pua YH, Mamun K, Wong WP. The minimal clinically important difference of six-minute walk in Asian older adults. BMC Geriatrics 2013, 13:23, doi:10.1186/1471-2318-13-23

Wong WP, Feng J, Pwee KH, Lim J. A systematic review of economic evaluations of cardiac rehabilitation. BMC Health Services Research 2012; 12:243, doi:10.1186/1472-6963-12-243

Wong WP, Zhao Y, Koh HP. Angiotensin I-Converting Enzyme Gene Polymorphism and Physical Activity among Normotensive Chinese. International Journal of Sport Nutrition and Exercise Metabolism 2012; 22:192-198

Lim ECW, Wong WP, Ng GBP, Chan LL, Tan SB, Tow PB, Zhao Y. Distribution of COL9A2 and COL9A3 Gene Polymorphism in Male Chinese Singaporean – A Pilot Observational Study. International Journal Human Genetics 2011; 11(3): 193-198

Lim ECW, Poh RLC, Low AY, Wong WP. Effects of Pilates-based exercises on pain and disability in persistent non-specific low back pain – a systematic review with meta-analysis. Journal of Orthopedic and Sports Physical Therapy 2011;41(2):70-80

Gan HW, Ong SC, Lim JFY, Chow WL, Wong WP, Ang SY, Tan SY. Outcomes and Cost Evaluation of Cardiac Rehabilitation for Patients with Chronic Heart Failure. Annals of the Academy of Medicine, Singapore  2011; 40 (11 Suppl): S180

Dean E, Al-Obaidi S, De Andrade AD, Gosselink R, Umerah G, Al-Abdelwahab S, ..., Wong WP. The First Physical Therapy Summit on Global Health: implications and recommendations for the 21st century. Physiotherapy Theory and Practice 2011 Nov;27(8):531-47

Wong WP, Yong LM. Validating a falls risk assessment tool. Annals of the Academy of Medicine, Singapore 2010;39(Suppl1):S280

Thilagaratnam S, Ding YY, Au Eong KG, Chiam PC, Chow YL, Khoo G, Lim HB, Lim HYL, Lim WS, Lim WY, Peh KC, Phua KT, Sitoh YY, Tan BY, Wong SF, Wong WP, Yee R. Health Promotion Board-Ministry of Health Clinical Practice Guidelines: Functional Screening for Older Adults in the Community.  Singapore Med J 2010; 5: 518-522.

Anning L, Paratz J, Wong WP, Wilson K. Effect of manual hyperinflation on haemodynamics in an animal model. Physiotherapy Research International 2003;8(3):155-63.

Wong WP, Paratz JD, Wilson K, Burns YR. Hemodynamic and ventilatory effects of manual respiratory physiotherapy techniques of chest clapping, vibration, and shaking in an animal model. Journal of Applied Physiolology 2003 Sep;95(3):991-8.

Ong KC, Wong WP, Jailani AR, Sew S, Ong YY. Effects of a pulmonary rehabilitation programme on physiologic and psychosocial outcomes in patients with chronic respiratory disorders. Annals of the Academy of Medicine, Singapore 2001 Jan;30(1):15-21.

Chok B, Wong WP. Treatment of unilateral upper thoracic vertebral pain using an eclectic approach. Physiotherapy Research International 2000;5(2):129-33.

Dean E, Frownfelter D, Wong WP, Al-Basarah K, Fagevik-Ols N M, Gosselink R, Habib Z, Hopkins-Rosseel D, Jones A, Lomi C, Pryor JA, Ravindra S, Skinner M. Cardiovascular/cardiopulmonary physical therapy sinks or swims in the 21st century: addressing the health care issues of our time. Physical Therapy 2000 Dec;80(12):1275-8.

Wong WP. Physical therapy for a patient in acute respiratory failure. Physical Therapy 2000 Jul;80(7):662-70.

Wong WP. Use of body positioning in the mechanically ventilated patient with acute respiratory failure: application of Sackett's rules of evidence. Physiotherapy Theory and Practice 1999;15: 25-41.

Wong WP. Role of physiotherapy in a critically ill patient with evolving multiple organ dysfunction syndrome (MODS). Physiotherapy Research International 1999;4(4):302-7.

Wong WP. Acute respiratory distress syndrome. Current concepts, pathophysiology, management and implications for physiotherapy. Physiotherapy 1998; 84:439-450.

Wong WP, Galley PM, Sheehan MC. Changes in medical referrals to an outpatient physiotherapy department. Australian Journal of Physiotherapy 1994 40(1): 9-14.
Teaching

Teaching Modules

Diagnostic Radiography, BSc

PT4003

-

Global Health and Service Development

Physiotherapy, BSc

PT4003

-

Global Health and Service Development

Radiation Therapy, BSc

RT4803

-

Global Health and Service Development

Diagnostic Radiography, BSc (Hons)

HSC1003

-

Health Systems - Singapore's Perspectives

HSC3002

-

Professionalism, Ethics and Legal Aspects of Healthcare

HSC4001

-

Health Systems - Global Perspectives

Nursing, BSc (Hons)

HSC1003

-

Health Systems - Singapore's Perspectives

NUR1009

-

Population Health

NUR1001

-

Healthcare Ethics and Law

Occupational Therapy, BSc (Hons)

HSC1003

-

Health Systems - Singapore's Perspectives

HSC3002

-

Professionalism, Ethics and Legal Aspects of Healthcare

HSC4001

-

Health Systems - Global Perspectives

Physiotherapy, BSc (Hons)

HSC1003

-

Health Systems - Singapore's Perspectives

PTY2003

-

Health Promotion and Population Health

HSC3002

-

Professionalism, Ethics and Legal Aspects of Healthcare

HSC4001

-

Health Systems - Global Perspectives

PTY1003

-

Kinesiology and Functional Anatomy (Upper Quadrant)

Radiation Therapy, BSc (Hons)

HSC1003

-

Health Systems - Singapore's Perspectives

HSC3002

-

Professionalism, Ethics and Legal Aspects of Healthcare

HSC4001

-

Health Systems - Global Perspectives

Mechanical Design Engineering, BEng (Hons)

Mechatronics, BEng (Hons)