This 5-year programme is open to in-employment upgraders in the relevant field of work or industry. Prospective students will alternate between three days at work in the participating company (also their current employer) and two days to study in the university for each week. There will be full-time study during Trimester 1 in Year 1 and Year 2. Prospective students would be able to acquire learning through real work experience and collaborative approach of institutional learning.
The curriculum follows closely with that of the standard degree programme and provides a more in-depth experience through the close collaboration between academia and industry.
For more information on the programme, please view our Food Technology programme page.
Programme Structure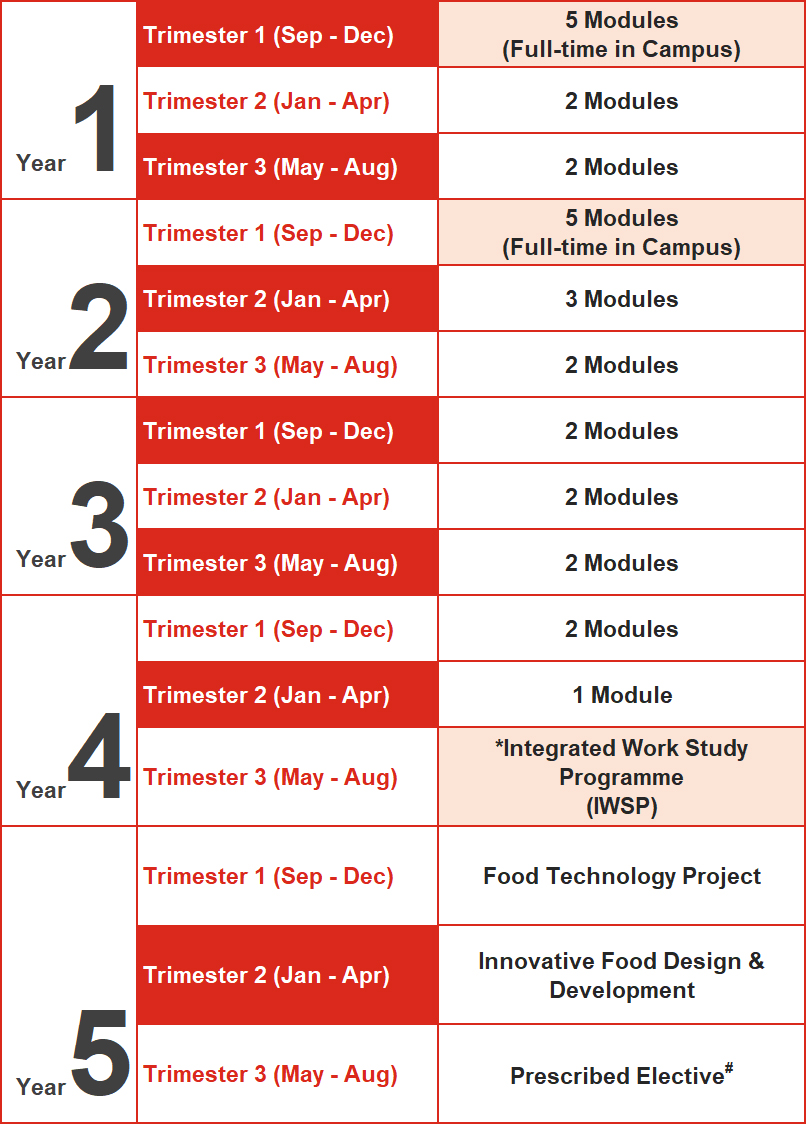 *Depending on their qualification and experiences on a case-by-case basis, WSDeg students may have fulfilled the IWSP work component criteria but still subjected to the study and assessment components. WSDeg students will be required to attend full-time study during the first trimester of Year 1 and Year 2.
#WSDeg students may take this module in Year 5 Trimester 1.
Eligibility
Please note that this programme is only open to in-employment upgraders. Applicants are advised to determine their eligibility before continuing.
The following checklist is a quick guide for admission into SIT. Please refer to our Admission Requirements for more information.
Polytechnic Diploma, or GCE 'A' Level holder
Other qualifications & Portfolio (where applicable)
Have obtained a Letter of Support from their companies
Students with articulated diplomas such as Food Science and Nutrition (NYP), Food Science and Technology (SP), and Applied Food Science and Nutrition (TP) may gain direct entry to Year Two of the programme.
Students must be prepared to study and work during the course of studies with SIT and sponsoring companies.