TIE Pioneers' Programme nurtures students to be innovative, enterprising and community-minded individuals. Developed in partnership with the National Youth Achievement Award Council, the programme provides you with an opportunity to design your own journey as a TIE Pioneer by choosing the activities and projects that you wish to lead and undertake.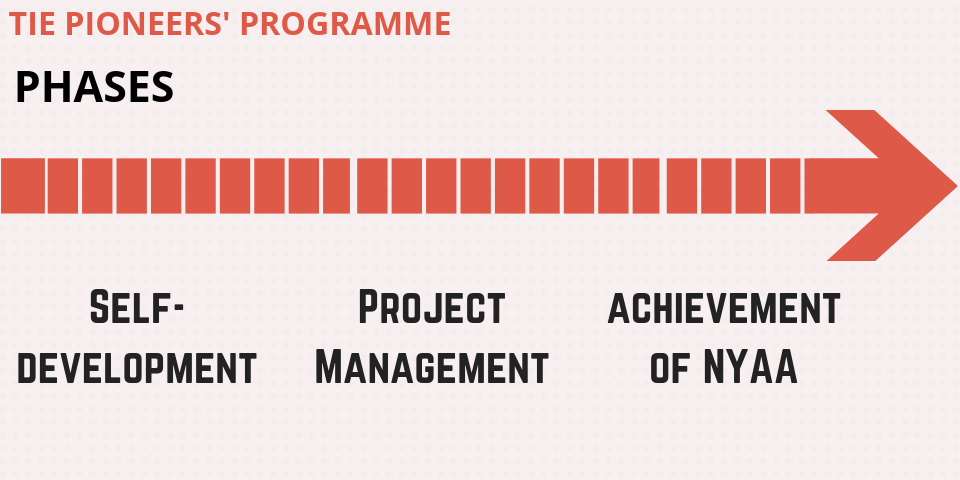 1) Self-Development
Attend pre-project training to prepare yourself for the events and activities that you will be participating in. Training opportunities include:
Leadership training in Innovation & Enterprise
Entrepreneurship Development Programme to learn finance, innovation and problem-solving skills
Ideas-to-Action workshops to learn hands-on skills involving technology & design
In addition, there are opportunities for participants to attend local or global conferences related to Innovation and Enterprise.
2) Project Management
There are projects that you can choose to participate to fulfil the requirements. You may refer to the calendar below for more information. Examples:
Entrepreneurship talks and showcases
CXO Lean & Innovation Summit
Projects in Punggol
Alternatively, you may also approach us if you have a project in mind that is in line with the programme objectives of nurturing you to be innovative, enterprising and community-minded.
3) Achievement of NYAA
The participation in the projects may lead you to attain the prestigious National Youth Achievement (Gold) Award.
Click here for the e-brochure.
Students who are passionate about using innovation and enterprising skills to give back to society
Students who are keen to pick up various innovation and entrepreneurship skills
Students who are highly motivated and able to complete the programme within their period of study at SIT
Pick up various skills and capabilities. Examples:
Technical

3D Printing
Ideas-to-Action Workshops
Robotics Programming

Personal

Facilitation
Communication & Networking
Service Excellence
Leadership

Innovation & Enterprise

Entrepreneurship Values
Problem Solving
Design Thinking
Project Management
Network with like-minded individuals and groups
You have the opportunities to make friends with SIT students, faculty and staff from various programmes and departments as well as external parties, both local and overseas, whom you come to acquaint with as part of your project.
Achieve the National Youth Achievement Award (NYAA)
Developed in partnership with the National Youth Achievement Award (NYAA) Council, activities under the programme will go towards attaining the National Youth Achievement Award.
Participants are required to achieve the following:

List of activities students can participate includes:
CXO Lean Summit
Entrepreneurship Camps
Entrepreneurship Workshops
Pasir Ris-Punggol GRC Family Camp
Punggol North Eco-Carnival
Punggol Science Camp
SkillsCraft Workshop