Giving out your SIT student namecard can help recruiters and potential employers remember you better.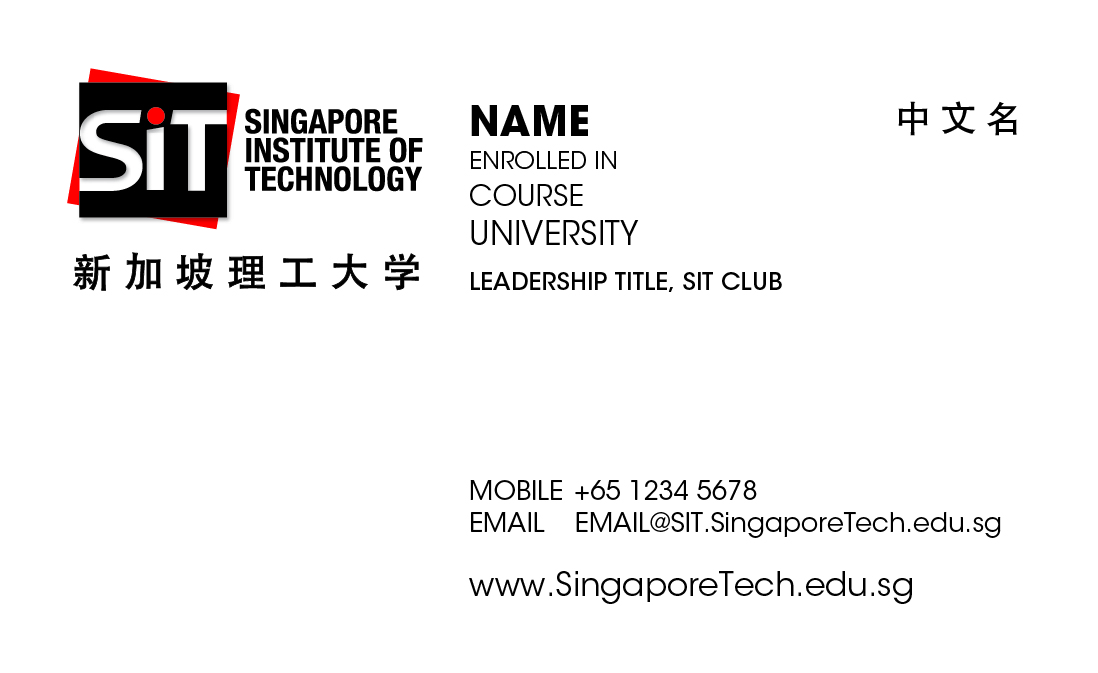 Do note the following name character limits:
Character limit for name with Chinese name – 14 including spacing

Character limit for name without Chinese name – 23 including spacing

Email – maximum 10 characters before @SIT.SingaporeTech.edu.sg (including underscore, spacing etc.)
Each box of 50 pieces will cost $9.63 (GST inclusive). Please follow the steps below to order your namecards directly from DC Workz Pte Ltd. Collection will be at the DC Workz office:
DC Workz Pte Ltd
16 Shaw Road
Kin Building, #05-12
Singapore 367954
Note: Production Leadtime is about 7-10 working days after confirmation of the artwork. (Working Days does not inclusive of Sat / Sun , Public Holidays and Eve of Public Holidays.)
Steps for ordering your namecards:
Step 1:
Submit order form
Step 2:

Make payment. ​

Bank: OCBC (Overseas-Chinese Banking Corporation Limited)
Branch: Jurong Branch
Bank Code: 7339
Branch Code: 514
Beneficiary Name: DC Workz Pte Ltd
Account Number: 514-728146-001
Amount: 9.63 SGD

Step 3:
* Email transaction reference to Kenneth Chuang at kenneth@dcworkz.com ​
Step 4:
Confirm and verify the artwork sent by DC Workz
Step 5:
DC Workz will inform via email that the namecards are ready for collection
Step 6:
Collect namecards from DC Workz
Please email sld@singaporetech.edu.sg if you require any assistance regarding the above information in your ROA. Please email Kenneth Chuang at kenneth@dcworkz.com for all other namecard-related enquiries.
* If you would like to indicate a leadership position that you have undertaken during your time at SIT, please print your Record of Achievement (ROA). Email the transaction reference to Kenneth Chuang as follows:
Attach a copy of your ROA and indicate the leadership title and SIT Club to be included in the namecard.

Only leadership positions printed in the ROA will be included in the namecard.

Limited to a maximum of 2 positions.