Offshore Engineering, BEng (Hons)
This programme is open to new students (prospective undergraduates or in-employment upgraders) and existing students who are enrolled in SIT. The programme will be delivered in the 'Term-in/Term-out' mode which students alternate between spending one to two trimesters in university and at the workplace.
Prospective students would be able to gain real work experience through the collaborative approach of institutional learning and on-the-job training with our industry partners. These work experiences could extend to a career position with the supporting industry partners upon graduation from SIT.
The curriculum follows closely with that of the standard degree programmes and provides a more in-depth experience through the close collaboration between academia and industry. For more information on the programme, please view our programme page here: Offshore Engineering
Sponsoring Company
Eligibility and Programme Requirements
Eligibility
Applicants are advised to determine their eligibility before continuing.
The following checklist is a quick guide for admission into SIT. Please refer to our Admission Requirements for more information.
Polytechnic Diploma, or GCE 'A' Level holder
Other qualifications & Portfolio (where applicable)
Programme Requirements
Sponsored students must be prepared to study and work during the course of studies with SIT and sponsoring company.
Entry Requirements (Sponsoring Company)
Upon matriculation into SIT, applicants will be subjected to a second level of entry requirements. These entry requirements are dependent on sponsoring companies' job descriptions and requirements as follow:
Companies
Requirements
DSTA

Singapore Citizen
Good academic performance – 2nd Upper Class Honours or equivalent results
Applicants should first apply for the selected SIT or Joint Degree Programmes during the annual SIT admissions process. Upon matriculation into SIT, students may apply for the SkillsFuture Work-Study Degree Programme (WSDP) via SIT ReadyTalent Portal. Details in the form of WSDP infopack will be given to the students upon their matriculation acceptance.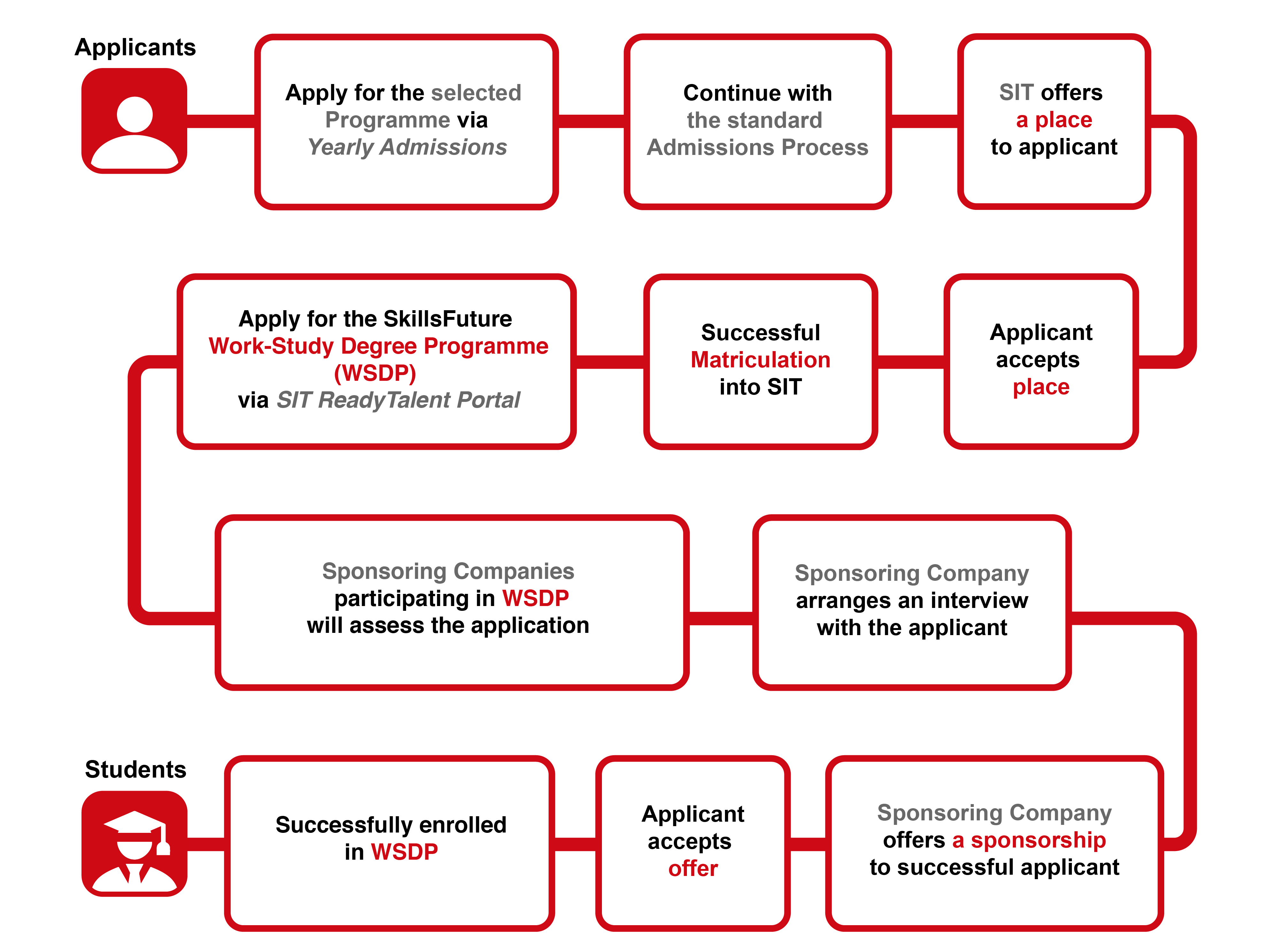 The sponsoring companies will be interviewing SIT's students. Applying students are to prepare the following documents for submission:
A cover letter indicating your reason to pursue a career in the industry (1 page)
Student's curriculum vitae
CCA and previous relevant project (if any)
Testimonial (if any)
The documents are to be compressed into a single zip file and uploaded to the SIT ReadyTalent Portal. Please note that the total file size should not exceed 4 MB.
Shortlisted students will be contacted by the sponsoring companies to go through between 1 to 3 interviews. Following a successful interview, the sponsoring companies will present a sponsorship to applicants for consideration by a stipulated deadline set by them.