Hospitality Business, B (Hons)
This programme is open only to students commencing their undergraduate studies in September 2017. The programme will be delivered in the 'Term-in/Term-out' mode which students alternate between spending one to two trimesters in university and at the workplace.
Prospective students would be able to gain real work experience through the collaborative approach of institutional learning and on-the-job training with our industry partners. These work experiences could extend to a career position with the supporting industry partners upon graduation from SIT.
Sponsoring Company
Eligibility and Programme Requirements
Eligibility
Applicants are advised to determine their eligibility before continuing.
The following checklist is a quick guide for admission into SIT. Please refer to our Admission Requirements for more information.
Polytechnic Diploma, or GCE 'A' Level holder
Other qualifications & Portfolio (where applicable)
Programme Requirements
Sponsored students must be prepared to study and work during the course of studies with SIT and sponsoring company.
Entry Requirements (Sponsoring Company)
The sponsoring organisation will be interviewing SIT's students. Please note Ascott's entry criteria below for application:
Committed fully to the 3-year Ascott Work Study Programme
Passionate in hospitality; keen to develop a career in international hospitality operations management with Ascott upon graduation
Strong academic results, exhibiting strong analytical and problem solving capabilities
Leadership track record in co-curricular activities or community involvement projects
Strong communication skills and service orientation; past experience in the hospitality and service sectors will be an advantage
Past intercultural experiences or additional language capabilities will be an advantage
Applicants should first apply for the selected SIT or Joint Degree Programmes during the annual SIT admissions process. Upon matriculation into SIT, students may apply for the SkillsFuture Work-Study Degree Programme (WSDP) via SIT ReadyTalent Portal. Details in the form of WSDP infopack will be given to the students upon their matriculation acceptance.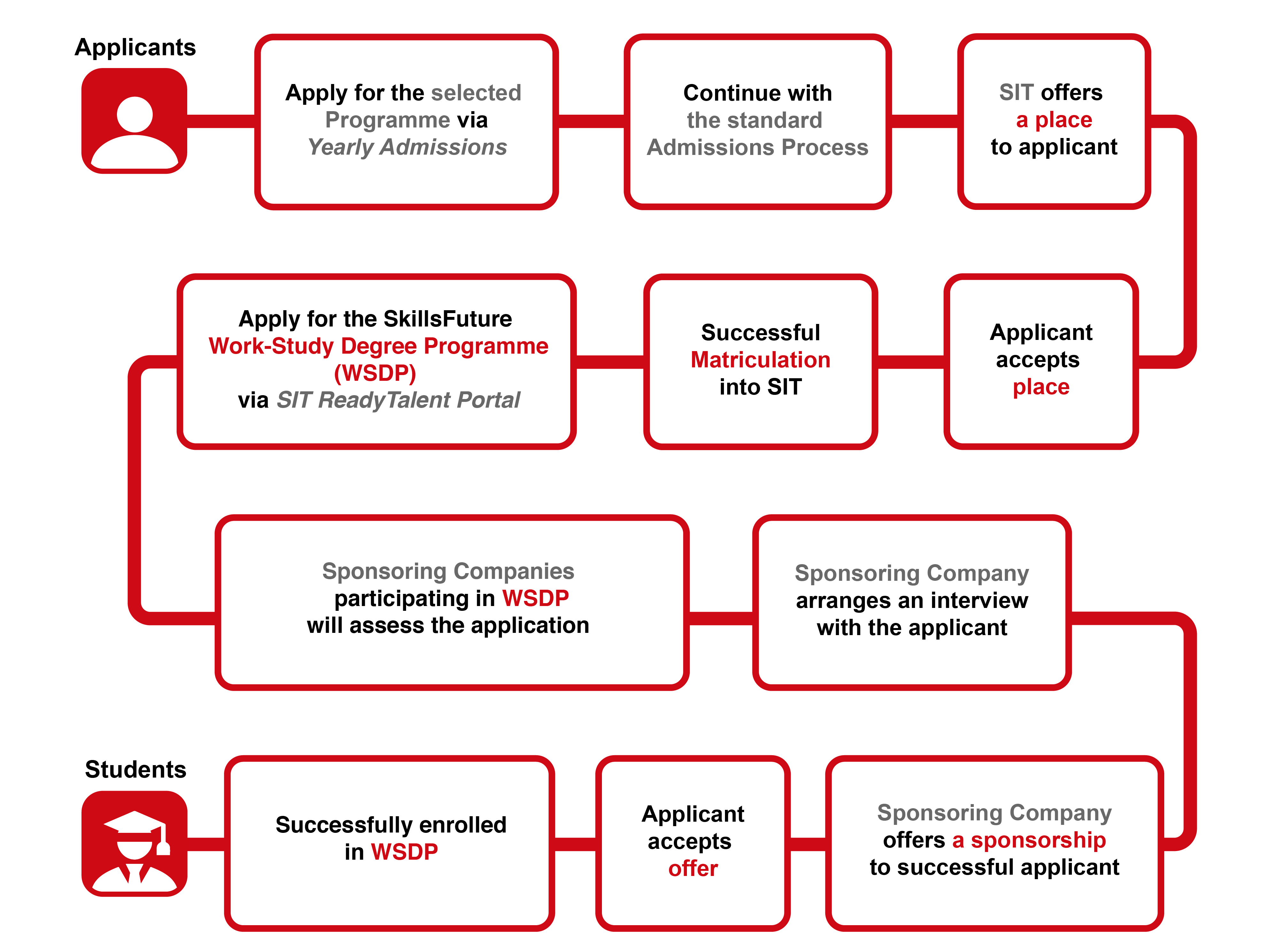 The sponsoring company will be interviewing SIT's students. Applying students are to prepare the following documents for submission:
A cover letter indicating your reason to pursue a career in the hospitality industry (1 page)
Student's curriculum vitae
CCA and previous relevant project (if any)
Testimonial (if any)
The documents are to be compressed into a single zip file and uploaded to the SIT ReadyTalent Portal. Please note that the total file size should not exceed 4 MB.
Shortlisted students will be contacted by the sponsoring companies to go through between 1 to 3 interviews. Following a successful interview, the sponsoring companies will present a sponsorship to applicants for consideration by a stipulated deadline set by them.