The opportunity to interact with industry practitioners outside of classroom settings is a valuable experience that further solidifies what students learn in university. Championing this is the Centre for Career Readiness (CCR), which organised its sixth edition of the Community Care Industry Networking Day 2022 (CCIND).  
Held on 19 October, the annual event aims to raise awareness of careers in the community care setting among Year 1 Allied Health and Nursing undergraduates. CCIND 2022 was supported by the Agency for Integrated Care (AIC) and the National Council of Social Service (NCSS). 
Learning from Seasoned Players 
The occasion sparked conversations that addressed current challenges in community care as a result of Singapore's ageing population. SITizens got to hear from community care experts on the essential skills and knowledge required in the workforce, as well as personal journeys in their careers.  
The event was graced by Guest-of-Honour, Ms Tan Bee Yee, Deputy Group Director, Allied Health (Academic & Professional Development), and Director, Allied Health of SingHealth.  
Ms Tan, a physiotherapist by training, encouraged students to stay open to opportunities as they could eventually lead to a journey of discovery and fulfilment in the community care sector. She shared, "The reason for our existence is our patients. It's not to do things for them or to do things to the patients, but alongside them."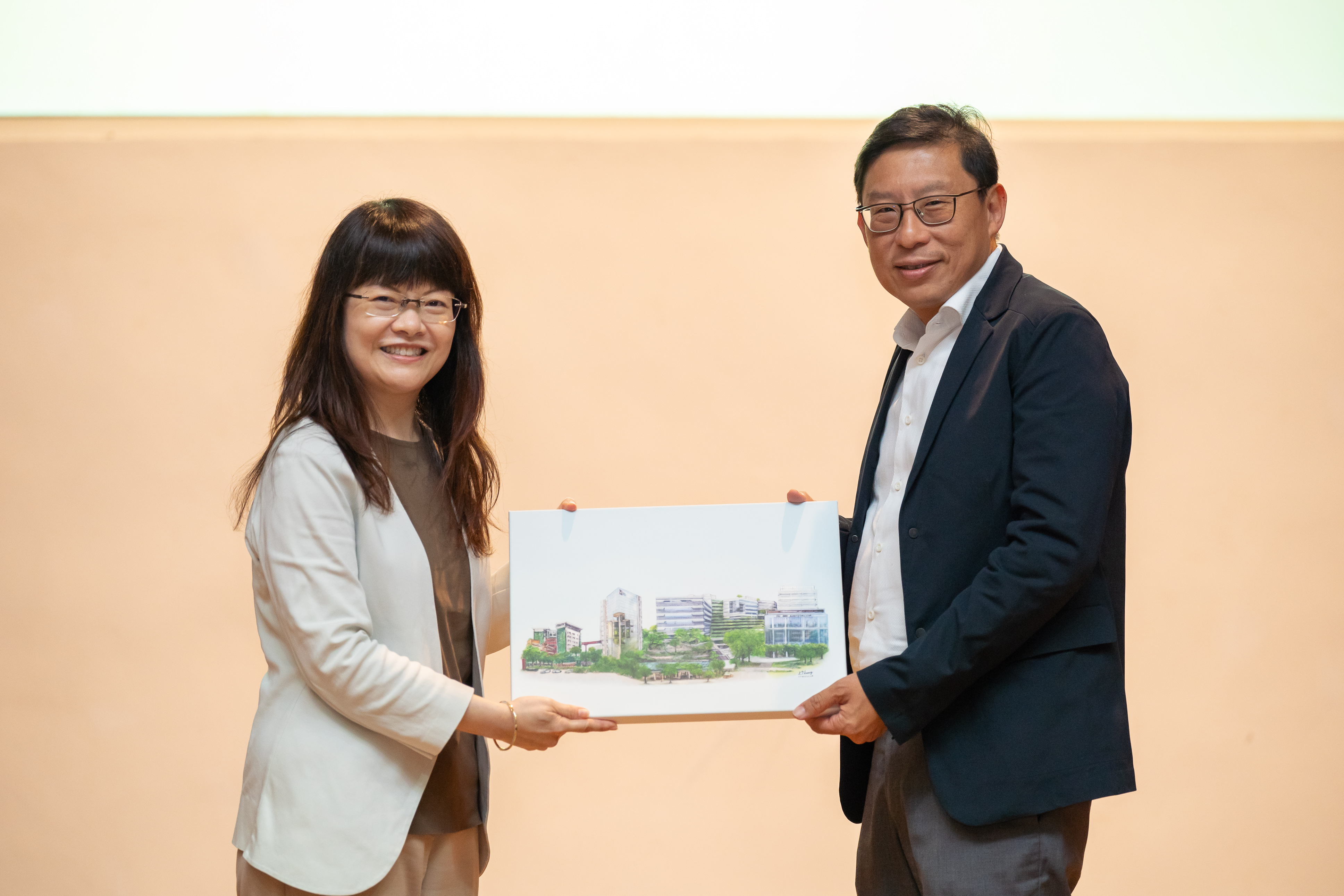 Mr Bernard Nee, Vice President (Industry & Community) presented a token of appreciation to Ms Tan Bee Yee, Deputy Group Director, Allied Health (Academic & Professional Development), and Director, Allied Health of SingHealth.
A Career That Leaves an Impact on Lives 
Some 650 undergraduates, community care partner representatives, and SIT faculty and staff tapped on the wisdom of 12 guest speakers – comprising dietitians, nurses, occupational therapists, physiotherapists, radiographers and speech therapists. The speakers shared insights into the community care sector, in addition to imparting sound advice on how embarking on a career as a community healthcare professional can make a positive impact on the lives of others.  
Milton Yeong Hau Yu, a first-year Physiotherapy student, admitted that the sharing session shifted his mindset on community care. He said, "Growing up as a sports lover, I've always aspired to become a physiotherapist to work with athletes and manage sports injuries. However, chatting with the company representatives and hearing from the speakers at the 'Voices of Experience' segment helped me gain insights into the positive impact that community care work has on patients. It changed my perspective and I'm now more open to a career in the community care setting." 
 The First Stepping Stone 
 What can newcomers expect once they have found a career in community care? Ms Dilys Ho, a graduate of SIT's Physiotherapy Class of 2021, tackled this question with her own experiences. She is currently a Physiotherapist at AWWA Pte Ltd in the Home Therapy setting.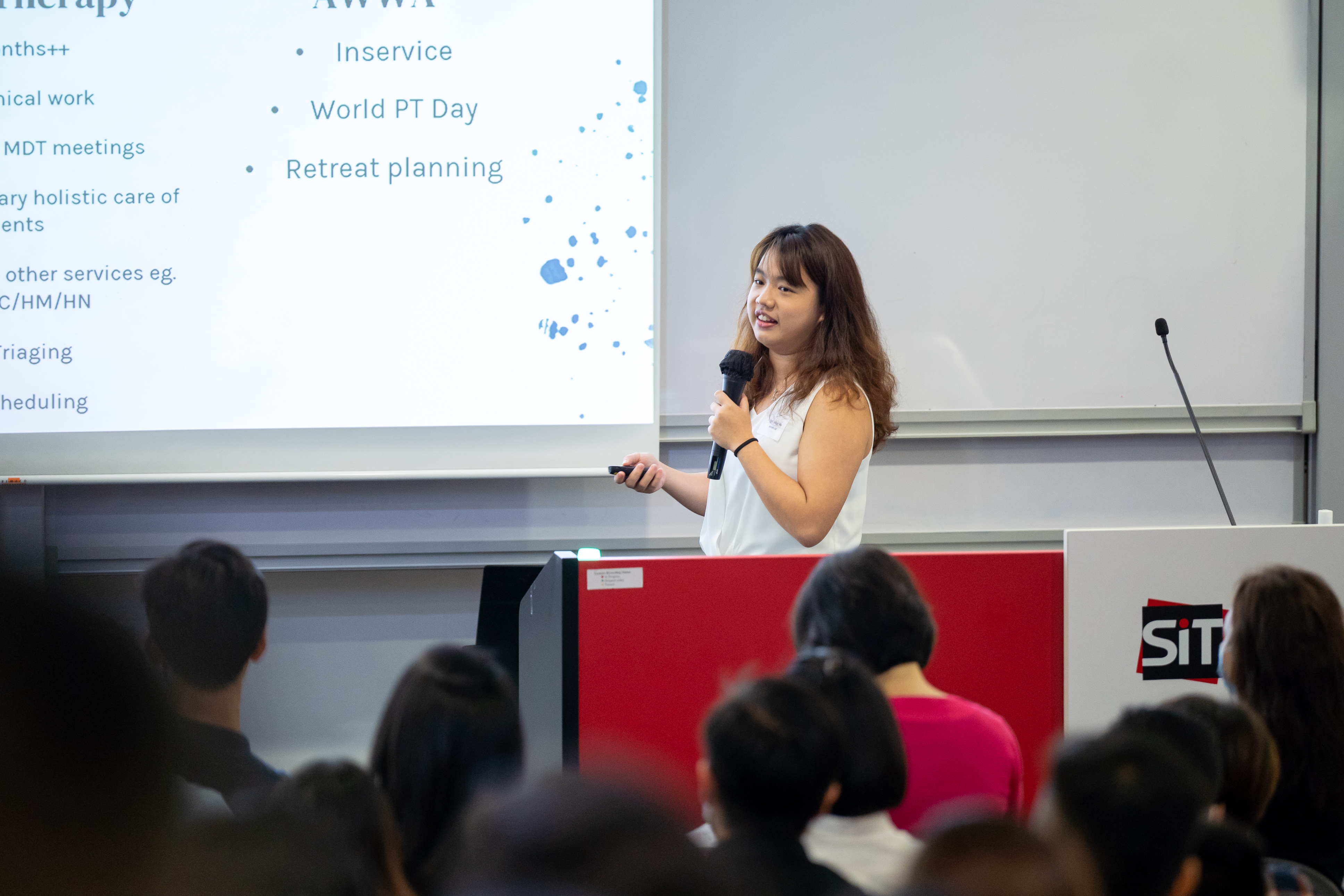 Ms Dilys Ho shared insights into her career journey as a Physiotherapist.
Ms Ho's perspectives on her career allowed attendees to better understand the purpose of serving the community care sector, and the importance of providing intermediate and long-term care (ILTC) services to the community. 
Undergraduates were introduced to the diverse range of professions available in community care, thanks to the 18 participating community care industry partners that were present at the event. Kendrix Leng Li Hui, a first-year student in the Dietetics and Nutrition programme, enjoyed having a glimpse of these career options, which simultaneously expanded her knowledge in dealing with different patients.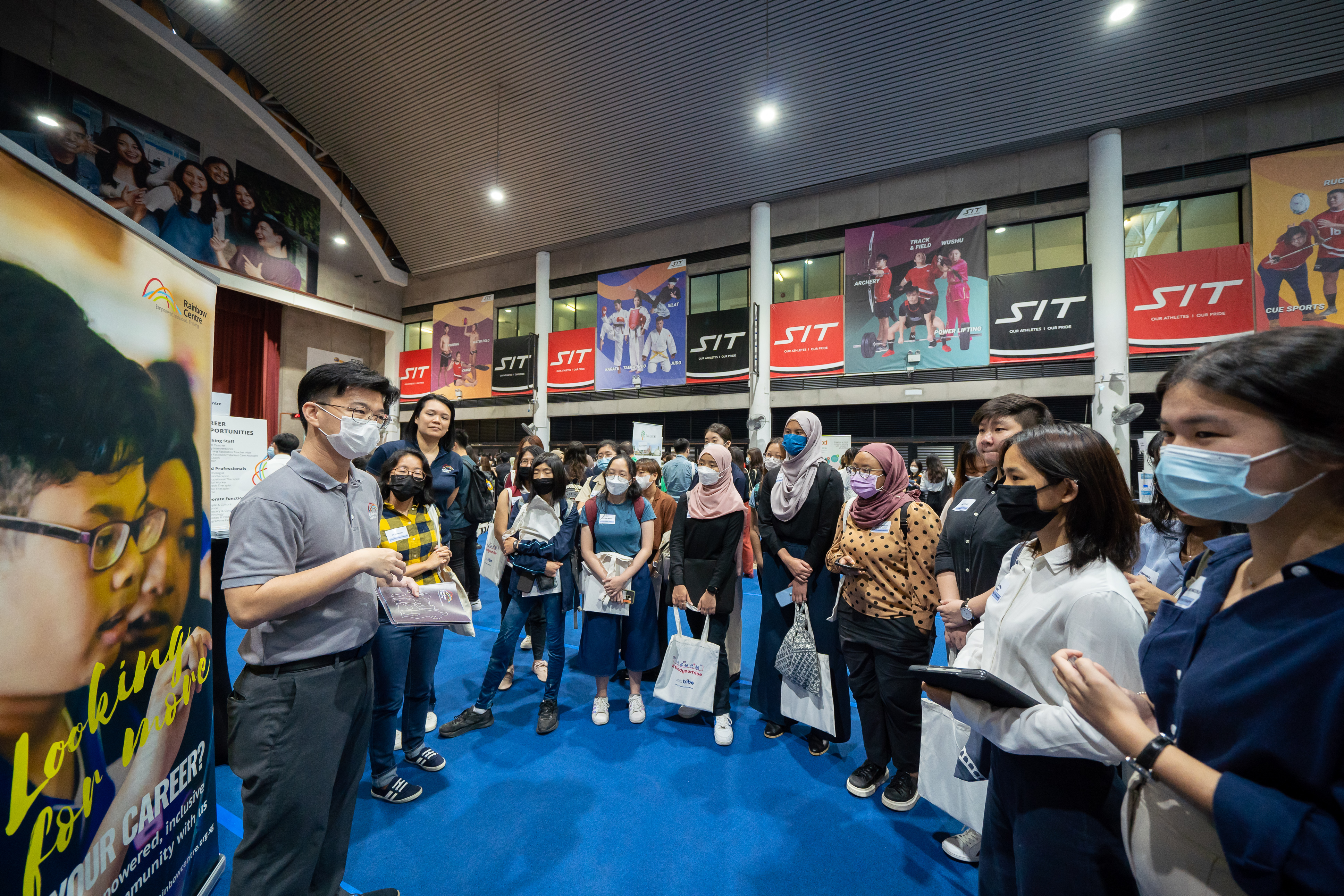 Community care partners and undergraduates interacting at the networking session.
"The event enlightened me on the vital role of community care in providing all-round aftercare to help patients return to their usual lifestyle and in ensuring proper care for the aged. Working in the community care sector will also expose me to a diversity of cases and expand my knowledge in dealing with different patients. However, what is more rewarding is to be able to journey with the patients and seeing them improve through my treatment plan," shared Kendrix. 
Community Care Industry Networking Day 2022 was supported by the following industry partners: 
Active Global Home & Community Care 

Ang Mo Kio – Thye Hua Kwan Hospital Ltd 

AWWA Ltd 

Movement for the Intellectually Disabled of Singapore (MINDS) 

Cerebral Palsy Alliance Singapore 

Kwong Wai Shiu Hospital 

Metta Welfare Association 

National Healthcare Group Diagnostics 

National University Health System 

Rainbow Centre 

Ren Ci Hospital 

SPD 

SATA CommHealth 

SingHealth Community Hospitals 

St Luke's Eldercare 

St Luke's Hospital 

Thye Hua Kwan Moral Charities (Therapy Services) 

Woodlands Health 
No matching results. Would you like to refine your search term?