After 20 years working in the built environment sector, Ho Chee Kit is back in school to acquire new knowledge to uplift the industry with SIT's Doctor of Engineering programme.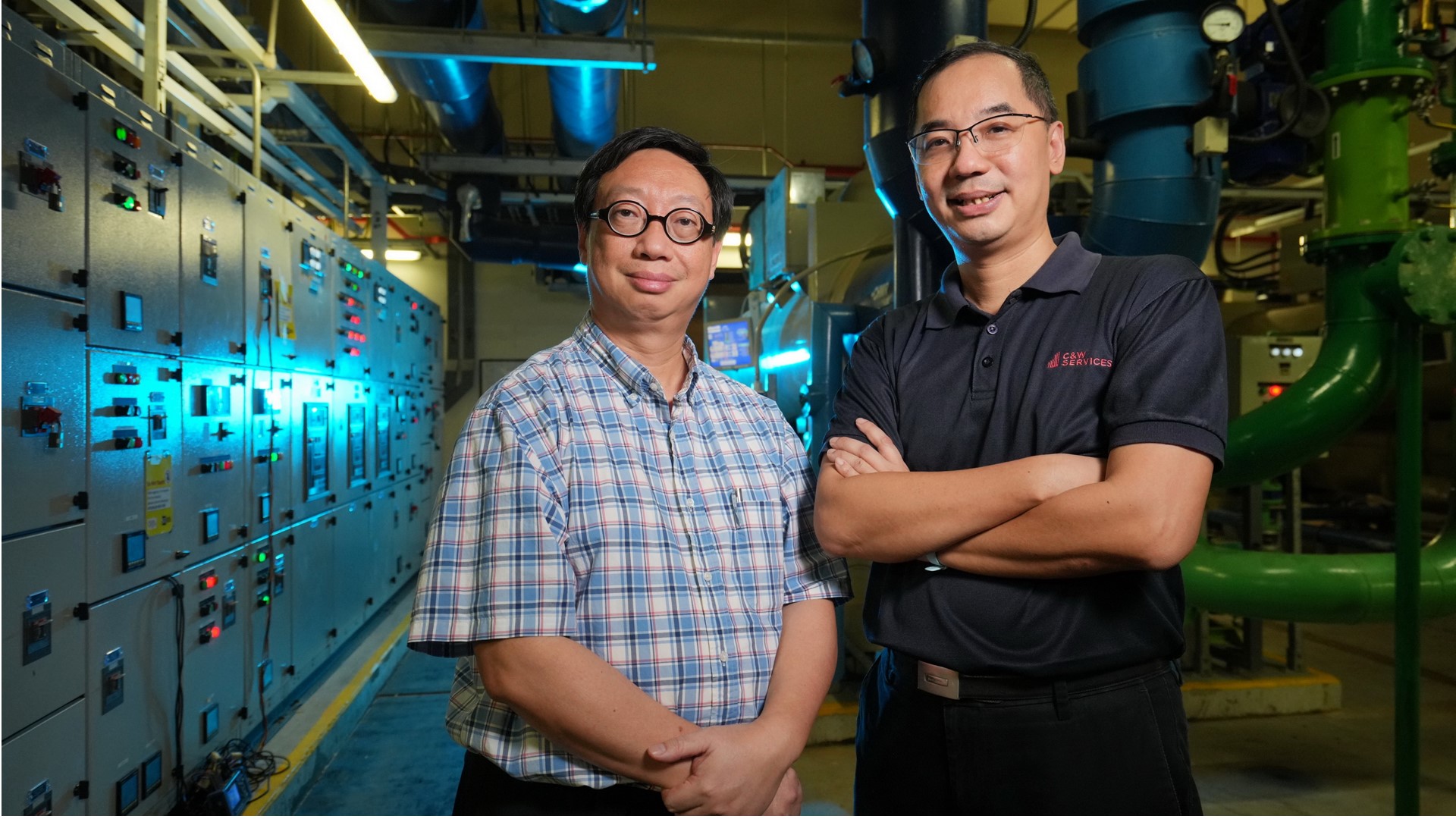 Ho Chee Kit (right) with Professor Tseng King Jet, Director of Programmes, Engineering Cluster, SIT, who is Chee Kit's doctoral project supervisor. (SIT Photo: Keng Photography/Richard Koh)
Rain or shine, night or day, everyone in the office works in peace and comfort. This is all thanks to the building's smart sensors and excellent airflow system, which automatically adjusts based on the needs of its occupants and factors such as noise and heat.
To Mr Ho Chee Kit, 52, this is the sort of building that goes beyond the Building and Construction Authority's Green Mark certification, which recognises buildings that meet sustainability standards.
"Beyond a high-performance building is a great building – one that makes its occupants feel happy," he said.
Currently enrolled in the Doctor of Engineering programme at the Singapore Institute of Technology (SIT), Mr Ho is passionate about going above and beyond to create great buildings.
Acquiring New Knowledge
Ho Chee Kit with Prof Tseng King Jet at SIT@NYP Building. (SIT Photo: Keng Photography/Richard Koh)
As Senior Director at C&W Services, the facilities and engineering arm of leading global commercial real estate services firm Cushman & Wakefield, Chee Kit grappled with the challenge of discovering innovative engineering and energy solutions within the industry to fulfil his clients' building needs. To further develop his expertise, he began his doctoral journey at SIT in 2021, with the hope of doing research and applying his newfound knowledge to the built environment industry, especially in the area of artificial intelligence (AI).
SIT was his top choice because of its industry-focused research and development, aimed at deepening the technical expertise of its learners and building them up to be leaders in the industry. SIT was also the only university that allowed him to juggle full-time work with studies in this particular field.
Chee Kit, who last swotted for exams in 2000 when he completed his master's degree in Power Engineering, struggled to find his footing initially. "Some of the new software didn't even exist when I was still in school," he said.
However, through a combination of hard work and help from his supervisor, Professor Tseng King Jet, Director of Programmes for SIT's Engineering Cluster, he managed to catch up with his younger classmates within the first six months.
Prof Tseng was not only his supervisor but also his collaborator in his doctoral project. The two go back a long way – Prof Tseng taught Chee Kit when he was an electrical and electronic engineering undergraduate at Nanyang Technological University in 1994. These days, they are more like peers who learn from each other as subject matter experts in their respective fields.
Prof Tseng said, "It is heartening to see Chee Kit, despite being at such an advanced stage in his career, still very much at the forefront of lifelong learning and bringing his applied research outcomes into his work. It has been a joy to mentor this enthusiastic champion of environmental sustainability."
"Now the discourse has matured. Our focus has shifted from mere calculations and formulas to the solutions and the underlying thought processes," said Mr Ho.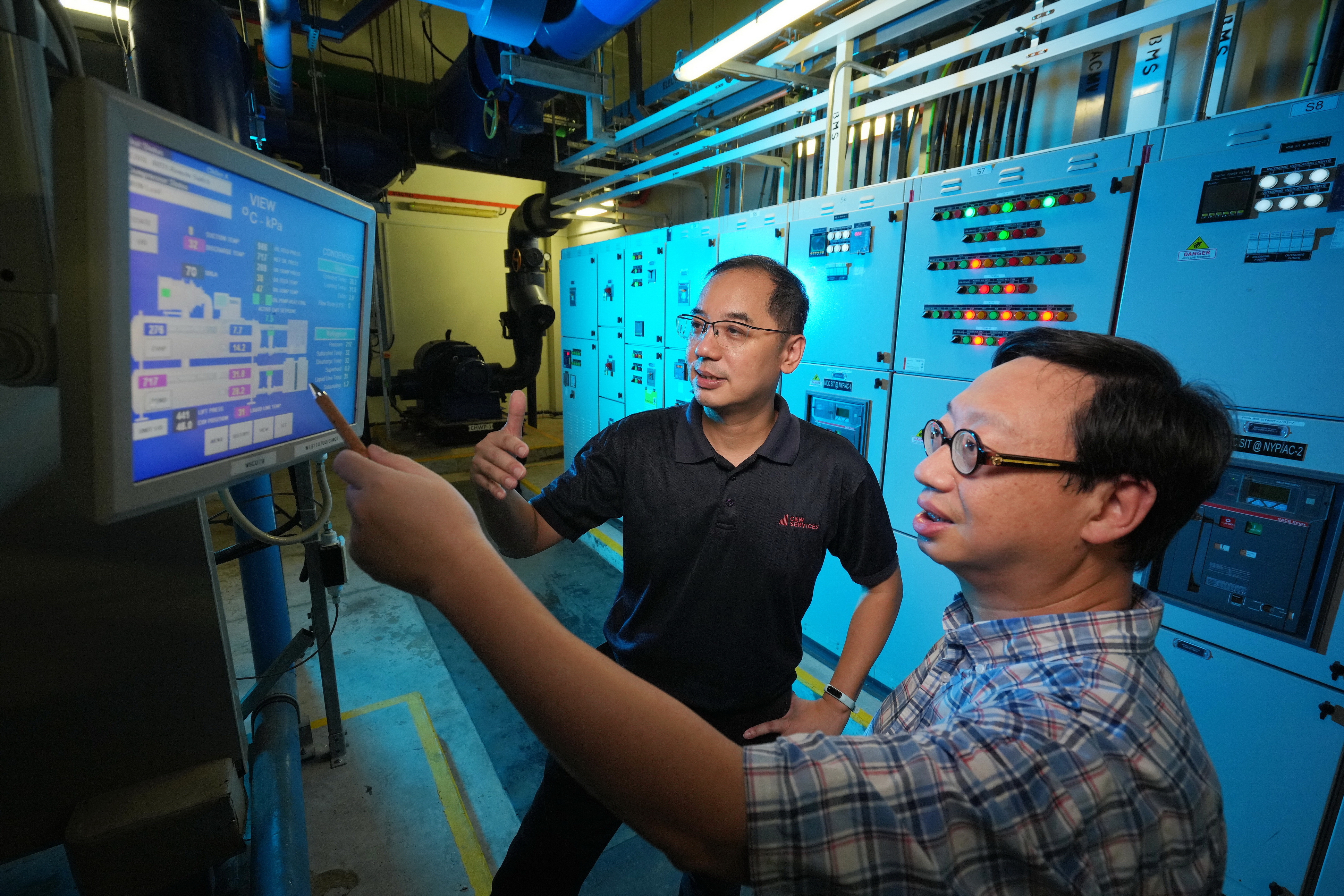 Ho Chee Kit with Prof Tseng King Jet in discussion at the Chiller Plant Room at SIT@NYP Building. (SIT Photo: Keng Photography/Richard Koh)
His time at SIT has proven to be a boon for his work. For one thing, SIT's library offers a wealth of resources that he can draw on when designing solutions for clients. Chee Kit has also picked up new knowledge and skills like concept mapping, which helps him illustrate and validate total systems thinking and the co-relationship between two knowledge topics, elevating his problem-solving skills at work.
"I am able to tap into the resources in the library to look for more advanced solutions that are still in the nascent stage. With the knowledge, I will do small pilots at my clients' offices and facilities, and implement them at scale if they turn out to be successful," he shared.
Laying the Foundation for Lasting Comfort
Currently, Chee Kit is applying his learnings to his doctoral project titled "Managing Change and Resilience Planning for Whole Life Asset Management". Asset management has become considerably important in the modern economy. Higher performance demands are placed on physical assets such as equipment and infrastructure, while there are business and regulatory pressures to lower costs, risks and to operate assets in a health-conscious, safe, environmentally and socially sustainable manner.
Chee Kit said, "New buildings are more energy efficient, but 80 per cent of buildings that will be standing in 2050 have already been built. We must prioritise upgrading the buildings we already have to avoid high embodied carbon emissions for decades to come. It increases the importance of managing ageing assets in a cost-effective way. Operational plans would require dynamic responses based on predictive and pre-emptive maintenance strategies."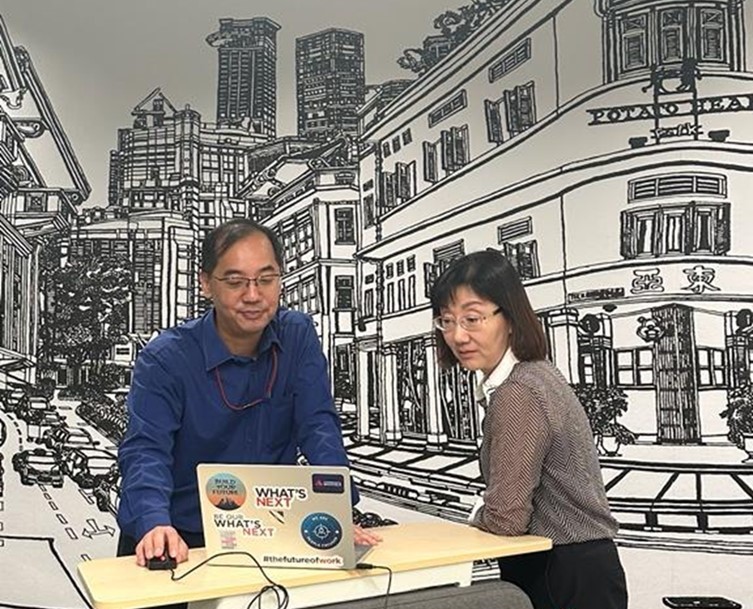 Ho Chee Kit in discussion with Sofia Sun, a member of his team, at the C&W Services office. (Photo: Ho Chee Kit)
With his newly acquired knowledge, he is seeking to address this mismatch. His aim is to create a set of tools that a building can tap into to respond to minor changes in its lifespan, such as changes in the weather or occupant activity. The end goal is to create buildings that are more resilient, can function effectively over a long period of time, and last longer.
"The question is: how can you develop tools that can better make decisions and make assets more robust to changes in the environment?"
It is no mean feat, for sure. People and weather are both dynamic, so a good amount of data needs to be collected to design an optimal building. Through the SIT programme, Chee Kit is studying how sensors and AI can be used to track parameters like noise and heat to understand human behaviour inside the workplace. This can help recalibrate the air quality and temperature of the building based on the occupants' needs as well as external factors, thereby creating a great building.
Sofia Sun, Assistant Director at C&W Services, said, "Through his Ph.D. programme, Chee Kit has inspired us to rethink our approach to cultivating a more sustainable built environment. His fresh insights and innovative ideas have become the driving force behind our mission to create spaces that not only embrace environmental responsibility but also enhance the well-being of those who occupy them. We are excited that he is leading our team toward a future of building solutions that will truly make a lasting impact."
Chee Kit aims to complete his project and graduate in 2024. He hopes to leverage what he has learned at SIT to drive the transformation of the BE sector in Singapore.
"My aspiration is to cultivate workplaces that promote productivity and well-being," he said.
SIT's Industrial Postgraduate programmes are tailored for individuals and companies focused on developing talents to innovate and advance knowledge at the forefront of professional practice. Under the joint supervision of an academic and industry expert, students will get hands-on training in combining industry-focused research with management knowledge to solve critical business problems. Our programmes aim to enable students to customise knowledge acquisition to meet their personal developmental needs and their organisation's business goals.
For more information, visit https://www.singaporetech.edu.sg/postgraduate/research or email ppr@singaporetech.edu.sg.