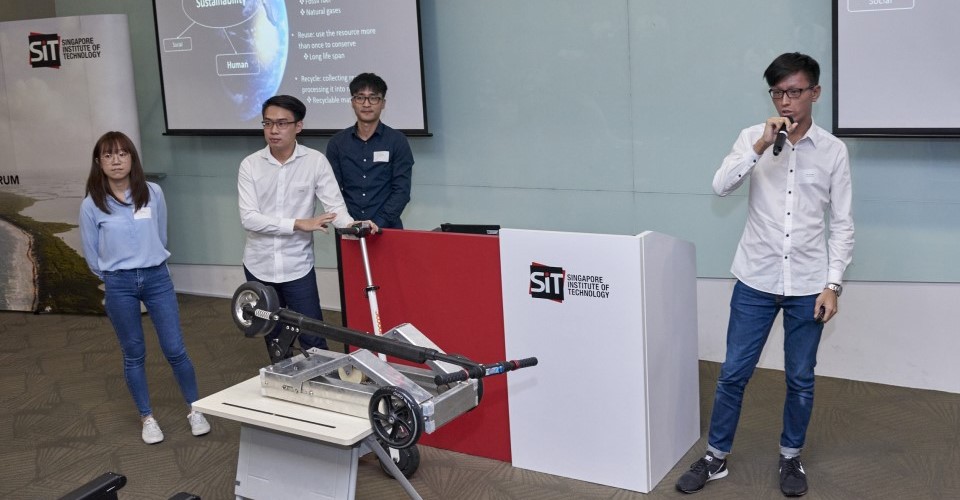 The Semi-Final, 19 March 2020
The Semi-Final showcases twelve teams as they make their project pitch to a panel of judges. The twelve teams will
Share their proposed sustainable innovation with a broad audience
Receive useful feedback on their innovations from industry and university leaders
Put themselves and their project teammates in a position to advance onward
Move to six teams! These six Challengers will go forward to The Mapletree Challenge Grand Final, which will be held at Mapletree Business City on 23 April.

Selection Process
Twelve shortlisted Challengers selected will present their sustainability project innovations to a panel of four judges representing SIT and industry.
Each Challenger team or individual will have 10 to 15 minutes to present, followed by five minutes of question and answer (Q&A).
At the end of Semi-Final, six final Challengers will be chosen to advance to The Mapletree Challenge Grand Final.
Mentoring
Before the semi-final, each Challenger team and individual should schedule an appointment at the Communication Helpdesk and take the opportunity to meet Asst Prof Moshood to discuss their presentation.
Mentor
Dr Moshood Olawale Fadeyi
Assistant Professor/ Deputy Programme Director
Singapore Institute of Technology

Dr Moshood Olawale Fadeyi is an architect, indoor air quality professional, a cartoonist, Chartered Engineer, and Chartered Construction Manager. He is an Assistant Professor and Deputy Programme Director of the Sustainable Infrastructure Engineering (Building Services) programme at the Singapore Institute of Technology. He is a former Singapore National Taekwondo Champion.
Judges
Associate Professor Susanna Leong
Assistant Provost (Applied Research)
Singapore Institute of Technology

Susanna Leong is a faculty in the Chemical Engineering and Food Tech cluster and trained as a chemical engineer. She currently oversees Applied Research in SIT as Assistant Provost. Her areas of research interest are biomolecular engineering and synthetic biology, where she is interested in exploring the use of biological cells and materials to address health and energy challenges. She is an Editorial Board Member of the Chemical Engineering Science and Food and Bioproducts Processing journals. Susanna is both a Chartered and Professional Engineer, conferred by IChemE (UK) and Professional Engineering Board (Singapore), respectively.

Ms Grace Kang
Managing Partner
Greenview

Grace Kang is managing partner of Greenview, a sustainability consulting and research firm providing hospitality organizations with their strategy, programs, and reporting, and hospitality industry with industry insight, trends and benchmarks. She oversees Greenview's Asia operations as well as co-develops the company's business plan and growth strategy.

Professor Jeff Obbard
Visiting Professor
Cranfield University

Dr Jeff Obbard, formerly of the National University of Singapore, is Visiting Professor (Singapore) for the School of Water, Energy & Environment at Cranfield University in the UK. He is also a consultant on environmental sustainability projects in Singapore and Southeast Asia, acting on behalf of the United Nations, the Singapore government and many other institutions.
Intellectual Property (IP)
The Mapletree Challenger(s) retain/s full IP rights for the innovation entered in The Mapletree Challenge.
The Organizing Committee reserves the right to use, reproduce, publish, print and distribute images and/or descriptions of the innovations submitted for The Mapletree Challenge.
The Organizing Committee reserves the right to use, reproduce, publish, print, edit and distribute the names of any participants and photographs and videos of The Mapletree Challenge.
Other Events
Back to Mapletree Challenge >>